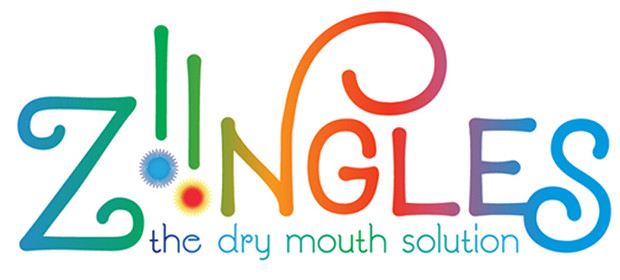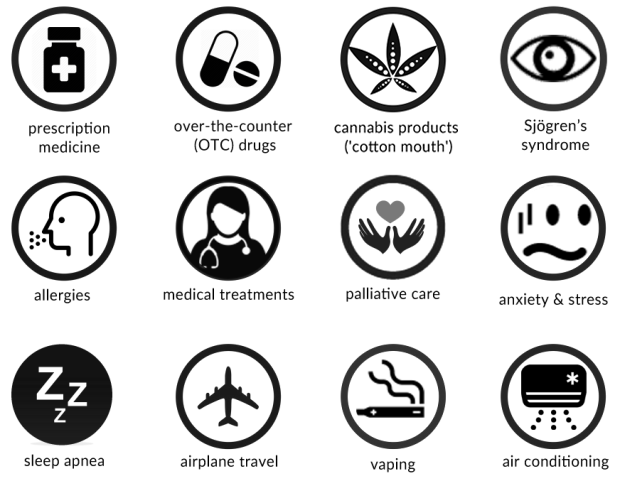 Prescription medications

over-the-counter (OTC) drugs

cannabis products ('cotton mouth')

medical treatments

Sjögren's syndrome

diabetes

allergies

asthma

anxiety

sleep apnea

vaping

smoking

flying

dry climate

air conditioning

stress

aging process
---
Z!!NGLES is the effective, mouthwatering, organic herbal solution for your dry mouth and cotton mouth problems.
Meticulously developed and rigorously tested, Z!!NGLES' proprietary herbal formulation supports your body's innate salivation process by encouraging your salivary glands to produce and secrete more saliva, naturally. Z!!NGLES is also the perfect solution for anyone who relies upon their voice professionally, including singers, voice-over artists, teachers and public speakers.
---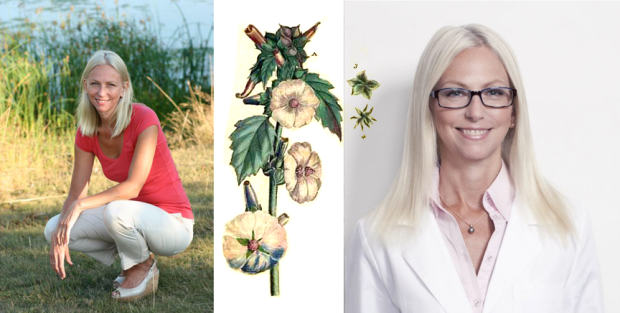 ---
Formulated by Paulina Nelega, Clinical Herbalist, professional member of the American Herbalists Guild and Canadian Herbalists Association of British Columbia
Z!!NGLES is mindfully made with organically cultivated and ethically wildcrafted herbs and is manufactured in the USA in an FDA-registered, GMP-certified facility.
Vegan | Gluten-free | GMO-free | Sugar-free | Kosher | No artificial colors, flavors, or preservatives | No fluoride | No parabens
---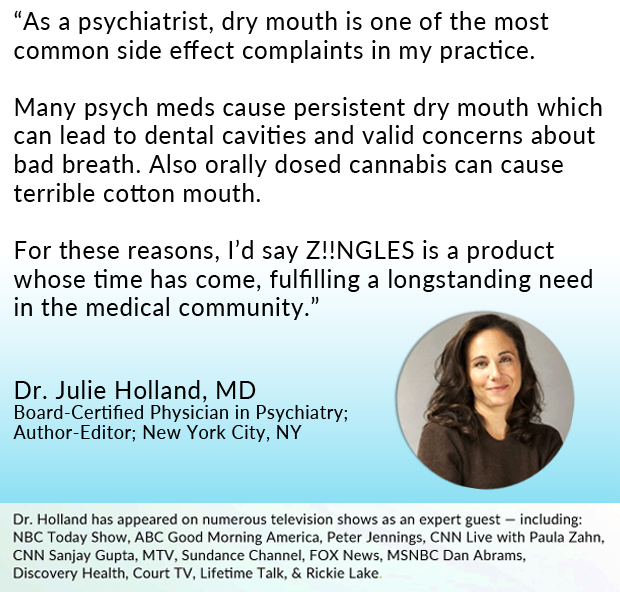 ---
We've all experienced dry mouth at one time or another, whether from medications, 'cotton mouth,' a health condition, a therapeutic treatment, or dehydration. Or, we may have witnessed a loved one suffering from acute xerostomia (the medical term for dry mouth) during palliative care.
A conservative estimate of prevalence in the adult population is 20%, with over 40% of those 65 and older suffering from dry mouth.

When in full health, our mouth and throat are continuously moistened by salivary gland secretions. Along with keeping our mouth hydrated and feeling comfortable, saliva is vital for maintaining oral health: it's essential for the prevention of bacterial overgrowth that can lead to plaque formation and dental caries; it provides lubrication of the mouth and throat to aid in swallowing; and it helps maintain mineralization of the teeth. Saliva also contains enzymes which initiate the digestion of food, and antibodies that help keep our immune system strong.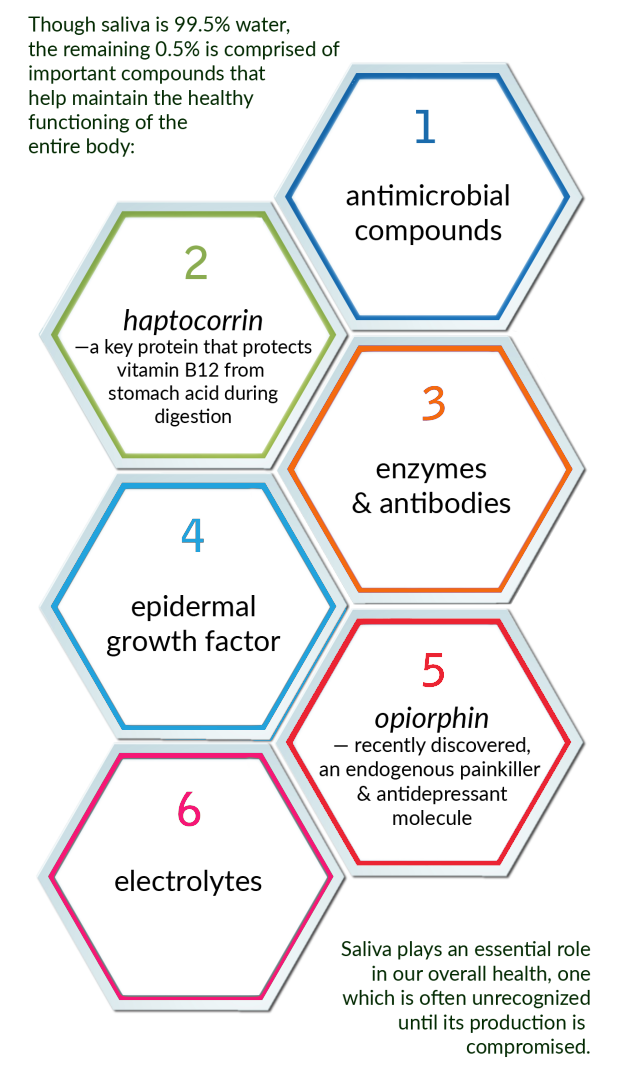 ---

From the mildly annoying to the extremely painful, dry mouth is a notably undesirable condition with far-reaching, negative consequences for our entire well-being.
Detrimental effects of chronic dry mouth can include: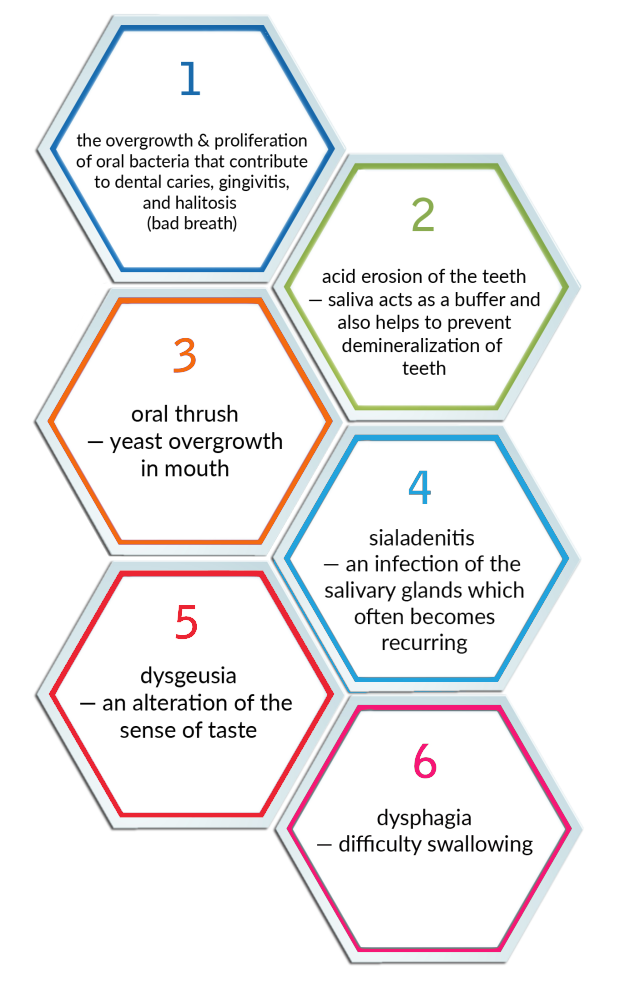 ---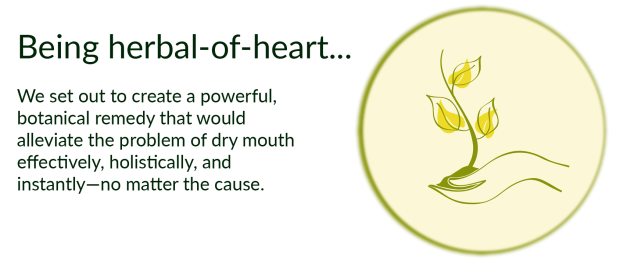 ---
So, we did our research.
We exhaustively studied the marketplace and scrutinized every product out there, taking particular care to discern the most important qualities of each: their effectiveness; their ingredients; how they tasted; and the quality of their mouthfeel. We also considered whether the company behind each product took a conventional or integrative, whole-world approach to health and well-being, including their position, or lack thereof, on sustainability.
We discovered that an authentically holistic dry mouth solution was woefully absent.
The current market-dominant dry mouth product line is made by one of the world's largest pharmaceutical corporations, and, in line with a behemoth pharmaceutical's bottomline philosophy, a herbal solution is far from its primary focus. Furthermore, not one of the products we looked at offered a genuinely mouthwatering (saliva-inducing) experience. Considering that dry mouth is often a daily issue for many, we were inspired to create an authentic—and decidedly effective—herbal solution for dry mouth.
We examined the problem systematically.

We brainstormed with our network of colleagues and herbalists and mentors; we consulted with ethnobotanists; we tracked down obscure scientific papers; we learned from food flavor gurus; we made teas and tinctures and chewed the raw herbs; we tested and retested numerous herbal combinations and formulated and reformulated prototypes. Much time and many versions later, we bring you:

The powerful organic botanical solution for dry mouth.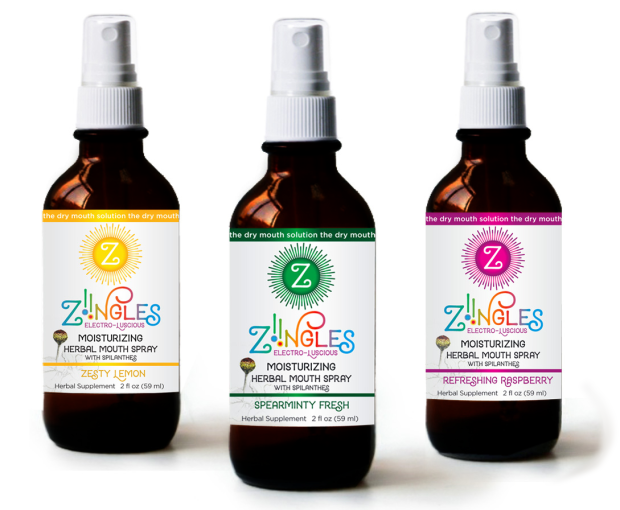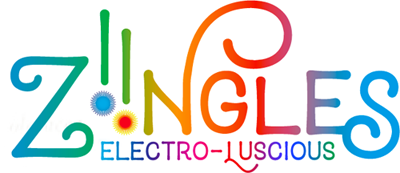 ---

Organic spilanthes, also known as the 'electric button' plant, is the primary herb in Z!!NGLES. As its common name suggests, spilanthes imparts a notable tingling or 'electrical buzzing' sensation on the tongue and within the oral cavity.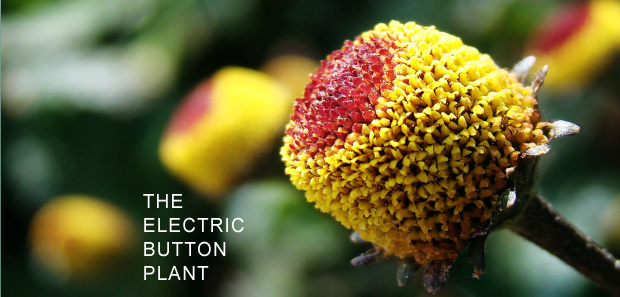 Perhaps less well-known is that spilanthes is one of the botanical world's most powerful sialogogues—a substance that induces saliva production.
Both its mouth-tingling and saliva-inducing effects are due to a unique and potent bioactive compound called spilanthol.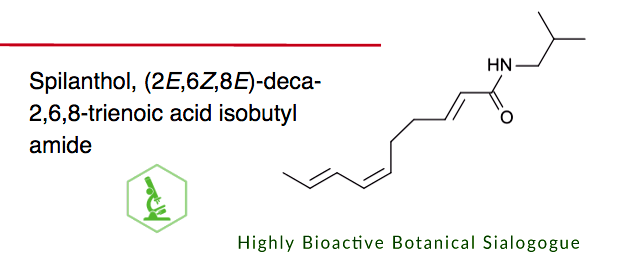 ---
Spilanthol, due to its particular molecular structure, activates ion channels in the cell membranes of nerve fiber receptors on the tongue and within the oral cavity. Activation of these ion channels causes an exchange of charged ions between the inside and outside of the cell which, in turn, generates an electrical signal on the surface of the nerve cell fiber—a "vibratory chemesthetic sensation." That's wow!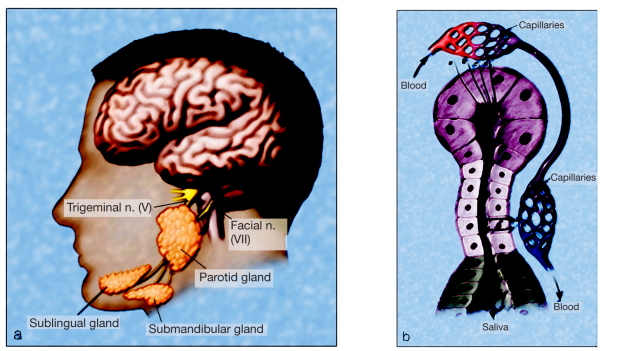 This electrical message is relayed along the nerve fibers and evokes a response from the trigeminal and facial nerves, which subsequently signal the salivary glands to produce and release saliva.
Voilà! Z!!NG Z!!NGLES!
Spilanthol stimulates our body's innate salivation response and triggers the 'electrifreshening' tingling sensation experienced with Z!!NGLES.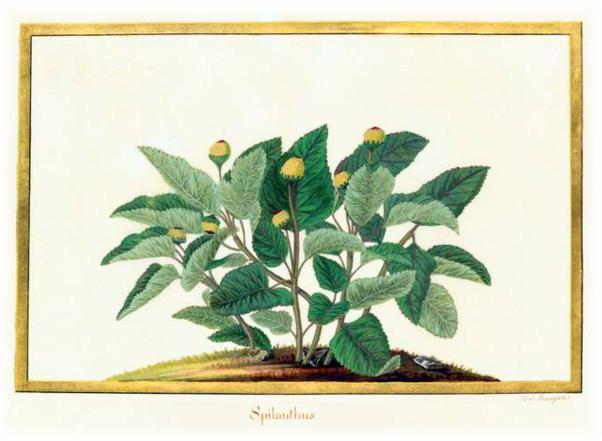 Spilanthes (Spilanthes acmella) — Madeleine Françoise Basseporte (1701-1780)
From its origins in South America, spilanthes has since become widely distributed and cultivated for its rare and highly valued medicinal properties.
Used for millennia by indigenous healers from the Amazon to Thailand to the Hindu Kush, scientific studies have now confirmed spilanthes' significant antibacterial, antiviral, antifungal and antiprotozoal properties, in addition to its beneficial sialogogue action.
In India, spilanthes has long-been integrated into Ayurvedic medicine under its Sanskrit name Sarahattika and is used to support the immune system, improve digestion, treat headaches, relieve toothaches, heal infections of the throat and gums, and alleviate nausea.
Common names include the electric button plant, electric daisy, toothache plant, peek-a-boo plant, eyeball plant, buzz button, and other local names.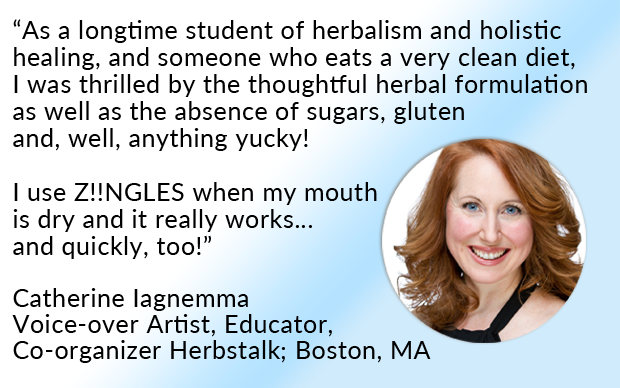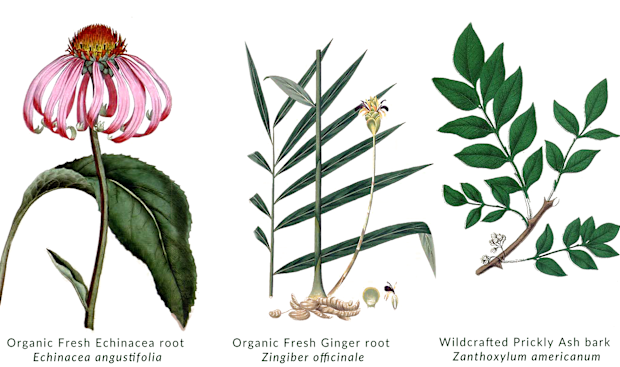 ---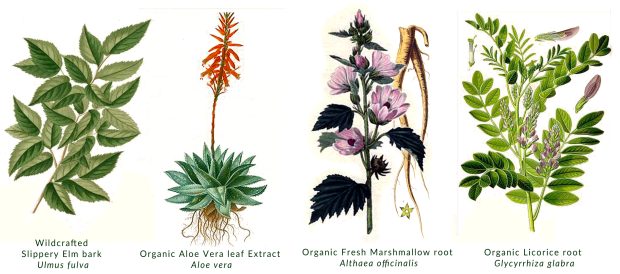 ---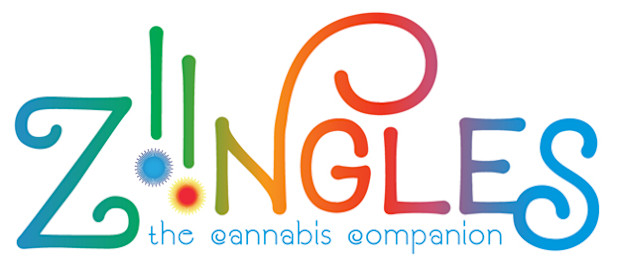 ---
Colloquially known as 'cotton mouth,' cannabis-induced dry mouth affects virtually everyone who consumes cannabis, whether medicinally or recreationally, and whether by vaping, smoking, or eating it.
It was only in 2006 that scientists identified the mechanism behind cannabis-induced dry mouth.8
Specific receptors within the salivary glands and the brain—endocannabinoid receptors—are activated by the phytocannabinoid THC in cannabis. When THC binds to our endocannabinoid receptors, the salivary glands are inhibited from receiving their customary message to produce saliva.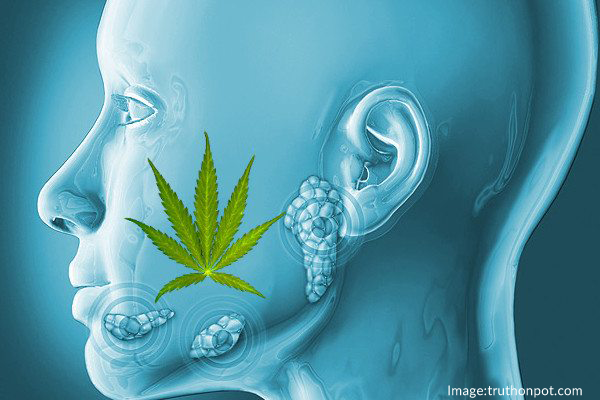 One of the many advantages of herbs over single-chemical drugs is that they are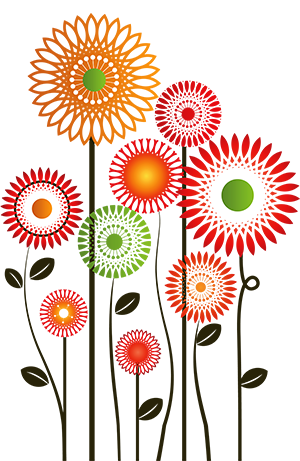 complex and multidimensional. Each herb features a diverse array of compounds that affect the body simultaneously, providing multiple benefits.
For example, though our primary herb spilanthes is principally used for its oral health benefits, it is also a superbly effective antimicrobial.
When herbs are combined with one another, the element of herbal synergy also comes into play. Interactions amongst each plants' multiple components occurs, potentiating the effect of the whole.
Z!!NGLES' synergistic formulation provides benefits beyond dry mouth relief:
Exposure to airborne viruses is inevitable, especially in crowded places such as airplanes and public transportation. Keep a bottle of Z!!NGLES handy when you're flying or traveling to maintain healthy mouth and throat hydration, which helps protect from colds and flu. You can also use Z!!NGLES anytime you feel a sore throat coming on.
Singers and public speakers, take note! Z!!NGLES is the ideal solution for the rigors of every professional singer, public speaker, teacher or voice-over artist. If your career demands you use your voice constantly, there's no better way to protect it than with Z!!NGLES. Z!!NGLES immediately and reliably encourages saliva flow to maintain mouth hydration, ease dry throat discomfort, and eliminate raspy hoarseness. Speak or sing with the secure certainty of feeling and sounding your most confident best.
Saliva is vitally important for digestion, and Z!!NGLES helps to get yours flowing! Saliva provides lubrication for swallowing, contains enzymes that initiate the digestive process, and protects vitamin B12 from stomach acid. Use Z!!NGLES before or after a meal to help support healthy digestion.
Bad breath? Freshen your breath throughout the day—a quick spray or two before a meeting or a date, or during a workout, will enliven your mouth and refresh your breath. [Note: Bad breath (halitosis) is something that we all experience from time-to-time; however, chronic halitosis can be an indicator of other underlying health issues—a visit to your doctor to find out the cause is recommended.]
The importance of oral health extends beyond the mouth. An interesting recent study suggests an association between oral health and Alzheimer disease: of those individuals with Alzheimer who also had gum disease, there was a six-fold increase in the rate of cognitive decline over a six-month period.7

It's a kind of venerable, old-school classic herbal elixir. With a modern update.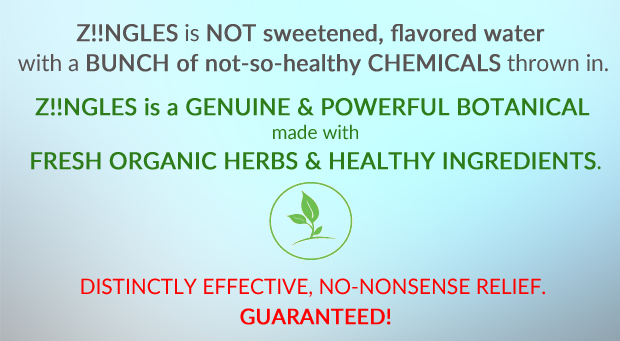 Z!!NGLES' host of flavor subtleties and natural sweetness arise from its complex blend of organic herbs, natural flavors and essential oils, xylitol, and vegetable glycerin, all of which modulate the profile and taste characteristics of Z!!NGLES.
Spilanthes itself has a light citrus and herbal-green, sparkling clean taste along with a notable tingling 'buzzing' sensation—followed quickly by a reliable flow of saliva. This sensation is normal (and a sign that the herbs in Z!!NGLES are working!) and will subside after a few minutes. Feel into the unique sensory experience of Z!!NGLES as it activates your salivary glands to release their refreshing flow of saliva.
Z!!NGLES is available now in naturally flavored spearmint, raspberry, or lemon!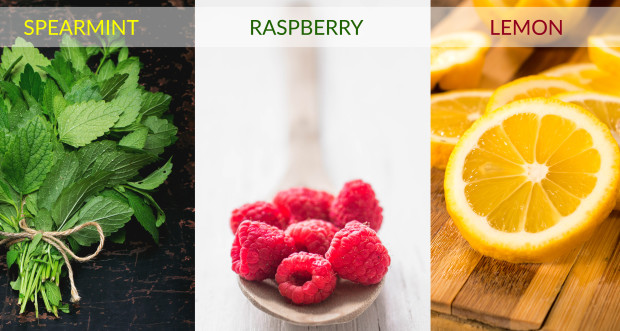 ---
With your help, we'll offer mango, chocolate-cherry, and classic, too!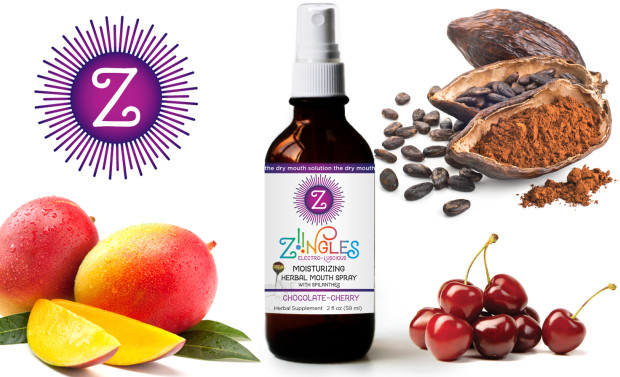 ---
Interested in Carrying Z!!NGLES in Your Store or Clinic?
Wonderful—we'd love to hear from you! Z!!NGLES offers the first-to-market, herbal-based product line formulated to relieve dry mouth. For wholesale and distributor opportunities, please email us at info@ziingles.com or visit us on our website: https://www.ziingles.com/wholesale
---


---
"As a herbalist and natural health practitioner, I'm passionate about exploring our relationship with nature and the healing properties of plants."
I've been involved in the field of herbal medicine for over two decades, both as a practitioner and a consultant to herbal and natural product companies—though my passion for plants arose much earlier than this. Growing up in a rural setting, a backyard of 40 acres of wilderness in the Coast Mountains of British Columbia offered no end of natural wonders to a curious young mind: majestic cedars shared their timeless wisdom as I sat beneath them, while the 'weeds' that I walked amongst became familiar companions and messengers of healing. The verdant beauty of these natural surroundings inspired in me a deep and abiding love and reverence for nature which grows stronger with each passing season.my personal site
Prior to a return to greener roots, a 10+ year career as a medical lab technologist provided me with valuable insights into the benefits—and shortcomings—of conventional medicine, along with a comprehensive understanding of how the body functions, both in health and in disease. It also instilled in me the desire to better understand our body's innate wisdom and profound intelligence to heal—vis medicatrix naturae—and the integral role that plants occupy in this regard.
I'm thrilled to introduce Z!!NGLES and our exclusive Indiegogo Perks to you!

Z!!NGLES grows out of an aspiration to answer a quite particular and pervasive distress. It's a no-nonsense, premium quality support for anyone who suffers from dry mouth, for those who have concerns about oral health, and for those wishing to optimize their well-being.
I'm a student of Buddhism and of holistic medicine—and have been for decades. I have a naturally high curiosity level and love to find out more, experiment more, and research more about the plant world and the enhancement of human well-being and self-realization.
I'm also a filmmaker and media artist and, in previous lives, a university lecturer (Northwestern University, Chicago), a natural bread baker, a hospital orderly, a student of ancient Hindu temple architecture, a once-upon-a-time maker of goat milk kefir in northern California, a truck driver, and an essayist on digital futurism —amongst numerous other occupations.
My films and media art works have been featured at such venues as The Museum of Modern Art in NYC and the The Centre de Cultura Contemporània de Barcelona and at international film festivals from Amsterdam to Vancouver. My bread was happily eaten by many and the kefir was flavoured with biodynamic strawberries. filmmaker site

---
Mandy is a clinical herbalist with knowledge and experience of quality management systems for the natural health industry, in particular, quality assurance of herbal products. Mandy ensures the company's compliance and fulfills a liaison capacity with FDA regulatory affairs for natural healthcare products. She lives on an organic/biodynamic farm in the Pacific Northwest with her family, two cats and a flock of renegade chickens.

Meow.

We've self-financed Z!!NGLES to date, including successfully completing our first production run of three flavors—spearmint, lemon, and raspberry—this spring.
We're seeking funding of $12,000 to bring three additional Z!!NGLES flavors to you by fall 2016.
When you pledge to support our project you can be assured that we'll deliver on the great Perks we've got lined up for you, with our inventory freshly on hand and ready to ship!
Because we've already navigated the process from start-to-finish, we bring a clear understanding of what is needed and the expenses involved. The funding that we receive will be used to cover costs for:
Production: Due to economies of scale, each flavor requires a minimum production run of several hundred bottles. We must provide 50% of the cost, upfront, to our manufacturing partner when we place the purchase order, and the remaining 50% is due when production is complete. This is our biggest expenditure.
Packaging: We use amber glass bottles for packaging, which are more costly than plastic.
Labels: Graphic design work + printing costs of additional label versions.
Shipping: Shipping costs are significantly higher with glass bottles, as they are heavier and much more fragile than plastic.
Warehouse & Fulfillment: Includes receiving, storage, order processing and picking/packing, packaging materials, inventory management and associated account fees, all of which are invoiced and paid weekly.
Promotional including social media outreach.
Indiegogo campaign fees, payment transaction fees, Perks' shipping.
---

Z!!NGLES will deliver the goods on every Perk pledged, as we've bootstrapped the first production run of three flavors, ourselves—we're ready to start shipping now.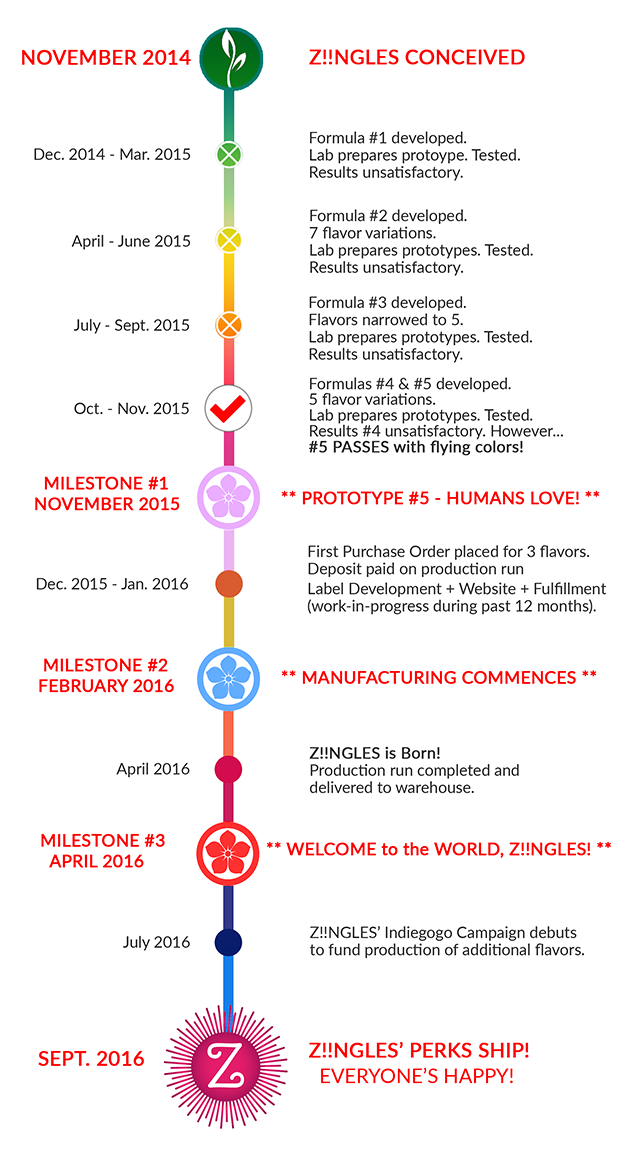 ---



---

Z!!NGLES is a tangible product; yet, in its essence, a disruptive one. Oral care for dry mouth—a problem which affects literally tens of millions of Americans and many million of others worldwide—is serviced principally by a mega-corporate, complacent industry.
Z!!NGLES' intent is to refresh not only your mouth, but the oral health care concept as a whole.
Depending upon the amount that our funding goal is exceeded:
1. We'll increase our new flavors' production runs to their next volume pricing tier. This will improve our economies of scale which, in turn, improves our margin. We'll be able to pass these savings on to you with a reduction in retail price.
2. We have a full suite of organic and sustainable products envisioned to optimize your oral health care regime. With sufficient funding we'll be able to continue our R&D on these products, as well as move forward on our ambitious longer-term objectives including:
Eco-friendly Refill (packaged in recyclable aluminum): Larger bulk size for refilling your spray bottles, with a bottle you can recycle or repurpose
Travel-size: Sleek and discreet for your pocket, purse, or backpack. Take it on-the-go!
Innovative Packaging: Stylish bottles that add an elegant esthetic, made with environmentally friendly materials such as recyclable aluminum or glass.
Organic Lozenge and Gum: Dry mouth and oral health support infused with spilanthol extract/jambu oleoresin, herbs, functional ingredients including xylitol, natural flavors.
Tea Blends: For dry mouth plus adjunct blends for sleep, relaxation (mind and body), memory support.
'Electric Marshmallows': A fun—and functional—novel treat made with organic marshmallow root, spilanthes, xylitol and natural flavors.
Rehydrating Effervescent Beverage: Compressed tablet or powder containing spilanthol, herbs, xylitol and other functional ingredients, plus natural flavors. Just add water or juice for delicious, instant rehydration.
Mouthwash, Toothpaste: Herbal-formulated dental and oral health support.
Ancillary Products: Dental floss, tongue scraper infused with spilanthol.
R&D on: 1. Terpene-enriched products for synergistic 'entourage effect' of cannabinoids; and 2. Proprietary herbal formulation to counter the short-term memory impairment associated with cannabis use.
Clinical Study: Collaborate with clinical research facility to measure Z!!NGLES' effectiveness: 1. Quantify the increase in rate of saliva flow and amount of saliva produced. 2. Measure duration that sialogogue effect is maintained. 3. Determine if there is cumulative improvement of salivary gland function with regular use. 4. Additional information and confirmation regarding the antibacterial, antiviral, and antifungal profile of Z!!NGLES.
WHAT HAPPENS IF WE DON'T REACH OUR CAMPAIGN GOAL?
We'll use the funds received towards production of one or two (depending upon amount received) additional new flavors, as well as continue our ongoing research and development of the Z!!NGLES products we're actively working on. We'll also continue our promotional and outreach efforts to strengthen and build the community we are serving.
---

DISCLAIMER
These products and statements have not been evaluated by the Food and Drug Administration. All information and products herein are not intended to diagnose, treat, cure, or prevent disease. The information on this site is for informational and educational purposes only and is not intended as a substitute for advice from your physician or other health care professional. Consult with your physician before starting any dietary supplement if you are taking any prescription medication, have a pre-existing medical condition, or if you suspect you may have a health condition.
---
IS Z!!NGLES EFFECTIVE FOR DRY MOUTH CAUSED BY MEDICATIONS?
Yes! For individuals taking prescription medications, especially multiple

prescriptions, dry mouth side effect is extremely common.
Z!!NGLES brings immediate moisturizing relief to medication-induced xerostomia.With its unique formulation of powerful sialogogue herbs, Z!!NGLES supports the body's own production of saliva to quickly and naturally rehydrate and moisturize your mouth.
---
WHAT ABOUT RADIATION THERAPY-INDUCED DRY MOUTH?
Loss of saliva is one of the most common complaints amongst patients who have received radiation therapy of the head and neck. Radiation-induced xerostomia contributes to oral health complications including periodontal infection and dental caries.
Z!!NGLES is formulated to address the issue of dry mouth, no matter the cause.
---
CAN Z!!NGLES HELP SJÖGREN'S SYNDROME SUFFERERS?
Sjögren's syndrome is a chronic autoimmune inflammatory disease in which the body's white blood cells damage the moisture-producing glands of the body, including the salivary glands. This causes decreased saliva production and subsequent dry mouth (and complications thereof).
Approximately 4 million Americans are afflicted with Sjögren's syndrome. Because the disorder may be difficult to diagnose, the incidence of the disease may be considerably higher. To date, there is no cure for Sjögren's syndrome, and treatment remains symptomatic—aimed at relieving the symptoms.
Z!!NGLES offers effective relief for mild-to-moderate dry mouth associated with Sjögren's syndrome.
MY SLEEP IS OFTEN DISRUPTED BECAUSE OF DRY MOUTH DISCOMFORT. CAN Z!!NGLES HELP?
Saliva production is greatest during waking hours and naturally diminishes during sleep—dropping off to almost nothing. This process is regulated by our body's circadian rhythm.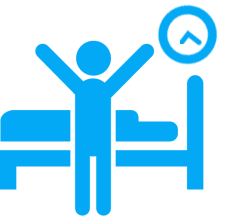 Having an extremely dry mouth and killer thirst during the night can cause you to awaken repeatedly, compromising your ability to get the zzz's you need to feel and be your best. Snoring or sleep apnea can further aggravate dry mouth at night.
Z!!NGLES helps nighttime dry mouth by stimulating saliva production so that your mouth feels instantly moisturized and comfortable.
Keep a bottle on your nightstand for fast-acting relief—and you can get back to getting the rest you need.
MY DOCTOR PRESCRIBED MEDICATION TO INCREASE MY SALIVA FLOW. CAN I USE Z!!NGLES INSTEAD?
Many common prescription medications used to increase saliva flow have undesirable side effects such as excessive sweating or nausea, or more dangerous risks such as arrhythmia. Z!!NGLES offers a natural and holistic option to support your body's innate salivation process.

We encourage you to discuss with your doctor whether Z!!NGLES may be suitable for you; however, we cannot recommend that you discontinue any medication you may have been prescribed.
CAN Z!!NGLES BE USED REGULARLY?
Yes! There is no build up or 'tolerance' to the ingredients in Z!!NGLES. You'll experience the same beneficial results no matter how many times you use it.

Additionally, the herbs in our formulations have been safely used by millions of humans for millennia.
Please note: If you are pregnant, nursing, taking any medications, or have any health condition, please consult your doctor before using any herbal or dietary supplement.
---

HOW DO I USE Z!!NGLES MOST EFFECTIVELY?
If this is your first time using Z!!NGLES, we suggest to start conservatively, with just one spray. You may be surprised at how little you need!
Shake your bottle well and then spray once, directly into your mouth. Hold for 15-30 seconds, swirling the herbal around inside of your mouth to coat all of the oral surfaces, before swallowing.
A slight tingling or 'electrical' sensation is completely normal and a sign that the herbs are working to activate their refreshing flow of saliva! This sensation will subside after a few minutes. If you would prefer less 'intensity' of the tingle sensation, simply spray Z!!NGLES into a small amount of water or juice, and hold in your mouth for 15-30 seconds before swallowing.
If you would like more saliva release, repeat with another one-to-two sprays. The amount and frequency of use depends upon your individual needs, including the severity of your dry mouth.
---
WHAT ABOUT QUALITY?

We use the finest organically cultivated and sustainably wild-harvested herbs, picked and processed at their peak of potency, and we do not use endangered or at-risk plants from the wild. Additionally, our herbs are never fumigated, irradiated, or sprayed with pesticides or herbicides. We work only with established, reputable botanical suppliers who fulfill strict vendor qualifications that are part of the Good Manufacturing Practices (GMPs) certification process.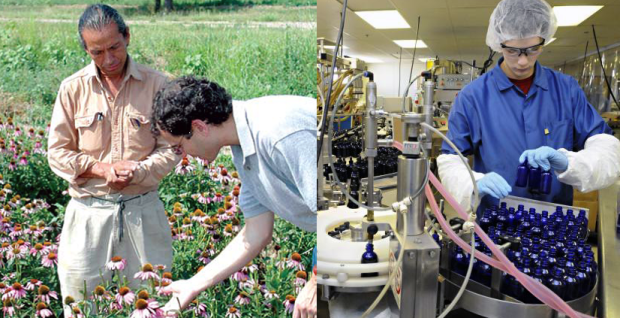 WHAT IS GMP MANUFACTURING?



Quality control regulations known as Good Manufacturing Practices (GMPs) are:
"... guidelines that provide a system of processes, procedures and documentation to assure a product has the identity, strength, composition, quality and purity that appear on its label."
10

Our manufacturing partner is GMP-certified, FDA-registered, and a Certified Organic Goods (COG) facility, and has been in operation for over three decades.
GMPs are diligently adhered to during every stage of our manufacturing process, with documentation of each step maintained from start to finish. Upon arrival at the facility, all raw materials are placed in quarantine where they undergo identity and purity testing to ensure correct botanical identification and to rule out adulteration. Finished products undergo rigorous quality assurance testing including microbiological and heavy metal analysis, and sample retention for stability.

---
EXTRACTION
Just as our premium herbs are of the highest quality, so too are the pure, natural solvents that we use for extraction: water, alcohol, and vegetable glycerin.
The water used for preparing our herbal extracts undergoes a 9-step filtration and purification process to create an ultra-pure water. The alcohol used is made from non-genetically modified corn, ensuring that Z!!NGLES is gluten-free, and our vegetable glycerin is derived from sustainably grown, SGS-certified palm fruit kernels.
Each individual herb in Z!!NGLES undergoes a dual-extraction process—an initial 24-hour maceration followed by cold-drip percolation—using precise concentrations and proportions of solvents and herbs to ensure the most potent and energetic extracts available. Some of our extracts then undergo a secondary phase in which the alcohol is gently removed and replaced with pure vegetable glycerin.
The individual herbal extracts are then combined in optimal proportions to create a synergistic, potent whole that is appreciably greater than the sum of its parts.
---
WHY DOES Z!!NGLES CONTAIN ALCOHOL?
Z!!NGLES contains a low amount (23%-33%) of alcohol in the finished product to preserve the full bioactivity and potency of our primary sialogogue herb, spilanthes.
During R&D of Z!!NGLES, we compared versions of our proprietary formulation prepared with spilanthes as an alcohol extract, and versions with spilanthes prepared as a glycerite. We determined that the sialogogue action of our prototypes was significantly better when spilanthes was included as an alcohol extract, as compared to when it was included as a glycerite.
The low alcohol that remains in the finished product provides multiple benefits
maintains the mouthwatering sialogogue action of spilanthol, a unique bioactive compound in spilanthes;
enhances absorption of Z!!NGLES into the body more quickly and effectively; and,
provides a natural preservative system, enabling us to avoid using undesirable artificial and chemical preservatives.
---
HOW LONG WILL A BOTTLE LAST?
If you use Z!!NGLES a couple of times a day, three sprays each time, one bottle (2 fl oz) will last you two months—longer if you only use one-to-two sprays each time. There are almost 360 sprays per 2 fl oz bottle.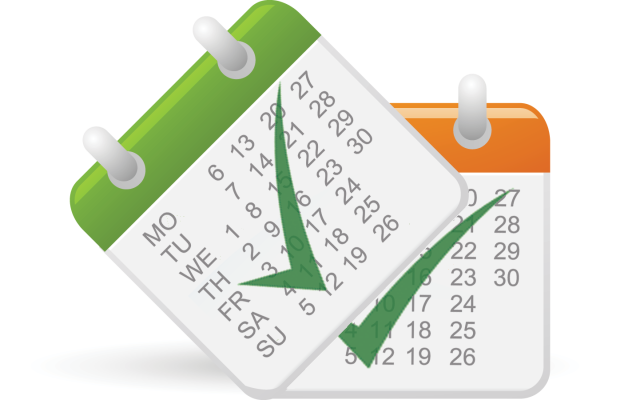 Some may want to use Z!!NGLES more frequently, while others may need it only occasionally—it depends upon your personal needs.
We encourage you to experiment to find out what works best for you!
Z!!NGLES doesn't require refrigeration (though it's best to keep your bottle out of direct heat or sunlight) and its shelf-life is a minimum of 5 years from date of manufacture.
---
WHY DO WE BOTTLE IN GLASS?
It would be considerably less expensive to bottle Z!!NGLES in plastic, but we believe that health—yours and the planet's—should not be compromised by a corporate bottom line. Plastic is not an optimal environmental choice, nor does it provide you with the highest quality and safety available. Glass is the only packaging material that the FDA ranks as "Generally Regarded As Safe" (GRAS).

Classic and time-tested, amber glass is inert—chemically nonreactive—and impermeable to oxygen, so it doesn't interfere with or degrade any of the ingredients in Z!!NGLES or diminish their therapeutic benefits. Our carefully selected herbs maintain their premium quality, purity, and integrity, and the natural flavors we use remain true—not tainted with a 'plastic taste.'
Glass remains one of the most recyclable of packaging materials. It is made of a single material, which reduces energy and waste during production—and, when recycled, less by-products and waste are generated.
---

WHERE CAN I FIND ADDITIONAL SCIENTIFIC RESEARCH ON SPILANTHES AND THE OTHER HERBS IN Z!!NGLES?
---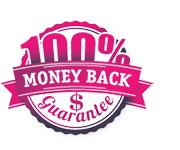 We take great care and pride in the products we make, and our goal is for you to be genuinely happy with everything about Z!!NGLES.
Please see our Refund Policy here: https://www.ziingles.com/refund-policy
---

SHIPPING RESTRICTIONS/VAT/IMPORT DUTIES FOR OUTSIDE OF USA
Importation regulations, Customs' Duties and/or other fees can differ from country-to-country on dietary supplements. Please be sure to check with your local Customs' office if you have any questions. We do not charge or collect any fees or duties for exporting Z!!NGLES out of the USA.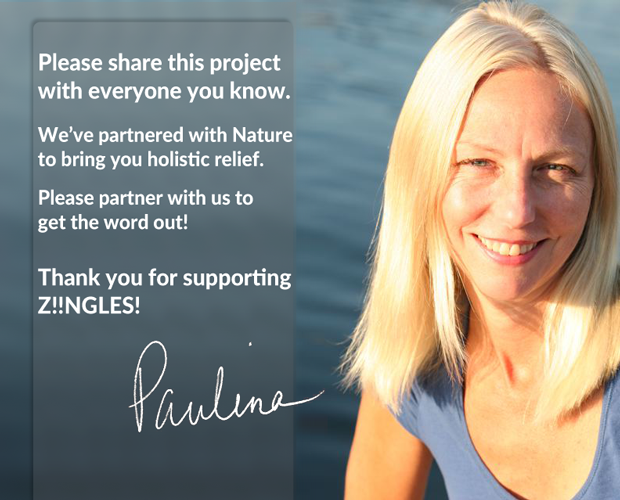 CONTACT
For any inquiries, please contact us here via our Indiegogo page or, if you prefer, at info@ziingles.com | our company website: www.ziingles.com