World's most affordable and lightest electric bike from Coolpeds USA from $439!
This campaign will offiically launch on July 8th, 2016!
Transform your commute into a green and smile-inducing experience!
Introducing the world's most affordable and lightweight electric bike. The Coolpeds iBike is ready to revolutionize the electric bike industry with its super light weight (about 29 lb), powerful 350 Watt brushless motor, and front wheel drive system for easier handling.
Coolpeds USA has already successfully completed and delivered on a few crowdfunding campaigns!
You can follow our Facebook page at www.facebook.com/coolpeds to get the secret perk link and pay only $439 for the iBike! (only 30 available)
Genuine Leather Seat with suspension
We designed our entire bike to be beautiful down to the details. We created a gorgeous retro style bike and finished it with a genuine leather seat and grips. The battery is even concealed in a matching leather-look pouch (unlike other electric bikes that have very large and tacky plastic battery compartments). So you can ride through town stylishly and effortlessly, surprising everyone with how you get there so fast and still look so good!
Super lightweight frame and quiet brushless motor
Just as much as we want to make you look good, we want to make your life easier. So we made sure to build the lightest e-bike out there. We maximized style, function, and power while minimizing any excess bulk with a lightweight frame and slim tires. Some other e-bikes weigh a hefty 50 pounds, which is difficult to carry around town, especially on daily commutes.
Our electric bike weighs an amazing 28-30 pounds, which makes it easier to carry and accessible for many more people. It is light enough to be carried down steps to the subway, pushed through town in crowded areas, or carried with you wherever you need to go. The smart LCD display control unit lets you adjust the top speed limit from levels 1-5.
EASY TO RIDE & COMFORTABLE
Start riding immediately at the push of a button or by pedaling. The spring cushion leather seat and tall handle bar provide a comfortable seat and riding posture. The Smart LCD display also helps you customize your max speed setting and check your speed, battery level, and range traveled.

DETAILS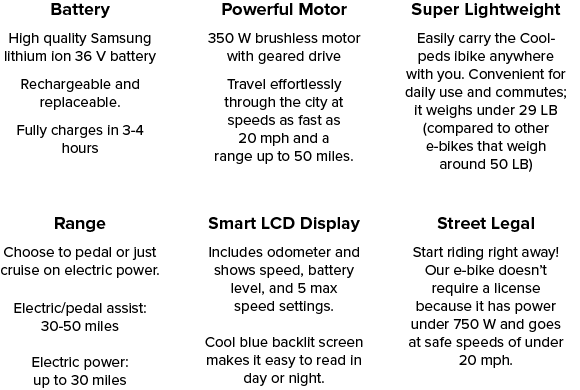 PRESS & REVIEWS

See us on CBS TV nationwide coverage:
Previous successful campaigns!
Coolpeds has already successfully completed a few crowdfunding campaigns, such as the super cool Briefcase Electric Scooter!
Adrian Grenier on a Coolpeds Briefcase Electric Scooter!
Test ride at UCLA
Coolpeds exhibition booth at the CES Las Vegas 2016!

TECHNICAL SPECS
SPECIFICATIONS
The Specs - The Basics
| | |
| --- | --- |
| Style: | Cruiser / Vintage |
| Transmission: | Single-Speed |
| Brakes: | V |
| Seat: | Genuine Leather + Under Spring Suspension |
| Lighting: | Front LED Lights / Rear Reflector |
| Fenders: | Optional add on |
| Kickstand: | Rear |
| Warranty: | 1 Year Most Parts |
The Specs - Frame
| | |
| --- | --- |
| Frame: | Steel lightweight Frame |
| Handlebar: | Stainless steel tall cruiser bar for extra comfort |
| Fork: | Steel |
| | |
| --- | --- |
| Throttle Type: | Smart LCD display; 5-Level with brake safety power cut off |
Wheels:
26" x 2" Beach Cruiser Rims with Metallic Spokes
Tires:
26" x 2" (32 PSI)
Tubes:
26" x 2" 48mm Valve
The Specs - Performance
Motor:
36-Volt 350-Watts
Battery:
36-Volt 10Ah
Top Speed
(Pedal Assist):
30 mph
Top Speed
(Fully Electric):
20 mph
Range
(Pedal-Assist):
50 miles
Range
(Fully Electric):
20 miles
Throttle Type:
Smart LCD display; 5-Level with brake safety power cut off

MANUFACTURING AND DELIVERY
The Coolpeds eBikes mass production line will start in
August. Most of the tooling and molds are complete already. So your bike will be made and delivered for sure!

PERK TIMELINE
June- crowd funding starts
July- campaign ends
August- production starts
September- first batch ships

ABOUT OUR TEAM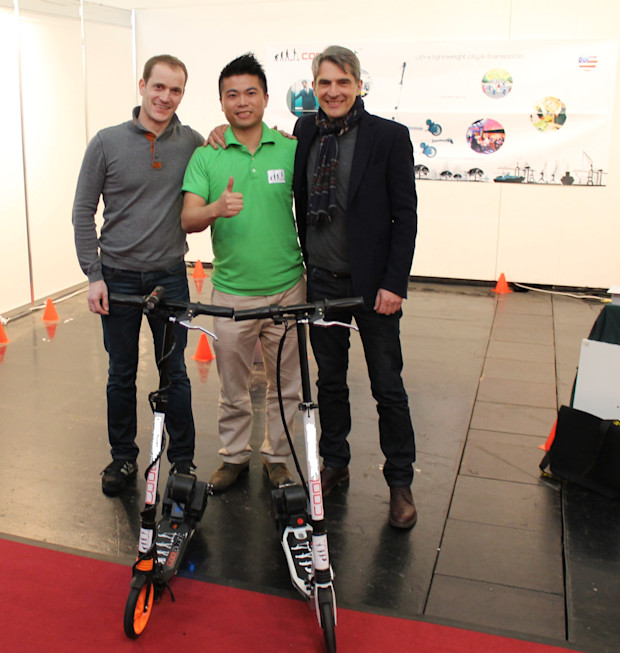 Tony Chan - founder of Coolpeds USA, graduated from UCLA, with over 15 years of manufacturing, international marketing, and automotive racing technology experiences; he previously worked at Accenture and Microsoft in Seattle as a software developer. Tony received a number of patents in the USA for designs in various products and the innovative Coolpeds Briefcase Electric Scooter.
Tony L - mechanical and electrical guru, with over 25 years of experience in electric motor design, industrial automation design, metal fabrication, tooling and molding, and manufacturing.
Jeff Smith - graduated from the Rhode Island School of Design in industrial design and has over 15 years of professional experience in designing sports products.
Karina Y - finance and marketing guru, graduated from York University in Toronto
Chester Mui - graduated from Tufts University, with over 10 years of expertise in product launch and global marketing; previously worked at IBM and Groupon USA.

FAQ
What size is the Coolpeds ebike frame?
The frame is built to be one size fits most, and it has been tested up to 220 lbs.
What size are the tires?
26" x 1.5"
How many watts is the motor?
EU version 350W motor. EU version is 250W motor.
What is the range of the battery?
Electric/Pedal assist range up to 30-50 miles (rider weight and terrain contingent).
Under Electric Power Range - up to 20 miles (rider weight and terrain contingent).
What are the battery specifications?
36V 10Ah Samsung lithium ion battery
Is the frame aluminum or steel?
Carbon steel frame
How much does the Coolpeds eBike weigh?
The entire bike weighs about 14kg or 30 lbs
How fast is this bike?
Up to 20 MPH (rider weight and terrain contingent).
What is the gear ratio of the drive system?
Single gear.
When will I receive my Coolpeds eBIke?
Please refer to the Perk Timeline graphic above.
Can I get a refund?
Please read Indiegogo's policy here.
Who is responsible for any additional taxes, duties or VAT?
The backer is responsible.How much is shipping?USA is $188 and International is $239.
Do all perks require shipping be paid?Yes.
Will I be able to buy replacement parts?
Thank you so much for your support! And enjoy the ride.