WATCHURSTEP ™ High-tech heating mats for doorways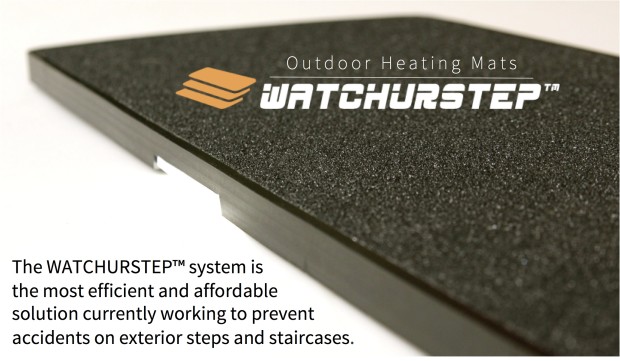 The winter can be perilous and can make the journey from and to your doorway a dangerous one. Without proper maintenance this situation can cause slip and fall and staircase accidents, the second leading cause of unintentional injuries (according to the National Safety Council).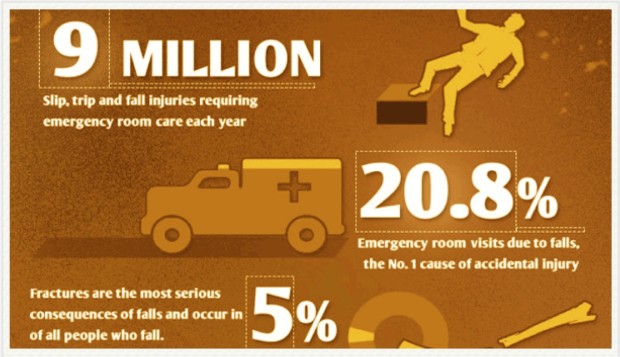 Source : EHS TODAY

We have worked hard to design a product that will cover every aspect of safety related to this hazardous area of a building.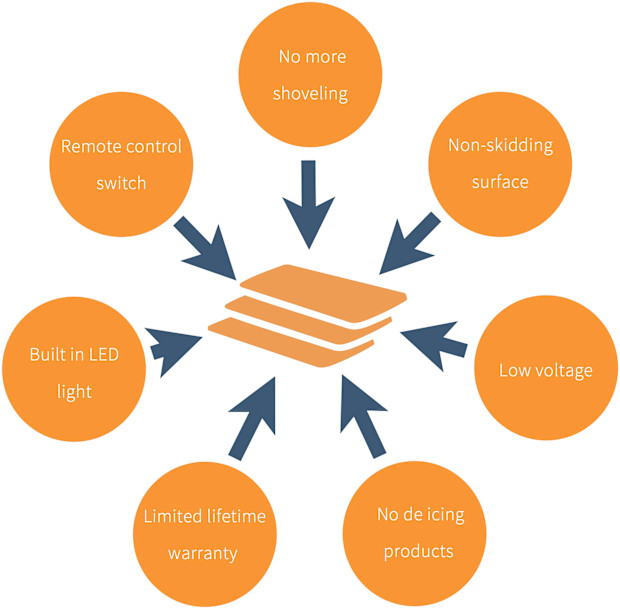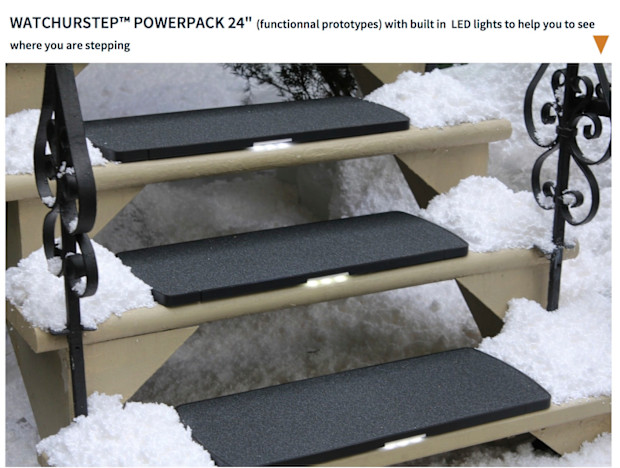 This unique and patented design that utilizes the principles of heat dispersal through a bearing surface. It generates 35 w per square feet and the efficiency of the system melt the snow and the ice very quickly and smoothly. As you can see this video is fast forwarding 20 x. In real time, it took about 8 minutes to melt this chunk of snow.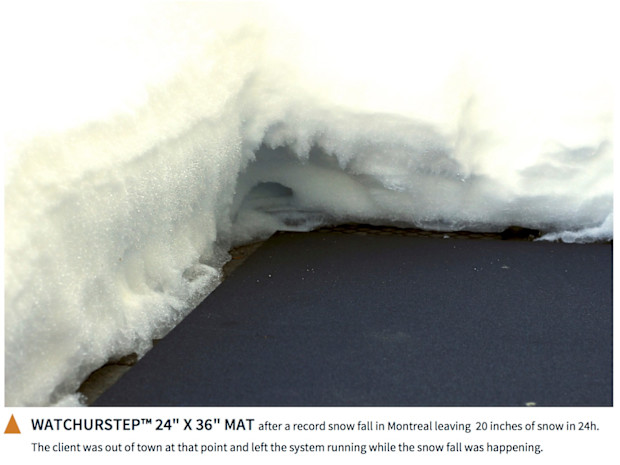 The top of of each WATCHURSTEP™ mats is covered with a very resistant non skidding material certified :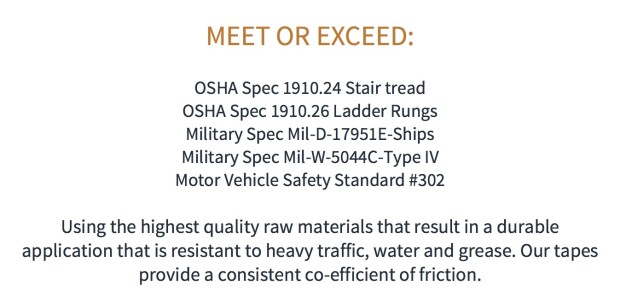 All our heating systems come with a RF remote control switch that enable you to turn off and turn on your system in the comfort of your home. No need to go outside! No WI-fi needed, so no set-up! Just plug and heat!




WATCHURSTEP™ will protect your cement steps from deterioration caused by abrasive elements such as salt and shoveling. The cost of repairing or replacing cement stairs is infinitely more expensive than the price of a WATCHURSTEP™ system.

During winter time, the days get shorter and the darkness can make doorways more dangerous. The LED light gives off a glow that enable you to see where you are stepping. It gives a easy way to know if the system is on as well.

All our heating systems come with a RF remote control switch that enable you to turn off and turn on your system in the comfort of your home. No need to go outside! No WI-fi needed, so no set-up! Just plug and heat!

We are using low voltage current 24 V for all our system. It is way more safe for the user and it allow us to be able to implement some LED lighting system. In order to be able do that, we are using waterproof IP69 120V to 24V transformer. For aesthetic reasons, we suggest that you attach the transformer either underneath, on the side of your staircase or in any other discreet area. The low voltage power supply plugs directly into your exterior outlet or other exterior electrical sources such as a porch light.


The mats are directly connected to the power supply and are secured directly into your stairs (cement, wood, fiberglass).



The WATCHURSTEP™ systems will come with a 5 year guarantee (the transformer is guaranteed for 1 year by the manufacturer). But for the backers of this campaign, WE WILL OFFER A LIMITED LIFETIME WARRANTY ON ALL SYSTEM BOUGHT AS PERKS. The systems have a maximum lifespan of 10 years, depending on use and wear. It is possible to change the non-skidding surface once it is worn out (this service is offered by our company for an additional fee).

WATCHURSTEP™ products are fully warranted to the original owner against defects in the materials and workmanship for the lifetime of the product. If a product ever fails due to a manufacturing defect, even after extended use, we will repair the product, without charge, or replace it, at our discretion. This warranty does not cover damage caused by accident, improper care or negligence. Damage not covered under warranty will be repaired for a reasonable rate and a fee will be charged for return shipping.

We are offering different standard sizes, but because our product is not molded, we can customize it to fit your needs!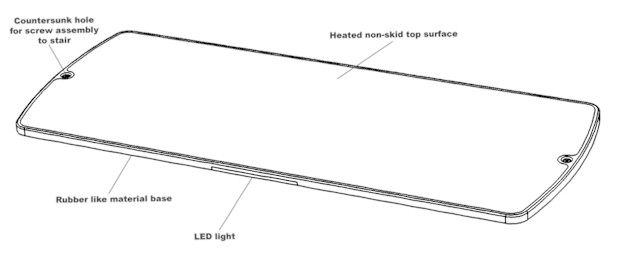 The standard width we are offering in this campaign is 24 or 36 inches. If you want a bigger or different size, you can order the WATCHURSTEP CUSTOM Package with 50 Sqft of your own shape and design. It's the same principle for all our products.
So what you get in the WATCHURSTEP POWERPACK 24 inches will INCLUDE:
- 3 MATS 24 inches x 10 inches with LED lights
- 1 WATERPROOF IP69 POWER SUPPLY 360 WATTS *
- 1 REMOTE CONTROL
- ANTI-THEFT ANCHORING SYSTEM which is basically stainless steal screws with a weird bid that prevent the mats from being unscrewed
The first thing you need is power – I mean electricity, so if you don't have an outdoor outlet you can use your outdoor light as a source of power.
You take the receiver of remote control and plug it into your outdoor outlet. After, you might have to use an outdoor extension cord if your stairs are too far from your outlet. So you plug your extension cord into the receiver and you run the cord next to your staircase. You screw the mats to your stairs then you connect the mats to the power supply and the power supply to your extension chords. Press the remote control and Hallelujah!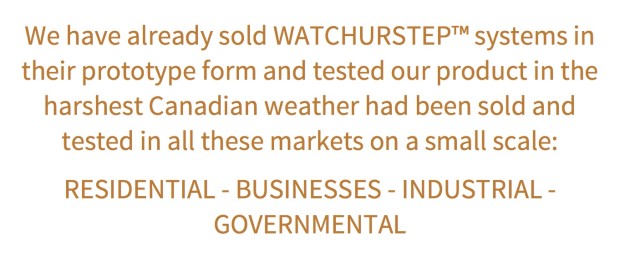 All the pictures and footage are fully functional heating mats prototypes.




We asked some of our clients to share their experience with the WATCHURSTEP™ system. Find out how it solved their safety issues, helped improve their quality of life, and how they can't imagine their lives without their WATCHURSTEP™ systems.




"I would never have imagined owning such an efficient system. My wife and I are thrilled not to mention the wonderful compliments we've received from visitors. Naturally, because we're getting on in age, our friends who come to visit are elderly as well. When they climb our front steps they always feel safe... I strongly recommend this product..."
- A. Cadieux, Fabreville QC Canada

Why have we chosen an Indiegogo crowdfunding campaign? Because we know that the best way to test the market is to go straight to the client. Crowdfunding on Indigogo gives us the opportunity to validate that our product matches the needs of the market before we begin mass production.



By backing our project, you are not only making a difference in your life but in the lives of others as well by enabling us to access the resources we need in order to provide our product to the masses. Together, we will help insure a better, safer quality of life for ourselves and those around us during the winter.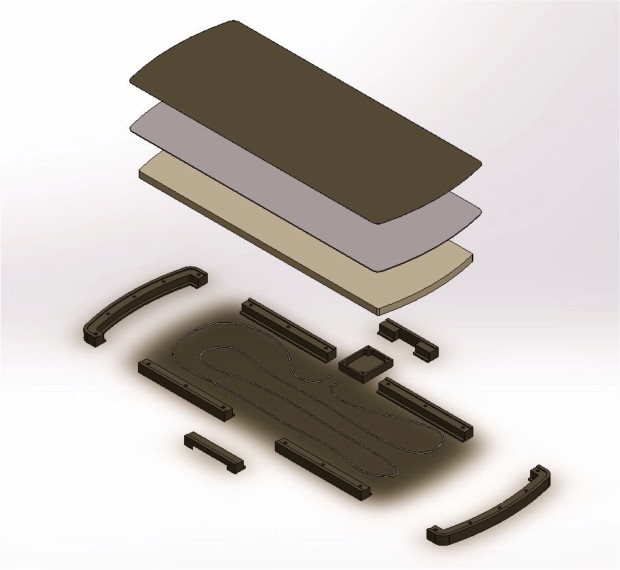 We are working towards being able to produce WATCHURSTEP™ systems using a manufacturing process that will increase productivity and lower the production costs.
To built and own assembly lines that will allow us to produce our various products on a large scale.
To buy manufacturing tooling.
To order parts from China and assemble them and make stocks available for the market.


Since the beginning of this project we have overcame many problems. tweaked our systems to make them more and more efficient. We had grown our outsourcing network with suppliers in China and America. We are finally ready to offer you the best heating mats system . With your help, we will make doorways and staircase safe area in winter.