Hand-Made The Traditional Way
No problem if you're not a sailor. No problem if you're not a Viking. No problem if you're not from the Lord of the Rings. You can still relish the charm of Middle Ages with our Vintage Oak Mugs. Rustic & Stylish the mugs are hand made from over 21 hand processes and is a culmination of 20 different pieces put together the traditional way.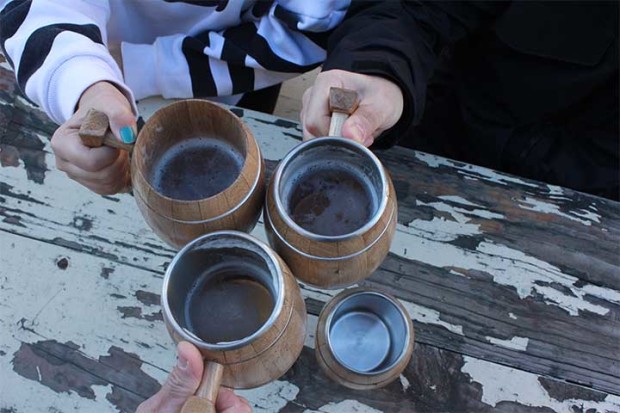 A Classic Piece You Would Treasure
It is not a decorative piece, it's made for actual drinking purpose. Made with
Genuine Oak Wood, this mug is food safe and leak proof. Unlike any other
mug, it can hold up to 550ml of beer (apart from the jealous stares of other
unfortunate souls with boring mugs). And besides looking cool, this mug actually
keeps your drink cooler, for a longer time than other drab mugs (made of glass).
It is safer and sturdier (compared with glass mugs that break accidentally) You can
even stand on them, or drive a car over it, the mug won't break.
So are you finally ready to leave the puny mugs to tiny-sipping sissies and step-up to some real thirst quenching!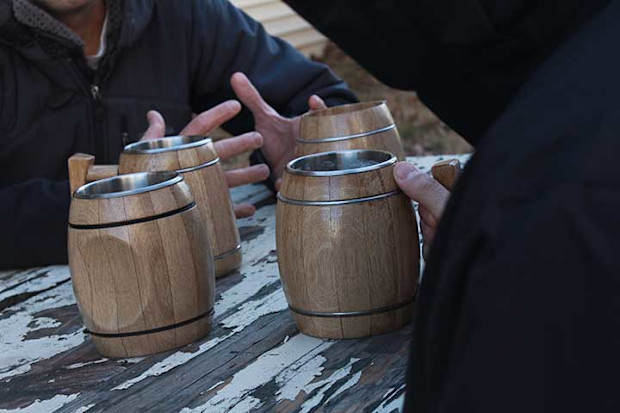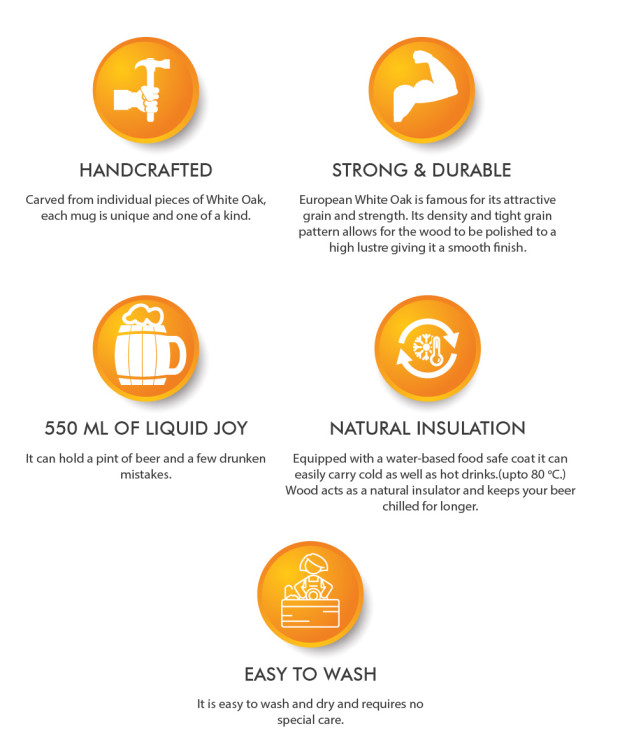 Each of our Mug goes through 21 unique steps to finally shape up in to a One of a kind Vintage Mug.
The binding process does not involve any nails or metal bolts on the inside to hold the wood. This ensures no metal touches your beverage and rules out rusting of any kind. Its construction is very similar to the age old wine barrel construction.
The strips of wood are engineered in a way that only 2 thin rings on the outside are needed to hold it together. Some mug designs do not have metal rings or wooden handle, but they have a unique design for easy grip.
We insist every single detail of our product is perfect and hence each mug is inspected twice before it is shipped out.
We are particularly proud of our designs as they have a modern, solid, geometric, aesthetic look, while they still maintain the antique, raw feel.
The wood used to create the barrel mugs is Genuine Oak Wood which is furnace treated, which ensures that it is completely moisture-free and dry.
So sit back, and enjoy your drink in this wonderful mug. Worry -Free!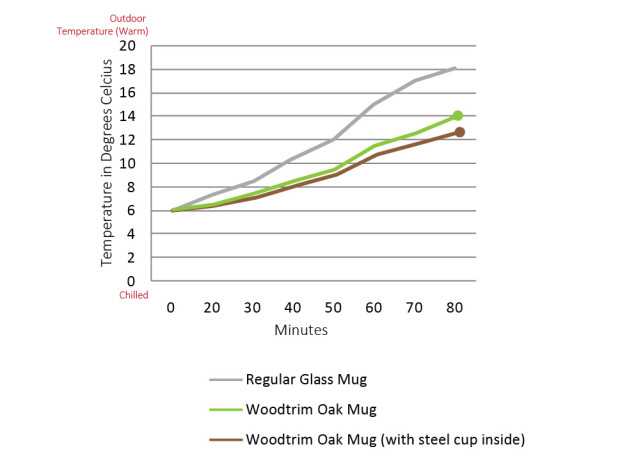 The Average Glass Mug keeps your Beer chilled for less than an hour, it starts
to warm up fast, as compared to our wooden mugs. Beer is enjoyed best
when you have it chilled. WoodTrim Mugs have 100% natural oak wood &
protective steel cup on the inner side, this keeps your drink chilled for the
longest duration, Naturally!
OPTIONAL FEATURES
Stainless Steel Cup
The wooden cups are perfectly safe for consumption although we do have an option to get a stainless steel cup fitted inside your barrel mug. You will have the option to choose whether you want a steel cup in your mug once the purchase has been made.
Engraving
Never mix your mug with anyone else's again with the personalised barrel mug. You can now have your mug carved with a quote you like, your name or even a logo. We also have a large bank of design to choose from in case you can't make up your mind on a design.
The engraving is done with a laser cutter and provides neat and precise results.
Nothing says best buds like a Personalised Beer Mug!
Share the Viking beer experience and spread the joy by gifting a mug. Our personalised mugs make great canvases for friends' initials, sweet messages or even expressions of mutual love for beer. We've got you covered for all your festive and personal gifting needs as each mug is not only unique but also comes with the promise of good beer and great times.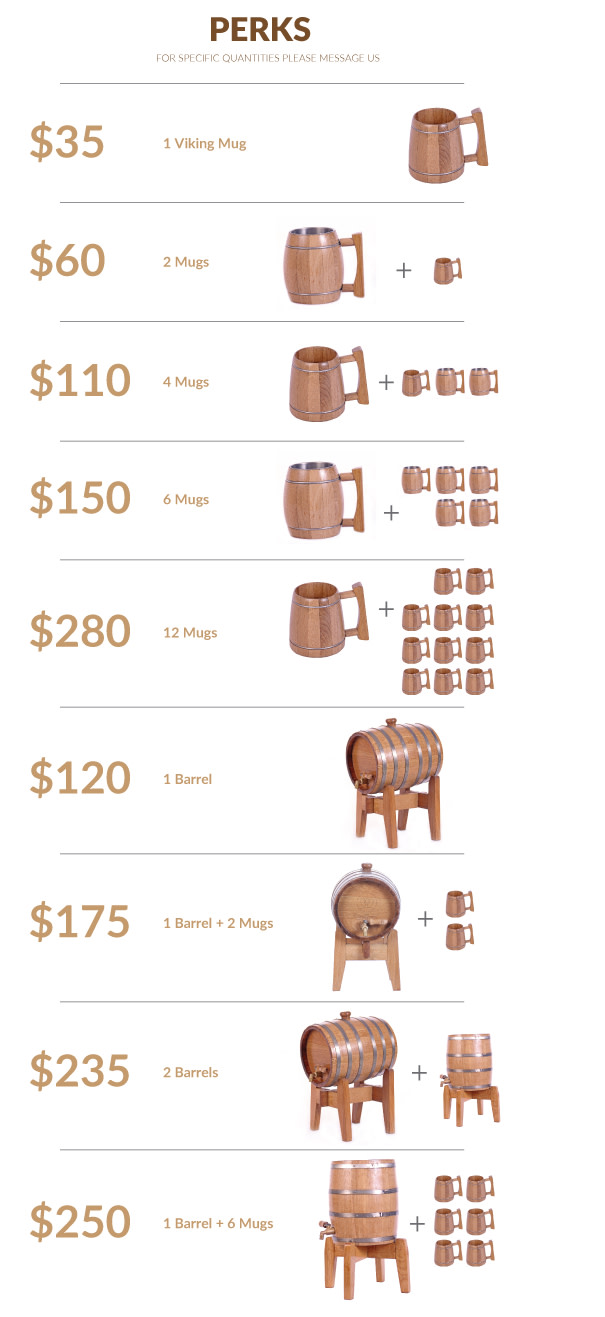 Disclaimer
Indiegogo won't ask you to choose your mug/barrel when you contribute, but don't worry. We will send you an email with a survey form within a week where you can choose your barrel/mug's shape, steel cup and engraving.

Our Story
We are a small team of 4 people and our dream project has passed the conceptual stage. We've designed, developed, engineered, and rigorously tested a batch of all our products, sucessfully over the period of 2 years. This has been a ton of work, costly, and time consuming, but now that it's all completed, we are sure, we can deliver top quality products on time.

Why Use Sustainable Wood?
We have a love affair with wood. Wooden furniture, wooden doors, windows and other wood interior designs are commonplace in almost every home and office. The natural ambiance of wood products makes it a premier choice. From the time of the Aboriginal people till today.
There are several reasons why wood remains the natural choice.
Wood is a truly renewable resource that is grown by the sun. In sustainable forests if forests are cut down to harvest wood new trees are planted to renew the resource for the long term
Wood is a durable material that can last for generations
Wood enhances our surroundings by bringing warmth, spirituality, and connection to mother nature into our living spaces
Wood is versatile enabling us to maintain traditional looks, or create modern sleek designs with our products.
Life cycle analysis and scientific studies have shown that using renewable resources such as wood helps the environment over the long term when compared to other materials, and compared to wood that is not sourced from sustainably managed forests.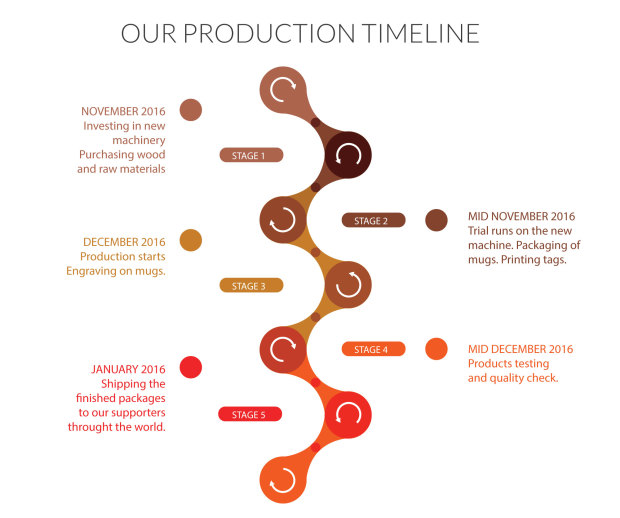 Frequently Asked Questions:
How do I wash the cup? Wouldn't water affect the wood?
Your barrel mug is completely sealed and requires no special care. Wash it by hand with mild soap and warm water. Do not let your mugsoak in water.
NEVER PUT YOUR MUG IN THE DISHWASHER OR MICROWAVE OVEN!
Is it safe to drink out of it?
Yes, it is safe to drink out of the barrel mugs. Each mug has passed our health and safety standards. It has a water-based food safe coating that makes the mug completely resistant to anything that you can survive drinking.
How durable is it? How long will it last?
Each mug is handcrafted from European White Oak which is known for its durability and strength. Show the mug some love and care and it will be your companion for life.
When and how do I choose my mug shape, stainless steel cup and engraving?
Indiegogo does not allow you to select your mug shape and specifications upfront, but you will receive an email within a week of your order that will allow you to pick your shape (with or without the stainless steel cup) and your engraving (from our bank of designs or a personalised one).
How do I send my logo for engraving?
Within a week of your order we will send you an email asking you to select your barrel mug and its specification. Select the engraving option in the survey and send us your design or logo in an email to @woodtrim in these vector formats(.ai, .eps .cdr) We also have a large bank of design to choose from in case you can't make up your mind on a design.
Can I sell your product?
Of course you can, drop us and email at support@woodtrim.in and we're sure we can work something out.
Cheers!