Making a difference
I first met the inventor Elijah Owusu a few years back after he and his wife Dr. Abena developed 360° Air™ technology. Its an incredible challenge to invent something valuable and then protect it with patents, an additional challenge is finishing the course of bringing your innovation to market. Its my privilege to introduce Triple 360° Air™ to you, my name is Jeff Vicars. I've been blessed to co-develop patented appliances with inventors for nearly 20 years, and distribute innovative products worldwide. We extend heartfelt gratitude to each of our backers that are bringing Triple 360° Air™ to the world. As we build towards our vision each day, we become increasingly aware how immensely important is the faith and trust of those who believe in us.
Triple 360° Air™ Energy Efficient Air Flow Multiplier
Traditional fans and heaters often rotate 180-degrees or less, requiring you to choose which part of the room you want to cool or heat.
Air flow volume is often produced by a single blade or impeller.
These limitations cause you to settle for inconvenient and inefficient products.

Three Internal Fans & 360 Continuous Rotation
With Triple 360 Air™ three fans rotate continuously using a patented gearing system. The fans, rotating base, and energy efficient gearing combine to lower operating costs so that the unit quickly pays for itself.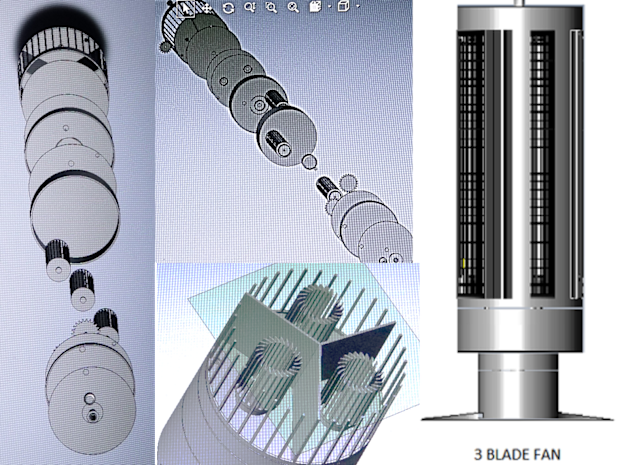 Impressive Air Flow Superiority
The triple centrifugal fans that rotate continuously are far superior to output by traditional fans and even surpass fans that only have 360-degree rotation. Thishigher level technology combines multiple centrifugal impellers and 360-degree rotation.
Due to the multiple air vents:
The 360-degree continuous rotation creates a nearly continuous air flow!
This translates into unsurpassed convenience and added comfort!
Due to the patented gearing:
Greater air flow volume results with less electrical power cost!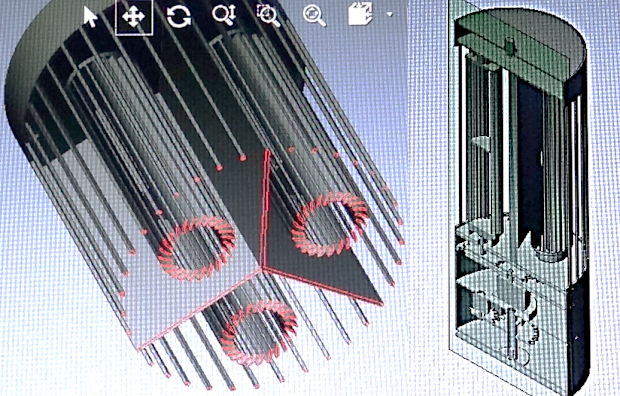 Help us launch an entire platform of Triple 360° Air™
Fan: Triple 360 Desktop™ is a high air flow fan which results in a significant decrease in your cooling costs over traditional air conditioning. Plus you cancool the whole room and end the days of having everyone crowd around the fan to stay cool.
Heater: Triple 360 Heater™ is a breakthrough 360-degree heater which results in a significant decrease in your heating costs over traditional space heaters. Plus you can heat the whole room and end the days of having everyone crowd around the space heater to stay warm.

Future projects are Triple 360 Air™ Purifiers, Humidifiers, Misting Fans and Evaporative Coolers - all because of your backing this pivotal project!
More Comfort, Convenience, and Energy Savings for Everyone!



We presently have engineering drawings and manufacturing partners working on off-tooling samples for the Triple 360 Air range of products. Prior prototypes have been developed by the inventor. We aim to keep prices lower by developing our own brand distribution. Though, this year we've had several meetings and discussions with many category leaders in air systems:

Aerus
Crane
Vornado
Homedics
Kaz, Honeywell
Lasko Products
Suarez Corporation
Many others

Patented technology

Patents issued are:

US 8,167,542 B1 Centrifugal fan with 360-degree continuous rotation.
US 9,017,046 B2 Fan assembly having multiple centrifugal fans in mechanical connection with a planetary gear system.

Interest is very high, but we have confronted a few unauthorized infringers using our 360-degree continuous rotation technology based on patent US 8,167,542 B1. Though, we are the first to market our Triple 360 multiple fan technology, and appreciate, immensely, you backing us.

Perks and Funds

Funds raised are allocated to finish the development cost, particularly remaining tooling costs estimated at $30,000. The feedback from you, our backers, about each perk you choose will give us direction about the product mix we should offer. So at this time we offer a fan or heater, each with three fans and 360-degree rotation feature:

Triple 360° Desktop™ fan. A breakthrough in comfort, convenience, air volume, and energy efficiency. 6" L x 7" W x 15" H and a $79 retail value.
Triple 360° Heater™. A whole-room 360-degree heater for improved comfort, convenience, air volume, and energy efficiency. 10.5" L x 10.5" W x 41" H and a $129 retail value.
Ice Hot Triple 360 Air™ combo. This includes both the Triple 360 Desktop™ fans, and the Triple 360 Heater™. Retail value exceeds $200.
Silencer plus 360 Air™ multi-pack. The retail value exceeds $1,150. Silencer recently developed products are included: One (1) 2000 watt Silencer Blender™ and One (1) Iron Chef Covered Skillet™. The Triple 360 Air™ products included are Two (2) of the Triple 360 Desktop™ fans, and Two (2) Triple 360 Heater™. The Silencer Blender™ and Iron Chef Covered Skillet™ ship within 90 days of campaign end, so these perks arrive September.
Silencer Blender™ is a 2000-watt brushless motor in your choice of base color Red or Black, 68 oz. Jar, removable sound cover, and tamper.




Iron Chef Covered Skillet™ is preseasoned, light-weight cast iron, asy to use, and covered with a tempered glass lid. Enjoy tasty and healthier cooking using cast iron. Preseasoned black interior and two tone high quality enamel exterior in flame red.

Risks and Challenges

Established Suppliers: the suppliers we have in place are specialists for this project, and we have redundancy for managin delays.

Tooling: we may need to modify small aspects of our design, but unlikely because we are so far advanced in the process. Nonetheless, we would communicate this to you while working to make up for any delay.

Ship Date: we have a true sense for the time needed in order to execute this project and deliver the final products to you our backers. We have US distribution facilities in place and we are experienced at shipping products directly to consumers and business in Australia, Singapore, the U.K., Sweden, Canada, and the USA.

We've built-in extra time, and realistic expectations so we can over-perform.

Help Others Enjoy Triple 360° Air™

If you are not in a position to contribute, but you like what we are doing, please tell your friends. Lets bring More Comfort, Convenience, and Energy Savings to Everyone!

Management Team

Many people have guided us along the way, and among them is Jon LaLanne, son ofJack LaLanne. Jack LaLanne made far reaching contributions to fitness and health that still impact our culture today. Here is our team:

Ted Ward: co-founder and CFO, extensive experience in marketing, large staff supervision, budgeting, and finance.
Elijah Owusu: technology inventor and product development advisor.
Jeffrey Vicars: co-founder and CEO, extensive experience in product development, licensing, supply, and distribution.