TOKYO SUKAJAN (SOUVENIR JACKET) Hiroyuki-Mitsume Takahashi × Tokyo Otaku Mode
This project has already launched.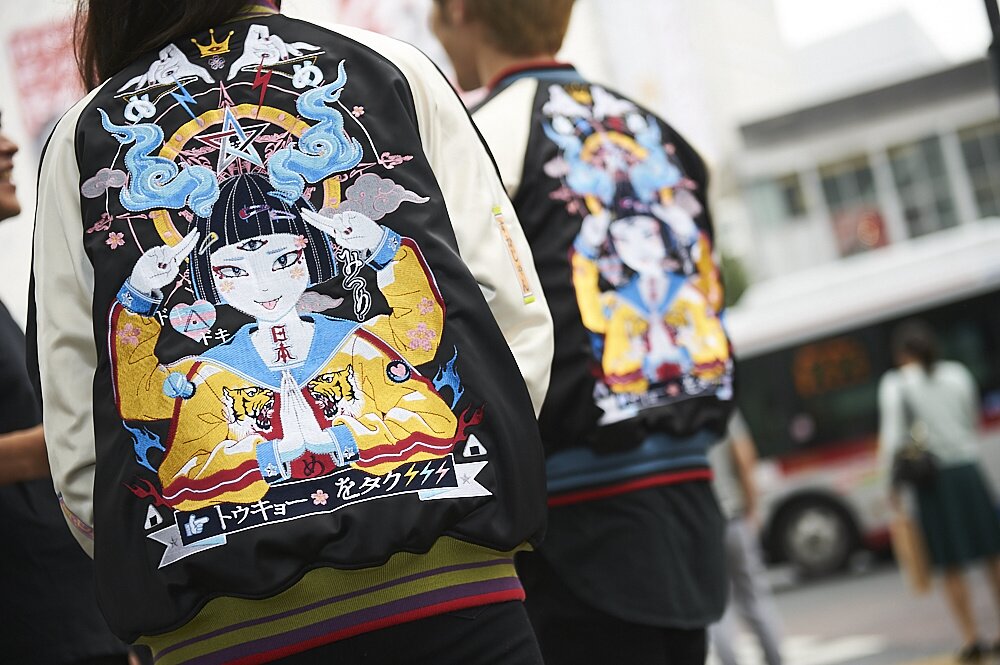 Have you heard of the Sukajan before?
It's a type of jacket that originated in Yokosuka, Japan following the Second World War. At the time, American troops stationed in the area had Japanese designs embroidered on the back of their military jumpers. These jumpers became "souvenirs" for their time spent serving overseas. The trend brought together elements of western and eastern design, and gave birth to a brand new type of jumper! The Sukajan has always made a strong statement, and has recently been featured in the collections of major brands like Louis Vuitton and Valentino.
We're very excited to present to you our very own original Sukajan! The Tokyo Sukajan is a special collaboration piece created by renowned artist Hiroyuki-Mitsume Takahashi and Tokyo Otaku Mode. We're certain that it will be a fantastic addition to the collections and wardrobes of fashion forward Japanophiles around the world!
Without a doubt, the main feature of the Sukajan is its embroidered graphic on the back. For our Sukajan, we didn't want the embroidery to be based on the past. What we were looking for was a graphic that focuses on the wonderful pop and otaku cultures of Japan. For both Hiroyuki-Mitsume Takahashi and Tokyo Otaku Mode, this project is a new challenge that we're all very eager to take on. The brilliantly colorful designs are ready, and we're looking forward to delivering these incredible jumpers to you! All we need now is your help!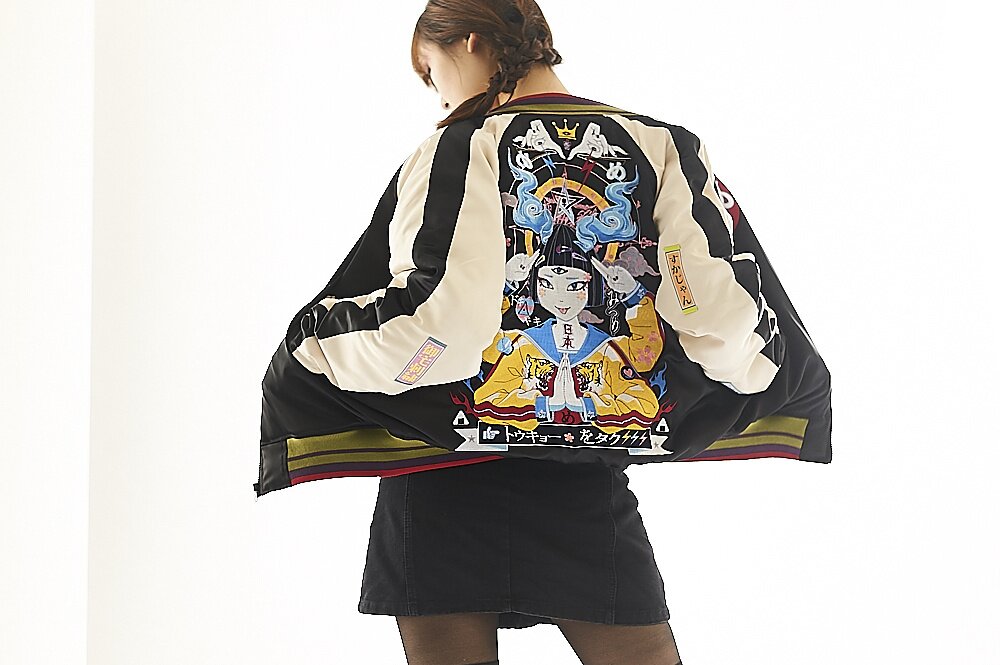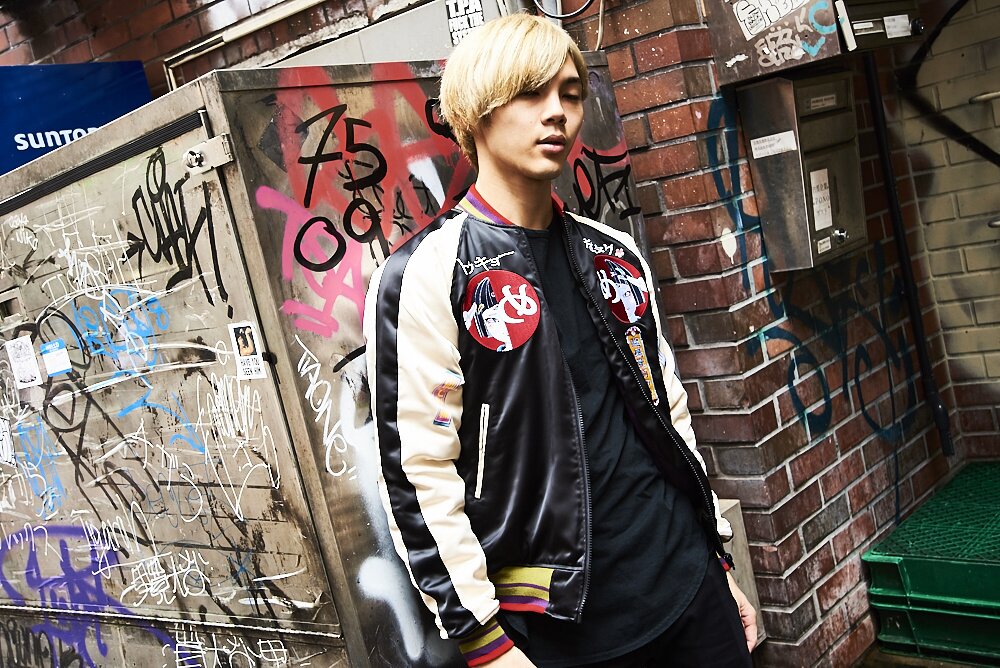 Staying true to the Sukajan's quality and history
We want our Tokyo Sukajan to be loved by everyone who is into fashion and Japanese culture! To make that a reality, we put as much effort and attention into the details as we possibly could.
The featured graphic is an original drawing by Hiroyuki-Mitsume Takahashi, and it will be accurately embroidered on the Tokyo Sukajan. In order to make the jacket work for both men and women, we have slimmed down the silhouette and also increased the length of the ribbed details by 1.5 times! Neat Japanese amulets will be featured on the sleeves, and they are set to be created as badges that will be sewn on. We definitely think that the Tokyo Sukajan will be cool on the gents and cute on the ladies!
Oh, did we mention that we're also using a shiny satin fabric to really show off the gold and the black?

Featuring a Vivid Embroidered Graphic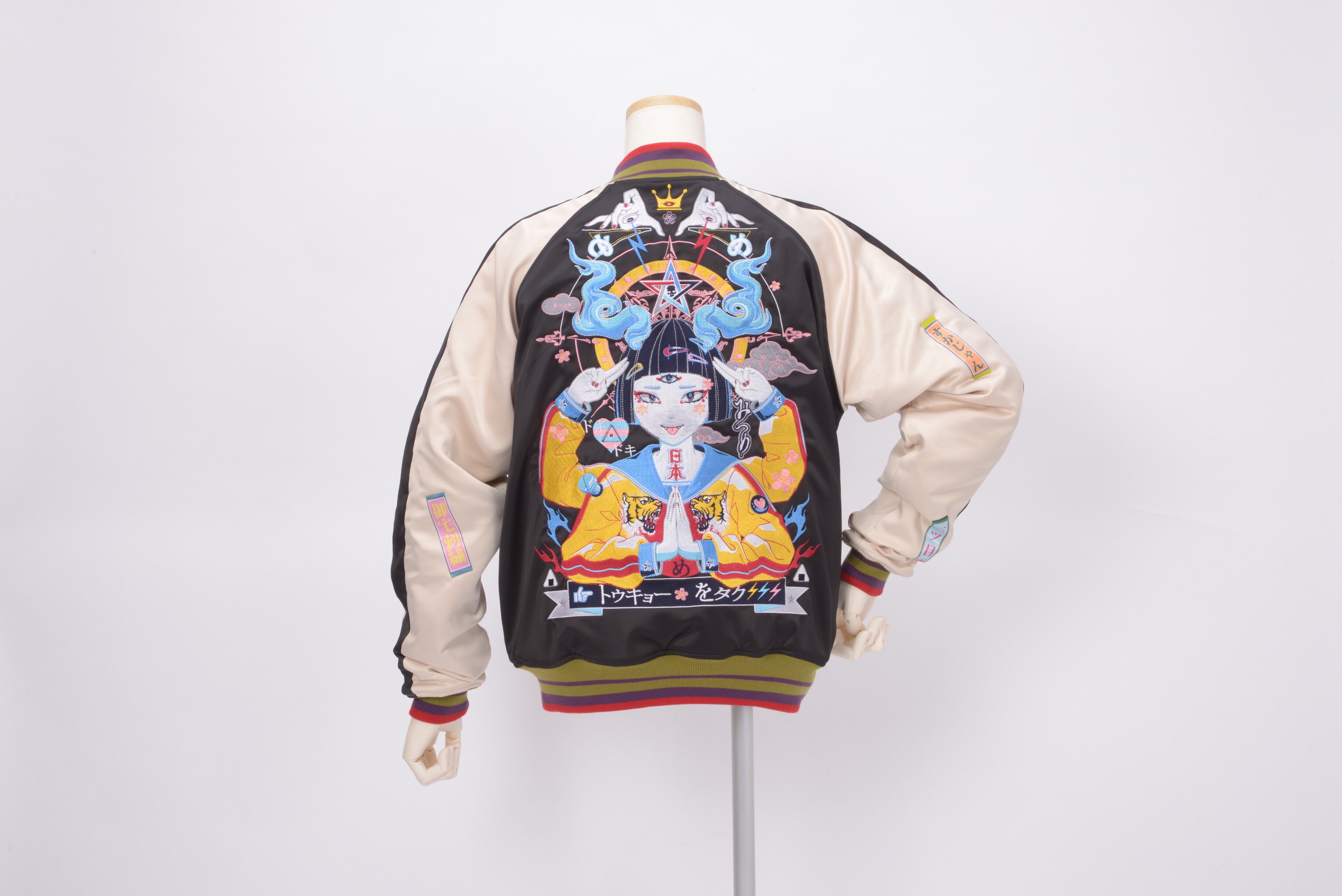 As previously mentioned, the main feature of the Sukajan is definitely its embroidered graphic on the back. In the case of our Tokyo Sukajan, we have done everything we could to show Hiroyuki-Mitsume Takahashi's splendid design as accurately as possible. The character is intriguing, the colors are vivid, and the presence of the embroidered graphic is as audacious as any other jacket - if not more.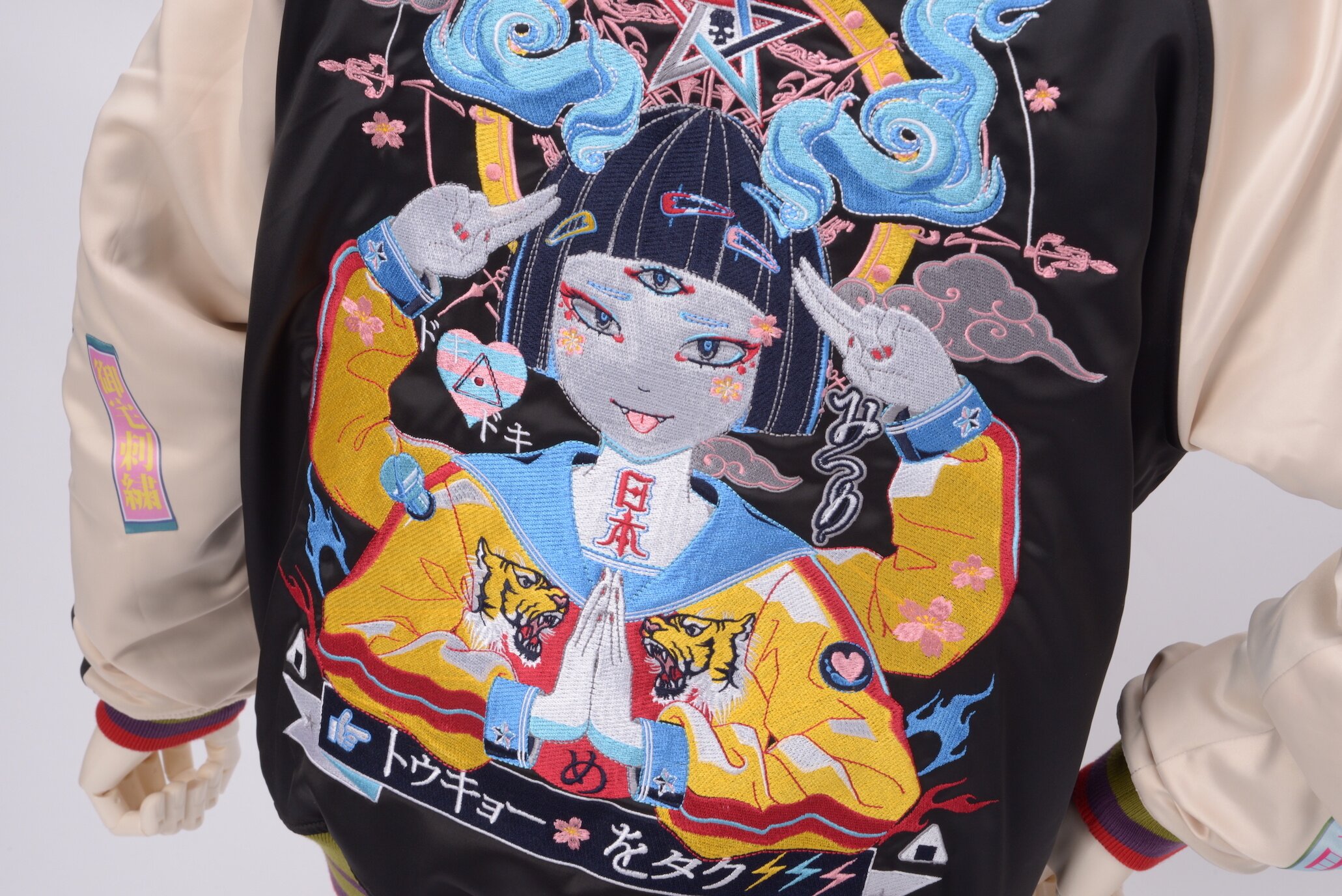 Making all the colors match the original design was a difficult task, but we are all very proud of the result!
Making a Statement With Powerful Designs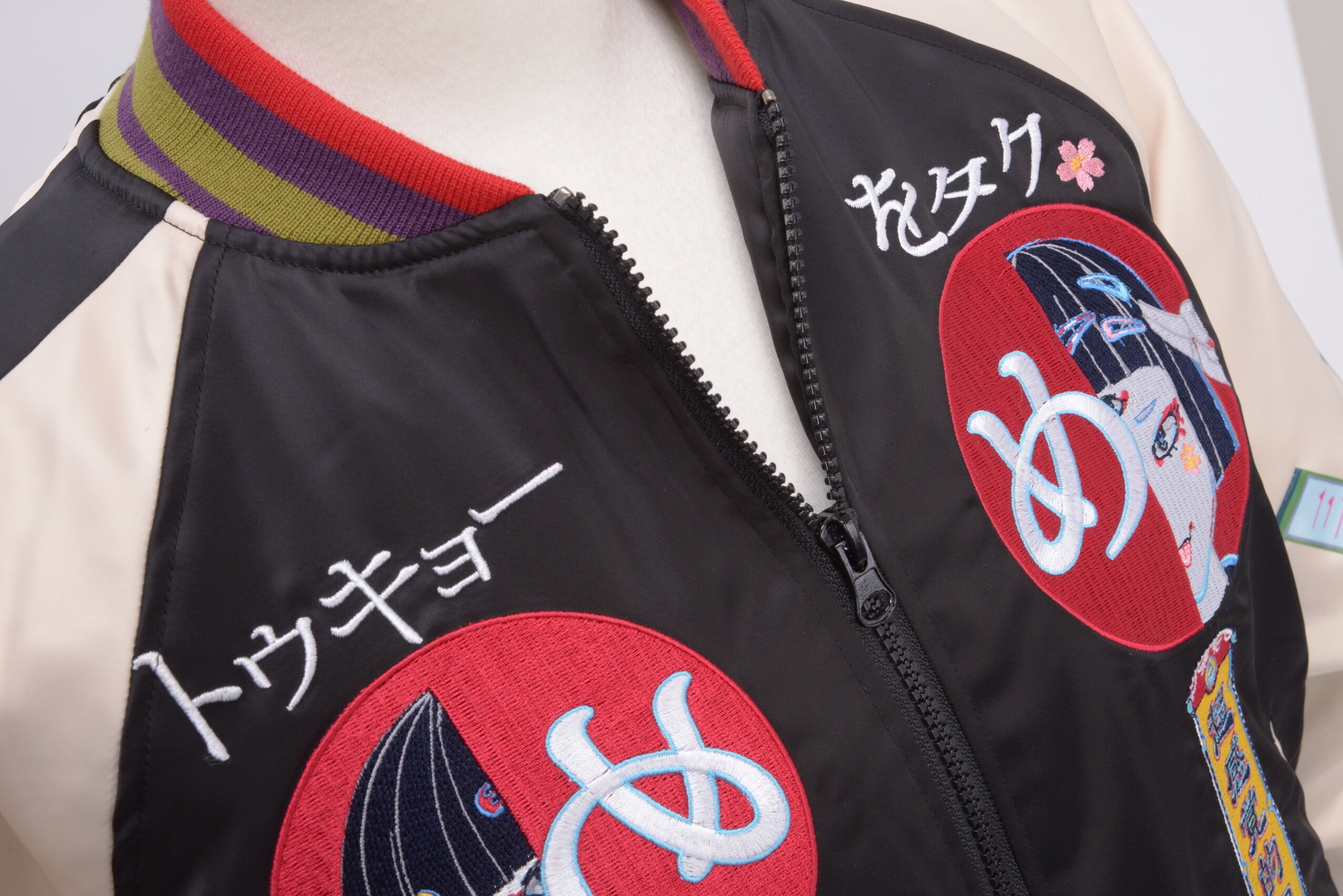 The embroidered designs in front give off a uniquely oriental aura, making the Tokyo Sukajan eye-catching from just about any angle.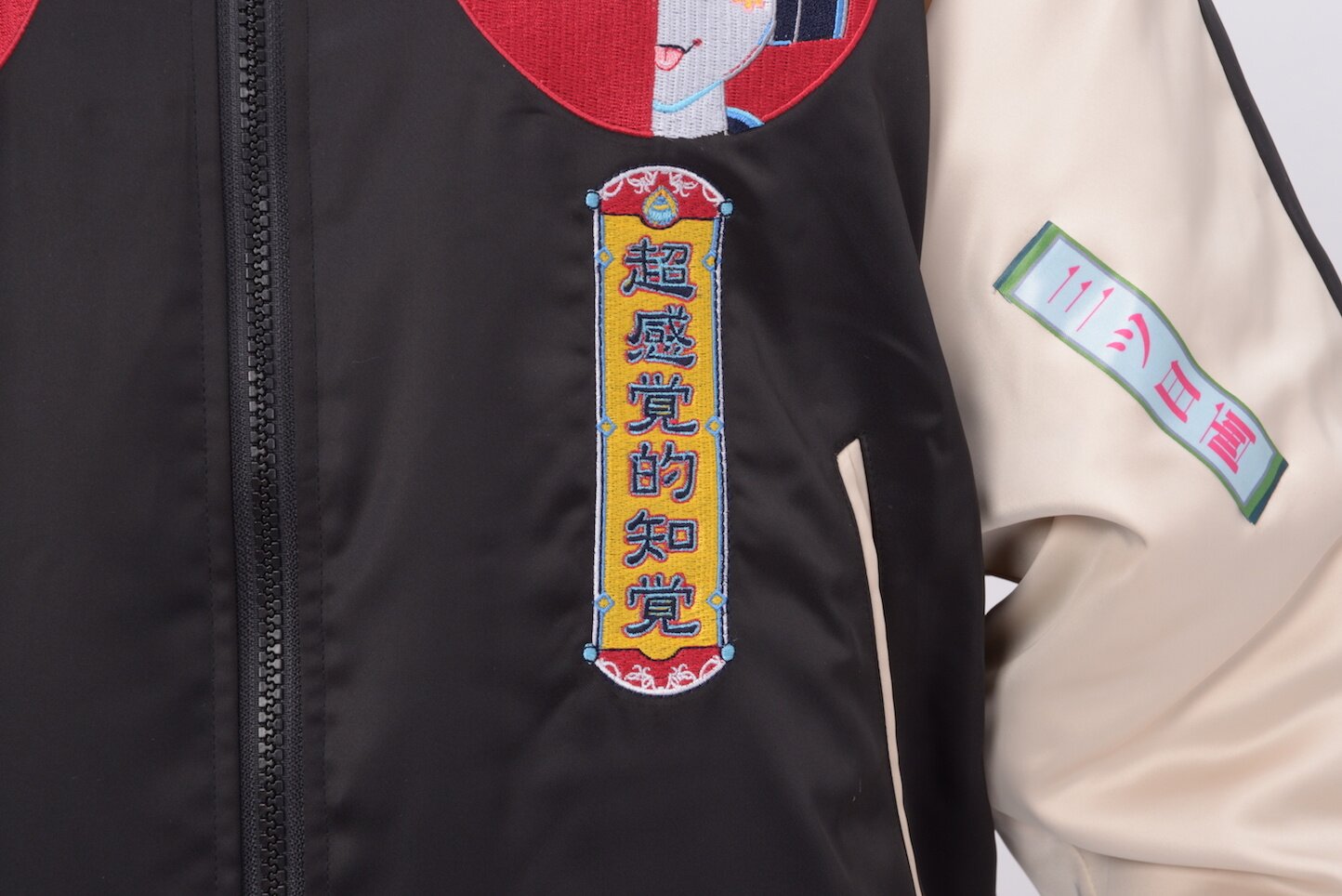 The badge featured on the left is finely embroidered with incredible attention to detail.
Exquisite Colors and Elongated Ribbing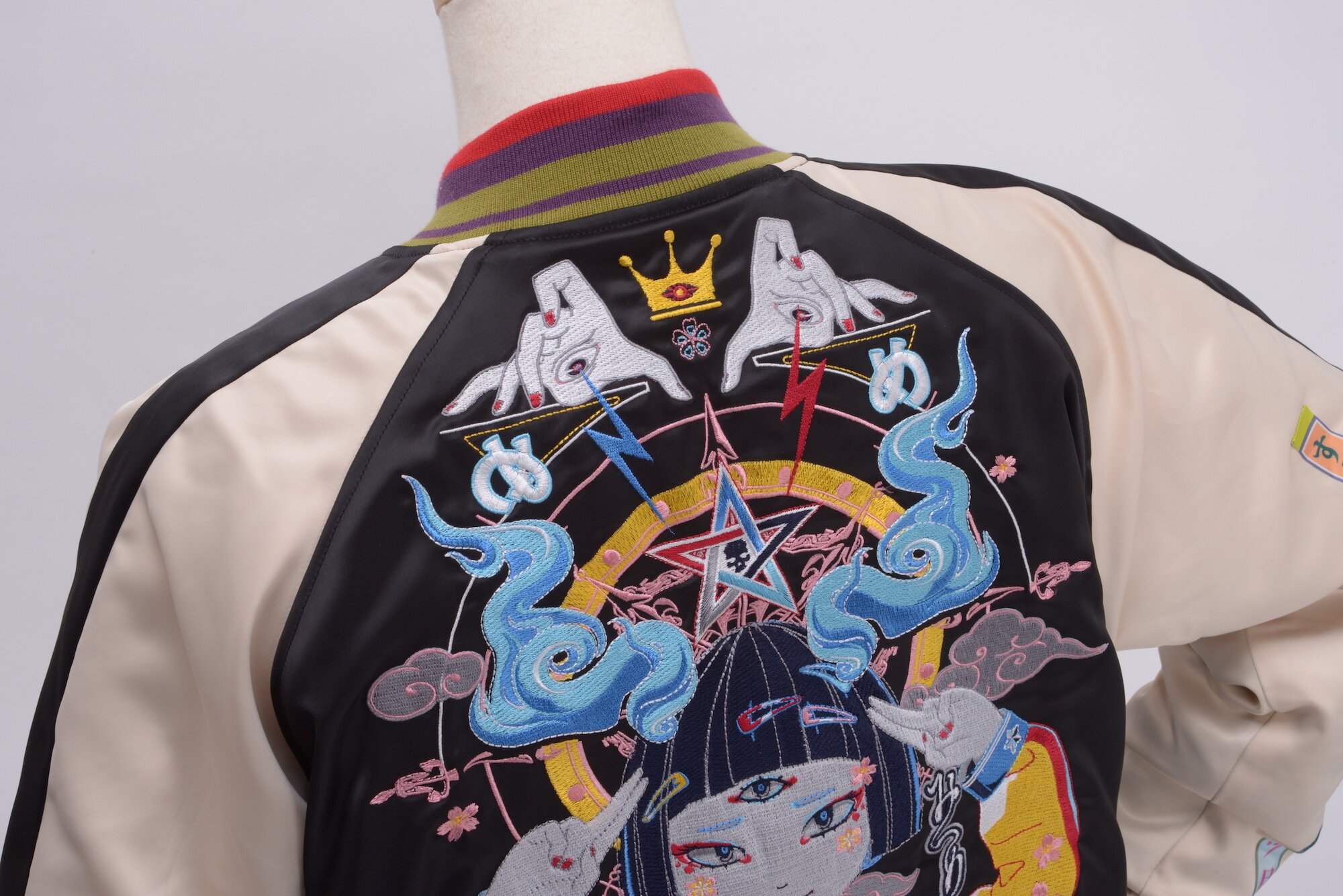 An exquisite and unique color combination is used on the ribbing, expressing Hiroyuki-Mitsume Takahashi's exceptional sense of beauty to the fullest. The ribbing is elongated for a stylish effect.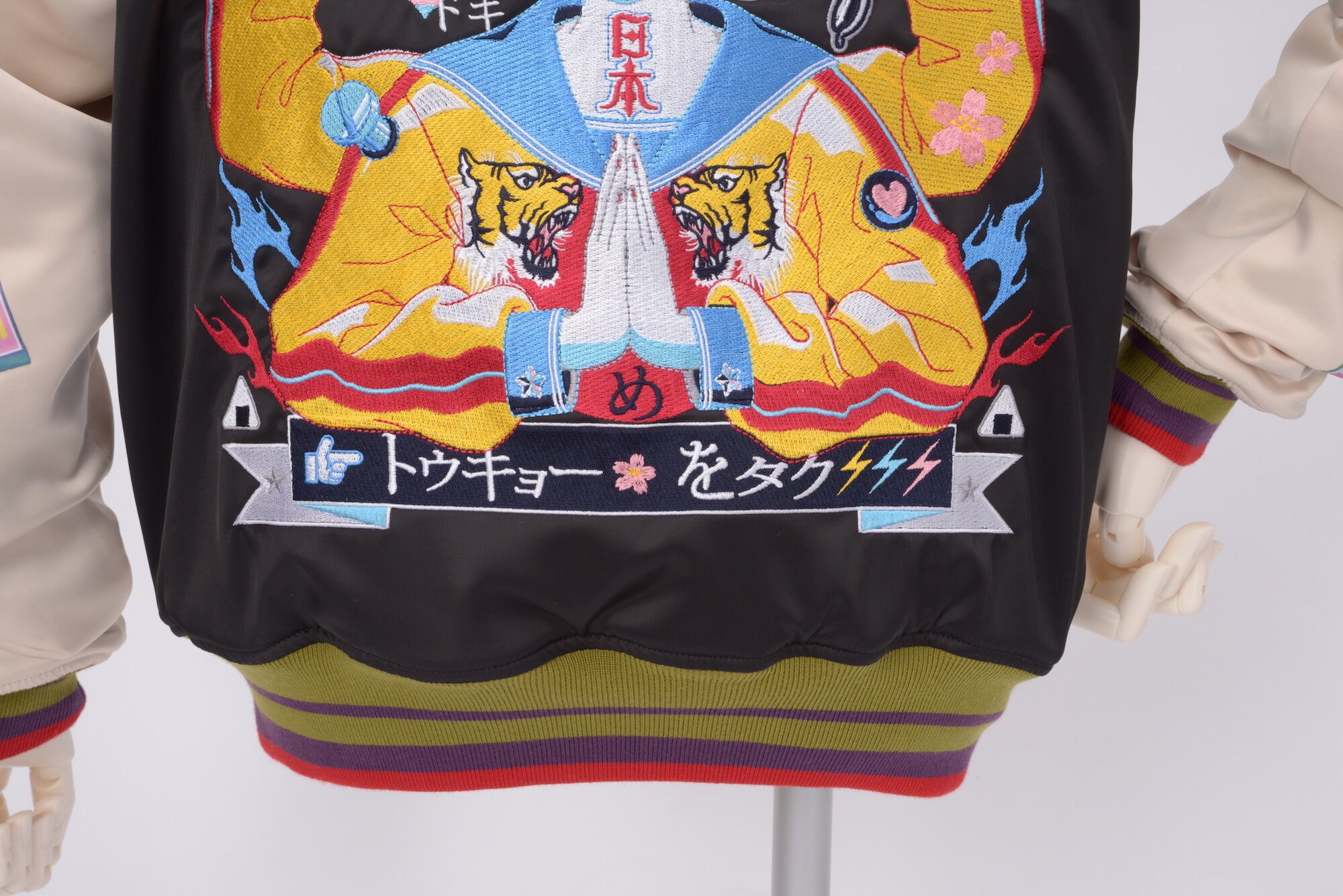 Gold and Black for a Luxurious Shine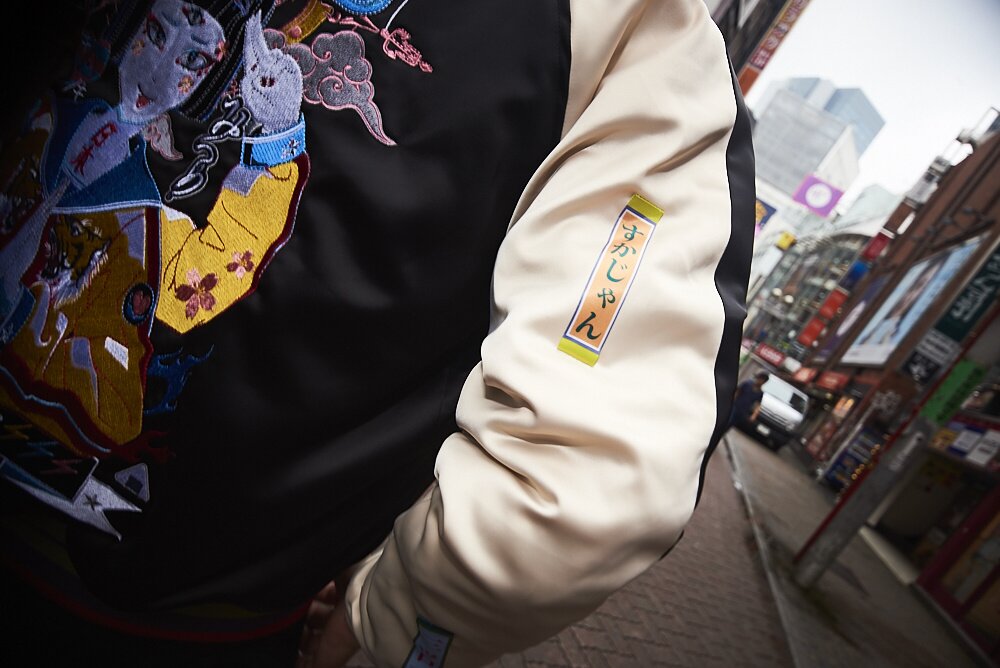 The contrasting gold and black featured on the body was also specifically chosen by Hiroyuki-Mitsume Takahashi. This classic combination brings out the charm of the embroidery, while also adding a luxurious shine to the overall image.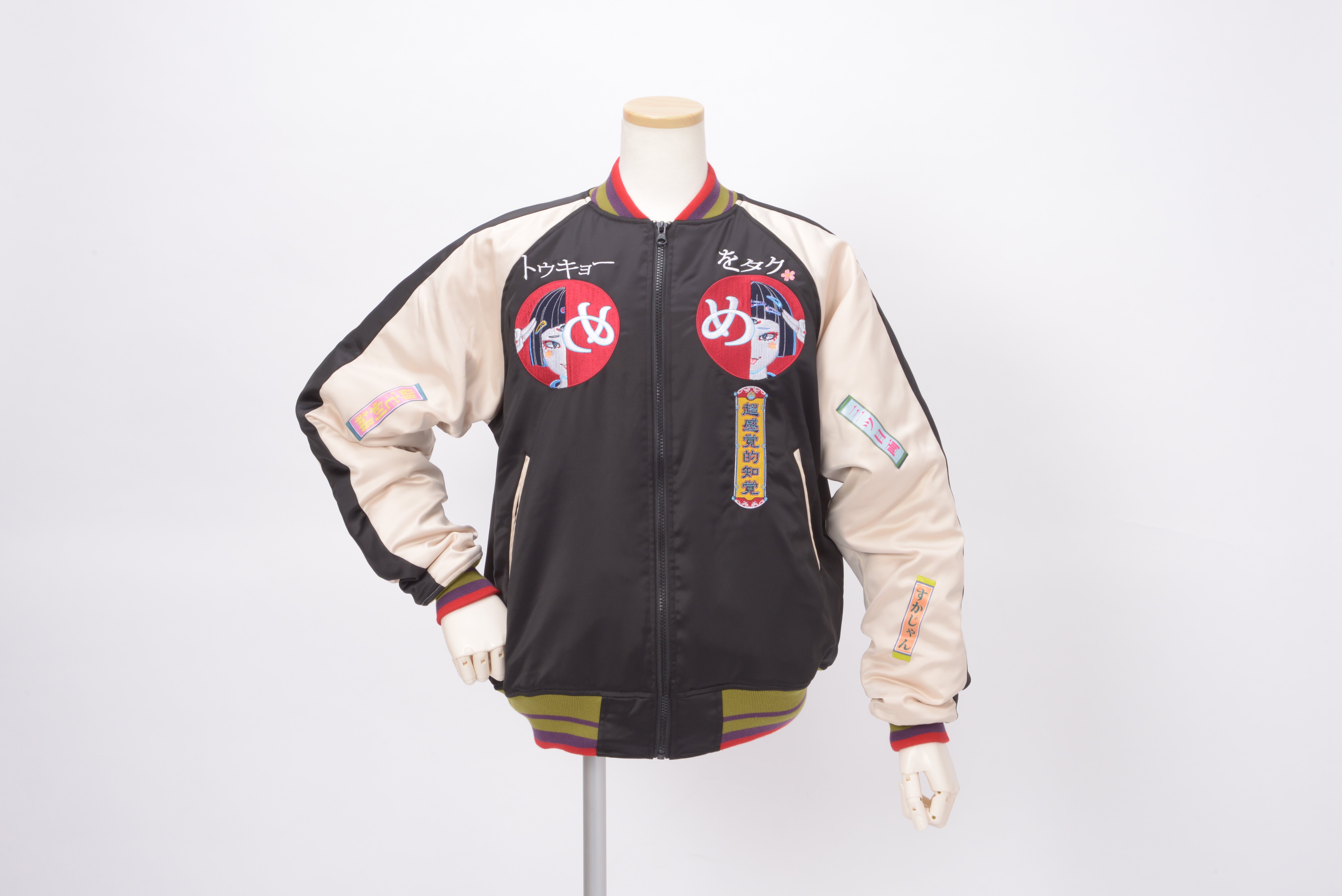 A variety of sizes are available for both men and women. Add the Tokyo Sukajan to your wardrobe, and enjoy wearing this signature piece that is sure to make a statement!
- Transfer printing is used for the badges on the sleeves. The badges are not embroidered.
- The Tokyo Sukajan worn by the models in the photos are samples. Actual products may vary, and any changes made will be announced on the Project page.
- The version with blue/black ribbing is not available.
Lookbook with additional photographs available here
Size Chart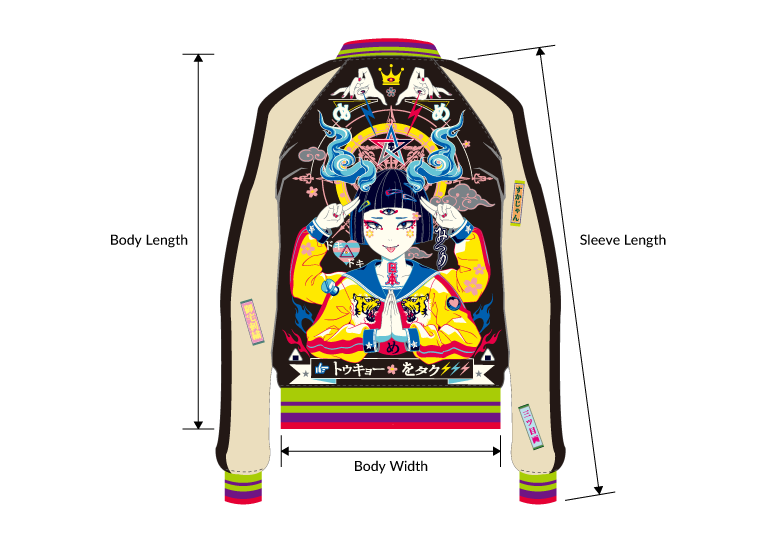 Materials
Outer Surface: 100% Polyester
Ribbing: 70% Acrylic / 30% Wool
Inner Lining: 100% Polyester
Reward Options (All prices include shipping)
Tokyo Sukajan Regular Version: $340 USD
Tokyo Sukajan Limited-Time Offer: $320 USD\*
Tokyo Sukajan 10-Piece Set For Retailers: $3,060 USD\*\*
Tokyo Sukajan For Delivery Within Japan: $298 USD
\*Only for individuals who back the project in October
\*\*Available for retailers and collectors as well. Sizes can be selected after backing the project.
Graphic designed by Hiroyuki-Mitsume Takahashi
What is a Sukajan or Souvenir Jacket?
The term Sukajan is actually an abbreviation of "Yokosuka Jumper". Following the Second World War in Yokosuka, American troops used the satin fabric from their parachutes to create jumpers. To commemorate their time stationed in Japan, the troops had Japan-inspired designs embroidered on their jumpers, and brought them home later on as special souvenirs.
Sukajan are usually made from satin or velvet. While the satin used generally includes rayon and polyester, some also contain silk as well. In addition to the embroidery, other notable features of the Sukajan include its reversibility, shiny and light fabric, and front zipper.
The Sukajan has been a part of high fashion, and made a particularly strong impact during the spring and summer seasons of 2016.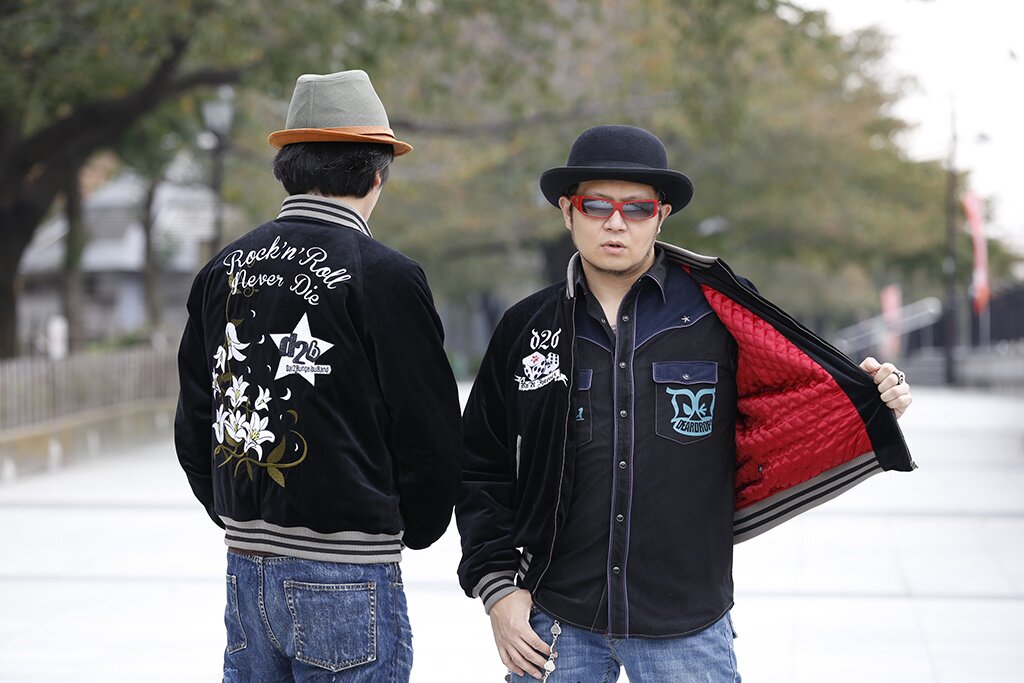 © STUDIO696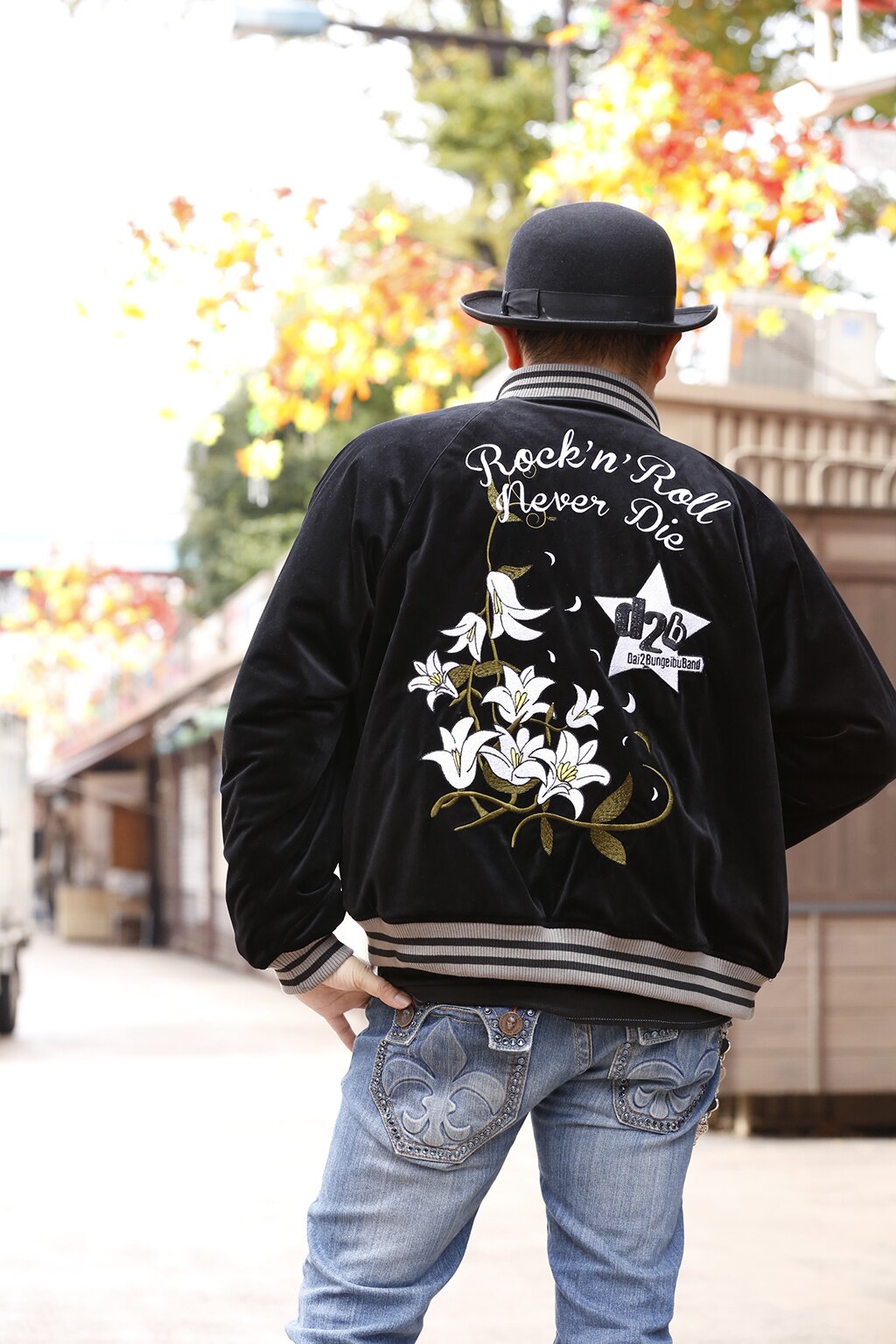 A Closer Look Into the Tokyo Sukajan's Design

Going behind the scenes to uncover how an illustration became the embroidered design on this souvenir jacket.

- What did you have in mind when deciding where and how to position all the illustrations featured on the Tokyo Sukajan?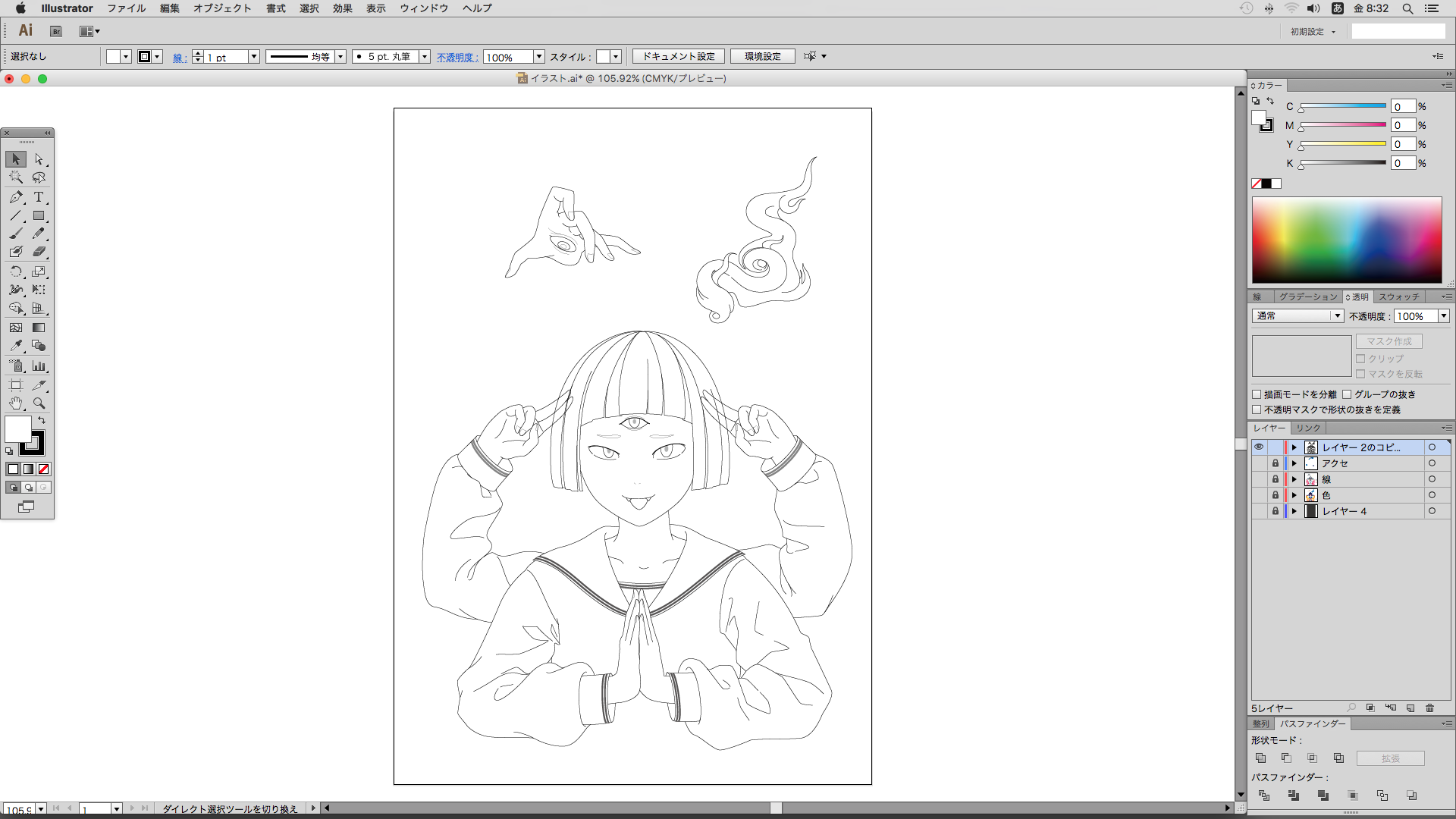 For embroidered designs, I believe that finer lines look much better than spaces that are completely filled with stitches. Therefore, I put plenty of thought into decreasing the surface area that was filled in.

I also believed the character design would look best on the back, and that a symmetrical design would good on the front, and planned my design and the positioning of the rest of the illustrations based around that.
- Please tell us about the girl that is featured on the back of the Tokyo Sukajan (if it's alright for us to refer to the character as a girl).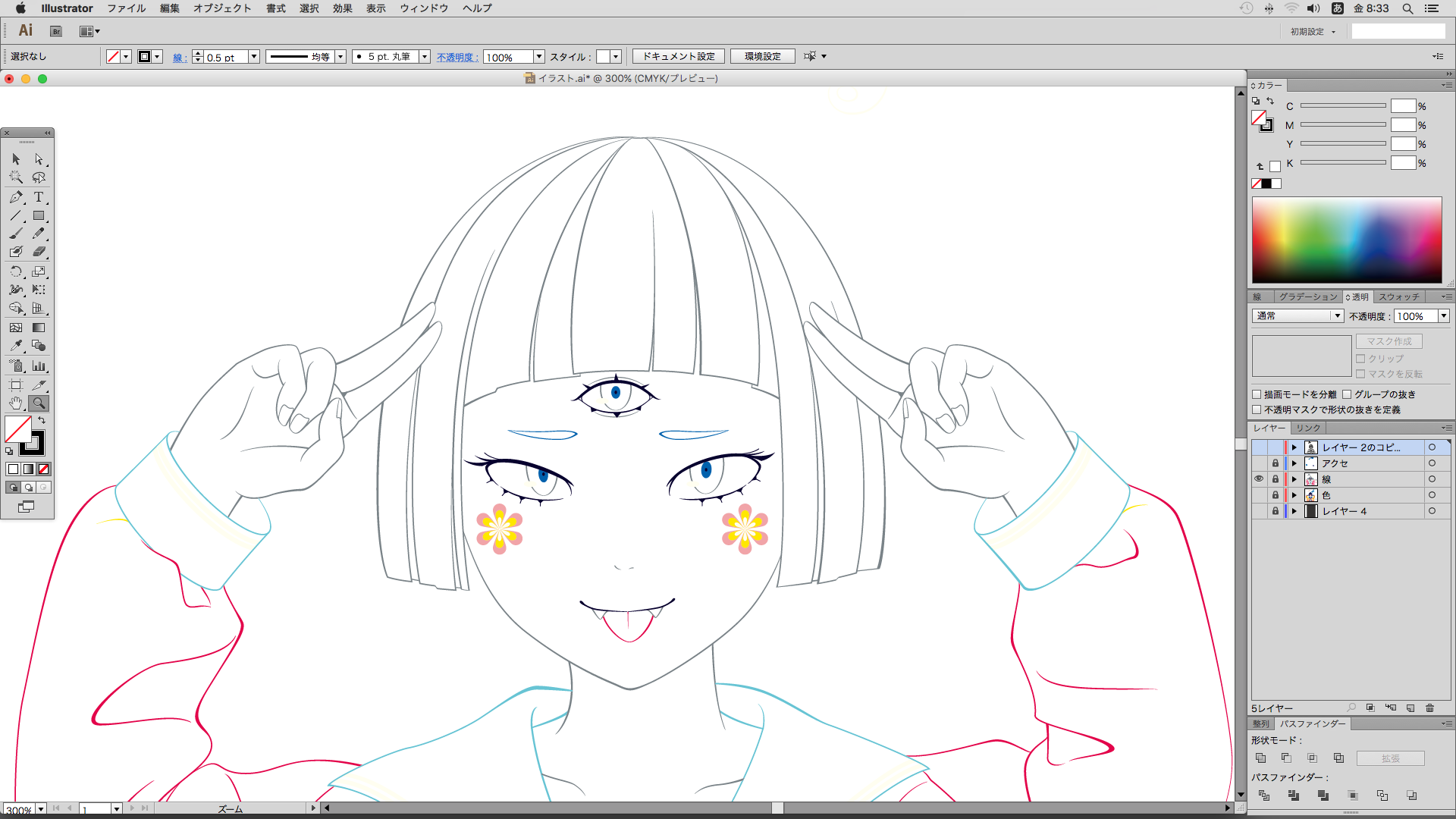 The bob-cut gives her a Japanese image, and she also possesses traces of both the new and the traditional. I want to be able to create something that won't feel old no matter how many years pass, but that you can feel a sense of tradition through even though it is fresh and new. That's why I often draw characters with bob-cuts, like the character we have this time.

Souvenir Jackets themselves are sometimes associated with delinquency and fear. My character plays on this with an all-seeing third eye, as well as a total of four arms for a monstrous image.
- How did you overcome the color limitations for embroidered patterns?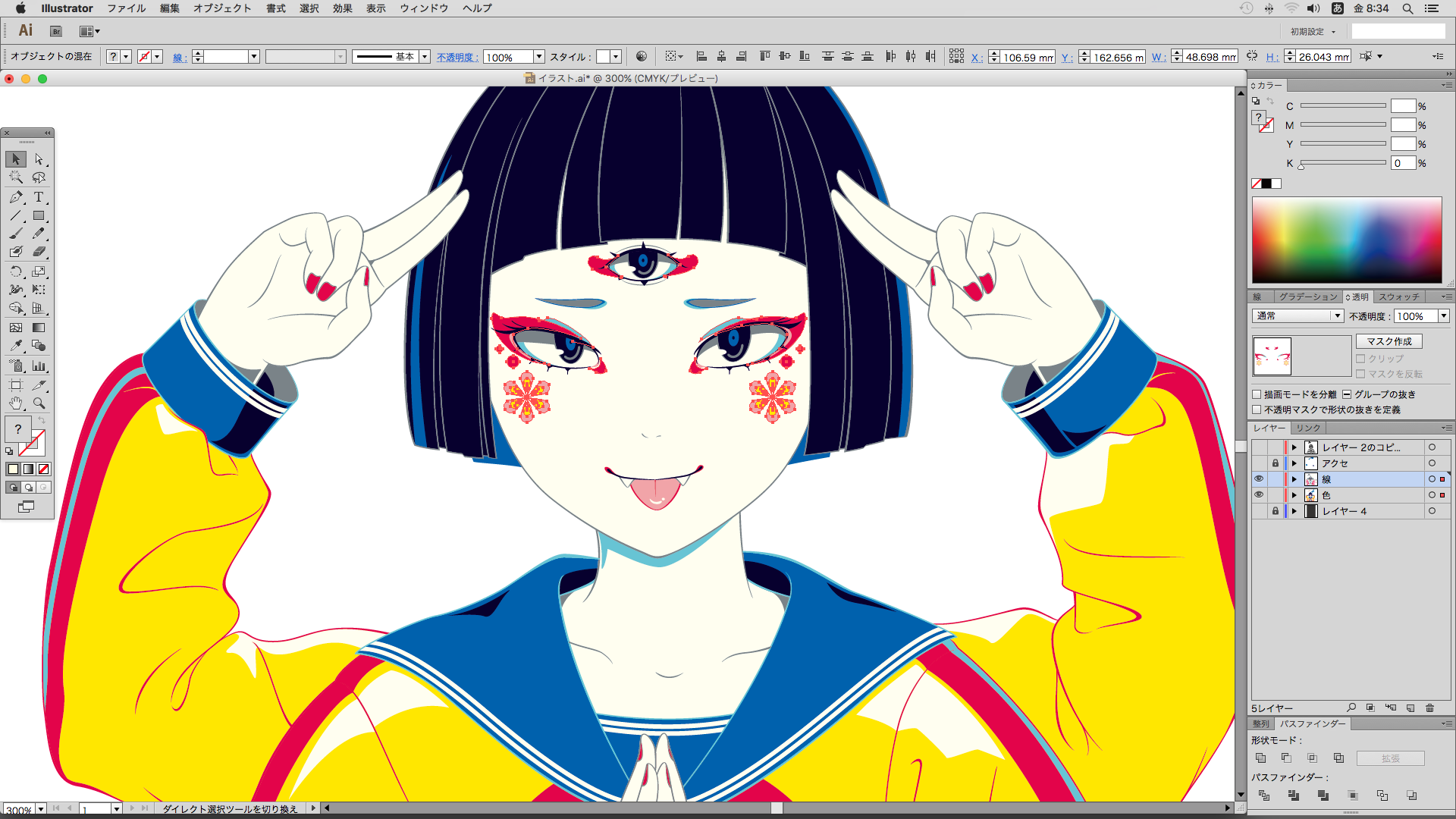 Instead of having scattered colors, I made sure to organize the main colors with care. Balancing them with the motifs that I wanted to include was very much like putting a puzzle together.

- What factor did you have to pay the most attention to when designing an embroidered piece?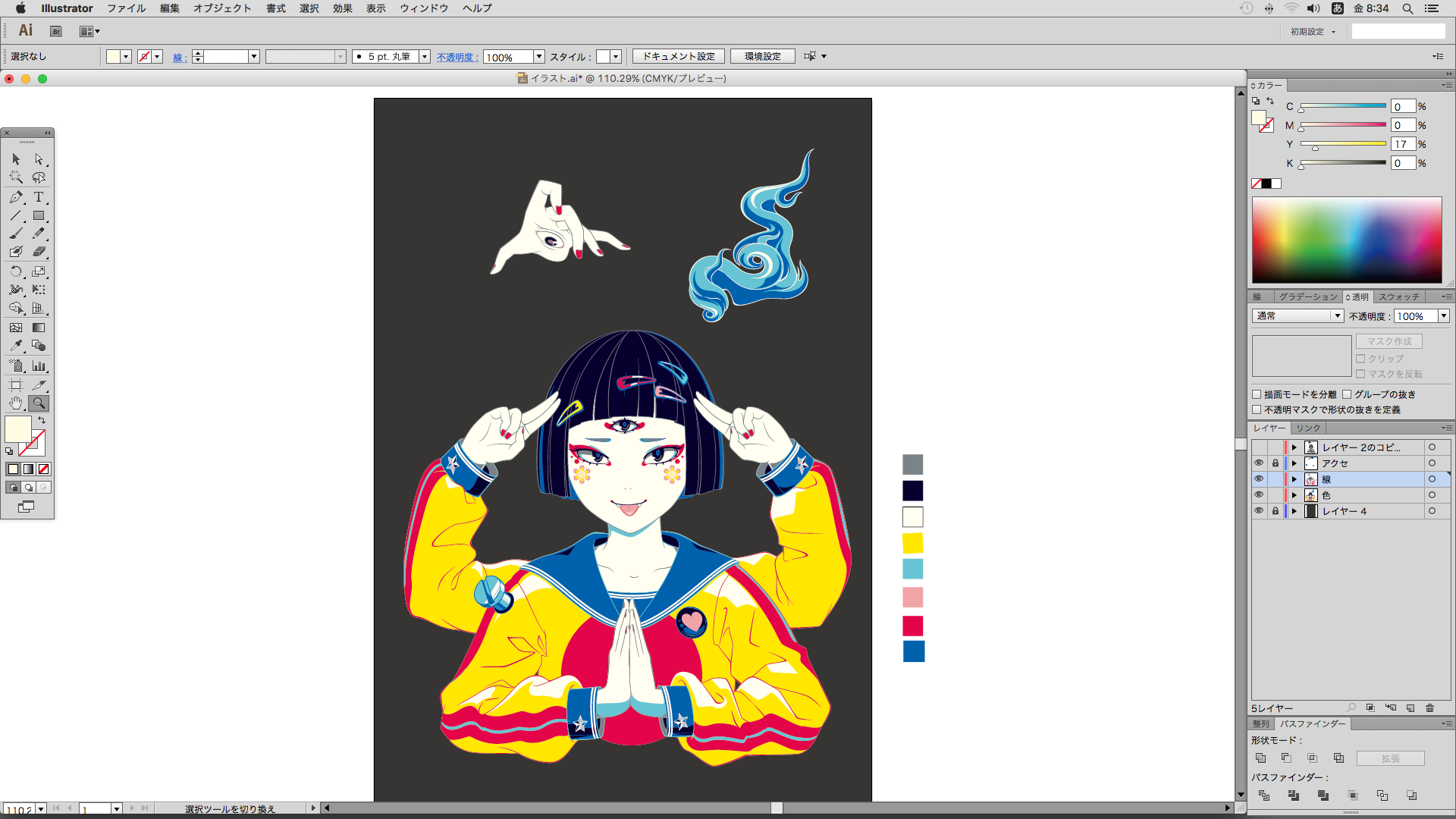 When drawing on Illustrator, I tend to end up focusing on really fine details. However, some details cannot be recreated realistically through embroidery. Because of this, I worked on varying the filling and stitches to achieve a balance between ideals in design and the reality of embroidery techniques. For example, the eyes were made wider to make the final product look better.

Also, since more stitching means more rigidness to the jacket, I made sure that we didn't fill too many spaces with stitches.
- What inspired you to include amulets on the Tokyo Sukajan?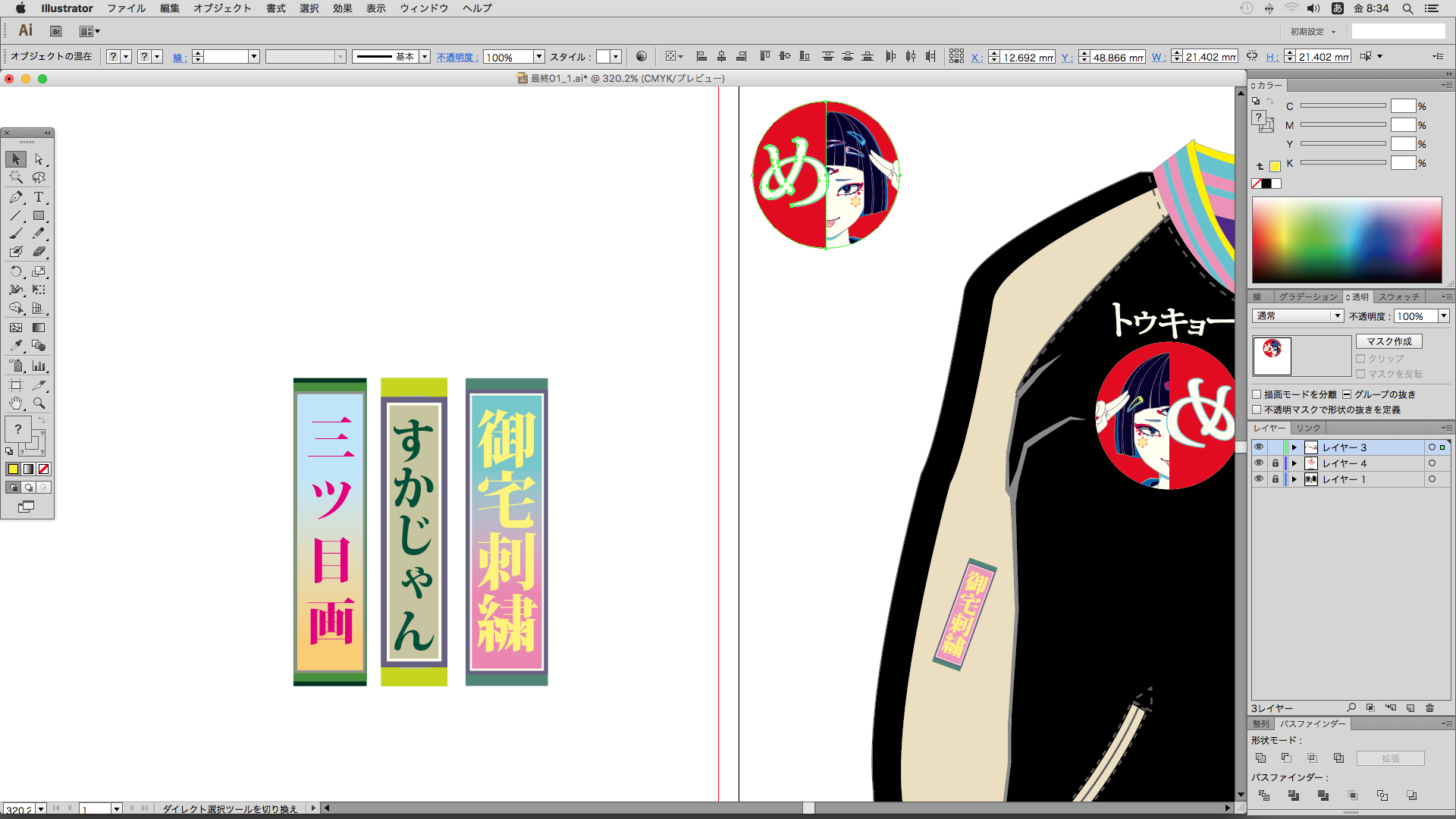 Shrine tags and amulets give off a loud and powerful aura in my opinion. They stand for something significant, and I wanted to use them to show that the Tokyo Sukajan surpasses the standard image of souvenir jackets in general.
Hiroyuki-Mitsume Takahashi
Hiroyuki-Mitsume Takahashi, also known as "Slipper-taka" and "Mitsume", is a Japanese artist and Tokyo Otaku Mode Special Creator who is famous for his captivating and colorful visual designs. He works through all kinds of mediums, and has been featured in various books and how-to articles.
Hiroyuki-Mitsume Takahashi began expanding internationally after attending Première Vision, a global textile trade fair in Paris. To date, he has developed collaborative products with numerous brands. He has also participated in a variety of live paintings and workshops in Japan and around the world. In 2015, his web comic HYPERSONIC music club began serialization on the American website Crunchyroll.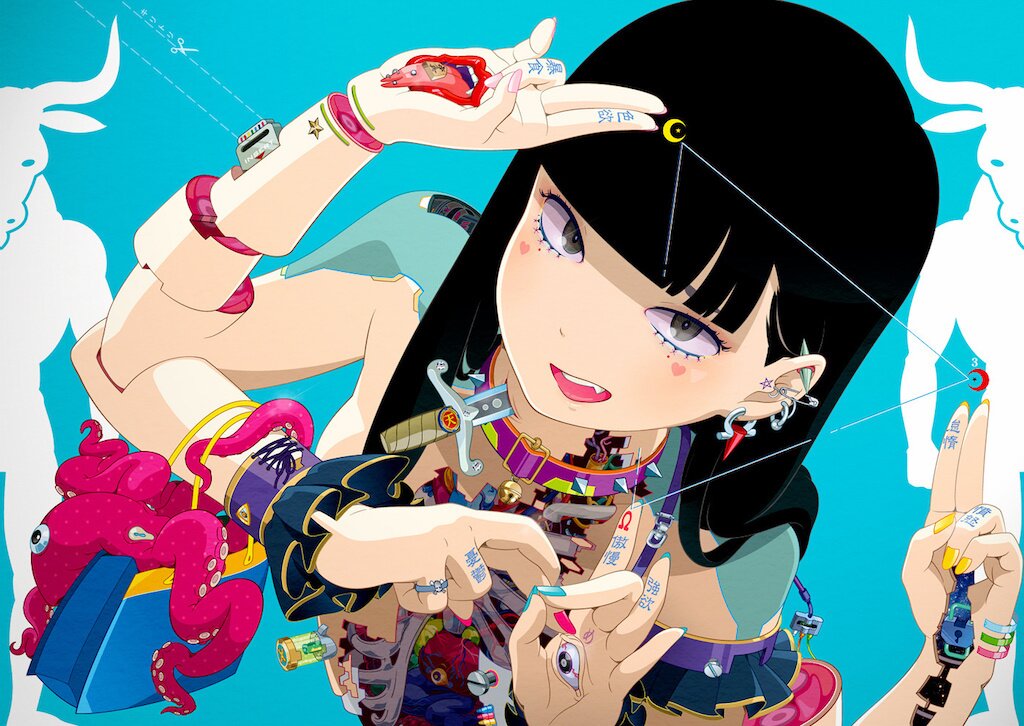 Zombie-girl
©Hiroyuki-Mitsume Takahashi
Campaign Team
Project Organizer: Tokyo Otaku Mode Inc.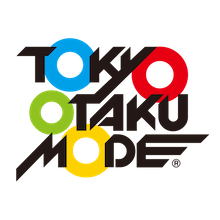 Manufacturer: Studio696.Ltd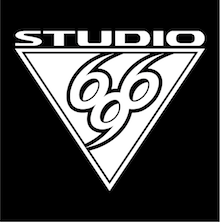 Designer: Hiroyuki-Mitsume Takahashi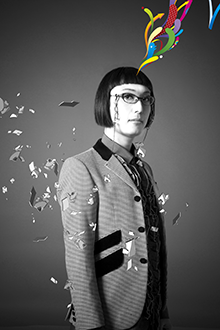 Shipping
Reliable & High-Quality International Delivery
Your perks will be delivered to your doorstep by the Tokyo Otaku Mode Premium Shop, an online shopping website that has delivered to as many as 100,000 homes in over 100 countries and regions around the world. With high quality packaging designed to endure the international journey and friendly customer support staff that will take full responsibility for your package until it arrives in your hands, you can rest assured!
FAQ
\*FAQ will be updated as questions are received.
Q: Where will the Sukajan be shipped from?
A: Straight from Japan, fulfilled by Tokyo Otaku Mode.
Q: When will my Sukajan arrive?
A: It will be shipped in December 2016, and is expected to arrive between late December 2016 and early January 2017.