The Z: Gamer, Designer Mouse with Pivot Tilt & Roll
This project has already launched.
Gamers, Designers & Power Users can interact with a computer in a more precise & intuitive way.
It's the world's first mouse to pivot, tilt and roll, with a brand new way of clicking buttons - meaning you can access dozens of different button actions while barely moving your fingers. The Z also senses how hard you click, giving variable speed / force control, and provides tactile feedback, so you know when you've made a 'deeper click'.
"...gives players unprecedented control without compromising on comfort", Brad Jones at Digital Trends
"The Swiftpoint Z is here, and now mouse makers the world over have a lot of catching up to do", Overclock3D
"The Z, has analog control capabilities and may have a legitimate claim to 'worlds most advanced gaming mouse' Seth Colaner, Tom's Hardware
"This mouse has an accelerometer, gyroscope, 50 buttons, and an OLED display to make you the ultimate gamer", The Verge
"... listen to us when we say the Z mouse, just launched, is a pretty amazing looking piece of kit.", PC Powerplay
"This will be the go-to gaming mouse for the next half decade", Henry Lane - Executive at CerebralFix (award winning game development company).
Page translations here: 点击这里查看中文翻译 | 한국어 번역을 위해서는 여기를 클릭 하세요. | ここをクリックすると日本語訳を表示します |
The Z at a Glance
Swiftpoint's previous Crowd-funded device, 'The GT' (shipping now, on amazon.com), earned the Best Computer Peripheral Innovation award, at the largest technology show in the US (The CES). Now, after more than three years of development, we are ready to launch The Z.
It's the world's first mouse to pivot, tilt and roll, with a brand new way of clicking buttons - meaning you can access dozens of different button actions while barely moving your fingers. The Z also senses how hard you click, giving variable speed / force control, and provides tactile feedback, so you know when you've made a 'deeper click'.
If you are a Designer or home and office Power User, please check out the info right after the gaming section. If you're a Gamer… read on….
The Z for Gamers
Tilt Left or Right
With the mouse on the desk surface, you can tilt left and right for fast mode changes without using your fingers or pushing buttons. You can assign any action to tilt, like leaning, crouching or reloading. Alternatively use it as a modifier key (like shift or control) without actually having to press a button or key!
Use Tilt to lean and take a shot
When playing a game that involves driving - use tilt to take direct analog control of the steering wheel.
We've made sure that the ability to tilt doesn't affect the rock solid performance of normal mousing and have designed adjustable and replaceable feet that can make the tilt easier or harder or set a large or small tilt angle. Or if you want, you can lock out tilt altogether.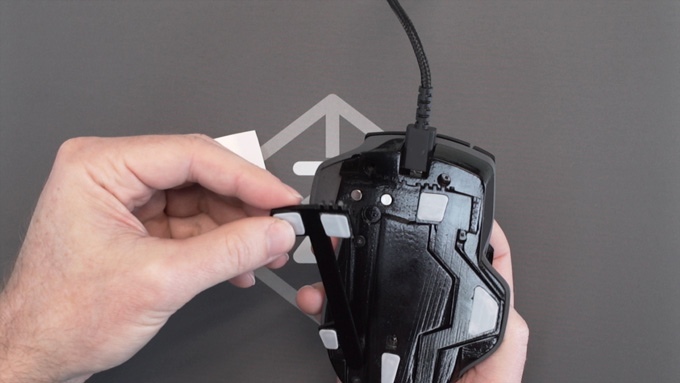 Pivot Action
The Z also knows when it is pivoting left or right - this gives you a huge competitive advantage in many first or third-person shooters. You can run straight ahead and at the same time look left and right with analog control (the same way as you would with a VR headset). It provides tactile feedback so you know when you're facing forward, or looking to the side.
Use Pivot to look left and right
Just like tilt, you can assign any action, modifier (e.g control or shift) to a pivot. Everything is configurable.
Pitch, Roll & Yaw - In the Air or on the Ground
The Z knows when it's on the table and when it's in the air. For games like Battlefield, just lift up for in air control. Once you're in the air use the W/S keys for thrust (or lift), and The Z for pitch, roll, yaw.
Lift up The Z, for a short burst of precise flight control
For longer periods of flight, just place the mouse on the supplied 3-Axis extender and take command with direct free-form control - your hand resting comfortably on the desk.
Place the Z on the 3-Axis Extender for the ultimate free-form control of flight and space sims
Another great use for the The Z, is for intuitive camera control in spectator mode.
For Tilt, Pivot and In Air Gestures, we provide further analog support for games that are compatible with game controller's analog sticks, by reporting to the game that we are simultaneously, both a mouse, and an analog controller.
50 clickable button actions.... while barely moving a finger.
Many mice pack in additional buttons around the thumb grip and all over the device. We've figured out a new way of clicking that means you can have more buttons, that are effortless to click with no finger or thumb contortions required.
The Z has a new type of trigger button. It can be used by simply straightening your finger slightly and then clicking – while still gripping the mouse as normal, with your fingers poised on the main left and right click buttons.
They are so easy to click that you can use them for actions you do frequently, like reloading, jumping or crouching.
You can pull them like a trigger as well. These two buttons are in effect four buttons. We've also added adjustable fingertip buttons, that can be accessed with very little finger movement.
Combine pivot and tilt with trigger and fingertip buttons, to effortlessly access over 50 different actions (48 plus left and right click) - all while maintaining a full grip for maximum control on the mouse.
50 fingertip click actions in 10 seconds!
In addition, we incorporated a scrollwheel button, two front/side buttons, and two thumb buttons, for secondary click actions.
Needless to say The Z makes a great MMO, RPG or MOBA mouse.
The trigger buttons and fingertip button positions are all adjustable (and removable) to perfectly suit your hand size and type of mouse grip.
Deep click with Tactile Feedback
The main left and right buttons and two fingertip buttons all support Deep Click.
Configure the amount of force that suits you (from easy to 'off'), and The Z gives you tactile feedback to let you know when it's activated.
You can use Deep Click in an analog mode to have direct throttle control or speed when driving, flying or running
In a First-Person Shooter… right click to bring up your scope, click deeper to zoom in, then deeper again to hold your breath and steady your sights... now take the shot.
For games that have light and heavy attacks, use normal click for a light attack, or click harder to launch a heavy attack.
A look behind the scenes.
We captured some raw video of Grant demonstrating some of the tools we have created to help develop The Z, and also show the '3 axis extender' which we will include for free for each mouse shipped...
A Huge Boost in Productivity for Power Users
Home and office power users can use the speed and precision of the most advanced multi-functional gaming mouse to blast through spreadsheets, documents, emails and presentations.
Tasks like selecting and copying text are faster and more intuitive with the Deep Click pressure sensitive buttons of The Z....
Double click to select a word, press a bit harder to select the paragraph, then a bit harder again to select the entire document.
We also brought 'copy and paste' into the 21st century…
Deep Click the right button to copy text, and slightly harder again to paste - it's extremely fast and intuitive with tactile feedback
You can pan up and down or any direction of a document or image...
Simply tilt the mouse to the right then move in the direction you want to scroll.
Right Click while panning, locks the scroll direction and shows the panning wheel. Pressing harder means you scroll faster.
A Multi-functional Precision Tool for Designers
Professionals such as artists, surgeons, chefs and carpenters all demand the highest quality, precision tools to perform their work. Now all designers on a computer can have in their hands the best multi-functional precision tool available.
Panning, zooming and rotation in CAD and Desktop Publishing, is like second nature with The Z, and the 6-axis in-air control opens up a whole new way of manipulating 3D objects,
With software like Photoshop and Illustrator you can use the force sensitive buttons to set brush thickness, the harder you push, the thicker the line. We also use the pivot action of The Z, to allow you to draw sweeping brush strokes that are a more natural and pen-like.
We've enhanced overall precision with a feature we call Tactile Steps. In this mode, The Z moves the cursor one unit at a time, and gives tactile feedback for each unit of movement. It makes increasing / decreasing values extremely easy - and something like 'nudging an object three pixels to the right' can be achieved with absolute precision.
Rock-solid Performance & Personalised Ergonomics
OLED Screen for fast configuration
We wanted to make the The Z the easiest mouse to configure, so we added an OLED screen. Lifting The Z to look at the screen is a gesture that we recognize, so we automatically put it into configure mode, to swiftly change profiles, DPI, or other settings.
Lift the mouse to look at the OLED screen, and The Z automatically goes into configure mode
No Lag, No Drag
None of us want to worry about batteries or wireless reliability and latency …so while we made the Z wired, we also eliminated the issue of cable drag by building a brushed aluminum cube into the mouse-mat for perfect positioning of the cord, right off the desk surface.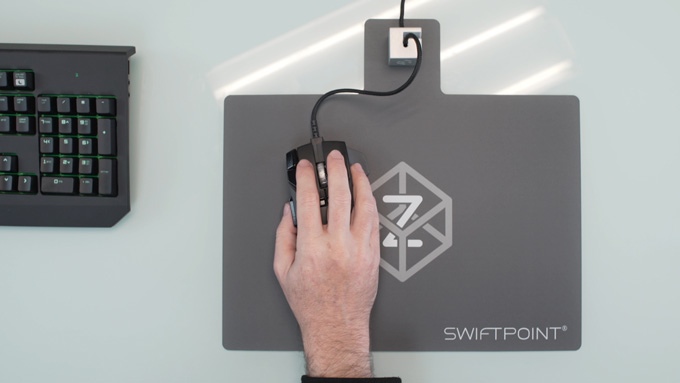 No cable drag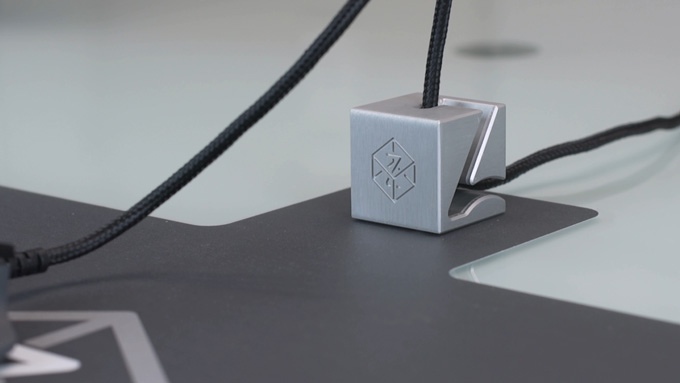 Brushed aluminum cable management
Ergonomics and Accuracy
Our last device – the Swiftpoint GT mobile mouse, was quoted as 'The Most Comfortable Mouse on the Market' by The Huffington Post. With The Z, we paid the same attention to a full sized mouse and tested hundreds of prototypes to create what we believe is the best shaped mouse ever built….
The main click buttons have been flattened, so that when you click, you are opposing the desk surface with no chance of nudging the mouse.
We've balanced The Z so that when you lift it, the weight is evenly distributed between your thumb, ring and little finger.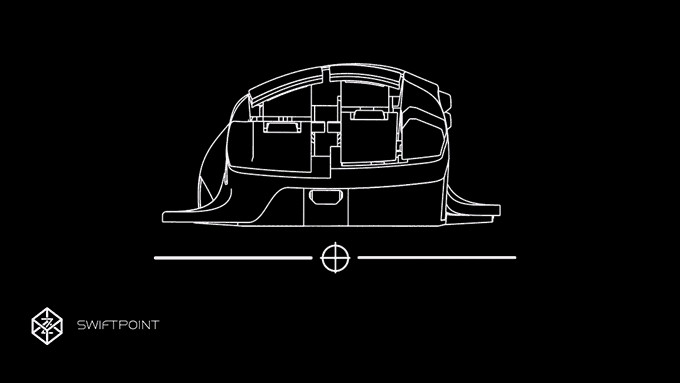 When you grip the mouse, the weight is evenly distributed between your thumb, ring and little finger
The feet underneath are replaceable and adjustable to configure an easier or harder tilt, or no tilt at all. The Trigger buttons and fingertip buttons are also configurable and removable. You can set your own force thresholds for Deep Click, or turn it off altogether.
…..and of course… we have the glowing RGB LED logo.
The Z + Swiftpoint GT Pack!
In response to requests from backers, we have added combo packs for 2 mice. The Z, and our other device, the award winning Swiftpoint GT Mouse.
The Swiftpoint GT, was launched to retail last year and received the best innovation award at the largest trade show in the US (the CES), IT Enquirer even rated it as 'the best mouse of the 21st Century"!
To learn about the Swiftpoint GT – watch a short video review from the guys over at The Grommet.....
The Specs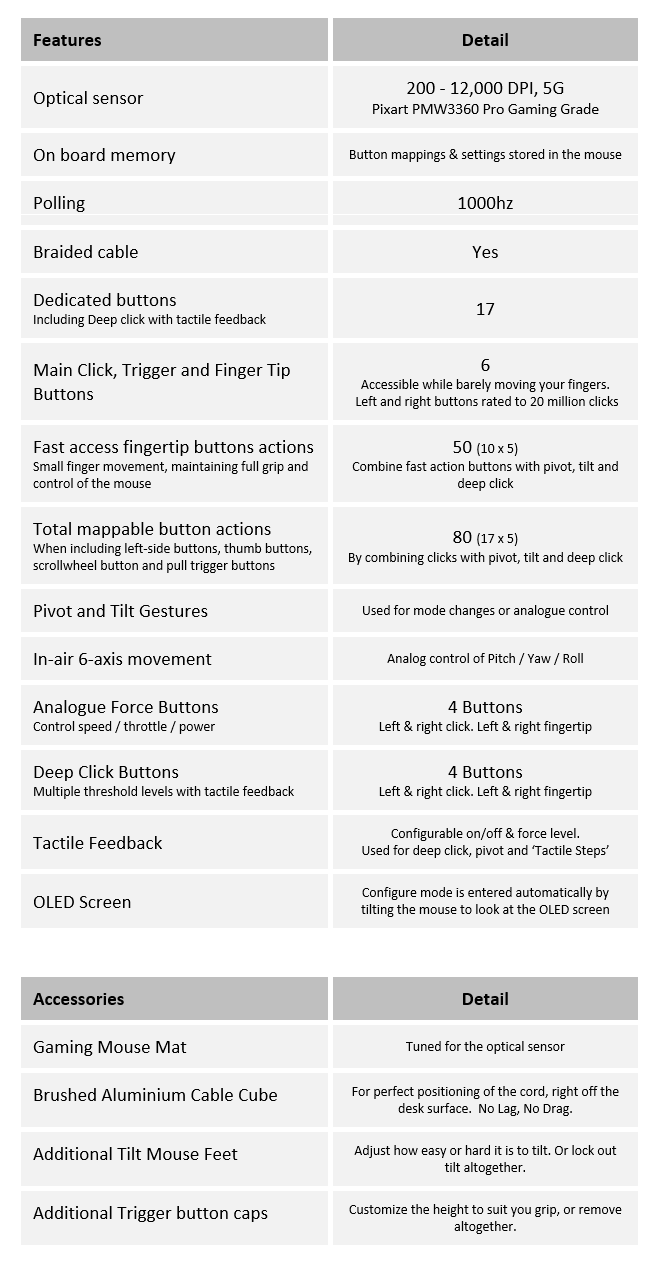 FAQ
Will The Z be fully supported on Windows and Mac?

Yes! We are developing specific drivers for Windows 7 and above, and Mac OS.

The Z is compatible with all games and applications. You can map any button click, tilt gesture or pivot gesture to a keyboard combination that the application uses.

For analog functionality we support games or applications that can use both a mouse and analog controller or joystick.

As with the Swiftpoint GT (our previous device), The Z comes with a 5 year manufacturer's warranty. We don't see it as 'just a mouse'... more as a precision tool for design professionals and gamers - as such the build quality will be of the absolutely the highest standard.

The weight of our prototypes are just 124 grams using 3D printed parts, which is a typical mouse weight. We are aiming to make it even lighter with thin wall injection-molded parts and lighter components.

The size of The Z is similar to most mainstream gaming mice, however The Z has two width dimensions - one over the main body with, the other over the wings on each side.

Width (over main body): 66mm
Width (over wings): 91mm
Length: 130mm
Height: 43mm

The Z comes equipped with a 7ft braided cable.

The mousing area on the mouse mat is 250mm by 350mm (9.8 by 13.8 inches)

No, we've opted to stick with wired to minimize latency and battery issues. In order to to remove the issue of cable drag and tangles, we've created the "No Lag, No Drag" brushed aluminum cable cube.

For the Indiegogo special edition, every backer will receive a bonus mouse mat and brushed aluminum cable cube.

Yes, The Z has the latest optical pro gaming sensor (the PixArt PMW3360), and doesn't need a special mouse mat.

We use a high-end mechanical scroll wheel with precise incremental clicks.

By tilting The Z slightly to the right you can move the mouse for free-form smooth scrolling, not just up / down, but also left and right, to navigate to any part of a document (including to the start or end of the page).

No – the mouse is designed for optimal ergonomic use in the right hand.

We will look at the possibility of a left handed version once we have launched commercially and can measure sales volumes in retail.

Some of our team members are left-handed and uses the Z successfully, but we recommend right hand use.

Yes it does.

Out of the box, The Z sends mouse and keyboard actions for all of the buttons and gestures, (and combinations of both) that can be mapped to a function / action in an application.

We won't be writing a driver for Linux on day one, so it won't be as configurable as with PC and Mac, and won't have the same analog support,

In the spirit of open source development on Linux, we will publish the USB reports being transmitted from The Z mouse. This will enable third party developers to write their own drivers and gives direct access to force sensor / gyro and accelerometer signals as well as mouse and keyboard signals/commands.