The Nerd's Closet: A Better, Safer Online Space

Hi. We're The Nerd's Closet. We are a group of extremely motivated and talented high school seniors and programmers from Chicago, Illinois. We are trying to help make the internet a safer, more positive place by limiting the amount of harassment present online. Our next project is to create an online community that embodies our goals, while also being diverse and collaborative. But we need your help.
We need to raise $10,000 to cover the cost of launching the community or it cannot reach its fullest potential. So we're turning to our strongest supporters to ask for contributions. In exchange, we're offering TNC swag like t-shirts and headphones, Gift Cards, and even the chance to be part of our team! Your contribution will help us finalize and secure our community, and further, it will help make the internet a much more fun, positive place. Thanks!

The Nerd's Closet is an online community that aims make the internet a safer, more positive place by limiting the amount of harassment present online. We want to be a safe place where users can discuss, create and innovate together without the fear of having their opinions ridiculed. Our aim is to create a self-sufficient, full-fledged internet experience that is removed from the negativity that the internet has become infamous for. But promoting a positive environment does not mean that our community will be boring or less functional than other communities. We will still have a blog, a forum, and even a custom social media network for you to enjoy. Other anti-harassment online communities tend to act as a support system to help people who have already been harassed online, which is wonderful, but it doesn't prevent the problem. The Nerd's Closet is different because it provides a harassment free space where you can do everything that you normally do on the web; shop, chat, play games, etc., that just happens to be harassment free.

Our plan is to always put our users first; as such, it is our goal that a great majority of our content, style, and tone is created by our users. This ensures that everyone's voice is heard (provided they contribute, of course!) .

According to a Pew Research Center survey, 40% of people have been harassed online, and 73% of people have witnessed someone else being harassed . Among people between the ages of 18 and 29, this figure jumps up to 92%. For too long, many people have been suffering because they feel unsafe or unsupported. With The Nerd's Closet, you'll enter a place where you can feel safe and loved, a place where you can fearlessly speak your mind. The Nerd's Closet is creating a different kind of internet, where diversity, equality, and tolerance are valued over negativity and bickering. We want to start an internet revolution. But we need your help to make it a reality.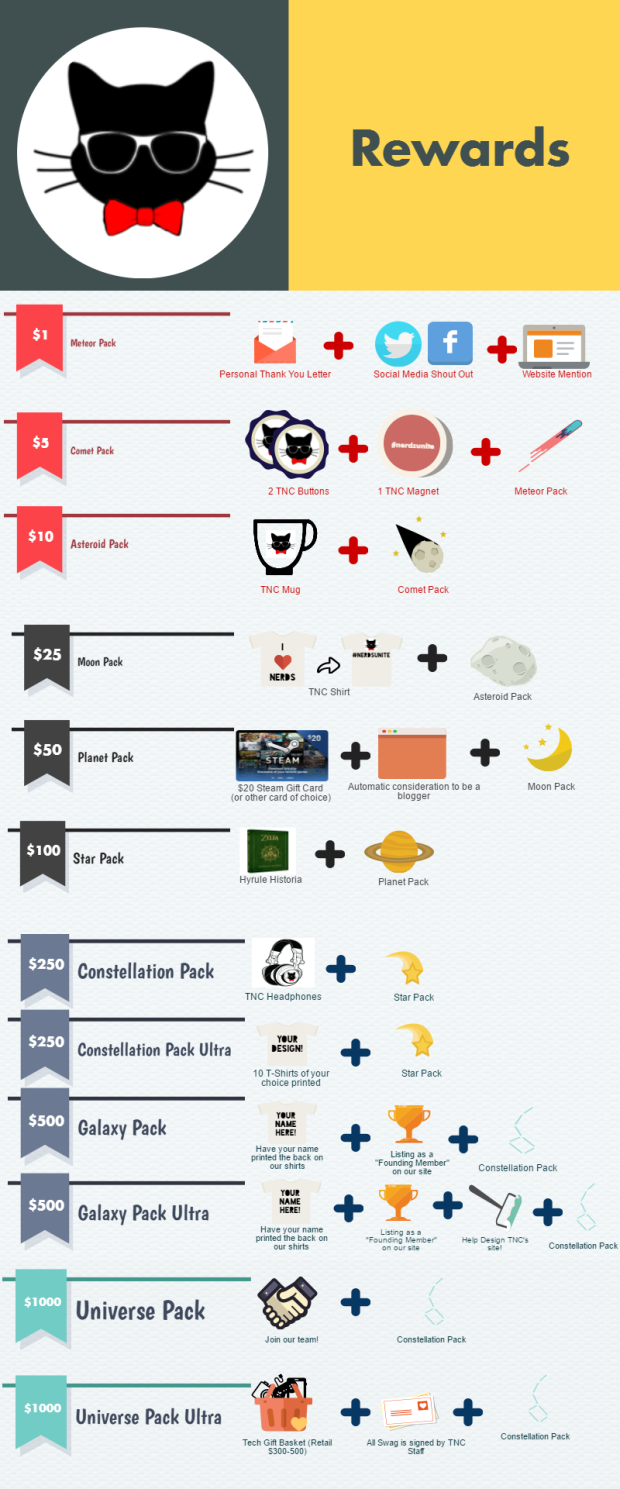 A Little More About Some Specific Rewards:
Becoming a Blogger (Planet Pack and higher): This reward offers contributors to be a official blogger on our site. All users, can submit articles and post on our blog, but bloggers receive extra perks, like promotion of their post and special access to the forums and social networks as a contributors. Quality bloggers can apply to receive compensation.
Printing T-Shirts that You've Designed (Constellation Pack Ultra): This reward allows you to get t-shirts of your own design printed by us through Printful. Just email us your design at business.thenerdscloset@gmail.com. Make sure you design is in an image file (.png, .jpg, etc), and that it's 8 colors or less.
Helping Design Our Site (Galaxy Pack Ultra): This reward allows you to choose the design of our site. We'll contact you, via email, phone, or social media (your preference), where you'll get your chance to tell us your ideas about our theme, color palette, and mascot. You'll be listed on our site as a designer, and you'll get special access to our social network and forums. If we like your work, we may just hire you!
Joining our Team (Universe Pack): This reward allows you to join our team permanently! We'll give you a role dependent on your skills. Please note that all of the TNC team members are not paid a salary as of now, and you would only be receiving a portion of the profit. We'll contact you, via email, phone, or social media (your preference) to discuss your skills and discuss contract agreement.
Tech Gift Basket (Universe Pack Ultra): This gift basket contains a plethora of randomized gift cards, tech accessories, and more. The total basket will contain all new items, and the retail value will be around 300-500 dollars, so you won't be getting any cheap products.

As with all online endeavors, there are bound to be hiccups along the way. However, the team working on the project is very capable of handling any problems that come our way, such as:
User Security/Privacy

We understand that creating a harassment-free online space means that our community and users will inevitably lead to trolls and hackers attempting to disrupt or destroy it. The Nerd's Closet has anticipated these threats, and will enact the following steps to ensure our users privacy and security (these are just a few):

Two factor authentication

Moderated accounts, submissions and messaging

Strict anti-spam rules

SSL

Utilizing a Web Application Firewall

Monetization

While the money you contribute will keep The Nerd's Closet running for a year, the site needs to be profitable after that for the community to stay open. In the short term, we will create an online store with collectibles, video games, and other items to support ourselves with minimal ad revenue. In the long term, we may explore a subscription service.
Freedom of Speech

Our community will face the challenge of potential users who will believe this community inhibits their First Amendment rights. Because The Nerd's Closet is a private space, we have the right to set our own rules about what is considered harassment or not. For more information, click here.

Every dollar helps, but if you can't donate, you can still help us reach our goal! By sharing this fundraiser via Twitter, Facebook, or email, you can help us spread the news! The bigger our social network, the more likely we will reach our goal! You can also check out our website and see how we're progressing. Or, consider joining our community, or helping us out by donating your time and talent instead.
Thank you for reading, and we hope you consider donating today!