We created a unique powermeter and with your support we would like to make it available to all cyclists. STYX Powermeter was developed by Magnes, a spinoff from ETH Zurich, Switzerland. Designed with our expertise on magnetic sensors and our desire to better understand sports biomechanics, STYX Powermeter provides the following distinctive advantages:
Wearable Powermeter: Everthing is integrated in the cleat. Mount your new cleats and you are ready to go.
Force Mapping: It gives the force distribution on each cleat. Not only you see L/R power but also the way forces are distributed on the cleat to improve technique and bike fit.
Transferable: You can use it on all bikes without any modification on the bike, even on turbo trainers. You can have reliable comparison of your performance on different bikes.
STYX Powermeter
STYX Powermeter is a wearable cycling powermeter that is fully embedded in the cleat. The device can be mounted onto your cycling shoes and requires no modification of the bike. It measures how you push the pedal, how your force is distributed on the cleat giving insight into your technique, your pedaling efficiency, and your fit to your bike. You can analyze all metrics, such as watts and pressure on each pedal, see the data on your phone, and even upload it to Strava.
The dynamics of pedaling are complex. The pedaling motion involves forces in different directions over a full cycle of 360 degrees. STYX Powermeter does not oversimplify the process by reporting a single power value. Instead, the device utilizes state-of-the-art magnetic force sensors and inertial sensors to simultaneously measure force vectors and the velocity of the pedal.
Measuring the force distribution of both legs, STYX Powermeter gives analytics on your technique and efficiency over the 360 degrees pedaling cycle. This data, combined with the artificial intelligence learning algorithms allows you to monitor the power transfer from both legs with unprecedented detail. Analytics on cadence, L/R balance, power zones, and the power circle are also provided. Based on the insights into your technique and your long-term biomechanical output, you can gradually improve your cycling technique to increase strength and endurance.
Specifications

Compatibility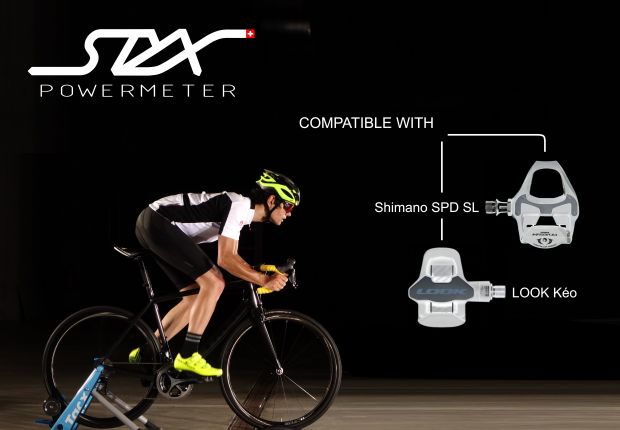 STYX Powermeter is compatible with Shimano SPD-SL and Look Kéo pedal systems. You can make your selection after you choose your perk.
Durability
The bottom part of STYX Powermeter was designed to be extremely wear resistant. It is covered with a tribo-polymer providing an optimal solution to the rider. The tribo layer protects your powermeter and preserves your pedals.
The replaceable knobs are made of polyurethane and provide comfort and safety to the user while walking. You can change the knobs without unmounting the powermeter from the shoe.
As Featured on

"The Styx power meter might be one of the most promising crowdfunders out there right now."
- Road CC
"The obvious advantage of such a system is the fact that as long as the cyclist wears the same shoes, they can use the technology on any of their bikes. Because of its unique design, however, the STYX Powermeter is also able to monitor the force distribution on both cleats – in other words, it can tell you if you're pushing more on the inside or outside of the cleat, or if the force is nicely centered."
-New Atlas
"STYX Powermeter brings wearable powermeter technology to shoe cleats."
-Capo Velo
"This sounds like a really interesting product with lots of potential for both bike fit and cycling analysis. I think it could completely change what we measure and how we implement changes to optimise a rider's position."
-Andrew Brooke, President International Bike Fit Institute
Special Perks
STYX Powermeter Bike Fitting Package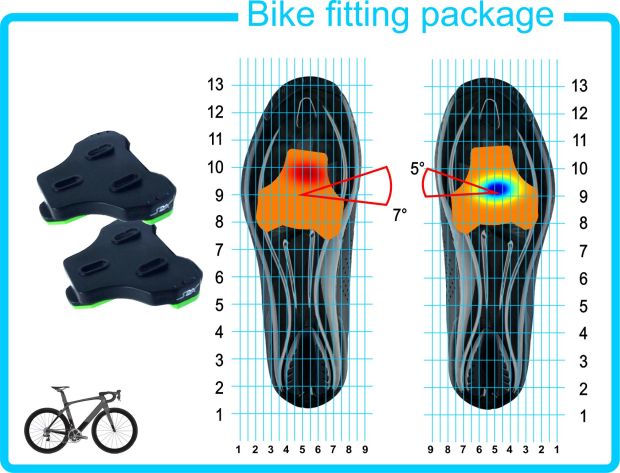 STYX Powermeter Bike Fitting Package includes a STYX Powermeter, a software package for analyzing your bike fit, and a tool for the fine positioning of your STYX PM (or cleat) on the shoe. This is the perfect package for bike-fitters and ambitious cyclists, who want to optimize their position on the bike. You can position your STYX Powermeter according to the guidelines we provide and go for a short ride to collect your power and force distribution data. Based on the collected scientific data, the software will guide you to do the necessary adjustments. You can do a few iterations to refine and perfect your cleat position. With the provided tool, bike fitters can also position your regular cleat after using STYX Powermeter to find your perfect fit.
STYX Powermeter with the bike fitting package is the only device, which provides bike fitting based on scientific data taken during a real ride. Correct your position to optimize your performance and comfort.
STYX Powermeter Special Package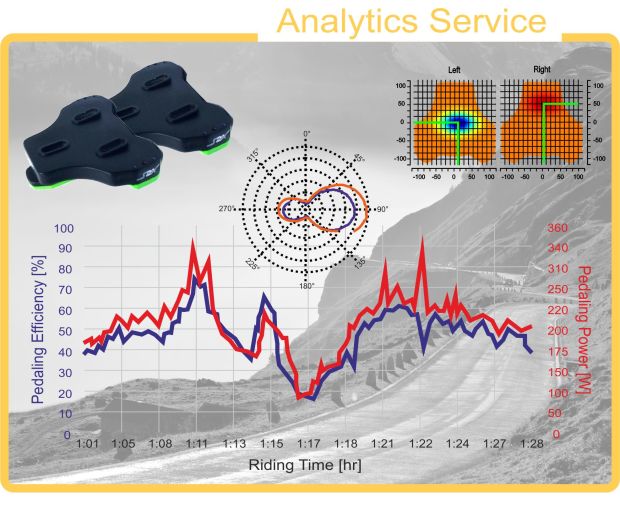 STYX Powermeter Special Package includes a STYX Powermeter with personalized analytics service providing you detailed insight into your performance from our experts. The analytics service covers 20 rides. After using your STYX Powermeter and collecting the power and pedaling data, our experts will analyze them and prepare a detailed report on your training. This will help you to learn how to train with the STYX Powermeter.
STYX Powermeter Swiss Edition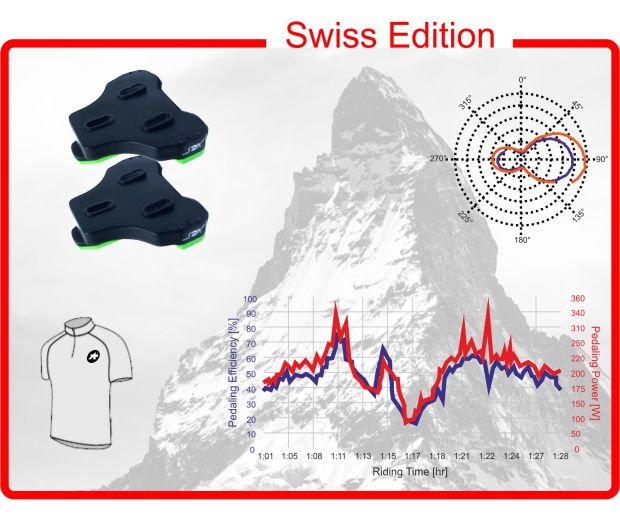 STYX Powermeter Swiss Edition includes a STYX Powermeter with personalized analytics service as described in the special package, a limited edition STYX PM road jersey from Assos of Switzerland, and a pair of socks from Assos of Switzerland. You can choose the size of your jersey and socks after you choose this perk.
STYX Powermeter Platinum Package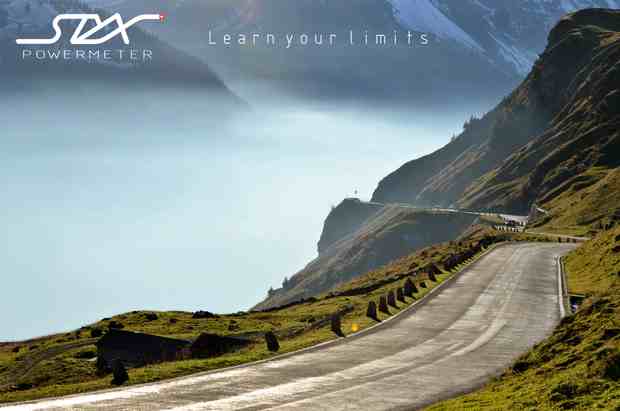 Includes STYX Powermeter with personalized analytics service as described in the special package, visit to our facilities, 3 days accommodation in Switzerland, bike fitting, training with powermeter workshop, guided tour with Magnes cyclists in the Swiss Alps, a limited edition STYX PM road jersey from Assos of Switzerland, and a pair of socks from Assos of Switzerland. The travel costs to/from Zurich (e.g. flights) are not included.
Other Ways You Can Help
Our first challenge is to reach all cyclists and let them know about STYX Powermeter. We would appreciate your help to spread the word. You can find the links to share it in Facebook, Twitter, send as email and share as a link at the top of the page.
We know that you are not all avid cyclists. We are also offering perks for the casual cyclists and non-cyclists. As a thank you for your contribution, we are offering drop stops with the STYX Powermeter logo. At the end all of you drink wine. For the casual cyclists we are also offering ass savers. Autumn is ahead of us.

Team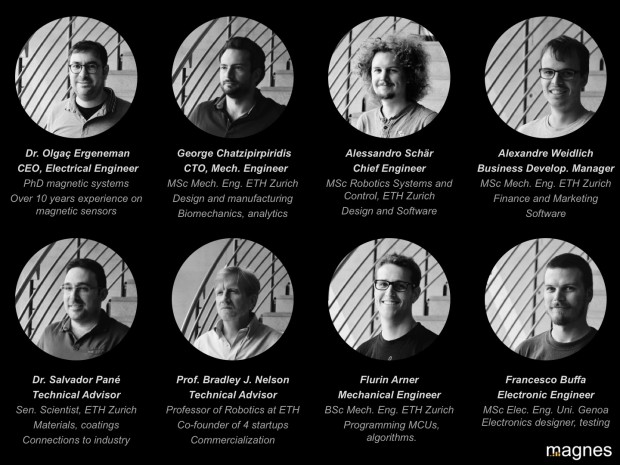 STYX Powermeter was developed by Magnes Sports, the sports division of the tech startup Magnes. The founders of Magnes, an international and interdisciplinary team, come from the Institute of Robotics and Intelligent Systems at ETH Zurich in Switzerland. The laboratory has realized many exciting research projects that range from creating microrobots capable of navigating the human body to designing sensors for measuring forces across a broad range of scales.
Time Line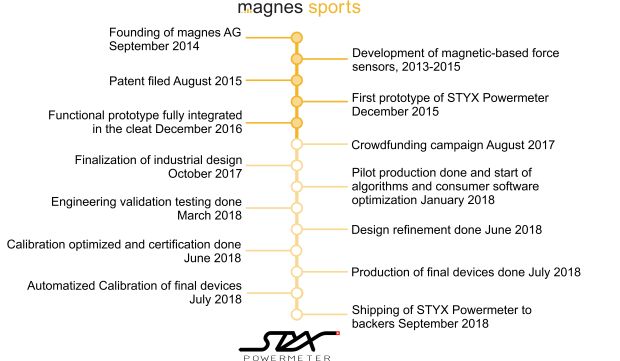 Risks & Challenges
Tooling of the mold and production of the casings for the two versions compatible with the Shimano SPD-SL and the Look Kéo will most likely occur at slightly shifted times (4-6 weeks). We will do everything possible to reduce this time gap when delivering. We will gain considerable experience with the first batches. There is chance that one type of cleats start shipping 2-3 weeks later than the other one. We will prioritize the one, which gets more claims.
Shortage in electronics supply can cause delays in delivering. We are mitigating these risks by having experience with alternative suppliers for most of our integrated circuits (e.g. IMU's).
Unforeseen production issues might arise at all times - and we are aware of this risk. That is why we are working with a single capable production partner for the entire production and assembly. Everything will be performed under the same facility. The final calibration and quality control of every single device will be then performed in our facilities by our engineers. In addition our multidisciplinary team has gained invaluable experiences in previous manufacturing and development projects and built a strong network of production experts and mentors who can help us in mitigating these risks.
We assessed any legal issues before we started developing the powermeter and we hold a patent on our sensing technology. We will therefore not run into trouble with legal matters which may prevent us from delivering our product to you on time.
Why We Need Your Help
We are bringing a brand new technology to the cycling scene. It will bring new functionalities and have many benefits to the end user. For the first time, cyclists will be capable of measuring their power on different bikes without any modification to the bike. Also for the first time, cyclists will be able to measure their force distribution on the cleat giving insight into their technique, bike fit, and pedaling efficiency. We believe that with STYX powermeter we will reach a broader customer segment including pros and enthusiasts.
Indiegogo provides us a great platform to reach you all and get your feedback. We opted for a crowdfunding campaign to spread our word at an early stage and start interacting with cyclists. Some of you have already started contributing to our project during the pre-launch phase. After early requests from potential backers, we chose to add the compatibility with Look Kéo alongside the Shimano SPD-SL pedal system. We also decided to offer the special package, which includes a personalized data analytics service from our experts on cycling biomechanics. If you opt for this package, your ride data will help us with the improvement of analytics services. We will work closely with the special package and Swiss edition backers helping them to optimize their training and technique and getting feedback for the future versions of our analytics package.
Bringing a new technology to the market bears many challenges. With your support we will handle these challenges in a more efficient and faster way. Your contributions will help us proceed with the production and develop the most advanced analytics services thanks to the unique measurement capabilities of STYX Powermeter. The pre-orders will help us cover our initial production costs; this is why we opted for a fixed goal. Knowing the exact number of devices for the first batch will help us to make the best decisions regarding manufacturing.
We are passionate about understanding the complex interactions of the human body with the bike and the cycling environment. We will continue to move our research further into modeling the human body and correlating its output with its driving blocks (i.e. muscles) and their proper function. Our ultimate goal is to make a system that measures and guides you during your training. Based on your achievements and goals, the system will adapt your training and give you the most advanced coaching and monitoring experience simultaneously.
We are looking forward to starting the new phase of our project. We believe with your support, we can bring this technology out there.
Frequently Asked Questions
STYX Powermeter is mounted on the shoe. Will it wear off with time?
STYX Powermeter is equipped with replaceable rubber knobs. Once the rubber knobs are worn out they can be unscrewed and replaced with new ones.
How does the STYX Powermeter work?
STYX Powermeter works based on a magnetic force sensing technology developed in the Institute of Robotics and Intelligent Systems at ETH Zurich. With the aid of inertial sensors, we combine the measured forces with the velocity of the pedal to get your power output. Thanks to this modular architecture we can also give you more information: since we measure the force acting on the pedal in 3D we can tell you how well you are actually pedalling.
When will I receive STYX Powermeter?
STYX Powermeter will be shipped in September 2018. We have been working on this sensor technology for more than 3 years and we planned the production stage together with our manufacturing partner. We know that many crowdfunding projects get delayed due to a number of reasons, but we did our best to minimize risks. The whole production and assembly will be performed by a single company under the same facility. The final calibration and quality control will be done in our facilities. We will try our best to be Swiss punctual with the timeline of STYX Powermeter.
We ship globally.
No, you will be asked to add shipping costs after you make your selection.
Does STYX Powermeter measure cadence?
Yes, STYX Powermeter measures cadence using inertial sensors. Cadence is reflected in the pedal's velocity which we use to compute your power output. It does not need a magnet or anything else fitted to your bike.
Does it measure left/right power balance?
Yes, STYX Powermeter measures left/right power balance. In addition you can monitor the force distribution on both cleats.
Does it measure torque efficiency and pedal smoothness?
Yes. STYX Powermeter measures torque efficiency and pedal smoothness. It can send the data via Bluetooth Smart or ANT+ to a bike computer or smartphone. We recommend using our app for best analytics.
How long does STYX Powermeter battery last?
STYX Powermeter is equipped with a rechargeable battery. Depending on the environment and outside temperature, STYX Powermeter battery pack can last up to 15 hours usage and 3 months in standby. To recharge the battery you will simply have to connect the STYX Powermeter into the power supply. You do not need to unmount STYX Powermeter (cleat) from your shoes.
With which type of shoes can I use STYX Powermeter
It works with any cycling shoe that has the standard 3-hole cleat fixing pattern on the sole.
Is STYX Powermeter waterproof?
Yes. It's robust and compact design can withstand submerging down to 1 metre for 30 minutes (IP67).
Will it work on my turbo trainer?
Yes, STYX Powermeter works with any turbo trainer, which have the Shimano or Look pedals.
What bike computer does STYX Powermeter work with?
STYX Powermeter supports both Bluetooth Smart (BLE) and ANT+ wireless communication. Any bike computer, smart watch, or smartphone can be used to display power (e.g. Garmin, Wahoo, Polar, iPhone, Android smartphones).
Do I need to recalibrate STYX Powermeter every time I change bike? How does it know what my crank arm length is?
No, STYX Powermeter does not care about your equipment or setup. Most powermeters on the market measure the power by getting torque and angular velocity and they would require the knowledge of the crank arm length in order to get the torque (Torque = Force x Arm length). This is not convenient if you are using the powermeter on multiple bikes. Fortunately there is a way around it: you can also get the power by multiplying the force and the velocity of the point where the force is being applied. This approach is a bit more tricky mathematically, but it has the advantage that the powermeter becomes completely setup-independent and can be used on whatever bike you want.