STEM Gems Book - Giving Girls STEM Role Models
You're invited to be a part of producing STEM Gems: How 44 Women Shine in Science, Technology, Engineering, and Mathematics, and How You Can Too! - a vibrant, full-color 8.5 in by 8.5 in square book (approx 232 pages) by Stephanie Espy with a mission to expose girls and young women to the many and varied options within STEM, to give them female STEM role models, and to help them create their own unique paths. This book is self-published.
STEM – Science, Technology, Engineering, and Mathematics – is important to our country's global leadership. Not only does STEM offer the opportunity to engage in exciting realms of innovation and discovery, STEM jobs earn 33% more than non-STEM jobs!
The Gender Gap in STEM
Historically, women have been severely underrepresented in STEM.
Women earned 57% of bachelor's degrees in all fields in 2011, but only 18% in the computer sciences, 19% in engineering, and 19% in physics.*
Women make up 47% of the U.S. workforce, but make up dismal percentages in STEM fields. For example, 16% of chemical engineers are women, 12% of civil engineers are women, 7% of mechanical engineers are women.*
We need to close the gender gap in STEM. This book is a critical step.
About Me and the STEM Gems Book
My name is Stephanie Espy, and I'm one of the 19% of women with engineering degrees mentioned above. As an African-American woman, I'm also one of the 3% of minority women awarded a bachelor's degree in engineering.*
I have degrees in chemical engineering from MIT and UC Berkeley. I have felt the gender gap first hand; I have sat in classrooms and worked in industry where I can count on one hand the number of women in the room.
So why write this book? I have always been passionate about STEM - and I'm equally passionate about getting more girls and young women excited about STEM too. I wrote this book with a mission: to help girls and young women see themselves as scientists, technologists, engineers, and mathematicians, and to show them the many diverse options that exist in STEM.
I'll tell you and the exceptional women in this book will too: STEM isn't a special brain. STEM doesn't come from a life of privilege. STEM is simply an exposure to what is possible and an internal belief that anyone can be a STEM Gem.
Truly, anyone!
Most of the STEM fields in this book you won't see on TV or in a movie. In fact, when I was a teen, I didn't know many of these options existed. This book allows girls and young women the chance to explore STEM fields that they may have never otherwise dreamed of through the stories of 44 inspiring women STEM leaders.
Through these women's stories, girls will have their pick of role models who offer tangible advice and guidance. In addition to these stories, I also include 8 chapters that outline actionable steps to get girls and young women on their way to becoming STEM Gems too.
The STEM Gems book is a vibrant, full-color book, beautifully designed with photographs and stories that girls and young women will want to read. The tone and feel of the book is designed with girls and young women in mind. Alongside the stories is advice and actionable steps that encourage and inspire girls to live their dreams.
The Science section – represented by the amethyst gemstone – features inspiring women in 12 diverse fields, including a:
Forensic Scientist
Microbiologist
Oceanographer
Planetary Scientist
Immunologist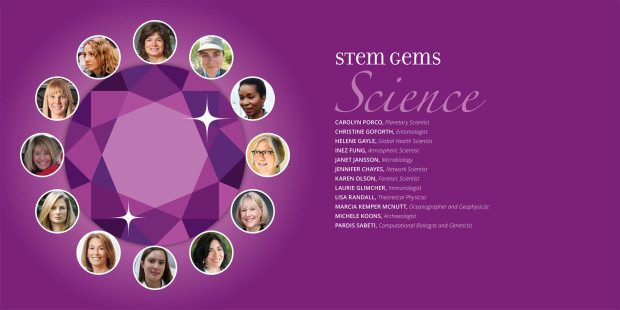 The Technology section – represented by the ruby gemstone – features inspiring women in 10 diverse fields, including:
Animator
Bio-technologist
Computer Coding Creator
Holography and Virtual Reality Technologist
Solar Energy Technologist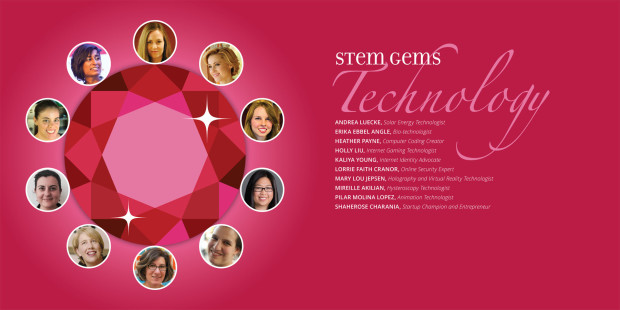 The Engineering section – represented by the sapphire gemstone – features inspiring women in 10 diverse fields, including:
Electrical Engineer
Mechanical Engineer
Chemical Engineer
Nuclear Engineer
Robotics Engineer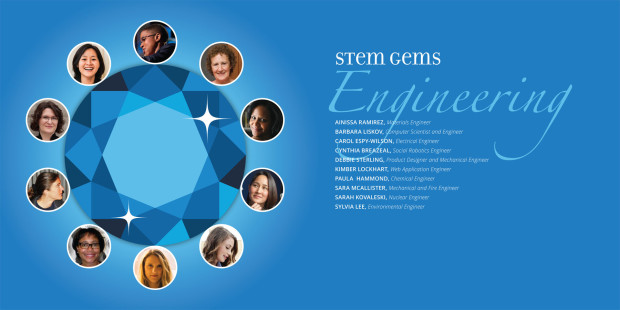 Lastly, the Mathematics section – represented by the emerald gemstone – features inspiring women in 12 diverse fields, including:
Actuary
Network Systems Mathematician
Economist
Data Scientist
Number Theory Mathematician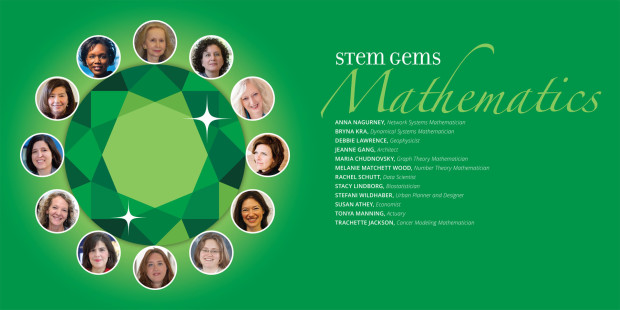 Join the STEM Gems Movement and help me create a better future with more possibilities for OUR girls!
Join the STEM Gems Movement
Self-producing this book continues to be a process that involves many steps, time, and out-of-pocket money. Your contribution will help fund the cost of:
Research: Lots of time has been spent researching STEM fields, finding inspiring women leaders making an impact in their respective field, and communicating with these women to make this book a reality.
Interviews: The majority of the women featured in this book were interviewed to provide first-hand details of their path, including their childhood, major influences, professional accomplishments and setbacks, and advice to girls and young women.
Writing, Editing, and Beta-reading: This has been a back and forth process between myself and many others to make sure the stories, section introductions, and chapters are written in a way that girls and young women can easily follow and understand.
Book Design: Creating a visually appealing book was important to me. The cover design and book pages were crafted by an expert graphic designer to appeal to girls and young women.
Social Media and Web Design: My next step is to build a strong social media and web presence for STEM Gems, providing an interactive platform for girls and young women to connect with STEM Gems and share their triumphs and challenges along their unique paths.
Book Launch: Launch events in Atlanta, Washington, D.C., and other cities in the U.S. are being planned to get our country buzzing about the STEM Gems movement.
Conferences: To build on the STEM Gems platform, I plan to host conferences where girls and young women can participate in workshops and seminars to learn firsthand from our STEM Gems and to use science, technology, engineering, and mathematics in creative and fun ways.
This book is 100% complete and ready for print! Along with the items mentioned above, your support will help fund the cost of printing and distribution, as a minimum order of 2,500 books is necessary and must be paid in advance.