Speakarts is a battery driven Bluetooth speaker, with roots in Danish design and high-end sound. We reimagined speaker design and went back to the drawing board for this unique design piece. The sound-transparent front cover is customizable and easily interchangeable - you can even use your own favorite design or image.
The front cover snaps on with magnets and can be swapped in a few seconds.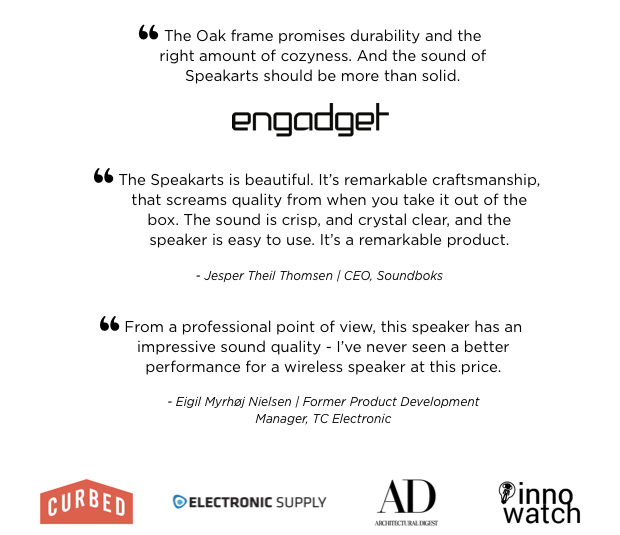 The front covers are designs, images and artworks printed on a special sound-transparent material, letting the sound travel straight through, keeping the quality at its highest. The printing technique opens a world of possible designs.

With our ability to print anything, we wanted to make Speakarts a platform for artists to share their art in new ways, specifically, as wall pieces on our sound-transparent front covers.
That's why we partnered with five upcoming artists. Each of the artists has created an artwork using their very own unique style. These artists are from around the world, some more known than others, but they are all up-and-coming and in love with what Speakarts is doing. Each of the artworks is created just for Speakarts, making them unique for the speaker and unique for you. They are only available through our crowdfunding campaign as a limited edition artwork cover.
Read about the artists, their inspiration and their thoughts behind this specific artwork in the team section.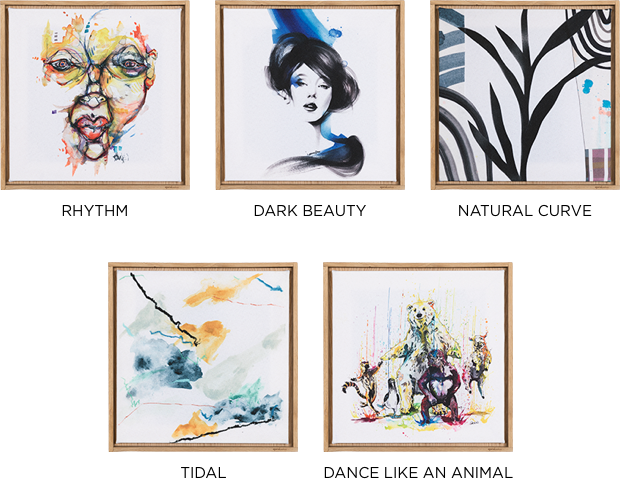 We also provide you with some of the most trendy designs and hottest colors to showcase on your Speakarts. These covers are based on contemporary Danish design trends and make Speakarts the sleek, attention-grabbing design piece it becomes, matching any room.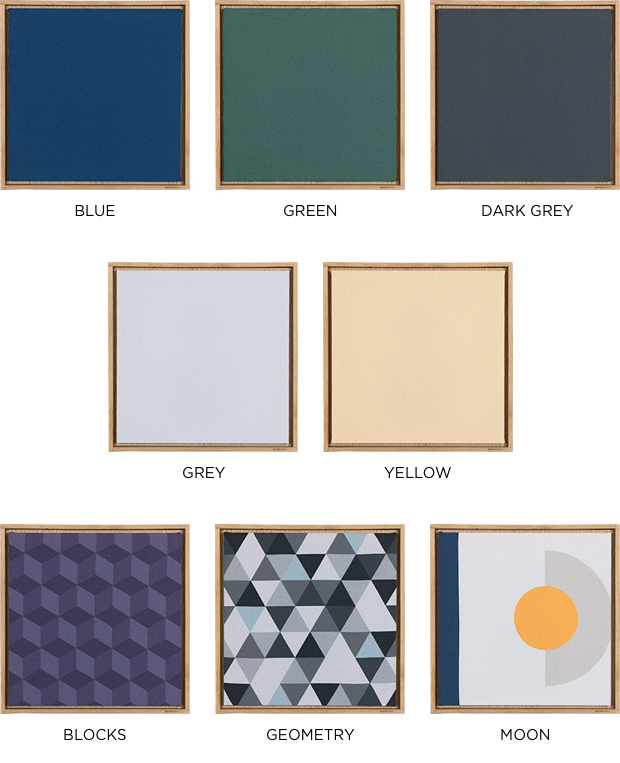 You can get any design, image, artwork or whatever you like, right on your Speakarts! With our customizable front covers, you can personalize the speaker with your own design. It can be your very own artwork or design to match the room, or an image of your family, or even a meaningful quote – entirely your choice. Before shipping your Speakarts we will provide you with a link to our site, where you'll be able to upload your own high-res image file and we will print it as a front cover.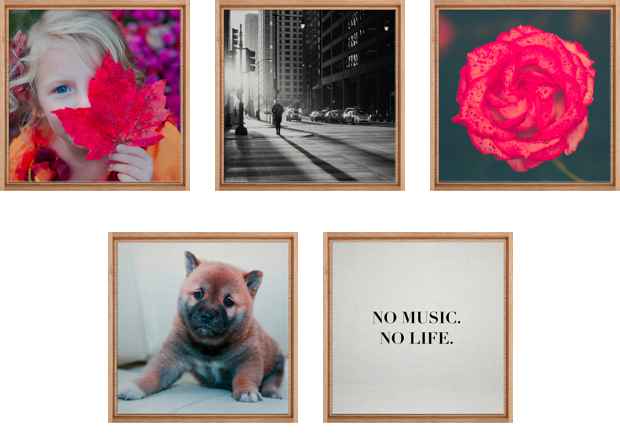 Our Brand & Design Manager Sophie is a huge fan of cats and she used the Custom front cover to get an image of her lovely cat Eos on her Speakarts.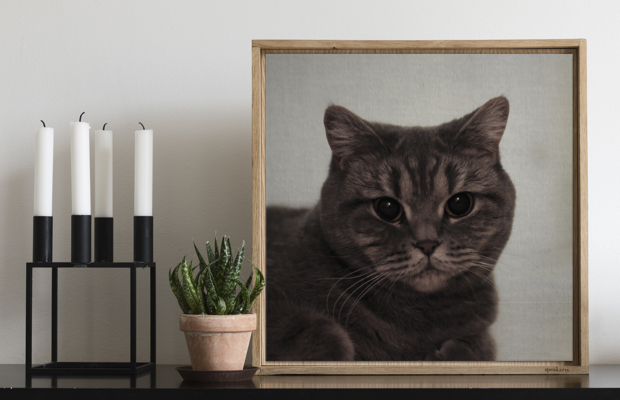 At Speakarts we want to challenge the way we experience sound at home. We believe in constant innovation and bold creative design. In this spirit, we have created a speaker that stands out as a unique design piece, as art for your walls. We have reimagined what a speaker should be capable of. Speakarts is crafted to sound as good as it looks, with the ability to be customized to match your style.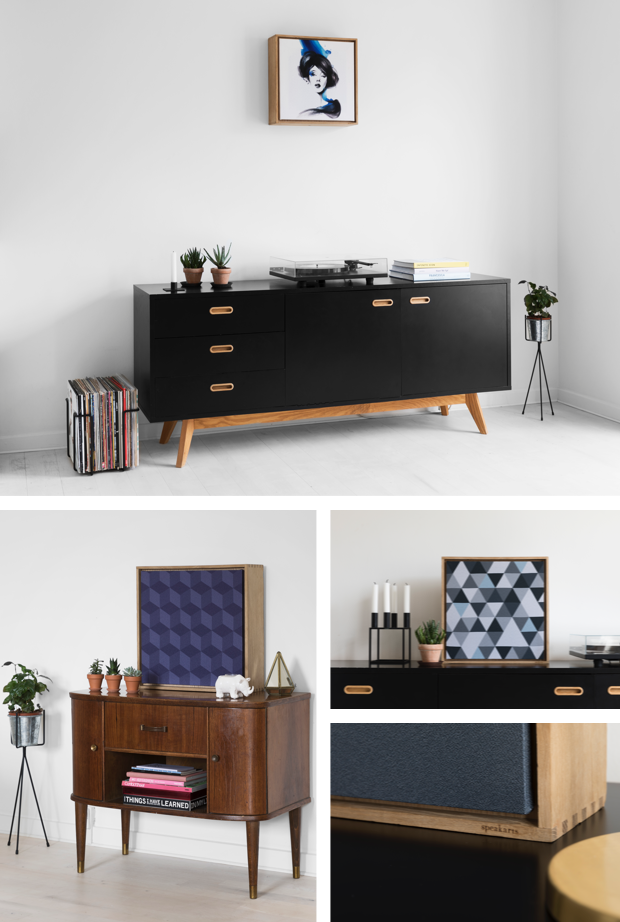 This isn't another speaker that starts to fade after a while. Speakarts is made to last a lifetime, updating the front cover every now and then. Speakarts comes with a 2 year warranty, to ensure none of our backers run into any trouble.




Speakarts is ready out of the box and you'll be playing your favorite tunes within a minute. You don't need to purchase any additional gear, simply connect your favorite device through the integrated Bluetooth and start playing.

To ensure an immersive sound experience, Speakarts uses a new sound optimization technology to actively analyse and optimize sound output, playing audio through the special audio-transparent covers. Speakarts analyse and optimize the playing soundwaves 48,000 times per second. It uses the most cutting edge sound processing and output technology, accounting for both direct and indirect sound response. This means that no matter where in the room you stand, you will always experience the same sound distribution filling the room.
Want to know more about the technology and audio? Scroll down to our specifications section to get all the details.
It isn't just something we make up, we have been testing the speaker over and over again, optimizing every detail in the sound.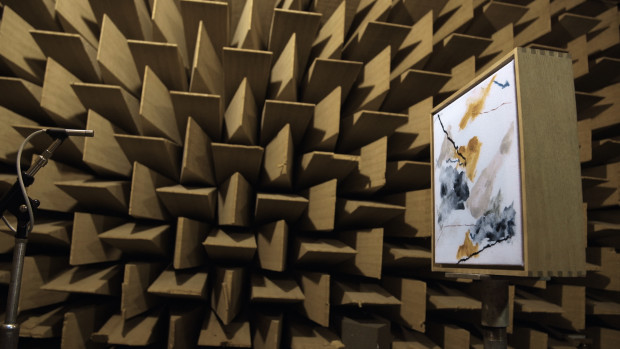 We designed Speakarts to be completely wireless. The rechargeable battery will keep it playing continuously for over than 25 hours before needing a charge. But of course, keep it plugged in if you like.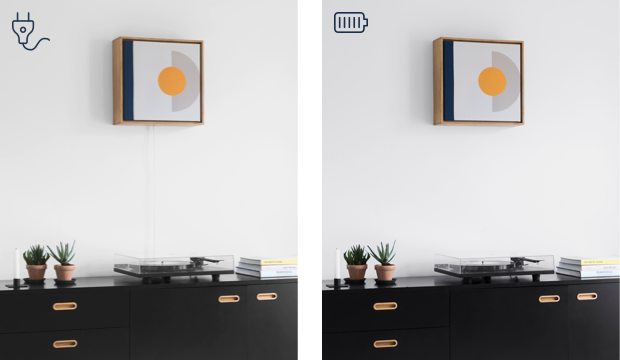 Speakarts always stay on and ready to go, but automatically goes into a deep energy-saving standby when they're not connected. As soon as you connect to the speaker, it wakes up and is ready to play. To switch off the speaker, just disconnect and it goes on stand-by. If you forget to disconnect, but stopped playing music, Speakarts auto-sleeps after being inactive for 30 minutes.

Want to get yourself a pair? Speakarts comes with an app to control the pairing of the speakers. It enables you to connect two speakers and that way you can play stereo, or fill larger areas with synced music.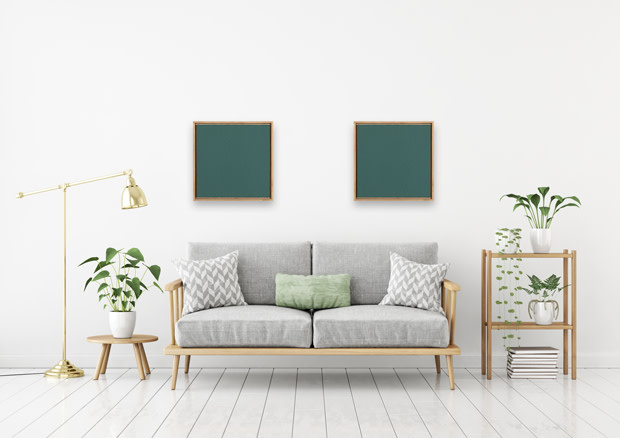 As Speakarts is battery powered and connected through Bluetooth, the speaker can hang freely on the wall or stand at a shelve – with no wires disturbing the aesthetic design. Is the party moving to the other room? You can easily move it around. Just pick it up and place it somewhere else.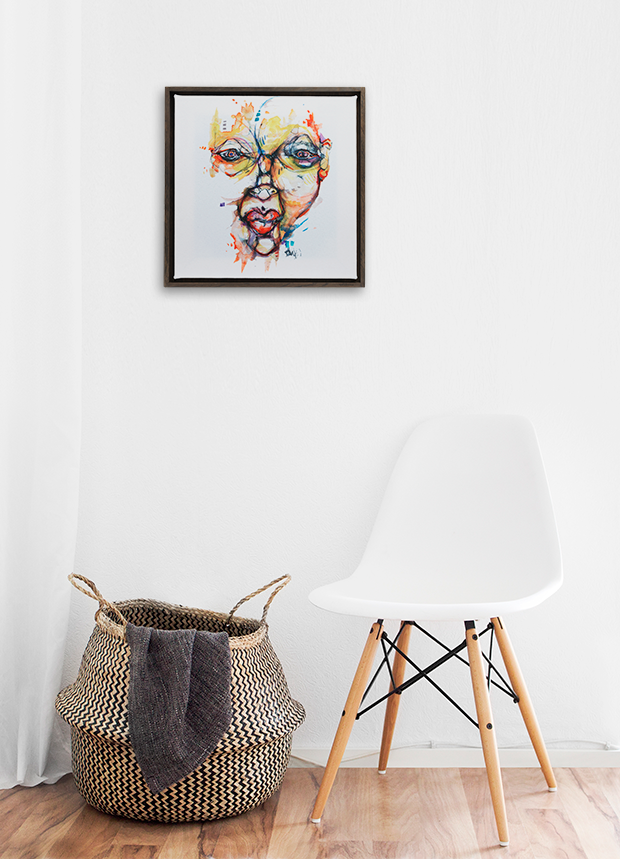 Speakarts is developed in Denmark, based on materials found in Denmark, and with careful handling of the Danish designer's eye. The wooden cabinet is made from natural solid oak and smoked oak. It was important for us to use materials sourced nearby, to ensure sustainable high quality.
All the components have been carefully selected based on intense testing of durability and finish.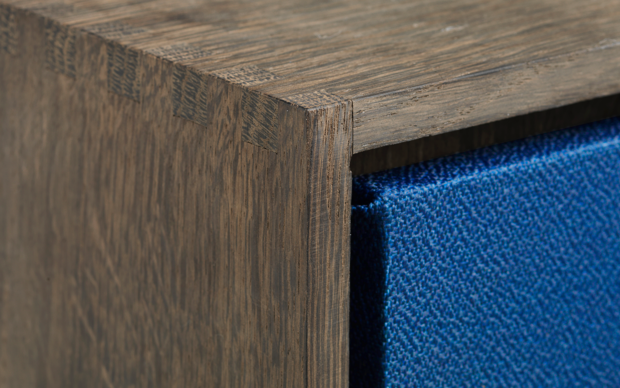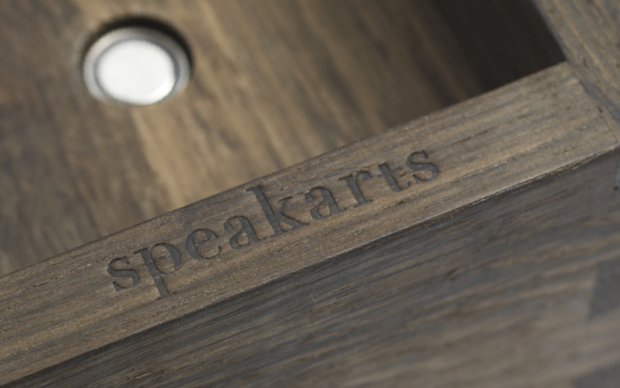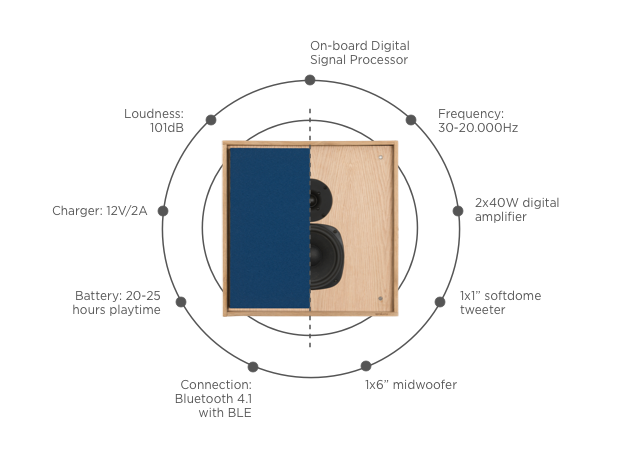 The on-board Digital Signal Processor (DSP) is where the magic happens, enabling us to stand out from any other speaker. We are not the only ones using a DSP, but through own-developed techniques, the tuning of the DSP is superior to others. Some of the benefits of the DSP is:
Smooth power response for easy integration into listening environment.
Automatic loudness compensation. Adapts speaker output to match with the same timbre regardless of listening level.
Intelligent protection system, to maximize acoustic output and minimize distortion.
Very wide frequency response.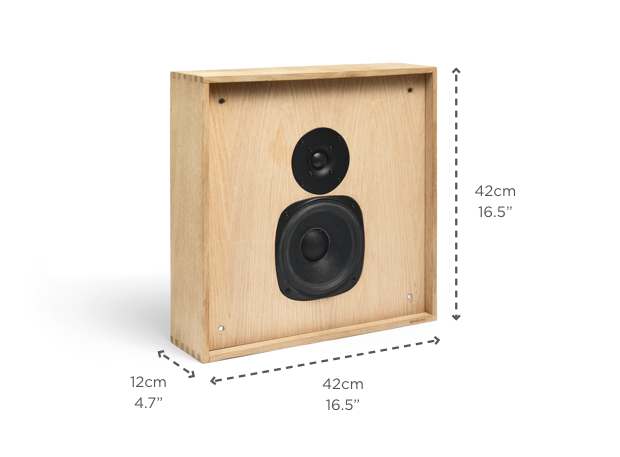 You mount the speaker in the wall by sliding it on the bracket that follows with the speaker. And yes, each speaker comes with a serial number, starting at no. 001.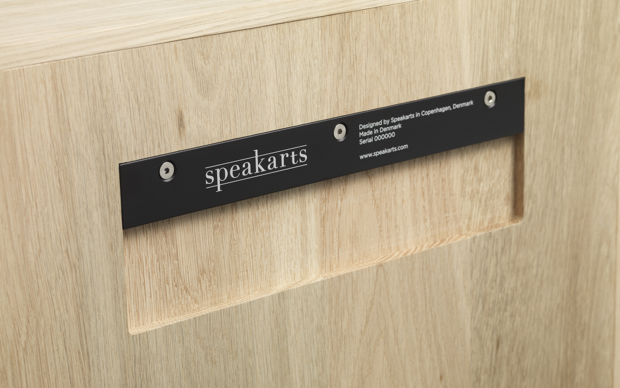 We have spent countless of hours on development, getting to the speaker we have today. We've been running successful tests on the volume of the cabinet, the choice of speaker units, the wooden material, printing on the special audio-transparent canvas and more.
The acoustics have been designed, constructed, and optimized together with one of the world's leading sound-developing companies. Combined we have over 13 years of experience in audio engineering, so it was vital to us that Speakarts is the absolute best performing, richest sounding speakers in its class, and we're proud to say that we did it.
The material used on the front-cover is no ordinary canvas. It is designed to be acoustically transparent and all our audio tests are done with the Speakarts cover snapped on.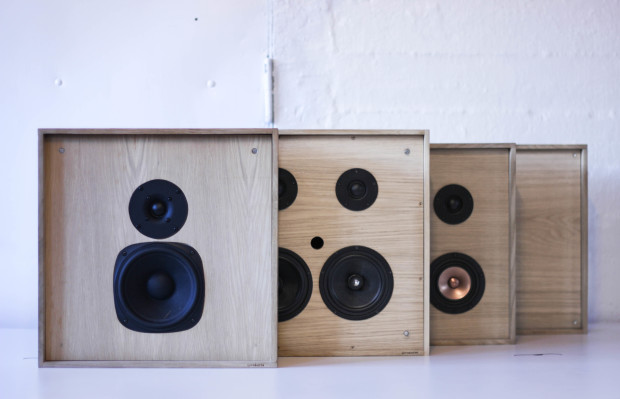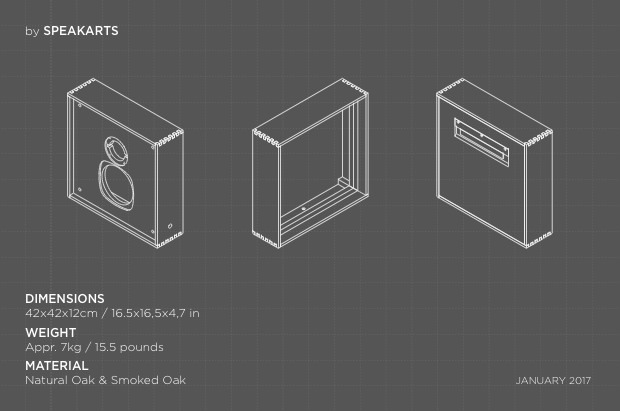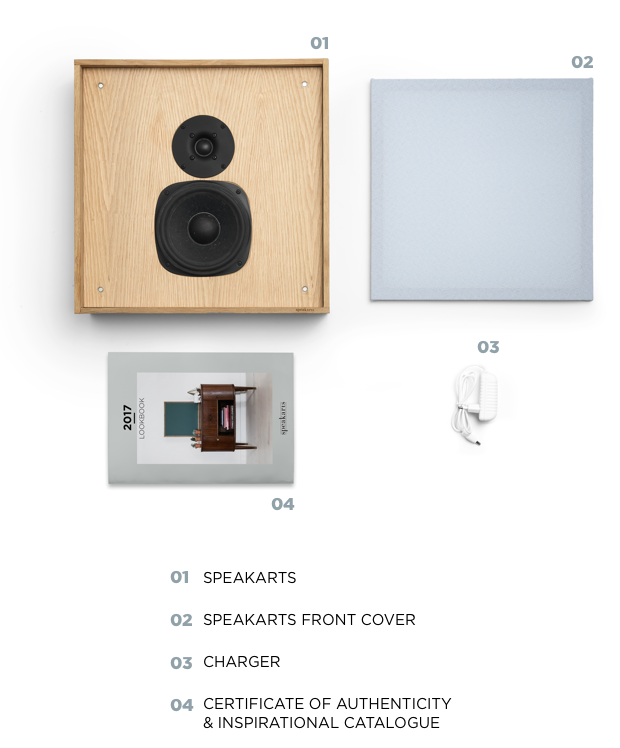 When you order your Speakarts, we also deliver everything else you need for it. Including your chosen cover, charger, wall mounting fittings and also our lookbook, where you can get inspiration for the use of your Speakarts.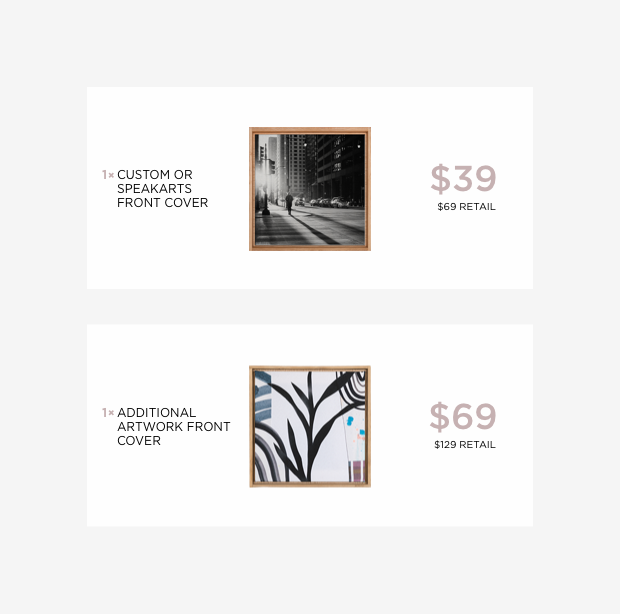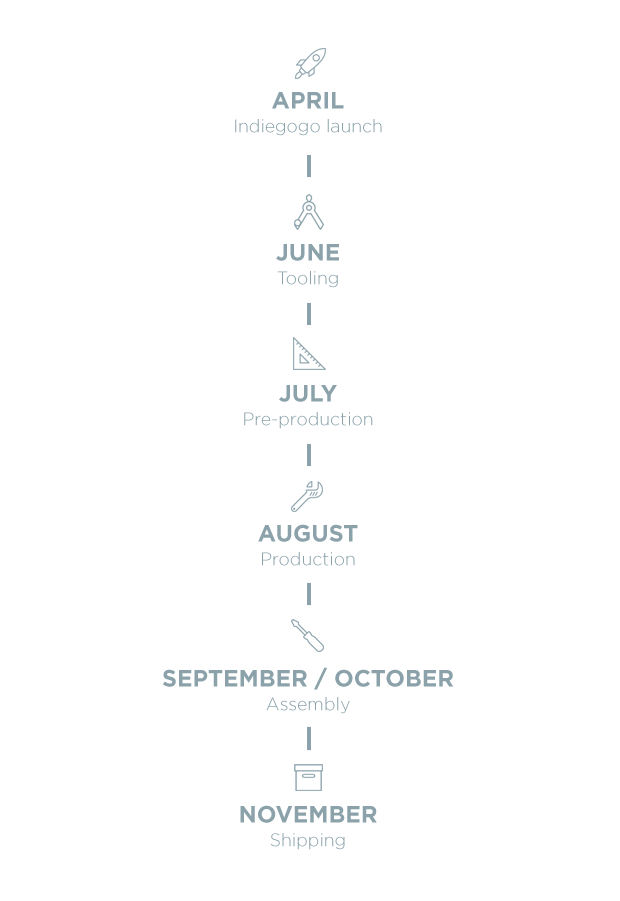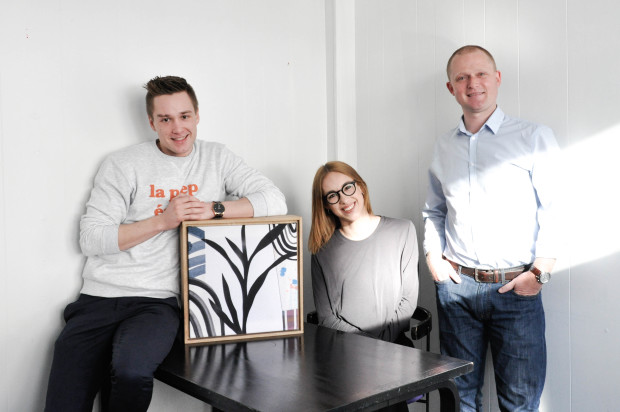 The Speakarts team is very diverse consisting of Thor Mønsted, Sophie H. Nissen and Jonas L. Thestrup. Thor has spent his whole life working with audio, developing and selling audio equipment. His passion for the audio has even made him experiment with producing his own music tracks. Thor is part of developing the sound, together with a team of audio engineers, while also handling the manufacturing and shipping.
Sophie, while not very technical, is extremely creative and innovative. She previously developed futuristic user experiences, simplifying new complex technology into simple intuitive processes. Not an easy task. Now she is developing your experience of Speakarts, leaving you in good hands.
Jonas is somewhere, bridging the gab between product design and marketing. With years of experience in the Danish start-up environment, Jonas is skilled in turning ideas into action plans and sustainable projects. He is also our main source of support and communication.
Get to know us a little better and find our favorite tunes below.
See what Sophie listens too here on Spotify.
See what Jonas listens too here on Spotify.
See what Thor listens too here on Spotify.


PHILIPP GREIN
I was born and raised in Graz, Austria (The European Capital of Culture). I'm 28 years old and I became a self-employed artist two years ago. My inspiration comes from my love for animals, my fascination with their behavior and their incredible beauty keeps me painting watercolor illustrations of them. My art is my way of expressing how I see these amazing creatures.
Maybe these five dancing animals in my painting represent unity and equality towards their differences. To me it says: Shake your booty, dance your feed off and be better than the world's negativity. That's why I named it "Dance like an animal"! Yep.. just do it.
Being a part of the Speakarts journey is exciting. Art is music and music is art. I love the idea of mixing these two things together in one perfect product. I hope that in a few years everybody will have one of these awesome speakers!

JASON SIEW
I am Malaysia-born Jason Siew (b. 1975), a freelance designer and illustrator based in Singapore. My inspiration mostly comes from my daily activities, especially when I am outside and traveling. I like seeing new things, it gives a new perspective to see things differently. Magazines are also my another important source.
The artwork for Speakarts I actually created some times ago, but I think this one suits well. It was from a series named Dark Beauty, which showcases how the brush strokes movement flow on a still portrait. I decided to name this piece the same; "Dark Beauty".
I'm grateful I'm part of Speakarts journey. I mean this is an interesting and cool product, Art-Music-Technology-Deco all in one.

INGE FLINTE
I'm living in New Zealand, where I also grew up. I am both a painter and photographer and elements in my everyday life tend to fuel my art: scuff marks left on a wall; the sun creating shadows through the trees; a visit to the beach; the beauty of a summer garden. For this piece, I wanted to create a work that was both minimal and calming - in both palette and movement. I felt like the work needed to be a statement in and of itself, and be able to lend itself to a variety of spaces. This piece is named 'Tidal'. At the time I was particularly being inspired by the seascapes around where I live, and, in particular, the diverse and changing moods of the sea view from my studio window.
I love how Speakarts is about bringing art to everyday objects, effectively blending a functional object with a piece of artwork. Speakers are so often obtrusive objects that just 'stick out' and I love how Speakarts are just so wall friendly - it honestly looks like a beautifully framed piece of art!

JOSH SPIVACK
My name is Josh Spivack and I am a professional fine artist born in 1982. I originate from and are based in the USA. My inspirational source when I am creating work stems from many different things, like music or my surrounding, but the ultimate factor is from within myself. My specific thoughts behind the work I created for Speakarts was to create a work of art that would correlate nicely with many different genres of music seeing as it will be a cover for a speaker system.
The name of the ink and watercolor piece that I designed and created for the Speakarts project is titled, "Rhythm". The reason for this title is that rhythm is an important aspect in music and seeing as it will be accompanied by sound through a speaker that seems appropriate.

EVA MAGILL-OLIVER
I am Eva, 39 years old and living in Atlanta, USA. I started painting when I was nine years old and it has been my passion ever since. Nature and the natural environment have always been the strongest inspiration and focus in my work. I love studying and observing the curves and arches in nature and how each element moves and flows into the next. In a sense, this rhythm of movement is a physical reflection of how harmonies flow and weave together to create a beautiful piece of sound or music. I wanted to create something for Speakarts that embodies this connection and reflects my passion for both nature and music.
I named this piece the "Natural Curve." Not only am I inspired by the colors, textures, and lines in nature, but I am also drawn to the gracefulness of its movements. From arching tree branches to winding streams, all of the elements in effect dance and play off of one another in perfect synchronization – creating an effortless, holistic, and organic Natural Curve.







SHIPPING
Do you ship worldwide?
Yes, we are shipping our products worldwide.


When will I receive my product?
We are expecting to ship all of the products in November 2017.

Where are the products shipped from?
The products are designed, developed, manufactured and shipped from Denmark.
TECHNICAL
Can I connect them to other devices without Bluetooth, such as my record-player or TV?
With a simple little Bluetooth transmitter, you can easily connect your Speakarts with your record player or any other non-Bluetooth device. They are available in any electronic store, but we can also recommend you the Jack by PODO LABS, as they are made for audio and guarantee high-definition sound.
INDIEGOGO
How can I choose multiple perks?
If you want different perks or need more products? Write to us at info@speakarts.com


I preordered a Speakarts, but I didn't get any confirmation email. How do I check the status of the order?
If you didn't get a confirmation email yet, try looking in your spam filter. If it is not there, write to us at info@speakarts.com


Who should I contact if I have other questions?
Please contact info@speakarts.com in any case.


If the campaign doesn't reach its goal, do I still get my Speakarts?
Yes, no matter how it goes, you will be getting your Speakarts.