Solar - Powered Greenhouse: Organic Farm
Our Story.
GreenCulture LLC is an independent company based in Nakuru, Kenya that is developing an aquaculture, horticulture and agriculture production business that combines high value production, committed buyers in local and international markets, and positive social impact.
GreenCulture LLC was founded in June 2014 after Infinix Clothing Shops were sold to an American Investor. A total of 27 stores were sold in March 2014 which later the leverage was used to start up GreenCulture LLC. GreenCulture LLC is a subsidiary of GreenCulture Greenhouse LLC
To this end, GreenCulture decided to establish and crowd fund an agriculture production and marketing company that would take a holistic approach to primary production. That is us... GreenCulture LLC. We are a team of experienced agriculture and business development specialists seeking investment to continue to develop our agriculture, horticulture and aquaculture assets in Nakuru, Kenya.
When we launched in November 2014, we immediately began work on building our aquaculture operation. Construction of our agriculture operation commenced in January 2015, by the end of March 2015, we had completed the 40 acre aquaculture farm and stocked it with 70,000 Tambaqui fingerlings. These fish will mature and be ready for market by October 2015, at which time we expect them to achieve revenues of approximately $ 425,000.

We have also prepared agriculture land and infrastructure including the drip irrigation system which is being installed during March 2015. Inputs have arrived ready for planting peppers, onions, green leafy, BB tomato etc in the first week of August 2015. These vegetables will be ready for market by December 2015, and we expect them to achieve revenues of around $800,000. In reaching this level of development so quickly, we are set to achieve revenues of around $1,225,000 by the end of this year and clearly demonstrate our ability to successfully execute our development plans in a professional and sustainable way.

Building upon this first phase (140 acres), the second phase will see us expand our land under management to 500 acres. Revenue is projected to grow from $1,225,000 in 2015 to over $10 million by 2020. From this 500 acre base, we envision later equity or debt raises that will see us scale operations out to over 6,000 acres of production as we move from smaller market orders to an industry wide approach.
Highlights
Specialist high value crop and aquaculture production with established markets.
Current agricultural produce and fish production valued at $1,225,000 with harvest and sale from December 2015.
Specialist team in agricultural and aquaculture development and alumni of Kenyatta University, Egerton University and Jomo Kenyatta University of Agriculture and Technology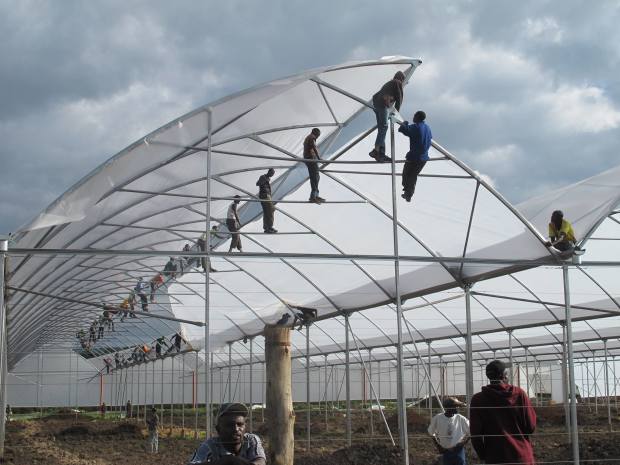 What We Need & What You Get
Our GOAL
We need a heating system, heat buffer tank, Holland batteries, Solar collectors and Solar panels which will cost a total of $100,000.
The heat from the solar collectors is collected in a heat storage tank and the energy from the solar panels in stored in batteries. The rest goes to an electric boiler, which converts the excess electricity into heat, which is also stored in the tank. This will help for sustainable generation of energy and cut cost from using petrol to generate heat and electricity.
This technology will cut down 75% energy cost every year.
Our perks include greenhouses and free veggie boxes.
PERKS
Greenhouse Features
Width of Span: 4 – 10 meters
Gutter Height: 3 – 4 meters
Capable of withstanding wind gusts of: 100 km/h
Capable of bearing trellising loads up to: 25 kg/m²
Greenhouse frame is manufactured from R.H.S profiles
Capable of bearing snow burdens up to: 35 kg/m²
Greenhouse covering: Polycarbonate
Greenhouse door: Slide
See the picture below.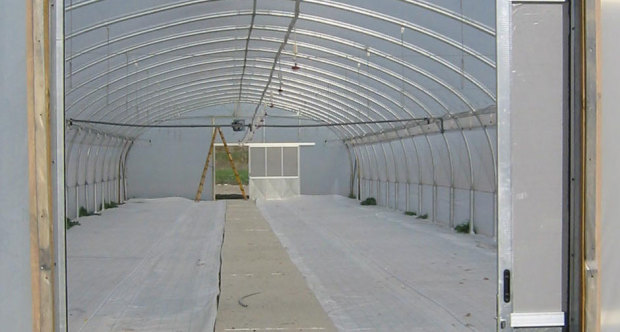 Impact
Job creation to the community.
Youth development - State of the art technology would attract young people to pursue a career in agriculture, which was previously viewed as unsophisticated and option of the last resort.
Gender mainstreaming - State of the art technologies will allow new entrants into the labor market due to use of the new technologies that are no longer based upon physical strength.