Private email service without compromise
SCRYPTmail is an end to end encrypted email service with features you will not be able to find anywhere else. We encrypt your email, attachments, subject and even recipient right on your computer so nobody except you and the intended recipient will be able to read it.
SCRYPTmail is not only a privacy tool, but an ultimate email service that gives you exclusive features such as disposable emails, session expiration, and email tagging. We offer custom domain, human only contact email addresses, support openPGP standard that let you to exchange encrypted emails with third party email services and many more features based on our users requests.
We've developed a true XXI century email service, where your identity, privacy and online communication is protected from the start to finish not only from potential hackers, but from service standpoint.
We Need
With more than 70,000 users we received huge amount of compliments for our service as well as great amount of request to develop smartphone app. However it's not an easy task to do and we will need any help we can get.
We want to asks our users to help us. We going to use react native platform to develop both iOS and Android app the same time. Doing it this way will help us to minimize development time and keep our budget at minimum.
Our backer will receive early access to smartphone app of their choice and contribute to development process.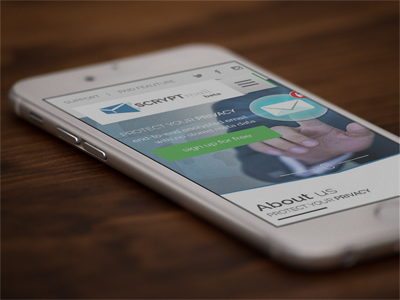 SCRYPTmail was built for you and if you share this Indiegogo campaign with your friends it will greatly help us to succeed. Click on any of the Facebook, Twitter, or other sharing buttons to let your friends to know about our campaign!
Your input will help us to build the future of SCRYPTmail. Thank you!