Probus Quad - The Ultimate Smartphone Accessory
This project has already launched.

With 15 functions in a 2x2 inch size, it is an all-day-use device that sits on your keyring.
Media and Awards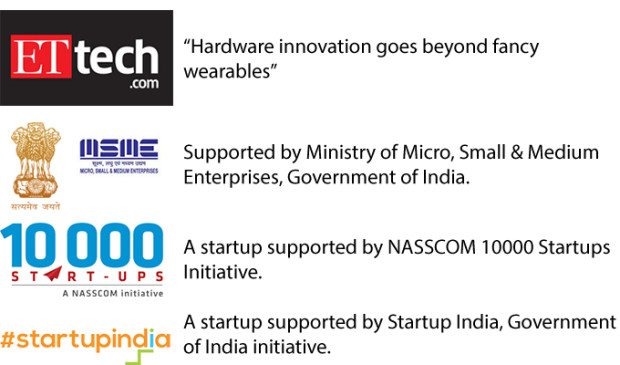 One Device, Many Possibilities
Fed-up of juggling between multiple devices and apps in our daily lives, we decided to make one-single-device to smartly control everything. Small, light-weight and yet powerful. Probus Quad is the result of two years of our blood, sweat and tears.
Do-All-You-Can!
Use Probus Quad as a Portable Memory Bank
Quad comes with 32GB memory, expandable upto 128GB.
Uses industry-leading high-speed USB OTG controllers from Microchip to give you blazing fast transfer speeds.
Supports external microSD card upto 128 GB.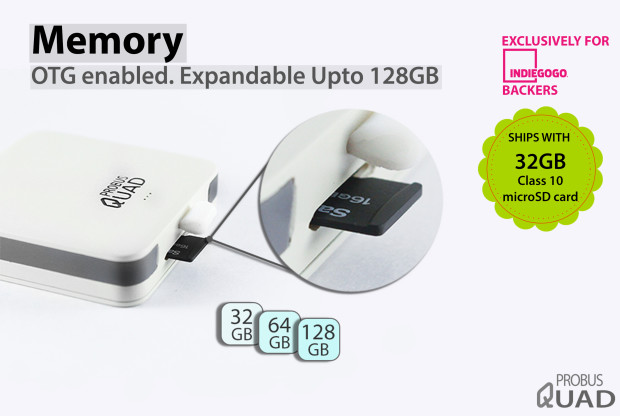 OTG Enabled Memory
Expand your phone's memory with Quad's OTG functionality using its built-in high-speed data cable. Transfer photos, movies, and your favorite songs on the go.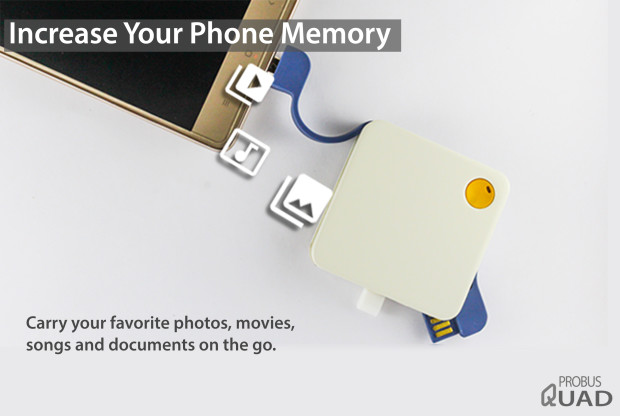 USB Pendrive
Quad works as a USB Pendrive to transfer and store files from your computer.
Sync and take backups of your data using Quad as a portable memory.

Use Probus Quad as a Powerbank
Uses industry's most efficient charging circuits & micro-controllers from Texas Instruments to provide you highest safety & charging efficiency.
Rechargeable Lithium-ion battery capacity of 1100 mAh.
Quad boosts your phone's power up-to 30%* to give you enough juice that lasts for more than 6 hours**


Use Probus Quad as a Smart Button
Remotely control your smartphone, access your favorite apps and perform super-fast actions with the click of a button. With three distinct clicks, you can perform unlimited number of actions. Control your smart lights, your favorite music, book an Uber, click a selfie - the possibilities are pretty much endless.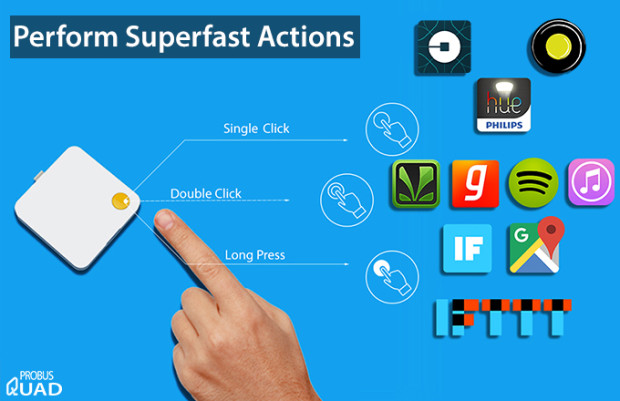 Use the Probus Quad App to configure the action you want to trigger. You can set the type of click to trigger a particular action using the Probus Quad app on your phone.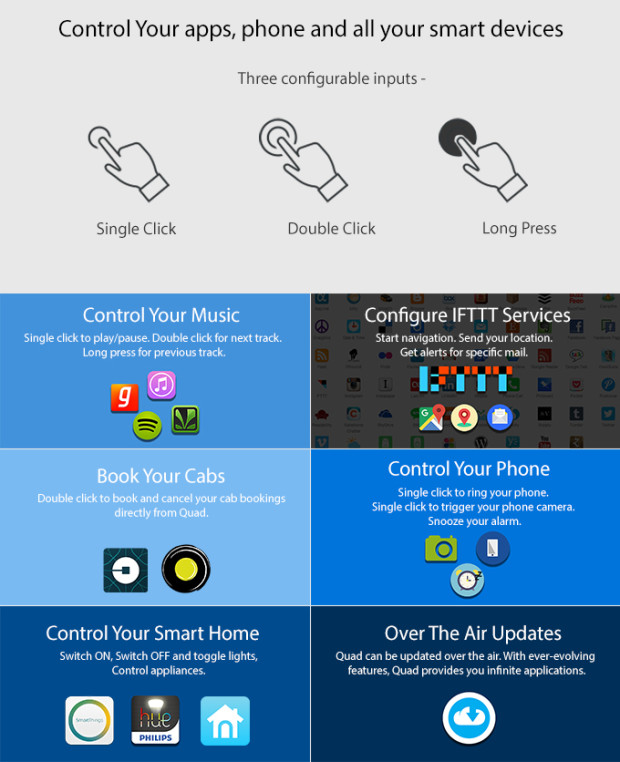 Use Probus Quad to Track & Find Your Keys or Any Other Stuff
Probus Quad connects to your phone through Bluetooth. Use the Probus Quad App on your phone to find your valuable stuff every time you lose track of them.
You can also make your Quad ring to easily locate them.
And When you cant find your phone, use Quad to make it ring.
Works in a range of 100 feet.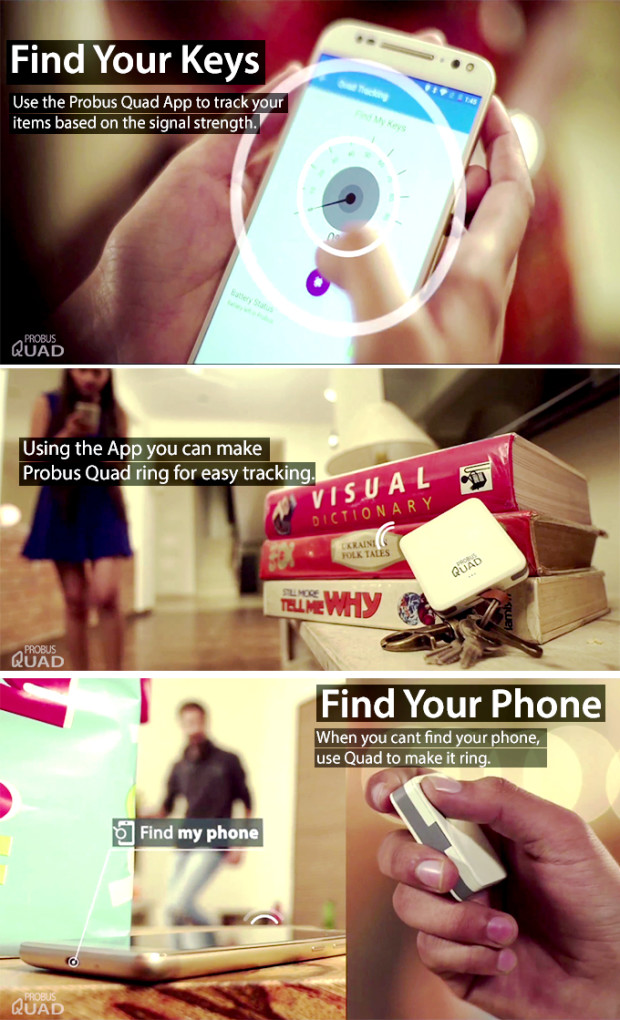 Use Probus Quad to Secure Your Items
Probus Quad secures your items with its high-precision motion sensor. When you keep Probus Quad with your belongings, it sends instant alerts on your smartphone when someone moves your items.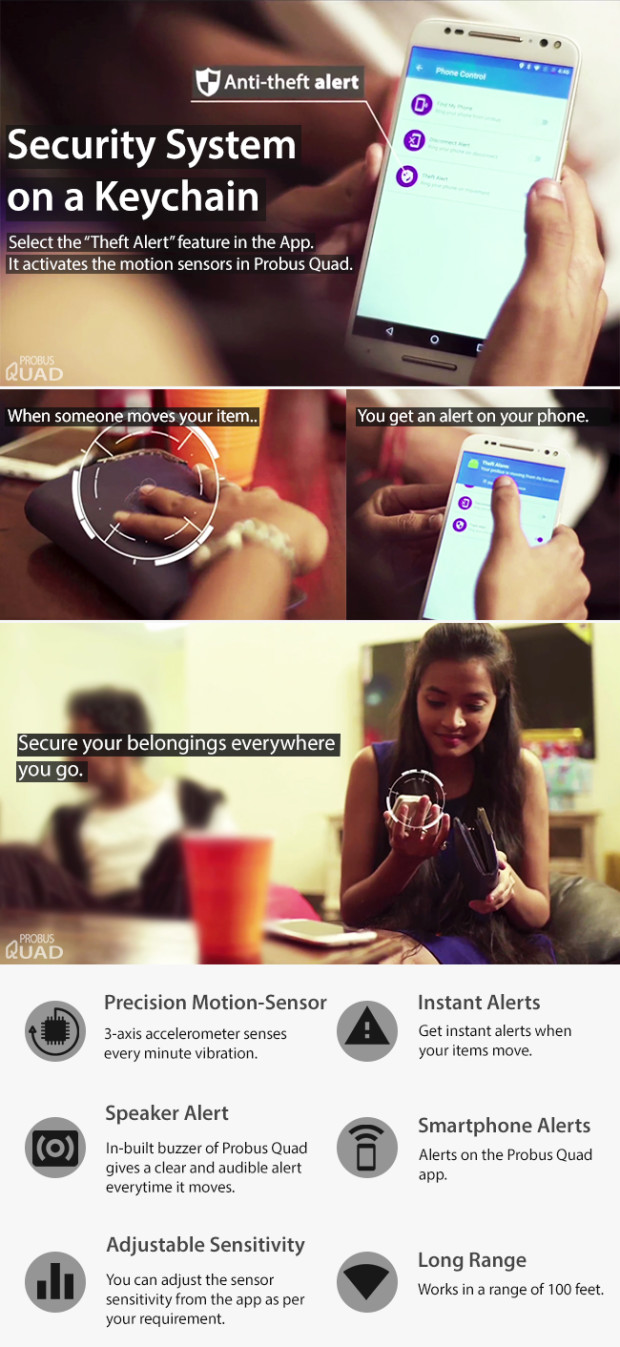 Use Probus Quad as a Remote
Connect Probus Quad to your laptop and use it as a Presentation Remote.
Single click for next slide. Double click for previous slide.
Take selfies from your phone remotely. Keep your phone at a distance and take everyone in the full frame. No need to hold your phone anymore!

Access The Power Of The Crowd
Every user is connected to the Probus cloud.
When you mark your Probus Quad as missing in the app, you will be notified of its most recent location when any other user passes from its vicinity.
Every Probus Quad app can anonymously search for missing Probus Quad devices when marked missing in the app.

Locate Your Probus Quad on a Map
Check and find your items on Google Maps.
The Probus Quad app records and shows the last location of all tagged items.
Whenever you move out of the Bluetooth range, the app records the last location on Google Maps for easy tracking.

Probus Quad App
Using the app is effortless! Easy to understand and integrate, it works like a charm.
Its low memory and battery utilization makes it phone-friendly!
How to book your cab?
Setup your preference in the app.
Link your existing account. And you are good to go.
Just double click to book or cancel your cab bookings. Works like magic!
Designed for you - Available in two colors
Gun-metal grey cable color
Pigeon-blue cable color
You can select your color in our email survey which will go out to backers once the campaign is completed or at the time of checkout.

Specifications

Get The Exclusive Perks!




Design Journey
It took us 2 years to reach the production version of Probus Quad.
We did the beta version in September,2015. Here are a few comments from our Facebook campaign wall.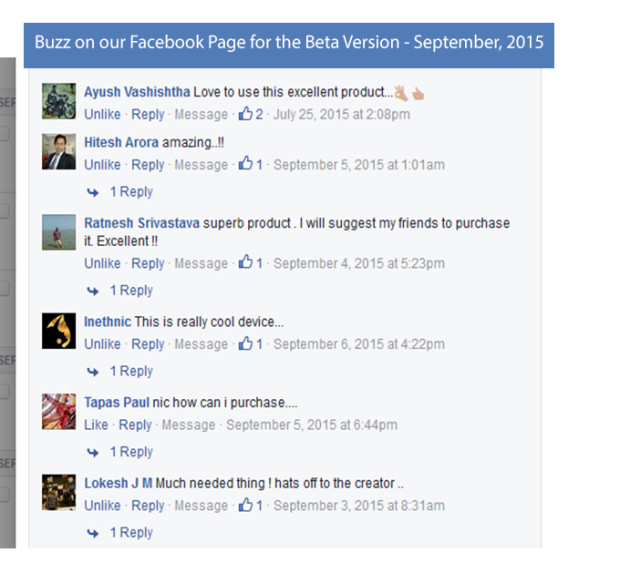 The Beta Version Device Video
Probus Quad Beta Version Website -
We have worked continuously to fine-tune the beta-version and reach the production version. Our existing customers gave us valuable inputs in bringing Probus Quad to this stage. The journey from PCB design, enclosure design to perfecting the firmware and the apps have been both exciting and tiring. We take you through our experience of two years here -
PCB Design iterations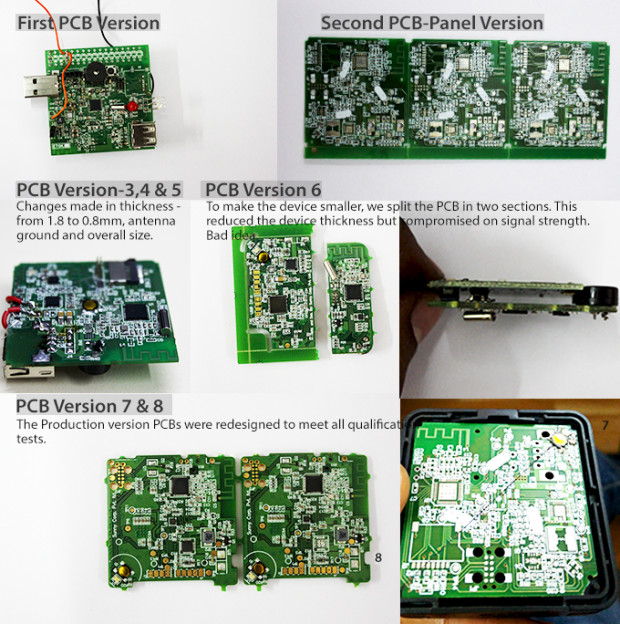 Enclosure Design iterations

We have finalized our electronic component suppliers.
Tooling vendors
OEM partners
Rough tooling is already under process.
A look at the rough tools -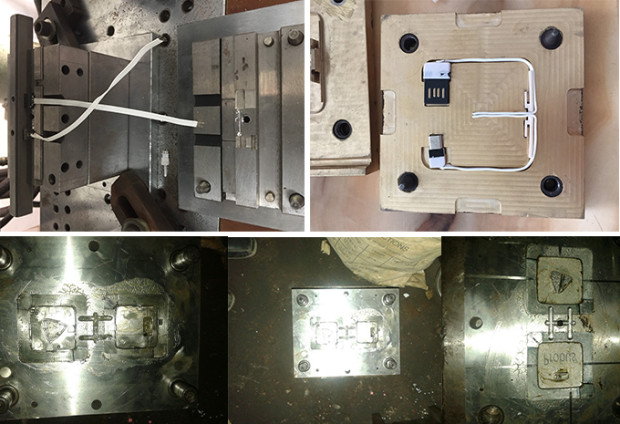 Sneak-peak into PCB manufacturing and component placement OEM process - ​
Timeline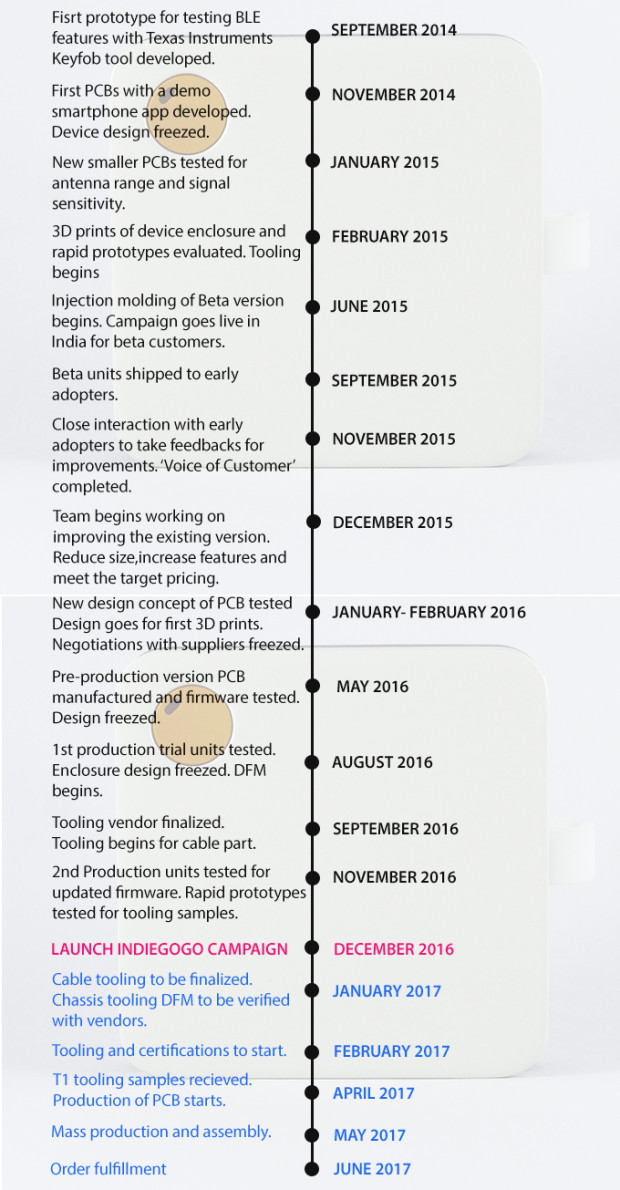 Fund Utilization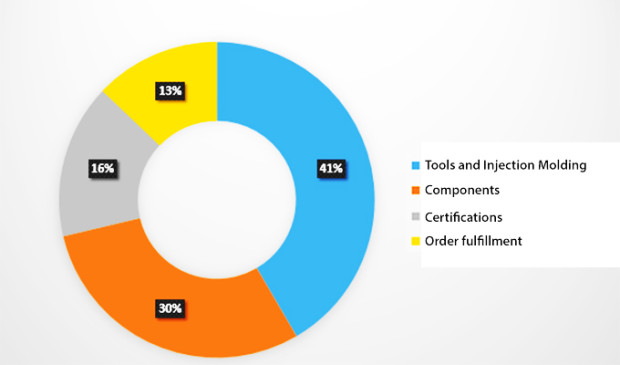 Risks and Challenges
Doing hardware is hard! Even though we have executed pretty well till now and planned meticulously to complete the production, like any other hardware product, Probus Quad faces some challenges. Let's have a look:
1. Tooling: The enclosure tooling is one of the most complex and time-taking process of any hardware product. Simulations and DFM (design for manufacturing feasibility) are always conducted as standard procedures, but till we get the first T1 (trial 1) samples, we are always tensed. Tooling takes much time and capital investments are huge! For modifications to any sample, it means more investment – both of time and money. Hence, we have planned this stage by involving industry experts and highly qualified tool makers.
2. Component lead time: Probus Quad has multiple electronic components, each with their lead times. Streamlining every component from suppliers, particularly when your numbers are not quite the volume they usually entertain, becomes a challenge. We have entered into partnerships with reliable global suppliers who have worked with us and supported us during the production of beta version of Probus Quad. Now, we are working closely with them to complete the production version.
3. Certifications: We are conducting trials for Probus Quad since the last 6 months. It has to pass various country-specific certifications, which at times may become cumbersome owing to the complexities that vary from one country or region to another. For instance, the requirements of tests for EU are different from those of the US; similarly, Asia-Pacific and the Gulf countries have all have their different qualifying requirements. Qualifying for Apple MFi in itself is complex. To meet these challenges, we have teamed up with globally certified testing companies. Our experts have worked towards qualifying various devices for global markets in their professional careers. So rest assured, we will come out with flying colors.
FAQs
Is Probus Quad being sold globally?
Yes, Probus Quad is being offered globally through the Indiegogo platform.
I forgot to add shipping and choose my color?
Don't worry, we will be sending you surveys at the end of the campaign to confirm your shipping address and color. You can do it at that time!
Which phone models are compatible with Probus Quad?
Currently, Probus works on Android phones with Android 4.3.4 & above and iPhone 4 & above.
Is Probus Quad compatible with iPhone?
Yes, Probus Quad is compatible with iOS.
How does Probus Quad work?
Probus Quad works on Bluetooth low energy. It connects to your smartphone over Bluetooth. It's very safe and secure.
What's the range?
Probus Quad works in a range of 100 feet.
Will all the features of Probus Quad app work the same globally?
No, the smart button feature depends on integration with the applications that are available in your region. For instance, Ola and Uber cab bookings have been integrated in the app to work in India; for the US and EU, Uber has been integrated. Likewise, Spotify and Shazam will work in countries they are being offered.
Having said that, the hardware features will remain the same globally, since this will be controlled at our end.
How do I reconfigure the action of each press and what happens after pressing?
Configuring the actions that happen after each button press is super easy. Just go to the Action Hub in the Probus Quad app and set actions to trigger as per your preferences.
For instance, if you want to use your Quad as a music remote, you can set the single press to play/pause, double press to trigger the next song in your playlist, and long press to go to the previous song. When you are done, you can then set the single click on 'find my phone feature'. So, when you do the single click, your phone will start ringing if it is in 100 feet range.
How do I use Probus Quad as a presentation remote?
To use Probus Quad as a presentation remote, your laptop must be running on Windows 8.0 and above. Open your laptop's Bluetooth, search, and add Probus Quad. When your presentation is on full-screen mode, you can use Probus Quad to move your slides through single and double clicks. You can move to the next slide by a single click and return to the previous slide by double clicking Probus Quad.
Do I need to keep the Bluetooth of my phone always ON for using Probus?
Yes, you need to keep your phone's Bluetooth ON as long as you are using Probus Quad with Probus app. Probus connects with your phone over a secured Bluetooth connection. This connection is encrypted and safe. Probus runs on the Bluetooth low energy (Bluetooth 4.0) protocol and uses negligible power. Ideally, Bluetooth low-energy devices can run for more than a year using a button cell of 210 mAh capacity. Since the compatible phones also use the same protocol, the battery drainage is minimum.
What is the battery capacity of Probus Quad?
Probus Quad uses a rechargeable lithium ion battery of capacity 1100 mAh.
How much charge will be provided by the Powerbank feature of Probus Quad?
Probus Quad can charge a standard 3000 mAh phone battery to up to 30%, running on full charge.
How do I know of Probus Quad's battery status to use it as a Powerbank?
Battery status of Probus Quad can be seen from the Probus Quad app. The app clearly shows the battery status of each connected Probus Quad. Also, the LED in Probus Quad starts blinking RED when the battery level reduces to below 5% and it needs to be recharged.
When I drain the Powerbank of Probus Quad, would I be able to use the other functions?
Absolutely yes. Even if you have used up the Powerbank feature of Probus Quad and drained the battery, you can continue using it as a Bluetooth tracker, smart button, anti-theft device, and all other functions that involve Bluetooth actions for another 15 days without charging!
How does over-the –air upgrade work?
Quad has been designed to evolve with time. Hence, Probus Quad's firmware has been designed to get upgraded over-the-air. When an upgrade to the smartphone application is released with added features, the refreshed firmware is also updated on the servers. You can refresh your Probus Quad by going into the app settings and update Probus Quad. The updated firmware is pushed into Probus Quad's flash through Bluetooth.
Have you planned any updates for your early backers?
We are constantly working to add more functionalities like SoS, proximity sensing, location mapping and sharing, automating actions, and partnering with as many apps for the smart button application as possible. With time, Probus Quad can be used for entirely new applications, like opening your car doors and starting your car! The possibilities are just endless.
Is Probus Quad waterproof?
No, Probus Quad is not waterproof. If Probus Quad comes in contact with water, it is recommended to switch it OFF and dry it before switching it ON.
What is Probus Quad made of?
Probus Quad uses fire-retardant polycarbonate material for its enclosure. The USB cables are made of TPE (thermoplastic elastomer) rubber.
When are you going to start shipping?
Shipping starts from June 2017 and will be done in the order of bookings received. If you book early, your shipment will be amongst the first to be dispatched.
What is the standard warranty cover for Probus Quad?
Probus Quad is covered through hardware repair coverage, under its standard limited warranty cover of 1 year.