Prince - A Multi Functional Robotic Computer
Introducing PRINCE: "The personal robotic computer for home"
Prince Robot is an Interactive programmable Robot which can see, hear and speak.
It has Linux OS, with 40 Pin User IO pins to do automation, surveillance and other interesting applications which cannot be done using Regular personal computer.
For today's generation of children, learning how to program is even more important than studying a second language. Prince provides educational value, a gift that gives a little bit more, or a digital companion that can teach logic and programming, these robots for kids are some of the most cutting edge gadgets around.
With companion smartphone apps, voice control, scratch blocks and Artificial intellingence, these amazing pieces of electronic kit will keep your kids entertained, engaged and educated for years to come.
Practical Applications in our Routine Life:
SURVEILLANCE
With increasing number of fraudulent activities in an around our living hood, it has become a necessity to appoint a security guard for our home. However, this becomes expensive. PRINCE has a solution to this! He is designed with an inbuilt Camera that will constantly monitor your residence and sends alert in case of finding any such fraudulent issue. The alert is sent in the form of Video/Pictures that will be delivered to the e-mail account that you prefer.
IOT BASED HOME AUTOMATION
PRINCE is designed to make mans work effortless. It monitors and Control – AC Appliances at home enabling its automatic operation at the time of need. It achieves this operation through Automatic / Manual Control thro IOT.
PERSONAL ASSISTANT
PRINCE the best Personal Assistant!! A personal assistant helps with time and daily management, scheduling of meetings, correspondence, and note taking. The role of a personal assistant can be varied, such as answering phone calls, taking notes, scheduling meetings, emailing, texts etc.
IT CAN MOVE
3 degrees of freedom + 2 Motors for Movement and a Penguin shape that enable him to move and adapt to the environment around him.
CAMERA AND VOICE RECOGNITION
Prince can interacts with humans in completely natural manner thro voice recognition.
It can enable him to move and adapt to the environment.
Prince has 8 Mega Pixel high resolution camera through which users can take pictures, record videos and share to any social channels like Facebook, Instagram and Twitter.
IOT
It can connect with Internet thro WIFI; Thro with user can access almost anything connected thro Internet.
ARTIFICIAL INTELLIGENCE
Anyone can port Alexa voice assistant; google voice; which uses artificial intelligence; even you could program your own AI algorithm in Prince.
SCRATCH BLOCKS
With Scratch, you can program your own interactive stories, games, and animations — and share your creations with others in the online community.
Scratch helps young people learn to think creatively, reason systematically, and work collaboratively — essential skills for life in the 21st century.
For Parents
Scratch is a programming language and an online community where children can program and share interactive media such as stories, games, and animation with people from all over the world. As children create with Scratch, they learn to think creatively, work collaboratively, and reason systematically.
Scratch for Educators
Your students can use Scratch to code their own interactive stories, animations, and games. In the process, they learn to think creatively, reason systematically, and work collaboratively — essential skills for everyone in today's society.
MASTER SLAVE CONCEPT
Prince can connect to other Robots thro WIFI; it means it can give needed intelligence or information and drive other Robots to complete the assigned jobs.
ENTERTAINMENT AND TEACHING
Load a playlist of your favorite MP3 songs and PRINCE will make it his personal favorite too. It can play MP3 Songs and tap dance moves while you enjoy your song or watch movie.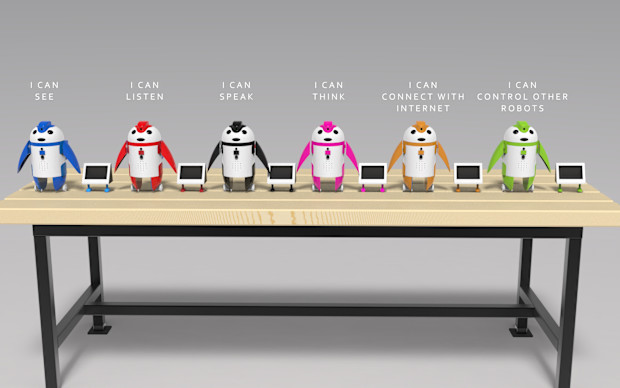 How to use:
Easy way to Connect in-build application over by clicking on desired Applications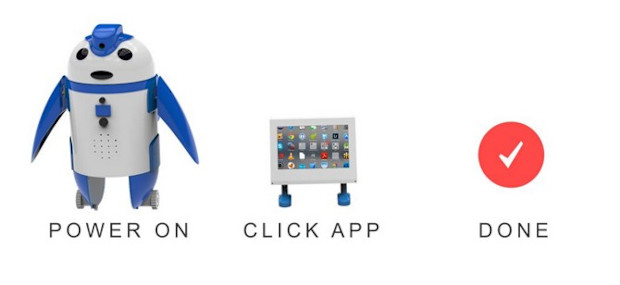 Who is it for ?
PRINCE FOR EDUCATIONAL INSTITUTES
Kids love Robot; hate programming Languages. This Robot will let them understand C/C++/Python/Open CV in practical way interesting experiments. We have made over 50+ experiments for the kids to learn Programming Languages; there are series of video tutorials to help your students to become a Successful programmer or Engineers.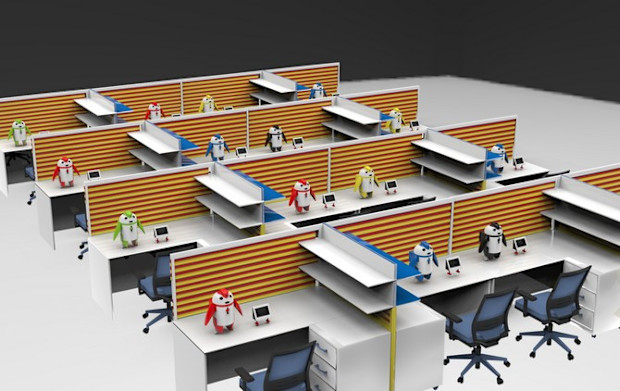 PRINCE FOR STUDENTS AND PROFESSIONALS
Experience the technologies by setting up an IOT, AI and Embedded System lab at your home; we have strong online community to assist your projects; clarify your doubts;And help you to publish articles and blogs. With our community you can download and test projects done by others; and enhance it! The skills you get are unlimited and it will help you to reach industries by being a student.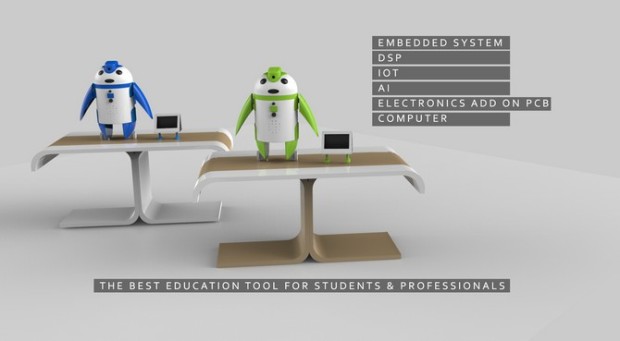 PRINCE FOR DEVELOPERS

Tech Specs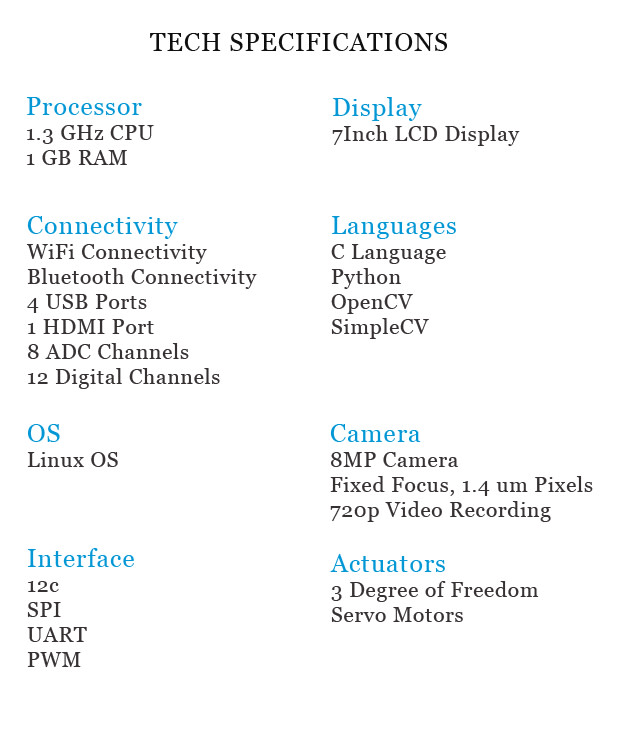 Evolution of Prince Robot:
Dec 21, 2015
Aug 15, 2016
Oct 5, 2016
Oct 21, 2016
Jan 12, 2017
June 8, 2017
Jul 20, 2017
Why Crowd funding
With a vision to cut down on all the marketing related expenses so that when the product reaches audience, we will be able to provide it at the best price which has a direct impact on customer satisfaction. Quality matters and customer feedback matters for get a decent launch. Ultimately we aim at all gadgets talking to each other like the one we have all awe-inspired in the Toy Story.
We look forward to fine tune PRINCE and improve the product appearance wise to the 2 remaining die.
We believe launching PRINCE in Indiegogo will form a development community for Artificial Intelligence and Robotics.
PRINCE is our dream that we have nurtured and put in the best of all our efforts in order to make it real and this idea is sure to make a major development and change in the Education system. PRINCE as it appears, will be the best pet for students and will help them splurge to identify the talents in them.
No room for Risks
Repeated and complete testing has been carried out with the working prototype and we have completed 17 die out of 19. We are ready with production PCBs, we have 150 PRINCE Robots, thereby are fully confident that we will deliver the product in time and in par with the demand.
Fantasy Come true:
There should be communication between Robots; to help human beings in cooking, cleaning vessels, cleaning floor and garbage. It can help humans to automate and take responsibility to do boring tasks and give humans a quality life. Back us; so that we can get a decent start.
About EPRLABs
EPRLABs is an Educational board-manufacturing and training company operating in Chennai, India since the past eight years.
With a mission to create a Platform for AI based Robots and connect them through Internet, EPRLABs will continue its service to excellence. We endeavor to outsource all boring and dangerous tasks that human face into Robots.
Other Ways You Can Help
Help us get our name out there! We are offering a great product, but we need people to know we exist. Share our campaign on Indiegogo, or your own social media account! Follow Prince on our website, Facebook, Twitter, or Instagramand stay up to date with all of our current activities.
GENERAL QUESTIONS:
1). Is it a robot or just toy?
It is not a toy robot. We have made this robot exclusively for students who wish to learn electronics and software. Since we loaded linux in to this. We have made this robot to appear like penguin which look likes a toy. But a user can build serious application like image, voice and AI based algorithms using this robot.
2). Does Prince come with hands and wheels to move around?
Yes, Prince comes with hands and wheels to move around
3). How tall is Prince? How heavy is Prince ?
Height 1.5 Feet. Weight: 1.5 Kg
4). Can I give Prince a different name ?
Yes, you can use any name.
5). What colours are available for Prince?
Prince is available with either blue, red, pink, black or Orange colours with the combination of a white colour.
6). Can I turn off or on Prince?
Yes, you can turn on and off Prince, using the power button provided in it.
7). What comes in the box?
Adaptor, display, memory card with prince robot.
8). What language does Prince speak?
Prince can communicate with users in English.
9). How do I interact with Prince ?
Prince can communicate with you, through your voice command. With or without internet, you can pose the voice commands and make Prince to respond to it. You can also add more commands to Prince based on your requirement.
10). Is there a maintenance cost for Prince ?
Prince has a lesser maintenance cost, compared to other devices. Prince is made with a comparatively superior hardware that can withstand itself for a number of years.
11). If I have other questions where should I get more information?
You can log on to the product website to get more information and make product related queries.
TECHNICAL QUESTIONS.
1). Is there a battery available for Prince?
Prince works on direct power supply and it does not have any battery used with it.
2). Where will I be able to get the details of Prince robot?
You can get the general details of Prince Robot, its detailed technical specifications, uses, applications and perks in the product website of Prince.
3). Do I need to pay for the software?
The software offered with Prince are an open source softwares. It can be shared with the community. So there are no charges for the software.
4). How can I update the Prince software system?
We regularly work on updates in prince software. It will be available in the product website for the users to access and download it for free. They can purchase additional modules from the product website, in addition to downloading these software updates.
5). How easy is it to setup and use Prince ?
Just like using a laptop, Users can connect Prince to the power socket , power on the Prince and boot it, to start working on it. There are no complexities involved in using Prince. Prince has a 7 inch display that can show the programs you work with.
6). Do I need a WiFi network to use Prince?
In order to work with IOT (INTERNET OF THINGS), users require WiFi connection.
7). Can I connect Prince from anywhere in the home?
Inside the house, you can connect with Prince using a WiFi network.
8). Can I access Prince from outside of my house remotely?
You can use Prince outside your house remotely using a WiFi.
9). Does Prince come with local storage?
Prince comes with an external storage of 32 GB.
10). Can I add more storage to Prince?
The memory capacity of Prince can be expandable up to 128GB.
11). What is the camera image resolution for Prince?
Prince has a camera image resolution of 8 mega pixels. Therefore, you get a clear picture, when Prince works with its camera.
12). Can Prince help me shoot a video or a photo and transfer to my mobile phone?
Yes, Prince can shoot a video and a photo and it can transfer to the mobile phone using its inbuilt Bluetooth. You can also send recorded videos and photos from your mobile phone to prince.
13). Can Prince take photos and record videos for me?
Yes Prince can take photos and record videos through voice command. This offers more convenience to the customer while using a Prince for photos and videos.
14). Can I connect Prince using my iPhone ?
Yes you can connect Prince using an iPhone.
15). Can I control Prince with several smartphones and computer?
You can control Prince with only one device at a time. That is the device that you have first connected to work with.
16). How can I access the archived video that Prince has recorded?
User can access these archived videos directly from the desktop of Prince and there is no separate file for these archived videos.
17). How does Prince move?
Prince can move through wheels.
18). Can Prince communicate wirelessly to my devices?
Prince can communicate wirelessly to your devices with a WiFi network.
19). Does Prince work with ios, Android, Windows mobile devices?
Prince can work with all the Android, ios, and Windows mobile devices.
20). Does Prince communicate with other robots?
Prince can communicate with other robots through its inbuilt Bluetooth.
21). When will accessories be available for Prince ?
Accessories for Prince will be available once the product is released from the company website.
22). Where will accessories be available for Prince ?
In the website, we give you details of the availability of the components available for Prince.
23). What operating language do I need to know to code with Prince as a beginner?
As a beginner, one must know basics of c language at least to code with Prince.
24). How do I get information and support as a developer?
Through product website and online community, developers can get information and support relating to coding.
25). What are the add on features for Prince?
Prince can work as a biomedical device checking your blood pressure level, sugar level, alcohol consumption level or glucose level in the body. It can also act as a lie detector that can detect lies uttered by humans through their expressions.
26). How durable is Prince?
We have used a better quality hardware.
27). What is the quality of Mic and camera used in Prince?
The camera is of 8 mega pixels resolution.
28). How does Prince operate as an IOT device?
Prince can connect with other devices through a master slave technology. Through WiFi, we can use Prince as an IOT device.
29). Can Prince support surveillance activities?
Prince can perform surveillance activities. It can detect strange movements in and outside the house.
30). What kind of real world applications can Prince work on? Can I make Prince to work on more real time application?
31). Is this the final version of Prince?
We have planned for further advancements with the next releases of Prince. So this is not the final version of Prince.
32). Can Prince support voice command?
Yes, Prince can support voice command through the Alexa voice recognition program. Prince has a better responsiveness to respond to voice commands of users. This feature acts as a crux for Prince.
33). What more technical specifications would likely be added to Prince in the near future?
We have planned to add technical specifications like addition of different modules based on the respective real world application. We have also planned to introduce quadcopters for the aerial view of surveillance. We have also planned for other technical advancements in the product.
34). Can I use any size display monitor with prince ?
Yes, any size display monitor with HDMI port can be used.
SHIPPING
1). When will Prince ship?
Backers will receive prince before Christmas 2017.
2). Where does Prince ship to?
Prince will be shipped to all over the world.
3). I am a distributor or a retailer. How do I contact you?
Distributors/retailers can email sales@princerobot.com for bulk orders.
4). How much is the shipping and handling?
Depends on the backer destination address.
8). If there is any problem with the product how can I repair?
Troubleshooting videos will be available at our official youtube channel. If still problem persists, feel free to contact our support team support@princerobot.com