With the Optimus we have put the three top tools requested by makers (3D printer, Laser cutter and CNC mill) into one machine and made it affordable enough for individuals. All without compromising the performance or quality of any of the tools.


Press Reviews​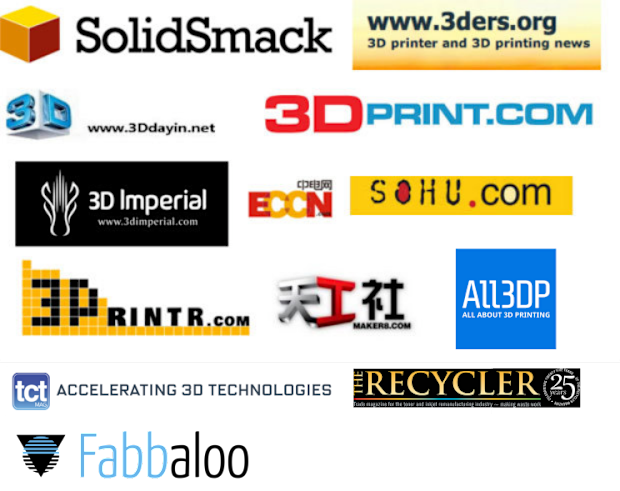 The idea
We wanted to make a machine that could help you make your own products, going from an idea, to a prototype and to a final product. We wanted the machine to be capable of modifying your personal items, like engraving your own name on a bag. But most of all we wanted a machine that could build things you can not find in stores, like this inductive chess game, which are fully made with the Optimus.
In this chess game the pieces has been 3D printed, the black squares laser engraved and the tracks separating them, has been cut with the CNC. Even the PCB board powering the induction coils under it, has been made with the CNC.
The Optimus is born
The solution we came up with was a modular machine that can quickly be transformed by the user into the tool that you need, illustrated in this stop-motion video.
The Optimus has two different configurations, a vertical delta formation and a horizontal Cartesian configuration. Each form is optimized for for a certain tool. The delta for 3D printing and the Cartesian for laser cutting and CNC.
By making it easy to rebuild into two different configurations we could fit a 3D printer, laser cutter and CNC mill into the same machine. The transformation can be done in less than 10 min.
To make sure that this absolutely works we have:
Made it so that after transforming the machine it can calibrate itself so you do not have to spend time and effort every time tuning it in. No need for manual calibration.​
We tested three Optimus machines, assembling/disassembling each of them more than 500 times and it had no effect on the performance. If you transform once a week, 500 times means 10 years! Because of the metal body, transforming it a large number of times will not affect its accuracy. But it is important to fasten the screws tight each time!
Made it extra strong and rigid for the CNC with a unique mechanical design as shown below.
​
​
To give you an idea how strong and reliable the Optimus is, Simon did some crazy tests on it.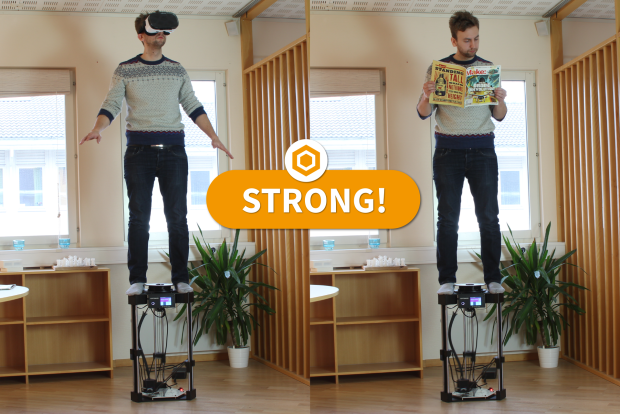 The slider is the fundamental part of the machine. It is the movable part used in both configurations.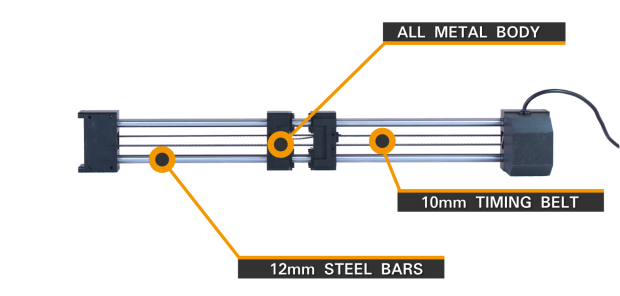 Because of its simple design it is easy to manufacture and transport, bringing down the costs.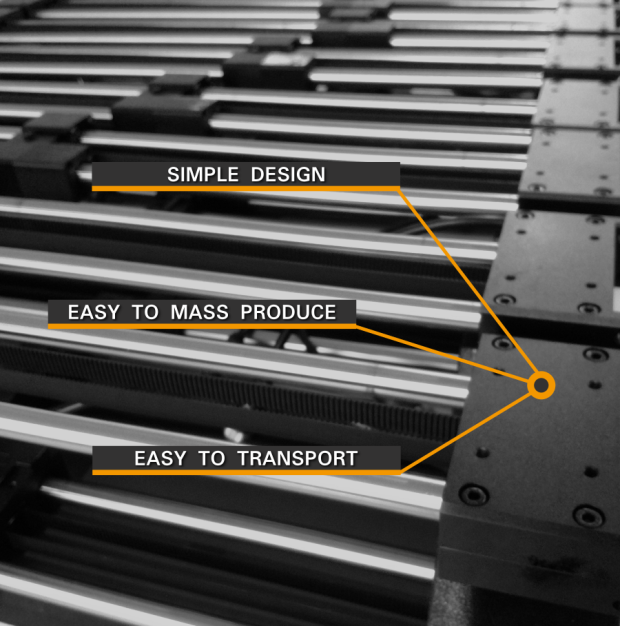 Perks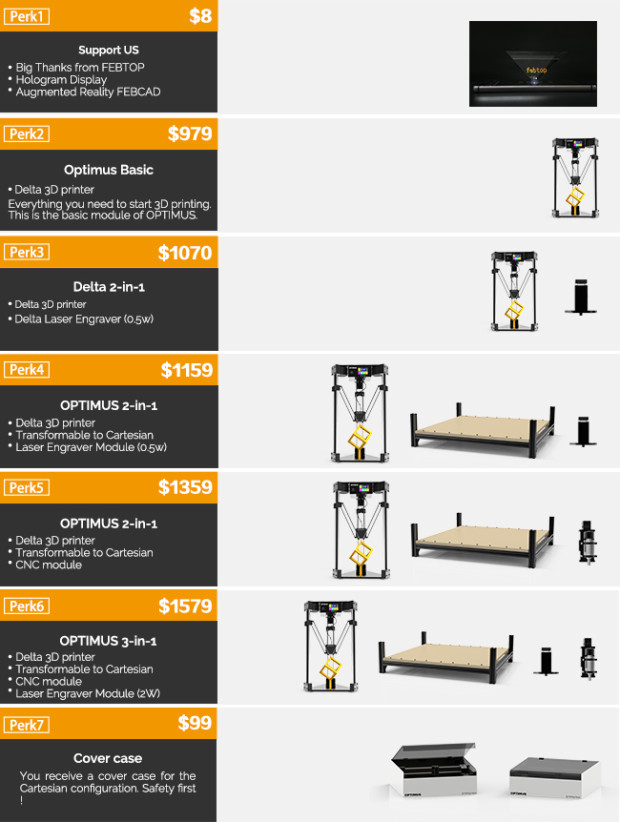 The Optimus a very affordable and capable desktop fabrication machine that gives you a lot of bang for the buck. Here is a comparison table of tools on the market with similar performance.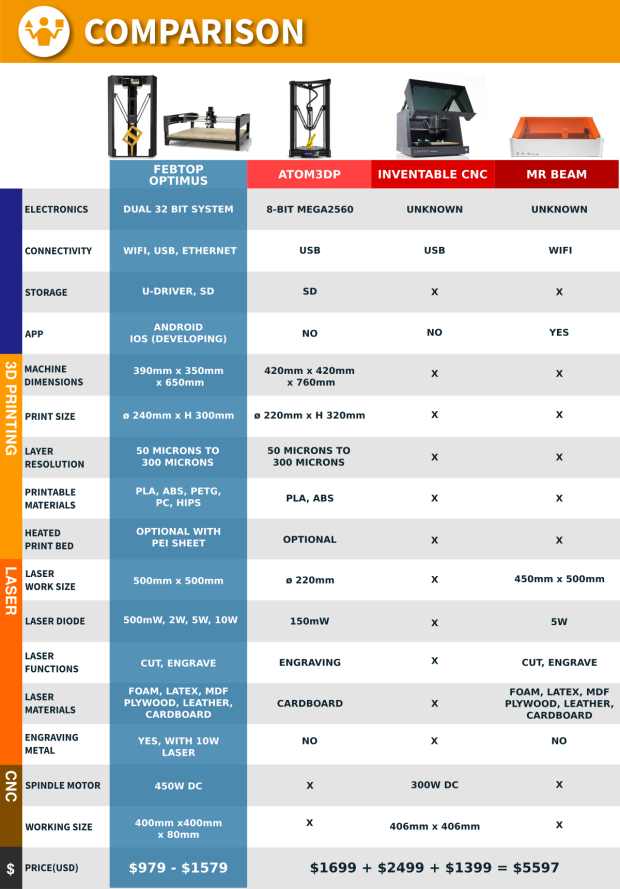 We have built and carefully tested 20 machines and we have already started production of 50 units that will be ready to ship to the first backers in March, after the campaign is over. Below you can see some pictures and a video from the production.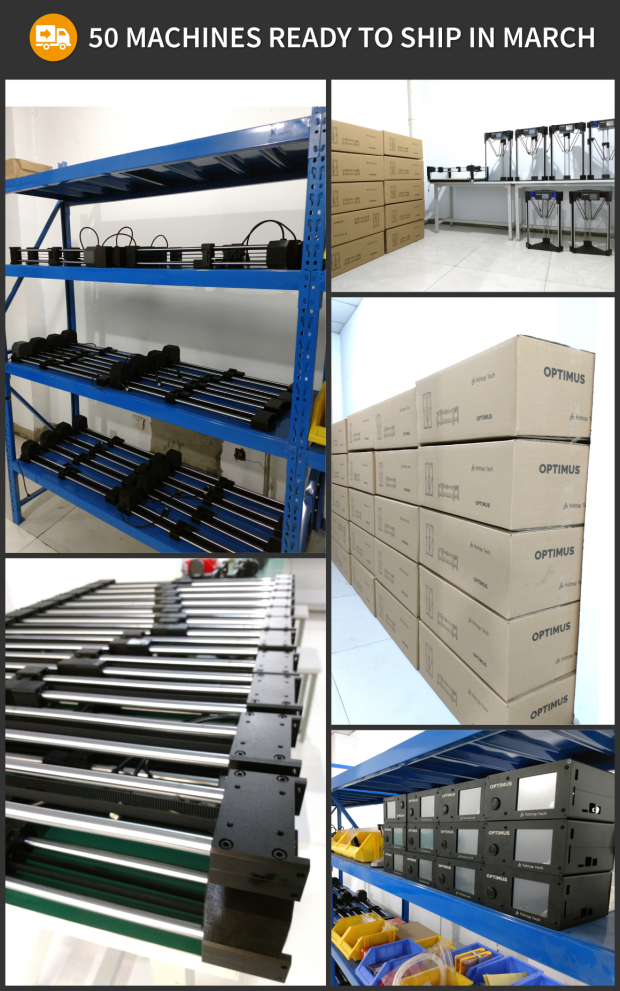 Premium delta 3D Printer
We choose to design the 3D printer of the Optimus as a delta model. The reason for this is that the delta design has a few advantages over Cartesian printers. The most important one is that the moving parts are lightweight, making it print faster and with higher precision. Another important advantage is that the overall design is less complicated and uses less parts, which in turn makes the machine cheaper to produce and easier to maintain. The downside is that the printer, because of how the arms move, must be much taller than the actual print volume used, but for the Optimus though, we have turn this downside into a strength since the extra length is then available to you when you turn it into the Cartesian configuration, working with the laser or CNC.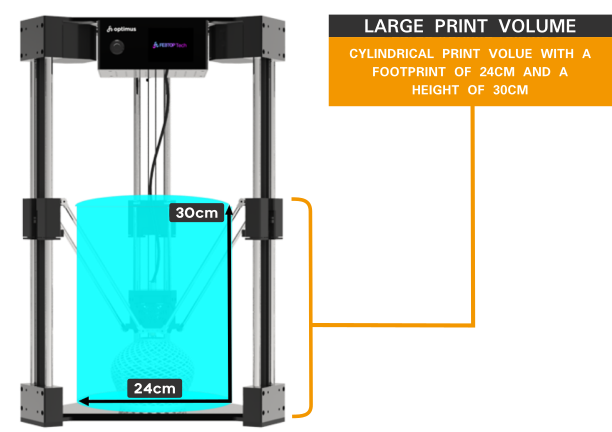 With the 50cm long sliders the printing volume is 24cm in diameter and 30cm in height. Large enough to satisfy most of your 3D printing needs.
Assembly
The assembly of the delta is simple and contains just a few easy steps and can be put together in less than 10 min. Below Simon does a live demonstration of this process.
Nozzle
For the Optimus we have made sure you will not have problems with a blocked hotend. We have installed a CNC machined aluminum heat sink in combination with cooling fans to effectively transport heat away from places we do not want it. Inside the heat sink is also a titanium isolator which conducts half as much heat as steel, and five times less than brass. This keeps the heat concentrated around the nozzle where we want it and greatly reduces blocks.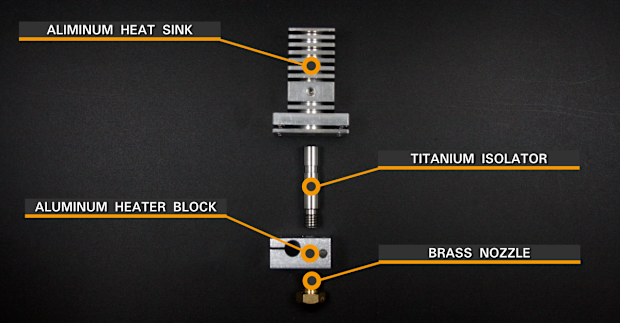 In case you would like to print with different nozzle sizes we made it very easy to swap. You simply remove one screw on the side of the hotend and pull it out. Nozzel sizes ranges from 0.2mm, 0.4mm, 0.6mm to 0.8mm.
​
The Control box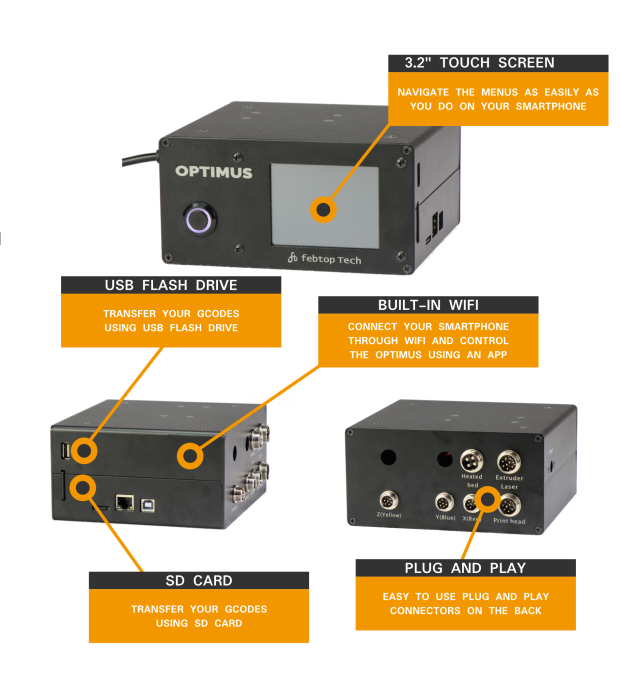 The control box is the brain of the Optimus and contains two powerful 32-bit processor boards, one for machine control and the other for the touch screen. On the back we put easy to use, plug and play connectors, connecting the control box to the different parts of the machine in a easy way. You can control the printer with the touch screen in similar ways to how you use your smartphone. You can transfer gcodes either by USB or SD. With our phone app (more info further down) you can connect over WIFI to e.g operate the machine, send gcodes or set it up for laser cutting and CNC milling.
Automatic bed leveling
To make sure the machine prints with reliable quality every time you use it, we installed an automatic bed leveling system to make sure the bed is always leveled. The delta arm will probe the bed and figure out the perfect plane matching the bed. This makes sure that the first layer will be printed perfectly with optimal adhesion.
All metal body
The majority of the parts on the Optimus is made out of metal. We put thick 12mm steel rods and 10mm timing belts as the main structural component which makes the machine very strong, minimizes vibrations and optimizes print quality. This also makes it very quiet and smooth when printing.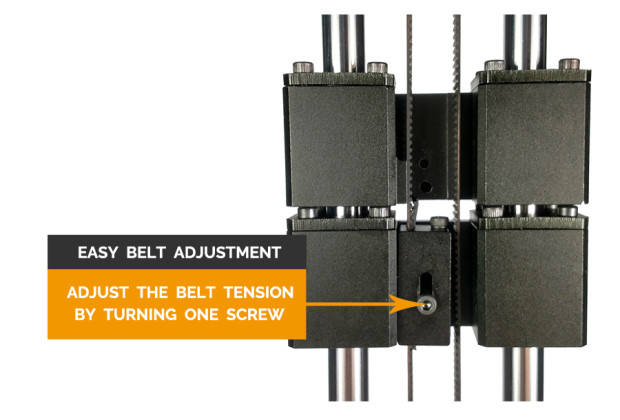 Optional heated bed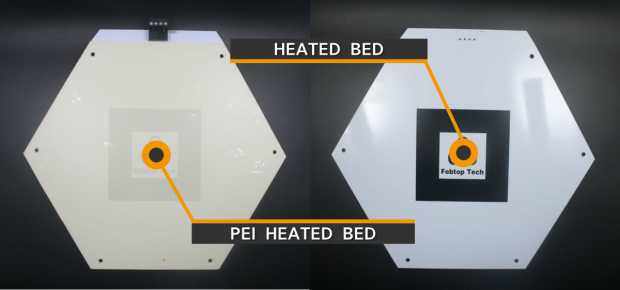 The Optimus can also be upgraded with a heated bed covered with a PEI sheet on top, which makes prints stick to the bed without using glue, hairspray or other tricks.
Extendable
It is easy to extend the height of the Optimus if you would like to have a larger print volume. Just replace the sliders with longer ones.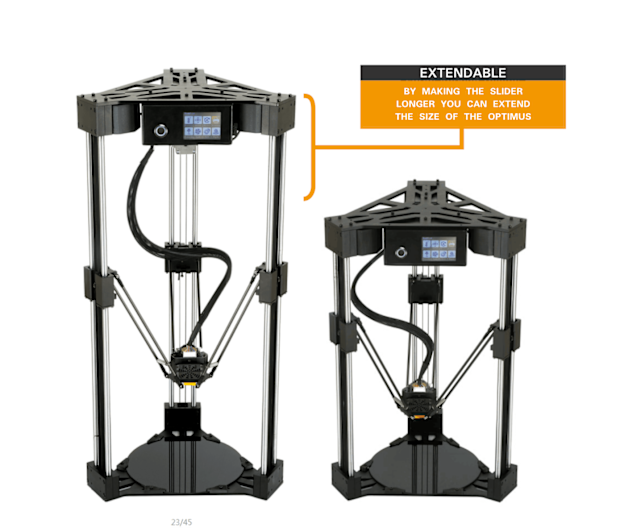 Technical details
Print volume - Ø240mm x 300mm
Print speed - 18 mm³/s (0.4mm nozzel)
Print head travel speed - 20 to 360 mm/s
Layer resolution - 50 microns - 300 microns (0.4mm nozzel)
Filament size - 1.75mm
Nozzle temperature - up to 295 ˚C
Build bed (Optional) - 20 ˚C to 100 ˚C heated bed with PEI cover
Printable materials - Without heated bed, PLA. With heated bed, ABS, PET, HIPS and more.
Operating sound - 40 dBA
OS - Windows, MAC, Linux
File format - gcode
Connectivity - USB, SD, WIFI, Touch screen
Voltage - 110v or 220v
Weight - 16kg
Print quality
The print quality of the Optimus is excellent and if you go down to the minimum print resolution it is very hard to see layers anymore.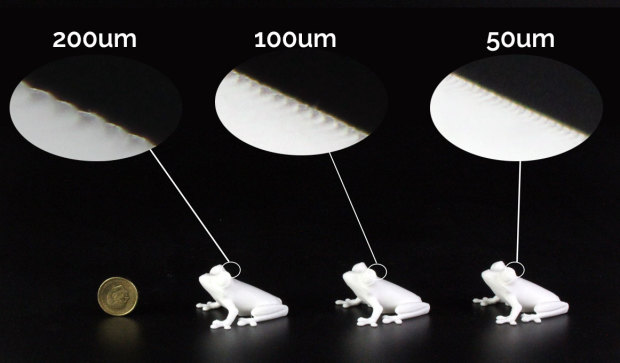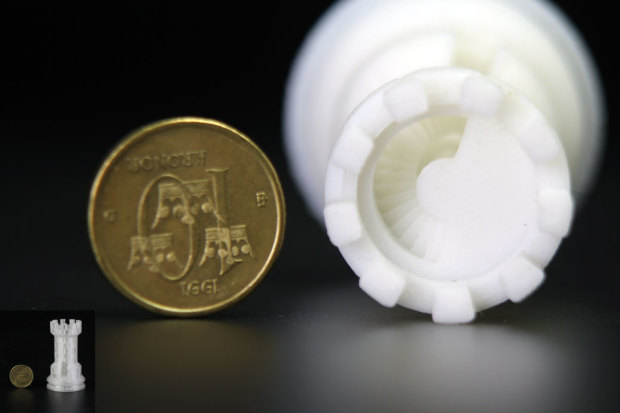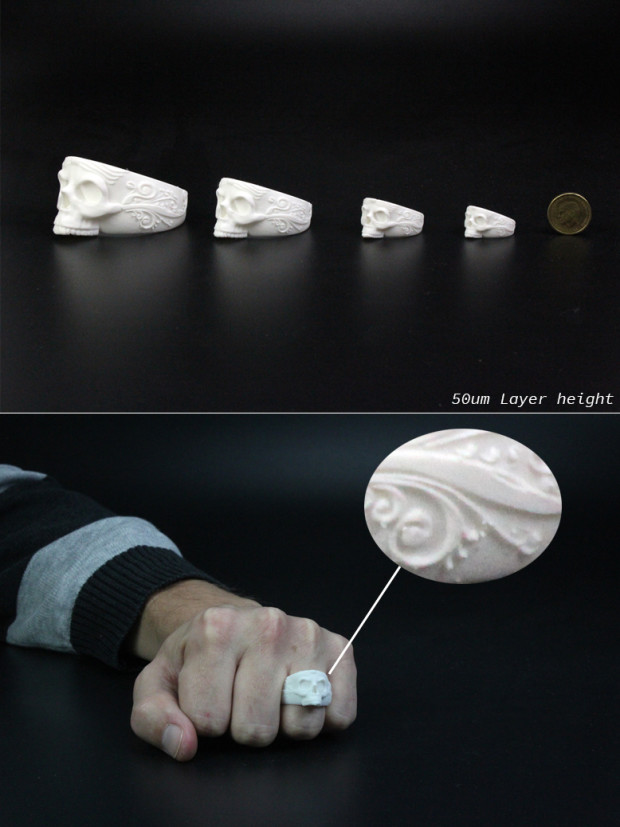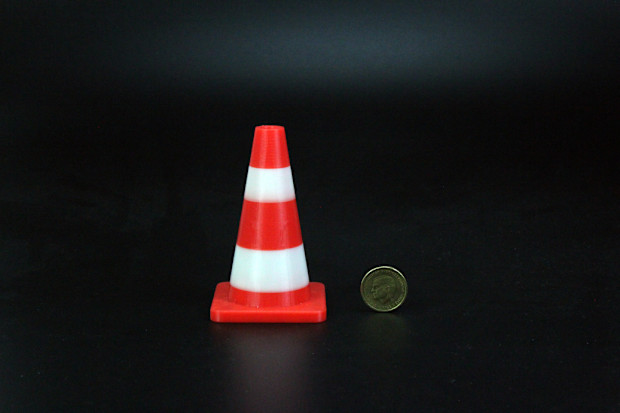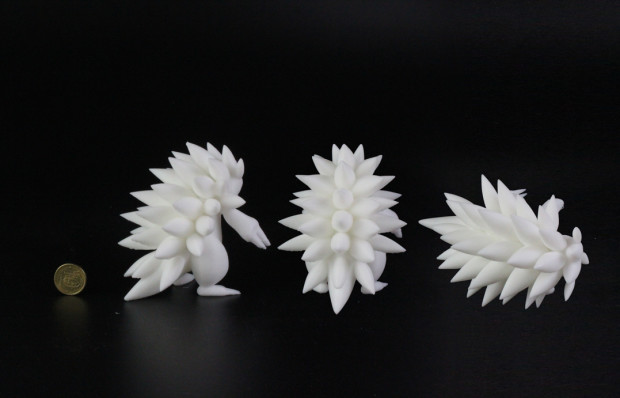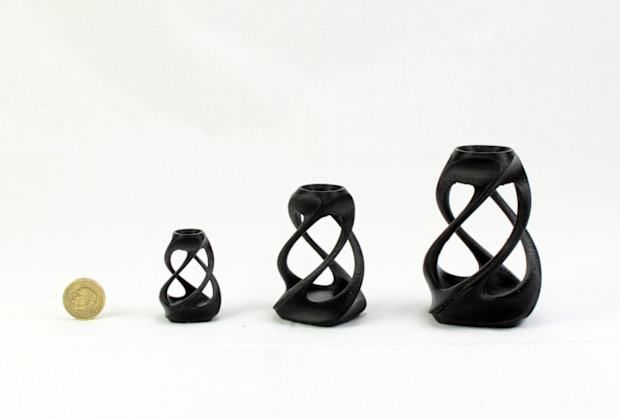 Laser engraver & cutter
By transforming the Optimus you can use it as a laser cutter or CNC mill. In the Cartesian configuration the Optimus gets a much wider working volume, better suited for these tools. It opens up a lot more possibilities for making.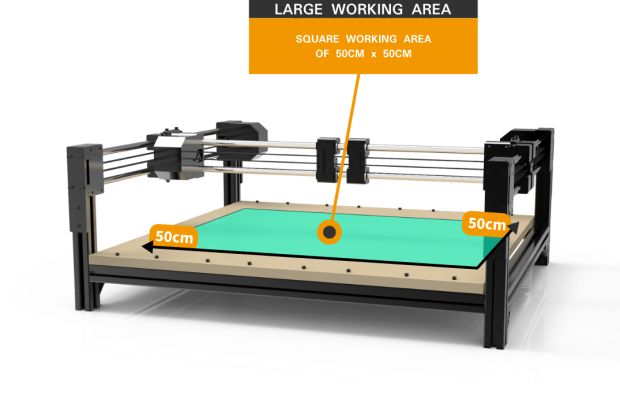 For the laser you will have a working area of 50cm x 50cm. With this big size it is much more interesting to do laser projects.
Transformation
The assembly of the bed takes a little longer then the other assemblies, but you only need to do it once. Transforming the Optimus from delta to Cartesian is very easy and can be done in less than 10 min as shown in real time by Simon in the video below.
What materials can you work with?
There are a few options for the strength of the laser and depending on which you choose you will be able to work with different materials and with different cutting speeds. With the least powerful laser at 500mW you can engrave on most materials, but is really only possible to cut thin and very soft materials like 2mm foam board.
We will offer laser powers from 500mW, 2W, 5W and 10W. With a more powerful laser, cutting speeds increases and with the 10W laser you can even start to engrave on more exotic materials such as anodized aluminum.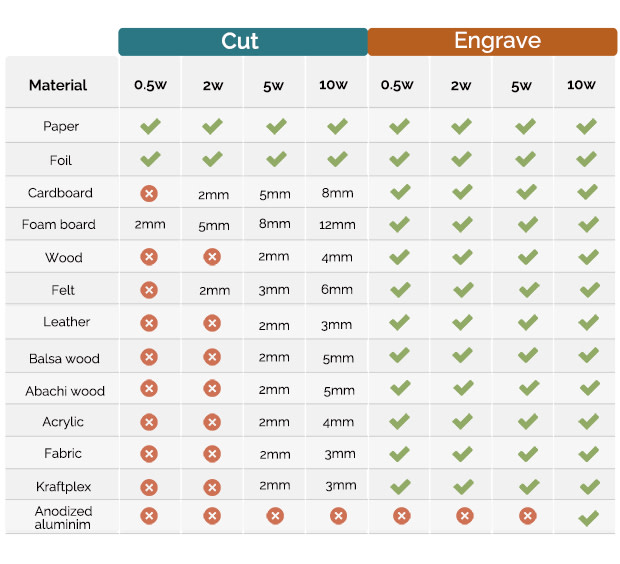 If you have trouble deciding which laser power to select you can use this simple guide below.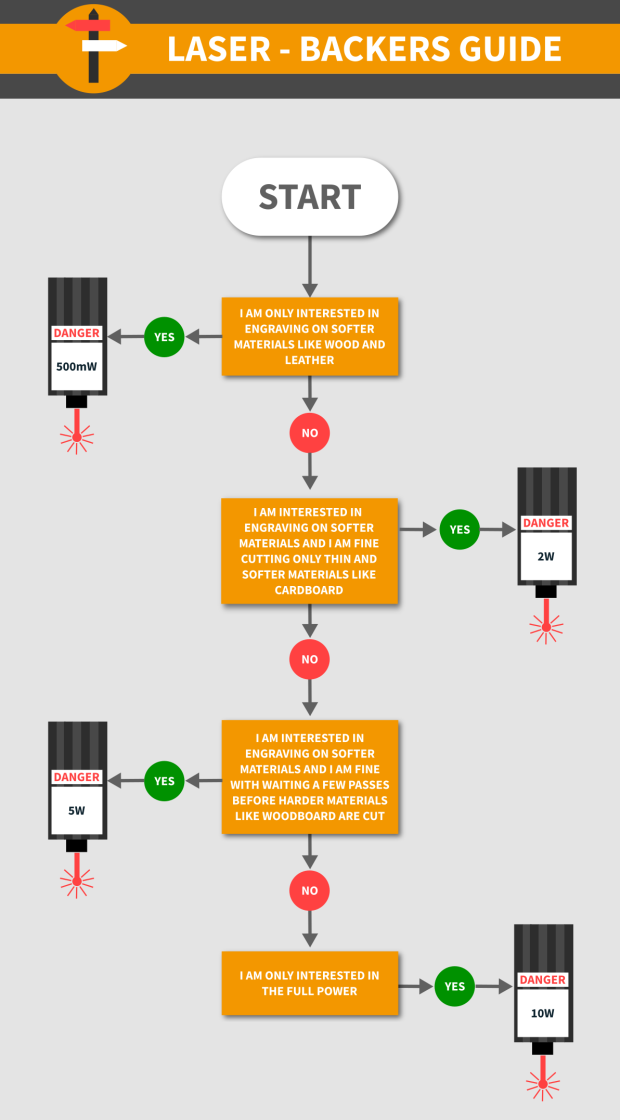 What can you do?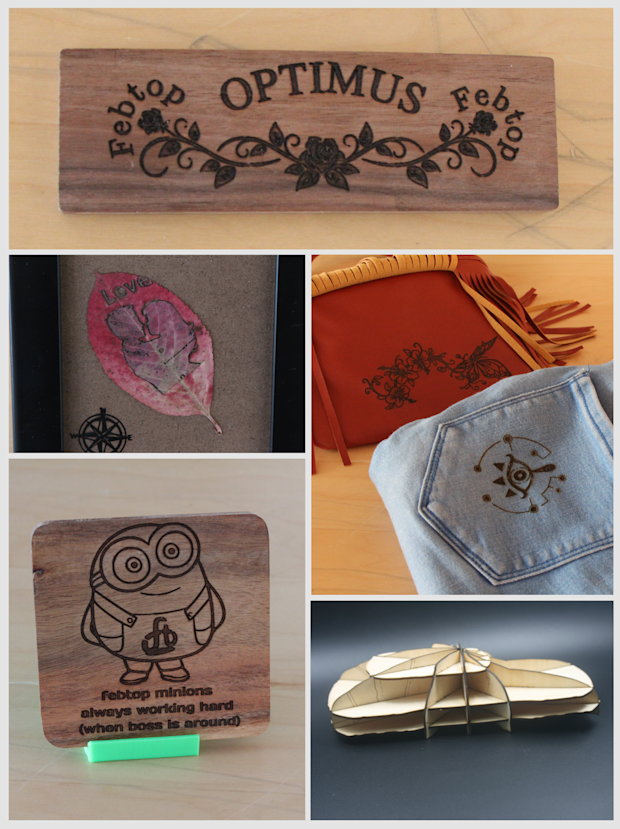 CNC
With the CNC mill you can start working with wood and other materials to carve them into the shape you want. You can even use it to engrave different patterns onto a surface and make beautiful signs. A really useful tool for making products is to be able to make your own PCB boards to integrate some kind of functionality into your products. With the Optimus CNC option this becomes possible and gives you whole new dimensions to making.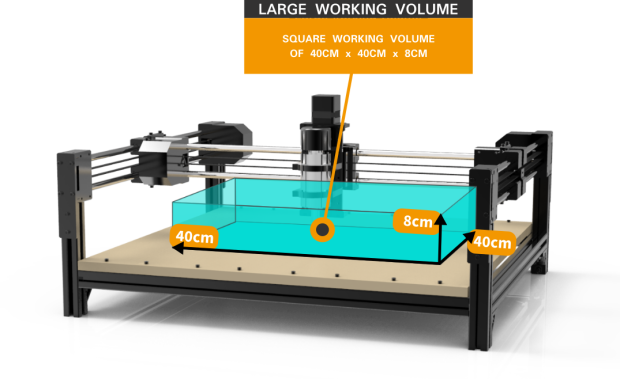 The standard option comes with a Z axis, a spindle and a few standard flat and ball drills in a few different sizes.
Technical details
Spindle Power - 450W - DC
Spindle speed - 12000 rpm
What materials can I use?
With the Optimus CNC you can mill in woods, acrylic, ABS, machinable wax, brass, aluminum and more.
What can you do?

Software
Phone app (Only for Android right now)
With the app you can completely control the Optimus from your smart phone over WIFI. Every control feature that is available on the touch screen is also available to you in the control app. In fact you have even more control options from your phone.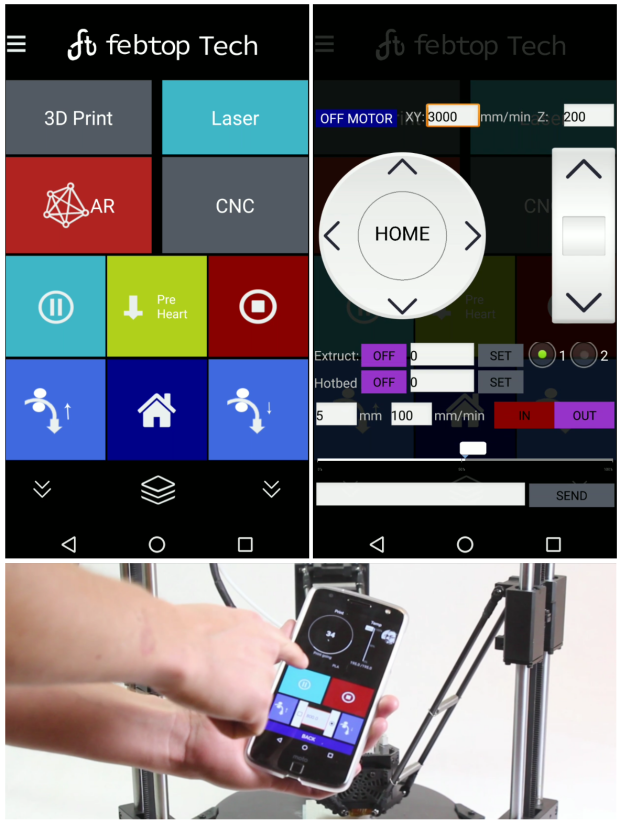 If you like to draw, you can use the app to take a picture of your drawing and the app will transform your drawing into gcode for laser engraving or for printing a extruded print.
​
The app also makes it easy to work with the CNC as it takes you through a wizard to calibrate the machine and makes sure it is set up properly before you start to mill.
You can also easily pause the machine and change filament in the middle of the print. In this way you can make your 3D printed objects even more beautiful with multiple colors.
Desktop software
To generate gcode for 3D printing you can use many different software. We will provide an modified version of Cura that is Optimized for the Optimus.
If you want to generate gcode for the laser cutter the simplest way is to install the free sotware Inkscape and the two plugins 305 engineering and J tech photonic.
For generating toolpaths and gcodes for CNC the simplest way is to use Autodesk Fusion 360 which can be downloaded and used for free by enthusiasts and small startups.

Open source
At febtop we believe in active communities. Our vision is to bring personal manufacturing to as many people as possible. We want to create intuitive and creative tools and bring them into the hands of people and see them create amazing things. We want to give people tools that are easy to jump into, are efficient, affordable, fun and with great potential to create. We love and believe in open source hardware and software and we like to build strong communities around our products so we can make them better together. We think that the best way to do this is to invite the users and community members of our products to join in and contribute to the development. Together we can make our products better, come up with new functions for them and even design completely new ones.

Timeline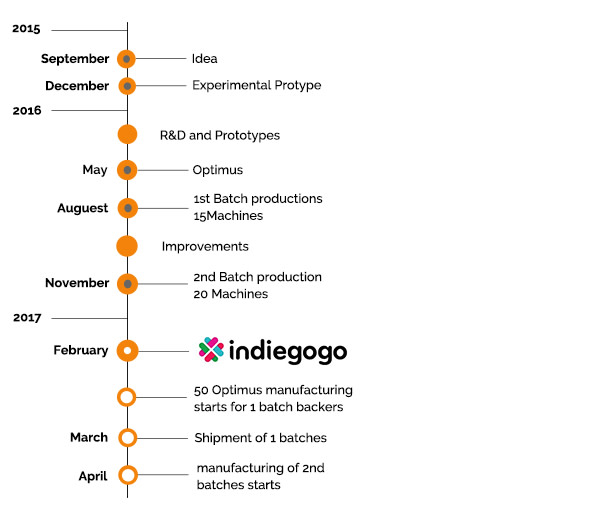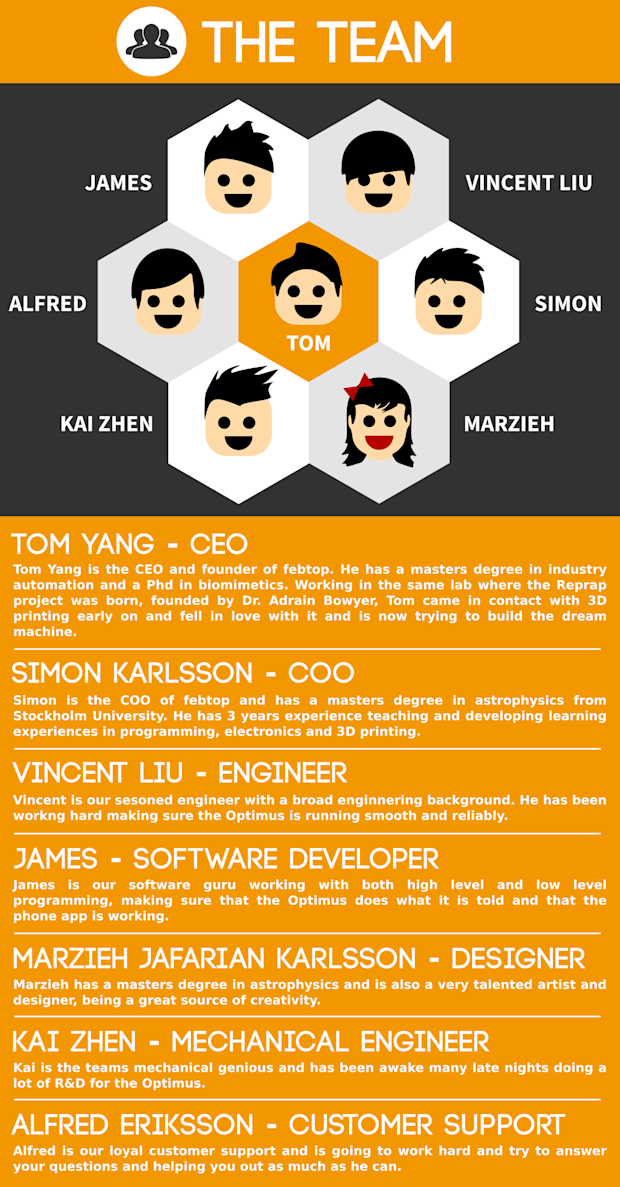 FAQ
Q:
A:
Q:
A: