Ohmni: A robot to transform how you communicate
This project has already launched.
What happens when you use robotics to make interaction more natural and get rid of all the overhead and hassle of video chat? People hang out longer, feel closer, and have more fun together. Without any prompting, they start doing things together that they never thought they could - from miles away. Ohmni is an advanced and affordable home robot that transforms how you connect with your family. It's built to last and to be useful week after week. Proudly built in Silicon Valley, California.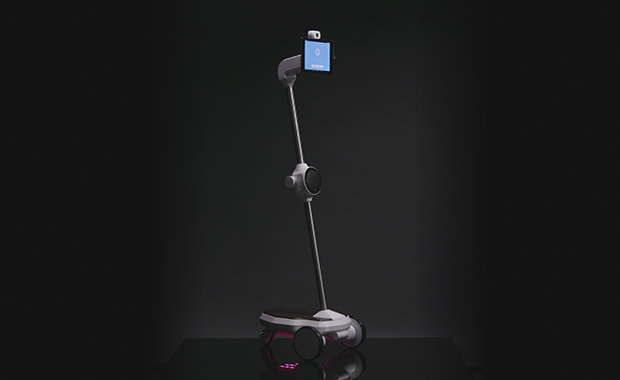 Ohmni forever transforms how you stay connected to family miles away. It's a totally different experience from any Skype or FaceTime call.
Just put Ohmni somewhere you want to be. Maybe you have aging parents that live on their own, family on another continent, or work that takes you away from home often.
Now from anywhere in the world, call into Ohmni in one click. You're there instantly, in the robot. You have full control. Look at what you want to. Go where you want to. It's freeing, and feels amazingly natural.



The other side is also free from the burden of constantly managing what you see.They don't have to lift a finger to hang out with you. No setting up a laptop or tablet, no stopping what they're doing just to answer a call.
Ohmni lets you focus on what really matters - spending great time together.

"With my grandma living in her own house alone, it's so important to check on her frequently. In the past, phone calls have been short and it's hard to tell how she's really doing. Being able to see, hear, and connect with her at any time has been life changing. I've also noticed that my grandma gets really excited each time we call. It's really a new joy for her :)" - Anne Y., Ohmni beta user

"Rosie, the robot from 'The Jetsons', has arrived."- Constance Gustke, New York Times
"The Ohmni telepresence robot has already helped one man save his mother's life." - Kelly McSweeny, ZDNet
"Ohmni home robot makes video chats feel like they're IRL... Move over, FaceTime and Skype?", Kaya Yurieff, CNN
"Aging populations, and the issue of how to address changing modes of family life that can see members more distantly separated … Ohmni might be one answer that's available now" - Darrell Etherington, TechCrunch
"Ohmni is a telepresence platform that can move around a home and allow distant family members to feel like they're sitting right there around the table." - Dean Takahashi, Venture Beat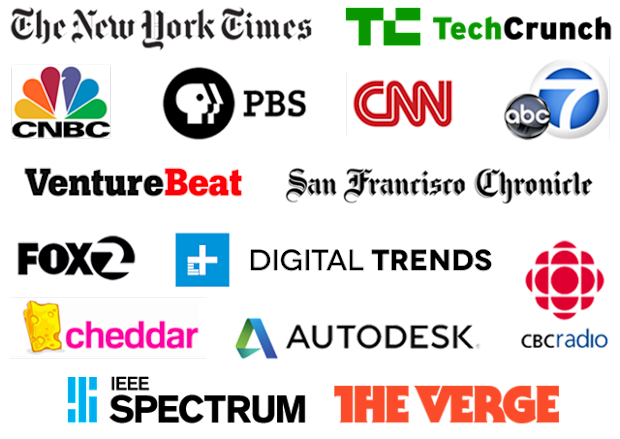 The most amazing thing about Ohmni is what people do with it. We've gotten countless stories from our testers. From thousands of miles away, they're doing things like:
cooking with grandma in the kitchen
watching a show or basketball game together
hanging out on the deck for family BBQ
helping troubleshooting electrical problems around the house
joining in for family movie night (yes, the whole movie!)
The incredible thing is none of this was pre-planned. Families naturally did these types of things as they started using Ohmni.
Have more fun and do the stuff you miss too. Don't let distance be a barrier. Check out more user stories further down on the page!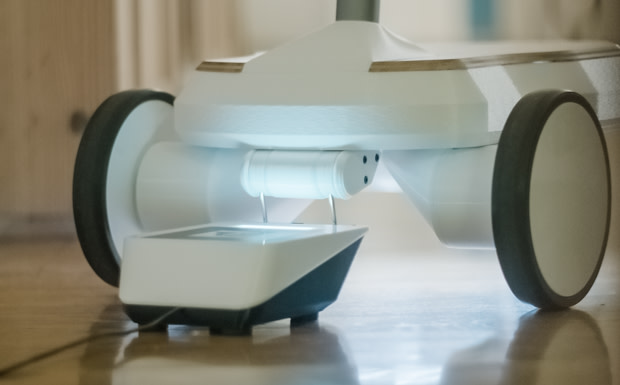 Ohmni sits on the charging dock so that it's always topped up and ready to go. Most people put Ohmni in a corner of their kitchen, living room, or study.

1. Call in with one click, from anywhere in the world
Log in from our website. You'll see your Ohmni robots. Click on one to call in.
No one needs to answer on the other side. Ohmni announces your arrival so the people on the other side know you're there.

2. Enjoy hanging out together
Drive and look around easily using the arrow keys or mouse/touchpad. Roll up to the kitchen or dinner table, or over to the sofa. Join in with whatever's going on.

3. When you're done, go back to the dock
Drive near the dock and press a button to autodock. Ohmni parks itself! The magnetic contacts lock in and the light turns blue to indicate charging. Ready for the next call!


"I like it even better than Skype and FaceTime because it's like they're in a body here with me!" - Thelma A., Ohmni Beta User in SF Bay Area
Ohmni is specifically built to amplify human presence. We tested generations of prototypes to hit upon the right combination of hardware, software, and design.



Ohmni is human height (4' 8") to give you the most natural view of the world, and allows the other side to interact with Ohmni naturally whether they're standing or sitting.
The fluid moving neck gives you huge freedom. Look up to the ceiling or all the way down to the floor.
Our control interface, MotionMap, pulls everything together andmakes it feel really human. Small motions and gestures with the touchpad or mouse control how the robot moves and looks around, just like a first person game. Nod with just a flick of the finger.



It's super easy too. Most people are comfortable controlling Ohmni after just a minute or two, and become pros once they've called in a few times. It's the closest you can get to being there.

"The robot is a godsend, it's just like I am there with her. I can't praise the product enough. It's so simple, so incredibly simple."
- Nancy Zaslove, owner of Eiko's Sushi in Napa Valley, CA
Nancy lives an hour away from her mother. She used to drive back and forth just to say hi and spend 30 minutes together. With Ohmni, she now can visit her mother almost daily. Last week, they just played hide-and-seek together over Ohmni.
---

"I was amazed - no way can I get that kind of interaction with my family using Skype."
- Jonathan Rugge, CIO, Ohmni Beta User

Jonathan is a busy businessman who often travels abroad. He missed all the small but precious moments at home with his family. Now he can just call into Ohmni whenever he is away. Last time, his 5 yr old son held onto Ohmni and said, 'Dad come watch a show with me!'
---

"At first, we were skeptical grandma would accept a cutting-edge robot, but within seconds she understood its power - the ability to experience her loved ones in a new and profound way."
- Ping Y., CEO of Stemonix.

Ping lives 1000 miles from his 94-year-old grandma. He could only visit once in every few months. Now he can have a face to face chat over dinner with her, or have her see her great granddaughter dance and sing! He notices that their conversations are 10-20x longer.
---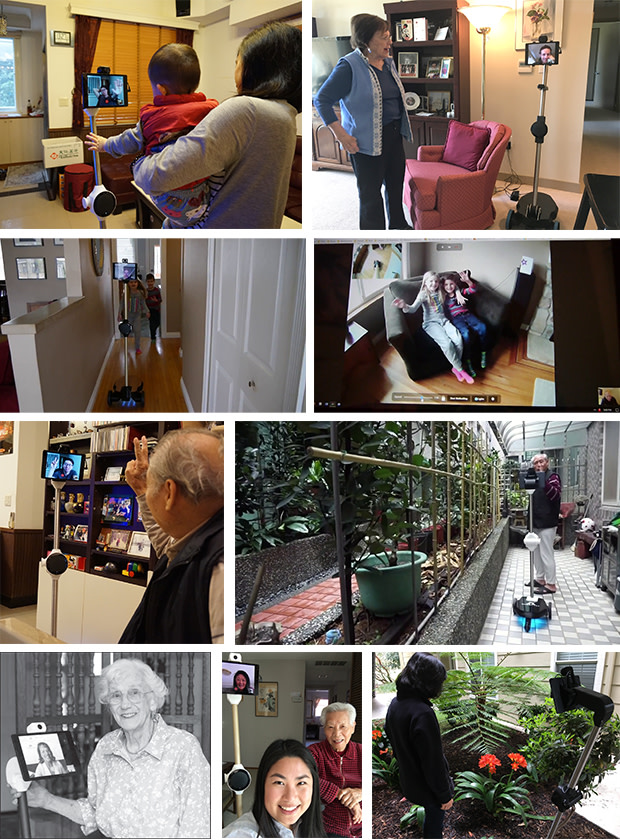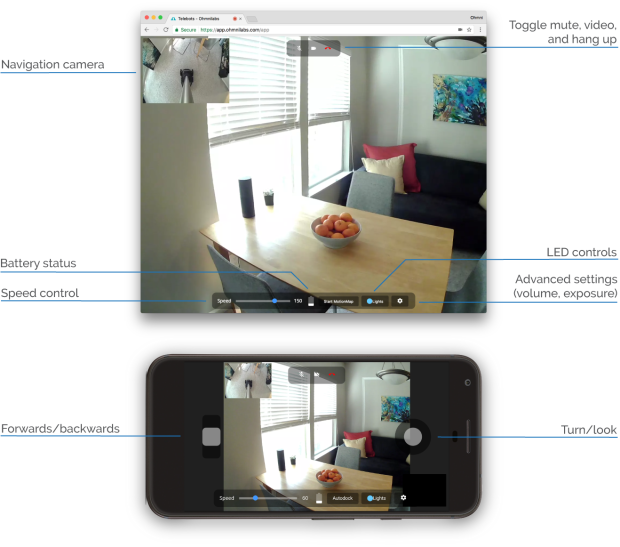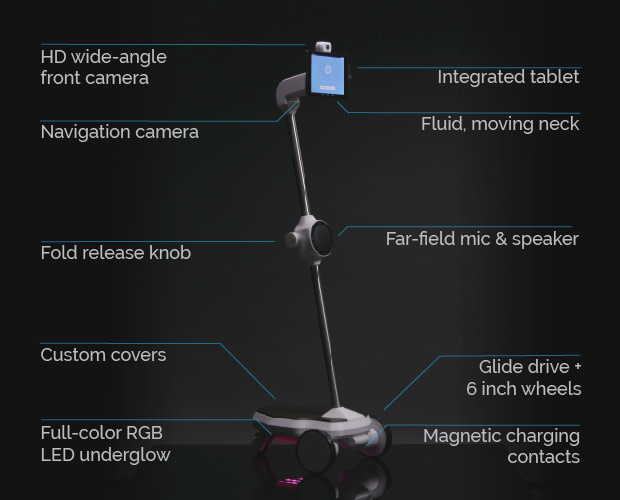 ---
Amazing video and audio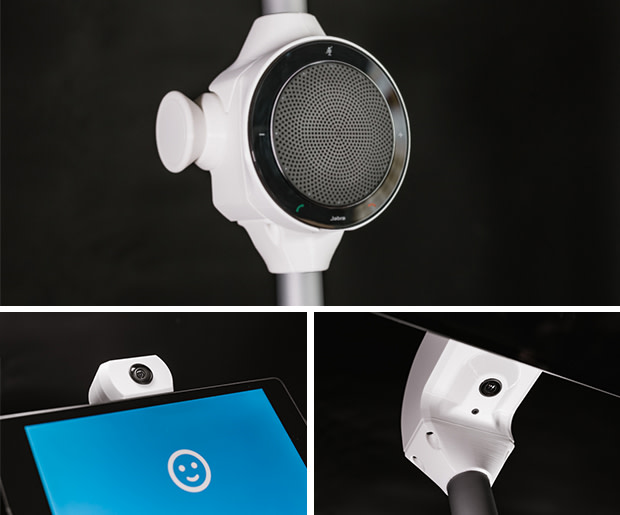 Dual ultra wide angle cameras with low-light optimization. See the whole room naturally and navigate with confidence.
Far field mic and powerful speaker. Hear and be heard across the whole house.
---

Effortless setup
Fully assembled and ready to go out of the box. WiFi can be pre-programmed before shipping. Just unfold and turn on.
Share access to Ohmni by Google/Facebook account, or by e-mail address.
---

Enhanced privacy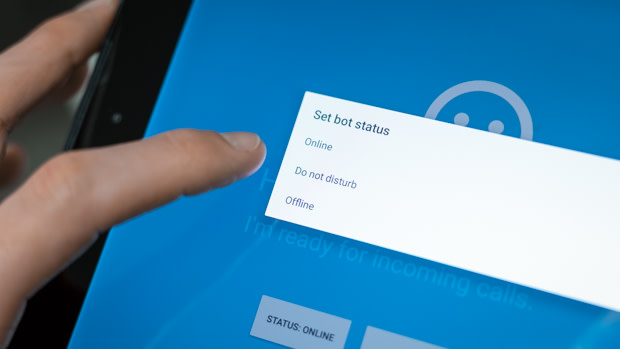 Toggles to Do Not Disturb mode with one touch. Faces the wall when docked to maximize privacy.
Encrypted end-to-end video and audio streaming - only accessible by you and your family.
---
Smooth and silent motion
Ultra-quiet Glide Drive technology minimizes disturbance.
---
Confident driving
Large front wheels. Handles any cables, small bumps, or carpets.
---

Light and portable design

Only 18 pounds. Bring it out on the patio or upstairs. Or fold it up and take it around in your car. Slim and unobtrusive.
---

Ultra-long battery life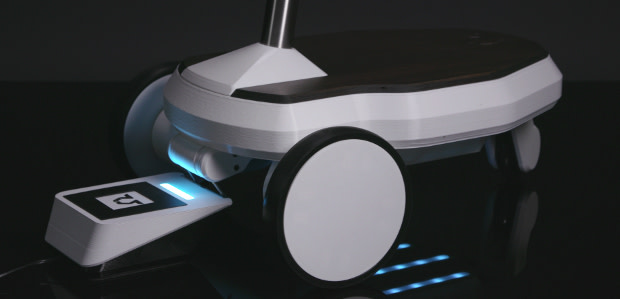 5 hours in call + autodocking = never worry about keeping it charged.
---

Cloud management


Configure, manage, and update from the cloud. Ohmni keeps getting better over time.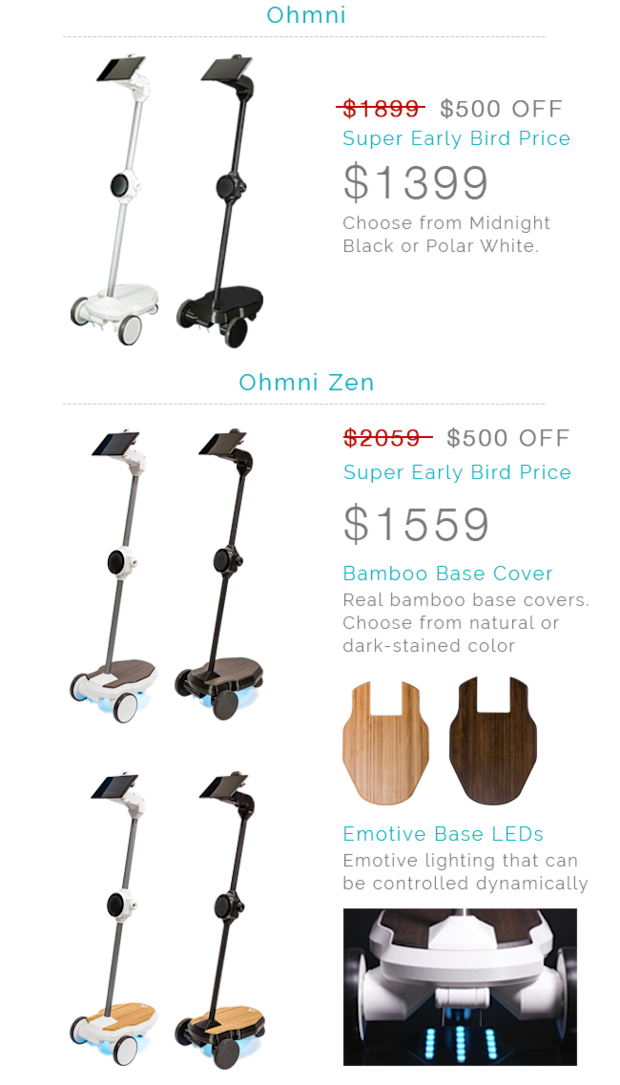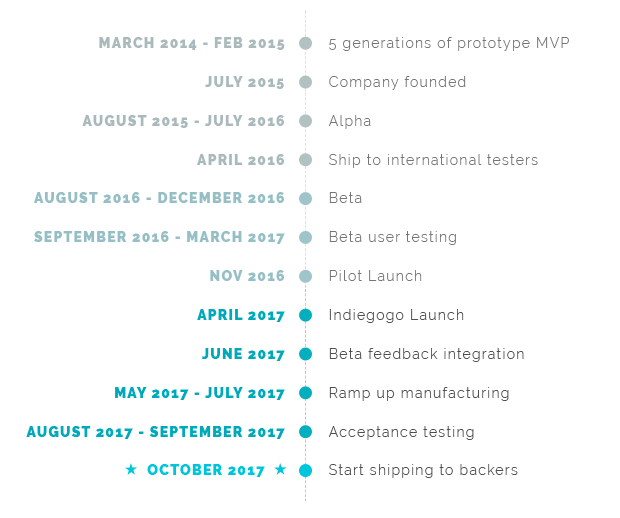 We're huge proponents of rapid prototyping and getting real world feedback. Over the last 2 years, we iterated through 9 generations of Ohmni, allowing us to tailor the design to meet our user's needs. In the last 6 months, we have built and shipped 76 units as far as France, Japan, Taiwan, and Vietnam.
Most importantly, we're manufacturing in-house, in Silicon Valley, USA, for the following key reasons:
Increased control over entire process and quality.
Continuous improvement by applying Lean Manufacturing principles.
Independence from overseas contract manufacturer schedules, delays, and large up-front costs.
Optimal choices of BOM, suppliers and part alternatives for reduced lead-time and inventory management.
Pull production with Kanban to achieve just-in-time manufacturing.
Although it was not an easy path, we achieved our vision of making a hardware company that iterates quickly and strives for continual improvement. We, in turn, expect to have less execution risk and reduced costs that we can pass on to our backers.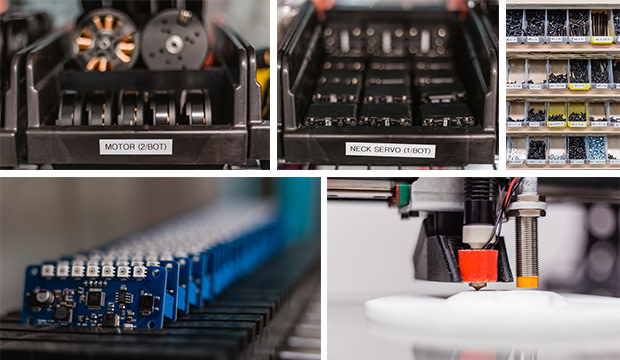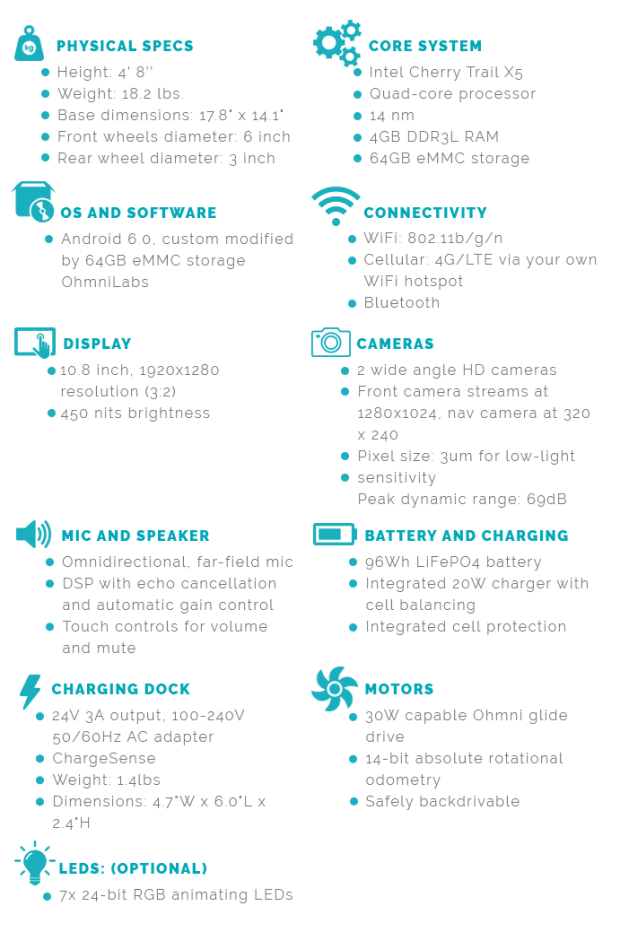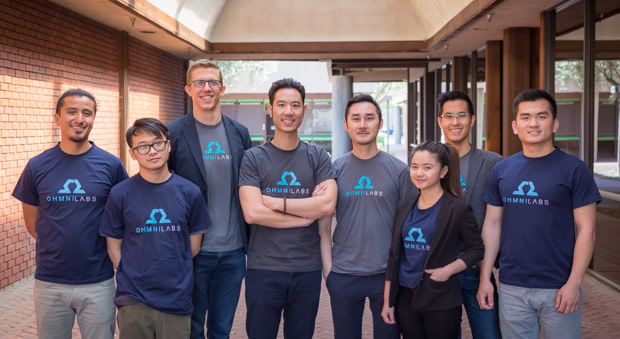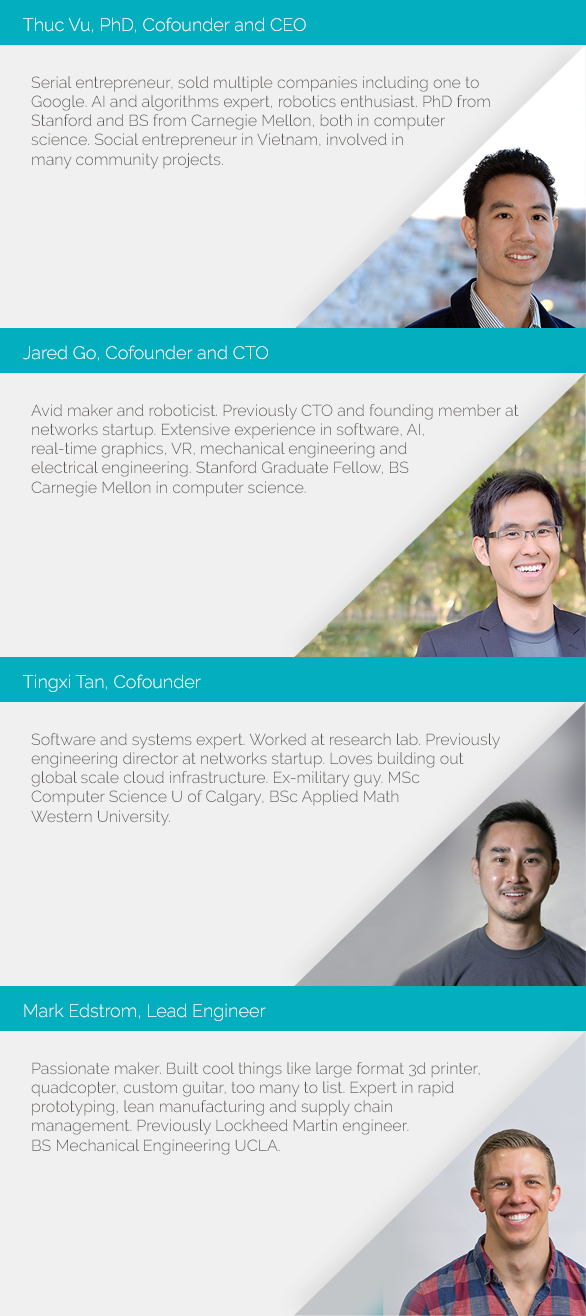 Q: Where do you ship?
We're shipping to most countries in the following regions. Any countries not in the region that we specified, please contact us directly.
North America: US, Canada
Asia Pacific : Taiwan, Singapore, Hong Kong, Japan, Vietnam, ...
Western Europe: UK, France, Sweden, Germany, Most of EU, ...
Australasia: Australia, New Zealand


Q: How much does shipping cost?
Shipping rates are based on region. If your country is not shown on this list but resides in the same region, it will likely have the same rates.
These are reference rates quoted by our shipper. We've experts working on reducing these costs right now and will likely get better rates as more orders come in. We're only collecting shipping costs after the campaign ends so you're guaranteed to pay only the lowest rates we've secured.
Base Rate: $60
Continental US: Base Rate
US Hawaii, Alaska: Base Rate + $200
Canada: Base Rate + $100
Taiwan, Hong Kong, Singapore, Vietnam: Base Rate + $100
Japan, Korea: Base Rate + $200
Australia, New Zealand: Base Rate + $300
Europe (UK, France, Germany, Italy): Base Rate + $120
Europe (Switzerland, Spain, Sweden): Base Rate + $170


Q: How do I pay for shipping?
Shipping will be charged separately from your claimed perks. We'll be sending you a survey after the campaign ends to gather information like shipping addresses. A separate shipping charge invoice will be generated for you to pay online via your credit card after we've locked down on the lowest shipping costs.


Q: What about duties and taxes?
Duties and taxes differs significantly for different countries. We're currently working with our shipping experts to determine duties and taxes for each country we will be shipping to. From our initial experience with shipping in the US and to Asia Pacific and European countries, there are no duties involved. Canada customs will likely charge duties + GST/PST.
Units shipped to California will require us to charge California sales tax.
Please contact us if you have more specific questions about duties and taxes.


Q: When will you start shipping?
Ohmni will be shipped according to the order of backers; the faster you claim your perks, the earlier you will get your Ohmni. We plan to start shipping by October 2017.


Q: Do I need to provide my own tablet for Ohmni?
No. Our goal is simplicity. The tablet is fully integrated and installed and configured with our own Ohmni Android firmware.


Q: Does Ohmni charge wirelessly?
No. Today's wireless charging technology would charge too slowly and would be more expensive. We use our custom designed magnetic contact system developed over 6 generations of charging docks.


Q: How long does it take Ohmni to charge?
For every hour of use, Ohmni needs one hour of charging.
Q: Does the dock change color when charging is complete?
No. You can check the battery levels on our web app anytime.


Q: Can I take Ohmni outside?
Although Ohmni can handle small bumps in the home, it is not meant for outdoor terrains. It is also not waterproof. However, we do regularly take Ohmni out to show-off. We use hotspot sharing from our phones to supply an internet connection for Ohmni. Be careful and stick to smoother surfaces and Ohmni can definitely be taken outside.


Q: What about stairs?
Ohmni does not handle stairs at the moment. However, at 18 lbs and foldable, it is light enough to carried up and down stairs.


Q: What are the system requirements?
The caller should have access to the Chrome browser, a webcam, and a working mic. Ohmni needs only a WiFi connection to operate. Like any other video chat, good WiFi/internet connection is needed on both sides of the call to enjoy high-quality video and audio streams. We recommend at least a 5 Mbps download and 2 Mbps upload internet connection.
Calling from iPhone Chrome browser is currently not supported but we are planning to add support later this year.