Hi, we are studio Muho
Hi, we are studio Muho and we are from Kraków, Poland. Muho is a male name of Croatian origin — apparently not a very common one. People with this name are thought to be creative and strong. We don't know if this is true, but we do like this explanation. We are designers, thinkers, artists and copywriters. And we do love nice, minimalist design.
Posters
We present to you our collections of original posters. Three graphically different minimal collections – because we are all different. Ola's favorite thing is having fun in the workshop experimenting with different designs and materials. Maria's obsession is typographic details — the little things most people don't even notice. Mateusz loves using photomanipulation to give images a second meaning. These posters are our way of expressing ourselves. We believe that quality matters, and that is why we want to print our designs ourselves with carefully selected printing methods and high quality paper.
Each poster is 70 x 100 cm and will be printed here in Kraków on nice uncoated Munken Lynx Rough 120 g paper. The Typo collection will be custom created with screenprinting — a process which allows us to use inks and textures which cannot be achieved through offset or digital printing alone. The Animals series will be digital printed, which allow for great clarity and minute detail, and the Circle collection will be a mix of both methods.
We offer three distinct collections of posters. Each one represents a different designer and a different mood and our individual passion for design. Each of the nine posters tells its own story.
Circle collection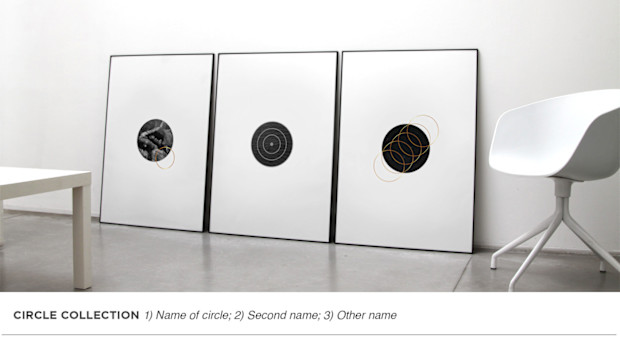 The Circle collection includes three posters with different circle graphics in black and white. Two of these have metallic gold accents which bring them alive. In keeping with our minimalist aesthetic, Ola's posters are based on circular elements and other geometric shapes combined with carefully manipulated photographic imagery in the background.
Typo collection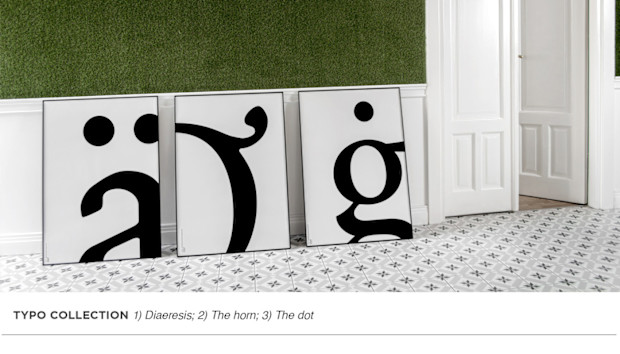 The Typo collection contains three posters with different diacritical marks. Type is such an integral part of our daily life — we spend our days staring at screens and reading text on paper but how often do we stop to admire the character of individual letterforms? Maria's posters elevate typography to bold minimal fashion objects which will bring beauty to your space.
Animal collection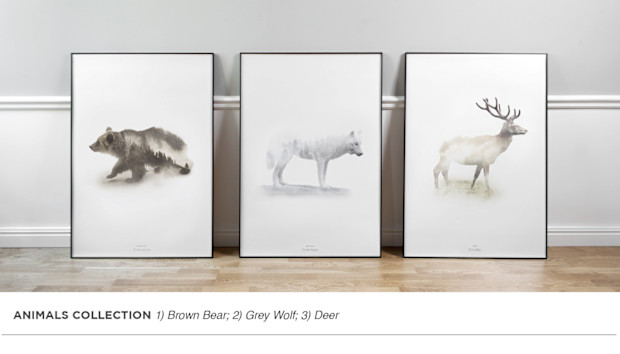 This collection shows the connection between animals and their surroundings. Although nature photography might seem too detailed to be minimal, we have reduced these images to their most basic essence. Smooth transitions between the shapes of foreground characters and beautiful landscapes filled with trees symbolise unity with nature.
The budget we set will allow us to cover the cost of printing a minimum cost-effective amount of 70 of each of the posters. We believe that our posters fit perfectly into the home and office interior – either as one individual poster or together in a set of three as they were designed.
Are we scared?
This is our first project on such a platform and we admit – as designers we are a bit shy. The success of this campaign will prove to us that our projects can bring enjoyment to someone else - not just us. But this isn't our first time printing stuff. We've done this before and we know this is not rocket science. We hope you'll be willing to support us in this exciting endeavor.