What Is MaskTouch
Turn Your iMac Into a Touchscreen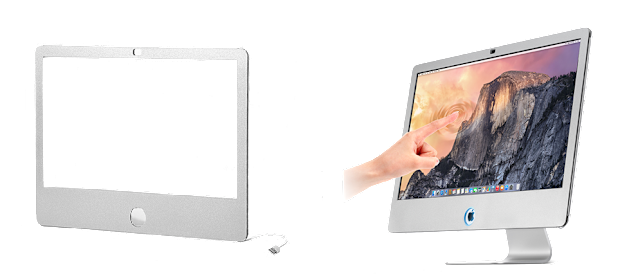 MaskTouch is a strong, easy to attach frame that fits over the monitor of your iMac, making the screen touch controlled. Cutting edge infrared sensing and multi-touch interface make MaskTouch responsive, smooth, and fun to use. MaskTouch is the third generation of our proprietary technology, meaning that it has been cleared of glitches and optimized for the ultimate user experience. With MaskTouch, the possibilities are limitless.
MaskTouch's Highlights
MaskTouch is programmed to recognize distinct hand gestures that corresponds to actions on your iMac.
MaskTouch can identify ten points of contact with the screen at one time, that makes understanding these complex commands possible.
Scroll in any direction, zoom in and out, and swipe through web pages more naturally than ever before. You will be amazed by how much more human your computer using experience feels with MaskTouch.
How You Can Use MaskTouch
MaskTouch's simple and responsive interface makes it a useful addition to any iMac monitor.
Music
Use third-party music instrument apps directly on your iMac. You can even use MaskTouch to directly play the keys on a MIDI keyboard on screen.
Parenting
Make learning an interactive and engaging experience for kids off all ages. Learning is fun and easy when using MaskTouch
Exhibiting
Create hands on experience that demonstrates your work. MaskTouch creates a natural flow for presentations and exhibitions.
Video Games
Push your keyboard aside and interact with video games like never before. MaskTouch gives you the control to take your gaming to the next level.
Designing
Designers and artists will appreciate the freedom that MaskTouch gives them. The iMac screen is now your canvas, and your finger your brush.
If it can be done with your hands, MaskTouch lets you do it on an iMac. With technology like this, the possibilities are limitless.
How It Works

MaskTouch is easy to install, it doesn't require any extra software.
First of all, move the MaskTouch choser to the iMac, because of the MaskTouch built-in magnets, it will automatically adsorption on the surface of iMac;
secondly, the MaskTouch's usb cable interface into iMac,
Just over two steps, complete the installation of the MaskTouch.
MaskTouch is thin, discreet, and won't change the appearance of your iMac. MaskTouch attached to the imac, just like iMac wearing a mask.
MaskTouch is smooth means that it responds as fast as a typical mouse. MaskTouch's multi-touch interface makes the impossible possible. It dramatically improves the experience of gaming, making music, and working on your computer, just to name a few uses.
What People Say About MaskTouch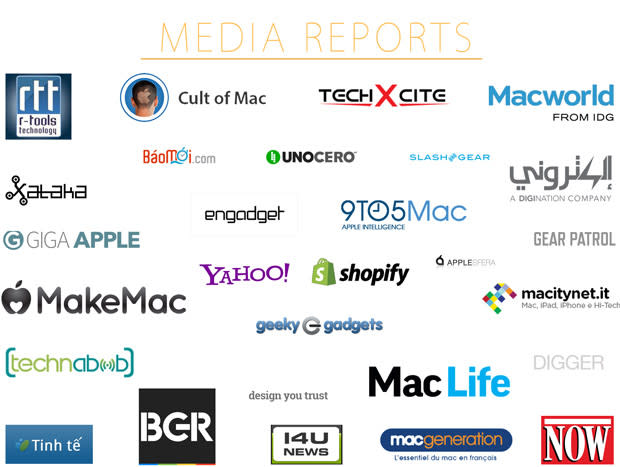 Meet Valerie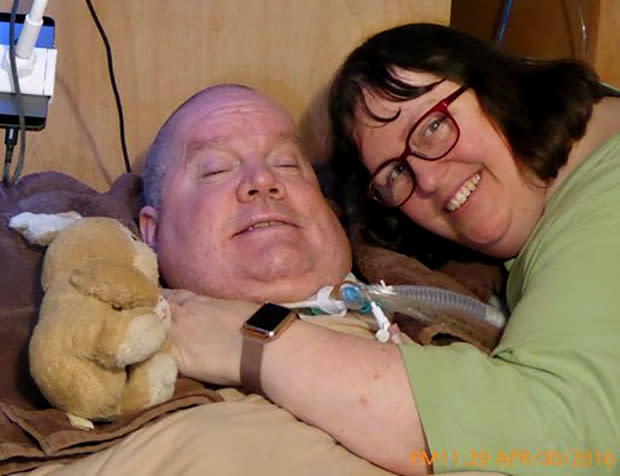 She loves our product because it's helping her overcome pain. Valerie suffers from hand weakness because of surgeries that she required in her twenties. This condition renders simple computer tasks like typing and mouse use long and painful ordeals. MaskTouch makes a difference because it's interface uses natural motions, unlike a traditional keyboard, that put far less strain on her hands. Valerie being able to use her computer for work and entertainment pain-free is just one example of how our technology is making computer use available to more people.
Our Competition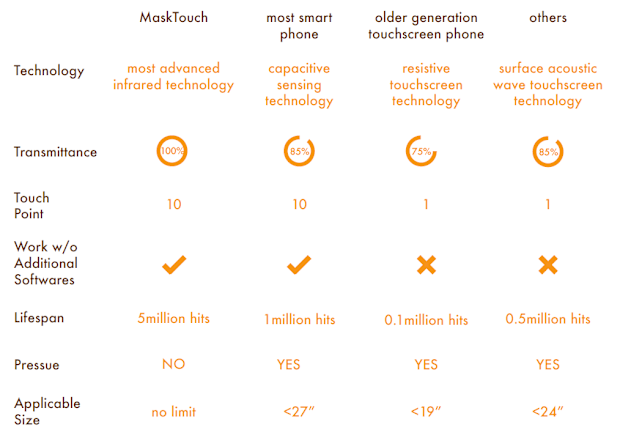 Perks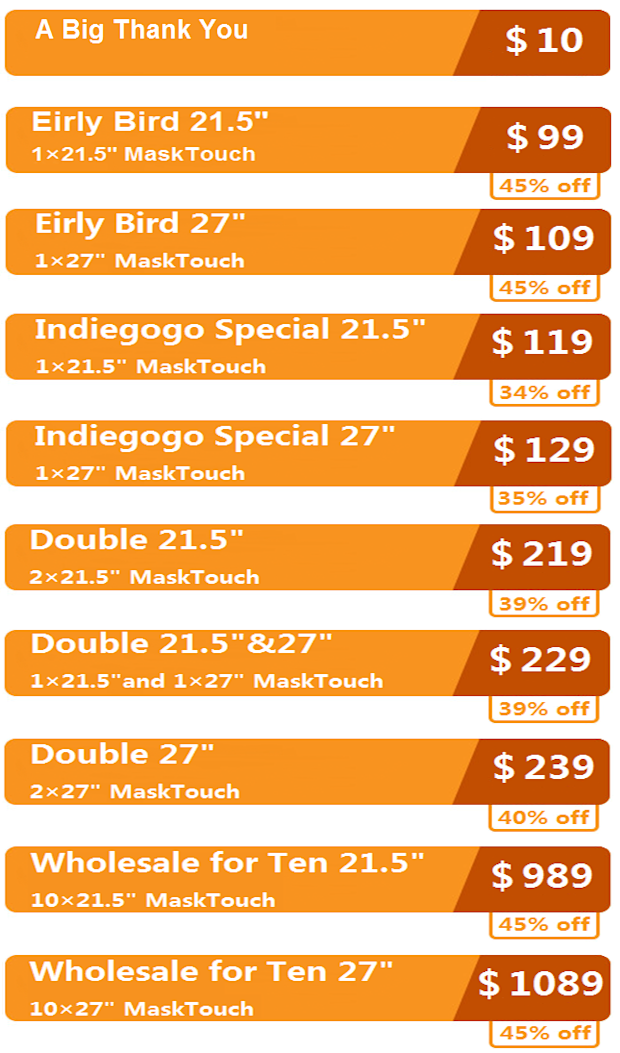 Stretch Goals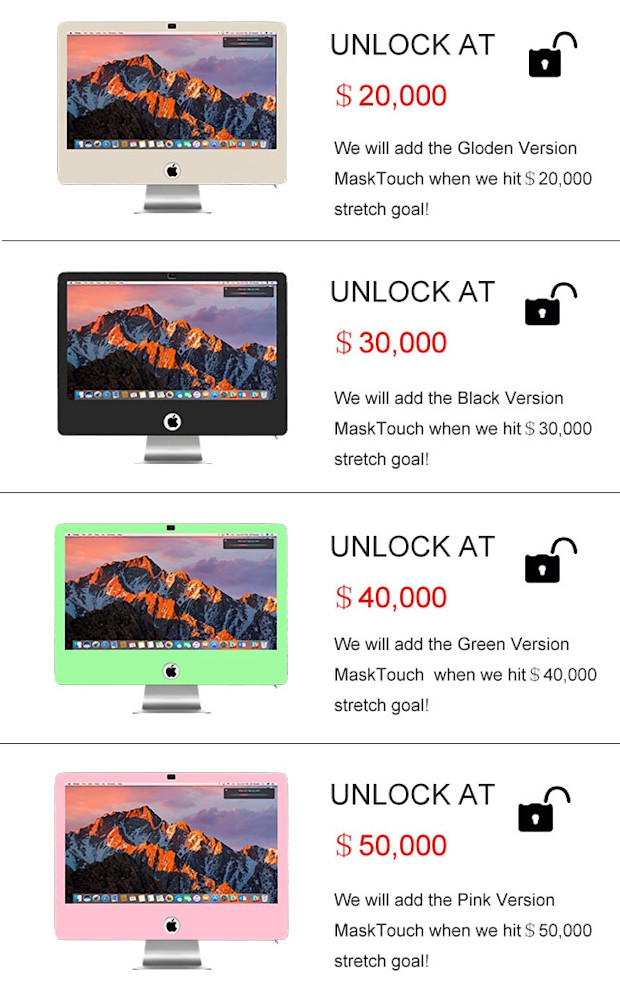 Our History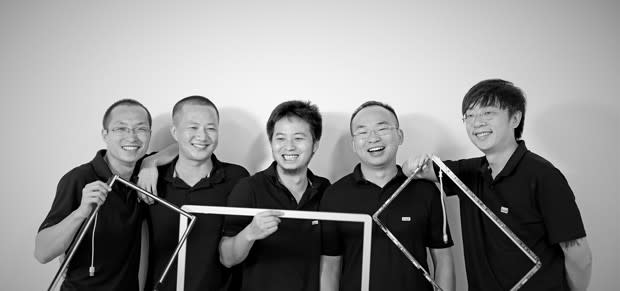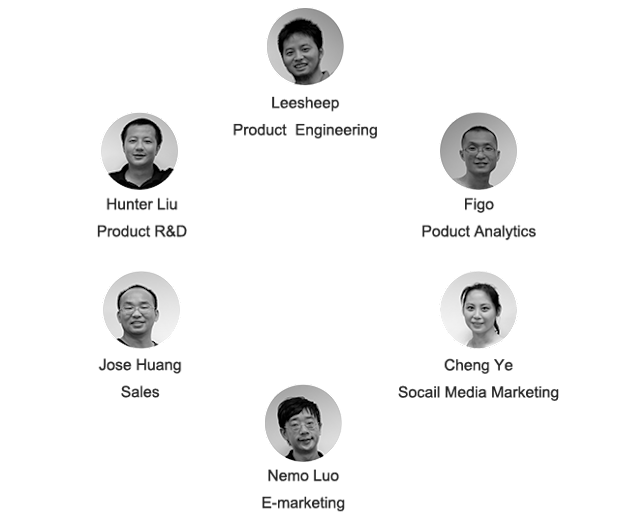 Our mission to create the world's best touch screen device began in 2012 with the Zorro Macsk. Groundbreaking in it's day, the technology behind the Zorro Macsk is simply the foundation for what we build today.
In 2014 the second generation of Zorro Masck was created. We upgraded the frame with a wear resistant, anti-scratch metal material that significantly improved the under finger feel of the device. The Zorro Macsk II paired more advanced touch technology with expanded compatibility, including all 21.5" and 27" of iMac from 2009 to 2015, as well as Retina 4k 21.5" and Retina 5k 27.
Now we are releasing the third generation of our technology called the MaskTouch. The great improvement of the MaskTouch over its predecessors is its dynamic interface. Whereas the Zorro Macsk could only compute two points of contact at a time, the MaskTouch can register up to ten points of contact with the screen at a time. The result is a precise, fluid, and exciting user experience. You can now control your digital world as if you truly held it in your hands. Wether you are gaming, working, teaching, or making music, your relationship to your computer is changed forever, and the possibilities are endless.
Timeline

Why Indiegogo
Due to the global scope of our campaign, Indiegogo has proven to be the perfect partner to deliver our message and help us gain support. Our hope is that this campaign not only raises investments, but also spreads our groundbreaking message to the whole world. The next step is continuing to build the Aogek brand for the benefit of all technology enthusiasts. Any additional funds raised will be used for marketing and next generation product development. The more money we raise, the more we can disseminate our touch screen technology. Television, advertising, gaming, these are all just the beginning. With the MaskTouch, the possibilities for easy, reliable, and fun touch screens are limitless.
Why MaskTouch
MaskTouch is a third generation product, technologically mature, and ready for mass production. This technology will create a far superior touchscreen experience, and will broaden the uses for touch screens. As for our backers, by supporting us, they will get discounted products, continuous high quality customer service, and our gratitude.
FAQ
1.) Dose it come with the monitor?
No. A purchase of MaskTouch only includes the MaskTouch overlay. It is able to change any iMac into a touchscreen in three seconds without the need to install any software.
2.) Does this replace the glass screen, or is it attached to it?
MaskTouch attaches magnetically to the front of the iMac and plugs into the usb port. You do not change anything on the computer or remove the glass.
3.) It's plugged in and nothing is happening. How do I troubleshoot?
To ensure the product is on, put your MaskTouch on a flat surface for testing. Observe the LED status when you touch it. The LED light should be blue, otherwise please contact our technical supporter.
4.) Does MaskTouch fit a 27'' Cinema Display also, or only the iMac?
MaskTouch is only made for iMac. We have 27" and 21.5" sizes.
5.) Can I cancel my perk and/or get a refund?
Indiegogo policy dictates that campaign owners have no ability to adjust perk selections. That means we cannot upgrade your perk, we cannot change your perk, and we cannot cancel your perk. Please note that contributions made on Indiegogo are also non-refundable.
6.) When will my MaskTouch be delivered?
We anticipate delivery in June 2017.
7.) What happens to my money if you fail?
In the event that we are not successful, we will communicate the situation to every contributor in a transparent and timely manner. You can choose a refund, or we can still send you our product, even if it costs more than you paid. We promise to do this because we believe in MaskTouch, and we own the manufacturers.
Contact
If you have any questions or need additional information,
If you want to be an agent of our product or have good idea to make MaskTouch worldwide known,
If you have a company want to make your screen touchable,no matter the screen is on CNC machine,ATM machine,television,billboard,arcade game etc,
Please feel free to contact us by: