Summary
The LiVolta Energy System serves everyone; from wealthy to poor.
This project is not about one person, or fame and fortune; its about the greater good. We are a group of engineers, scientist, physicists, electric vehicle designers, and we also have a wide range of expertise in many other fields. All of us share a common concern for the wellbeing of others and what we can do to help those who need help. We are hoping that we can convince you, that together we can improve our world. All contributes are a part of this endeavor and what it can achieve.
We are raising enough money to build a fully functioning system that will demonstrate what it's capable of. This campaign should be important to everyone who is concerned about the future, and what kind of world we will be leaving for the generations who will follow.
This is a huge endeavor that encompasses so many incredible possibilities that can change the lives of so many people around our planet.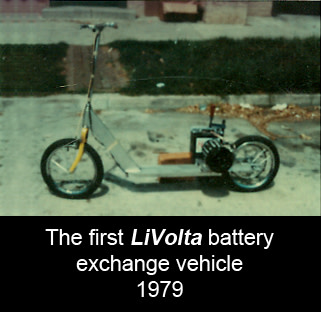 LiVolta has come a long way since 1979 but our values have never changed.
To whom much is given much is expected
Supporters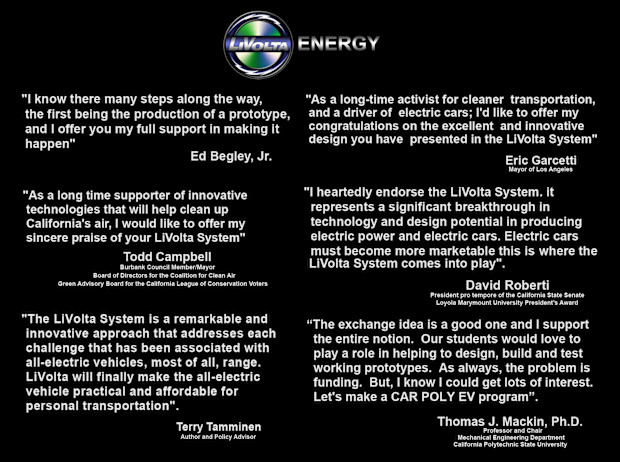 What LiVolta can deliver to you
Low cost low carbon fast clean electricity anywhere in the world
Backup to Backup Dual Battery Technology
Stores electricity
Grid Backup
Grid connection or stand alone
Portable electricity
Power your home
Battery exchange
Drive for free
You never need to charge your car
You don't own the battery
You never get stuck with old battery technology
Developing countries can benefit, so all of us will benefit
Lack of electricity locks people in poverty, and they are more likely to remain poor if they stay unconnected – LiVolta's low cost low carbon electricity is the key.
Energy access reduces conflicts. "We need to start talking about energy as a conflict resolution tool in developing countries," Nkiruka Avila, MS, PhD.
Additional multifunctional platforms built in for developing countries
Mini-distribution networks
Water desalination & purification
Grinding and husking mills
Vegetable oil presses for agricultural processing
What is LiVolta
We are committed to making life better for everyone and doing it in an environmentally responsible way
The LiVolta System is an inexpensive and efficient way to produce clean electricity, store it and make it portable. The LiVolta System is a "Micro Power Plant/Exchange Station" that utilizes a host of current technologies including autonomous vehicle control and robotics to turn the impractical into the practical. LiVolta powered vehicles are mobile power platforms that can be driven to a location and used as a source of electricity and will even power your home. A LiVolta station can also be configured with equipment to purify and desalinate water. LiVolta is the perfect system for supplying electricity to small and impoverished towns and villages throughout the world.
There are many advantages that only LiVolta offers; drive for free, you never need to charge your car and you don't own the battery so you will never get stuck with old battery technology. LiVolta is not specific to any single brand or type of vehicle, it can be utilized by any vehicle manufacturer who chooses to build a vehicle that uses LiVolta's proprietary hardware components and software that are only compatible with LiVolta's Micro Power Plant Exchange Stations. Whats sets LiVolta apart is its ability to be configured to accommodate a number of types of vehicles including electric bicycles.
LiVolta is easily scalable so it can expand with growth anywhere in the world. LiVolta also works with or without a connection to a grid. The stations are built in a factory then shipped to locations where they are setup and running in less than thirty days.
30 second battery exchange
Opt-in to advertising and other programs and get free exchanges
(ads run during exchanges on a screen in front of you)
Backup to Backup Dual Battery Technology
Integrated food service
Open platform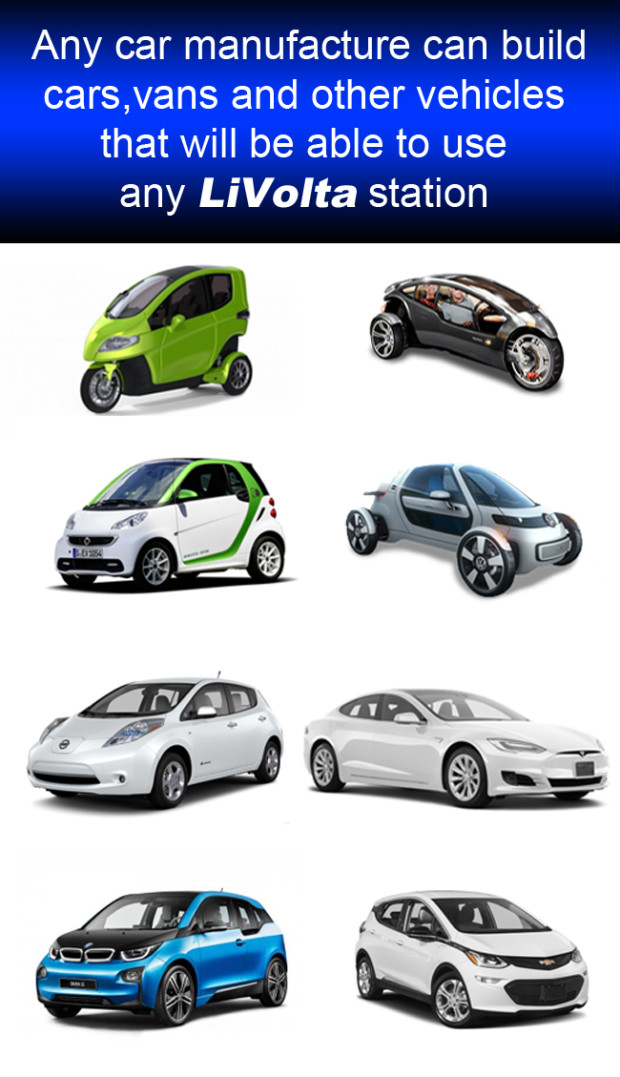 Comercial application

Micro Power Stations can be custom configured for autonomous tractors and other equipment that exchange their own batteries and work all day and night without stopping
LiVolta can benefit agriculture

LiVolta can benefit warehouses like Amazon by exchanging batteries in AGV's

Other aplications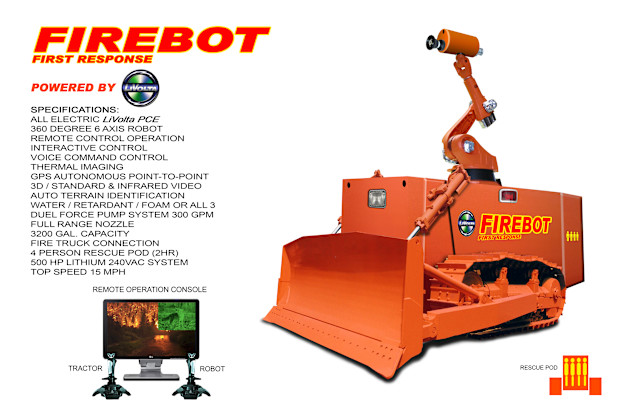 Single bay grid backup with water purification & desalination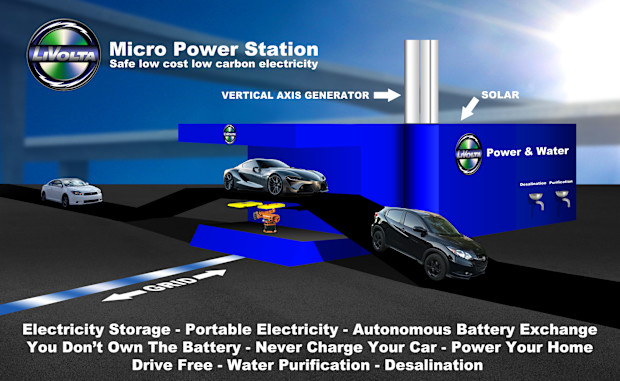 High volume grid backup multi bay station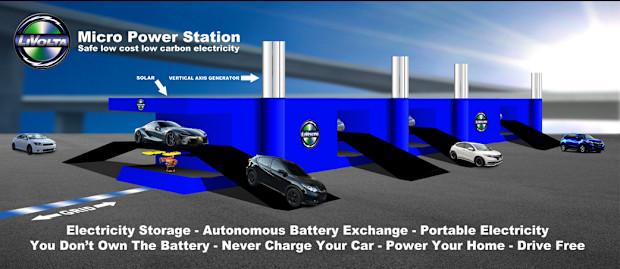 Multi bay grid backup with 3 different battery sizes
(A) robot exchange up to 7 passenger vehicles
(B) robot exchange up to 2 passenger vehicles
(C) manual exchange bicycles/motorcycles and other 2 wheel vehicles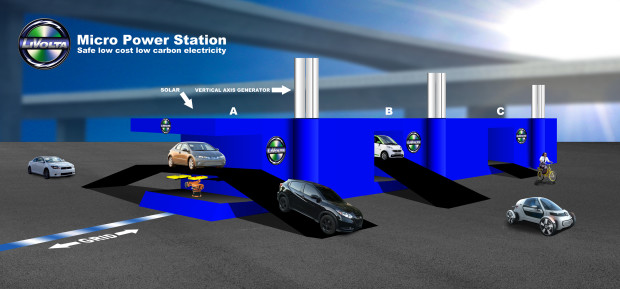 Single bay no grid with water purification & desalination remote location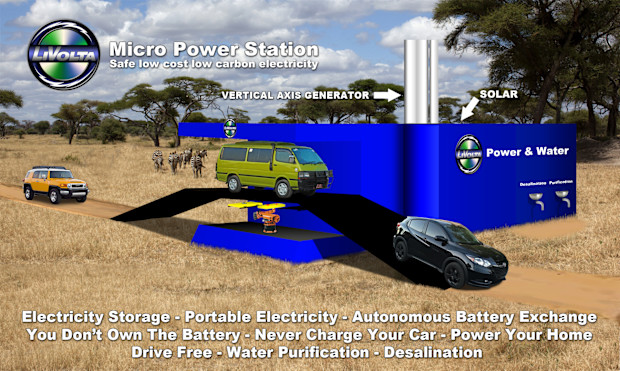 ​
What We Need & What You Get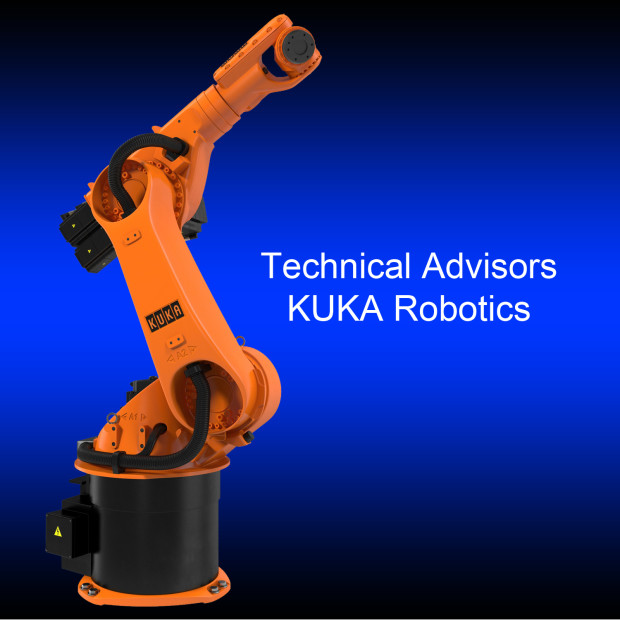 We already have some committed support in the way of equipment and software development from several companies. We have also had some preliminary discussions with engineering department at Cal Poly San Luis Obispo in regards to having a role in building the system. Certainly these types of support are extremely helpful, however there are still many expenses that will still need to be paid for. We will still need to raise $15M for general expenses related to a project of this size, including but not limited to; Fabrication facilities, tooling, equipment, general operations etc.
This is not a typical crowd funding campaign so we are unable to give typical perks such as a product. However we are making them something you will be proud to have and or experiences, and most of all the will make a statement that says; "I did something".
In the event we do not reach our intended goal during the campaign window there are several avenues that we will explore to move forward. At this time it is far too difficult to completely know what path we may take, because it depends completely on how much is raised.
The Impact
LiVolta is a huge move forward to a cleaner, safer and more sustainable environment, it will also serve a larger number of consumers. LiVolta will create new industries and in turn create millions of job opportunities that will boost economies worldwide. By contributing to this campaign, you will not only be participating in a worthwhile endeavor, you will also be sending a message; that people can make something happen faster, better and for less money than governments.
LiVolta is a move toward to a cleaner safer and more sustainable environment, it will also serve a larger number of consumers, and give them another choice. it will create new industries and intern create millions of job opportunities that will boost economies worldwide.
Risks & Challenges
New ideas are most often met with criticism by naysayers, and they will always try to discredit them because it is in their interest to do so.
We have all heard the promises and have seen slick sales pitches for every kind of so-called "new energy technology", that would supposedly change the world. We have also seen the billions of dollars poured into them; only to find out they were nothing more than snake oil.
The fact is you can't change the laws of physics, put simply when it comes to energy you can't get something from nothing. We are not trying to rewrite the laws of physics or make unsubstantiated claims; we are simply taking some proven technologies and incorporating them with new technologies to arrive at a practical and affordable system that has the potential to help humanity.
Large undertakings are never easy; they come with many long days and sleepless nights. This project will have many of the same problems and challenges that any large project of this scope has; and new ones. You can never foresee or be completely prepared for all of them, but we believe there is no problem we can't overcome.
Other Ways You Can Help
If you can't contribute we understand, however you can help by letting everyone you know about the campaign through social media and Indiegogo's share tools.
Also If you have any government connections anywhere in the world, connections at the UN or any environmental agency please let them know about LiVolta.
It is greatly appreciated, and from all of us here at LiVolta, thank you.
Email: info@LiVolta.com
Subscribe for updates: livoltaenergy.launchrock.com/