Koach, the 1st anti back pain connected chatbot
This project has already launched.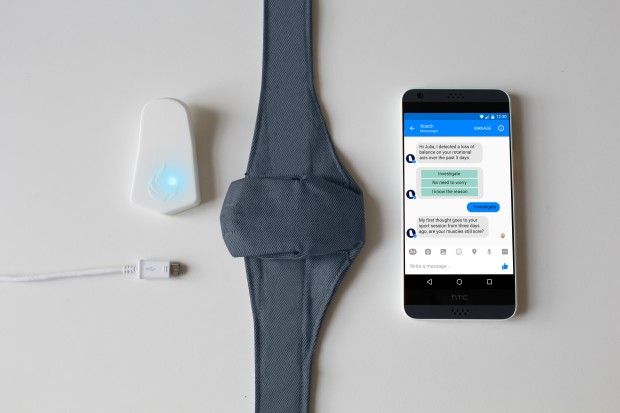 MEET KOACH: Your personal companion to avoid back pain and unlock your true potential at work, fitness or on the go
Imagine an eco-friendly device that tracks your posture during the day, a coach that recommends you exercises adapted to your capabilities and to your physical objectives and a confidant that cares about your pain and guides you into the healing process !
Koach is the world's first artificial intelligence connected to a wireless lumbar sensor that uses cutting-edge predictive algorithms to implement the most efficient strategy against back pain. Combining the most advanced technologies in hardware to reach extreme accuracy in the collected data and personalized exercises programs, Koach is the new way to stay away from back pain troubles and to develop physical capabilities by learning how to move better.
Get Koach and make the commitment to move better to unlock your true potential day after day !
KEY FEATURES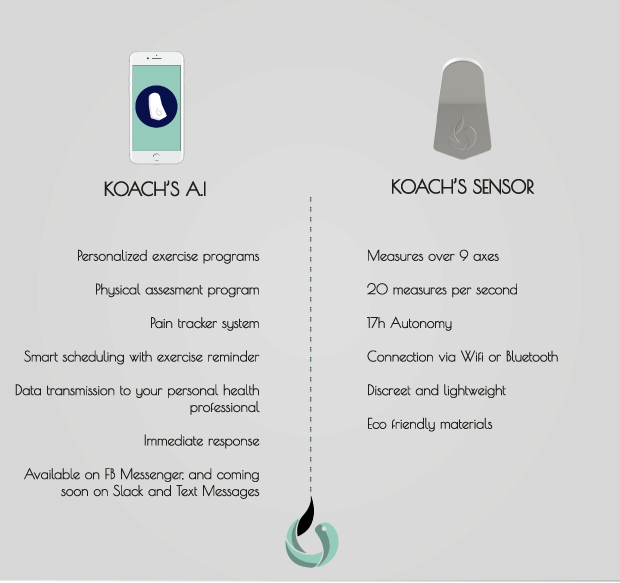 BE MORE ACTIVE AT WORK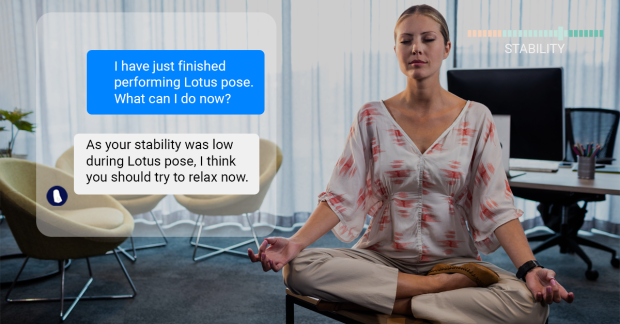 GET INSIGHTS INTO YOUR FITNESS/YOGA SESSION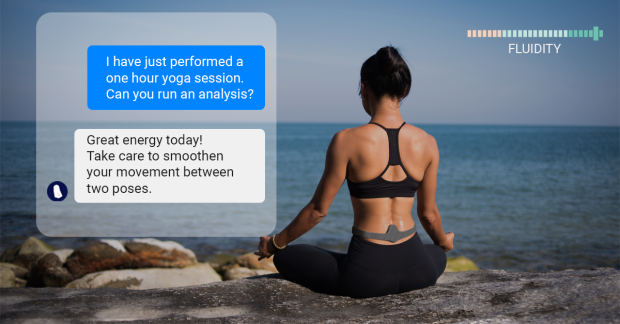 OPTIMIZE YOUR HEALING PROCESS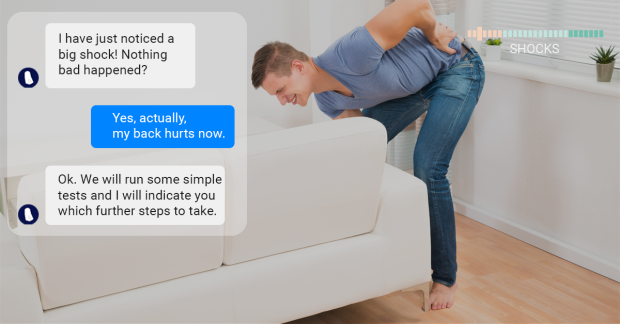 A SMARTER WAY TO UNLOCK YOUR BACK
The hardware part to objectify the movements methods
Koach consists, on one part, of a high performance sensor to collect accurate data from your lumbar spine.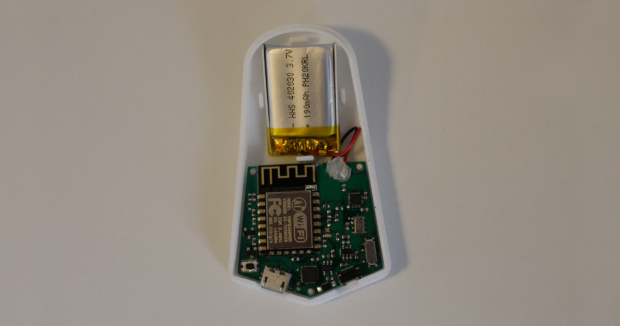 The 3-axis accelerometer allows Koach to identify the forces on the pelvis and the body translation movements.
The 3-axis gyroscope allows Koach to identify the moments on pelvis and the body rotation movements.
The 3-axis digital compass allows Koach to localize the pelvis in respect of magnetic poles.
The barometric altimeter allows Koach to calculate the altitude of the pelvis.
The embedded Memory allows Koach to store data in offline mode. Koach stores movements data at 0.05 second intervals.
The Wifi connection allows Koach to synchronize data directly with our cloud via your personal wireless network.
The Bluetooth 4.0 Connection allows Koach to synchronize data with your phone or your computer.
The Double Processor allows Koach to manage wireless connections and to embed linear indicators computing.
The Battery lasts up to 17h. It is made of lithium-polymer. Its charge time is 20 minutes.
An eco-friendly design to prove that we can do both technology and care about environment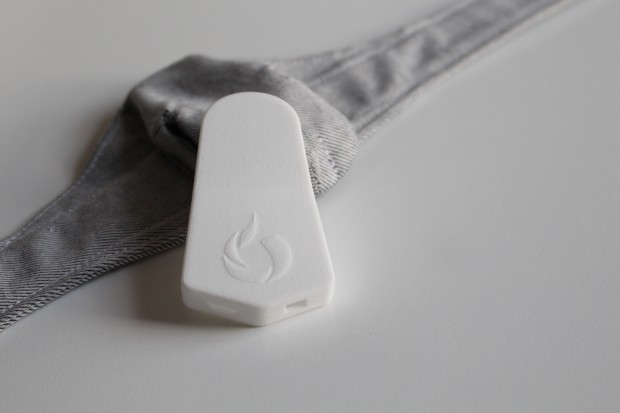 The sensor case
The case has the curved shape of the spine to perfectly fit with its movements. It is made of acrylonitrile butadiene styrene (ABS) which is a common renewable thermoplastic polymer.
The belt
The belt is made of organic cotton.
The artificial intelligence part to recommend you the right exercise at the right time
Science of Movements
The Koach 9-axis sensor and cutting-edge algorithms capture relevant indicators through core body movements. To determine these key metrics to unlock your true potential, Koach is based on medical research and experiments in yoga sessions. This state-of-the-art research has created new knowledge about moving technique, identifying characteristics for more efficient moves and poses.
Core Muscles
Your body's core muscles are located mostly in your back, abdomen and pelvis. This group of muscles provides the foundation for movement throughout your entire body, and strengthening them can help protect and support your back, making your spine and body less prone to injury and helping you gain greater balance and stability.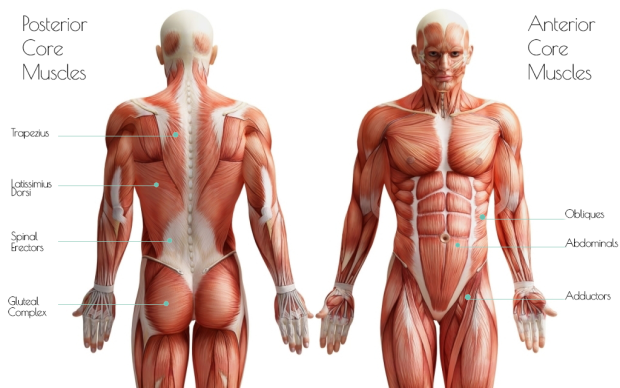 Hence the importance of an active lifestyle punctuated by daily stretch routines and reinforcement exercises in order to maintain and strengthen our back muscles.
Indicators
So far, 34 key indicators have been designed. Here are the five most important ones:
BALANCE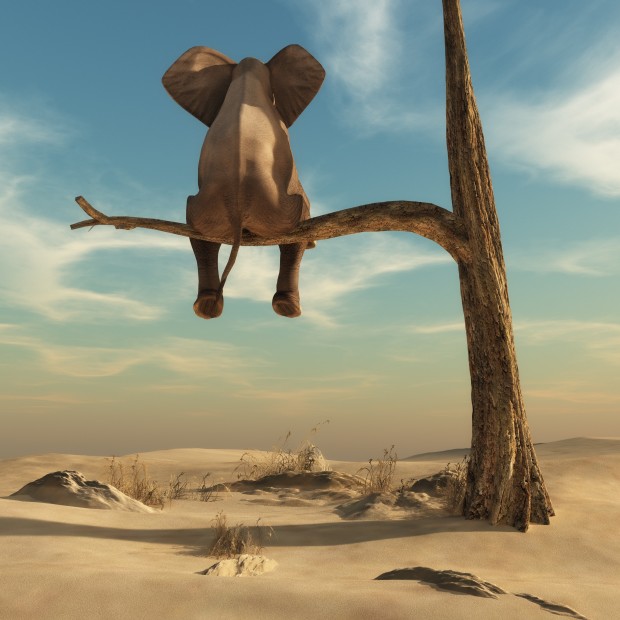 Balance, measured as a linear function of angles, is the indicator used to describe the ability to maintain the line of gravity of the body within the base of support with minimal postural sway. A lack of balance can provoke falls and wrong movements. Koach will help you improving your balance by recommending exercises such as jumping jack for example.
STABILITY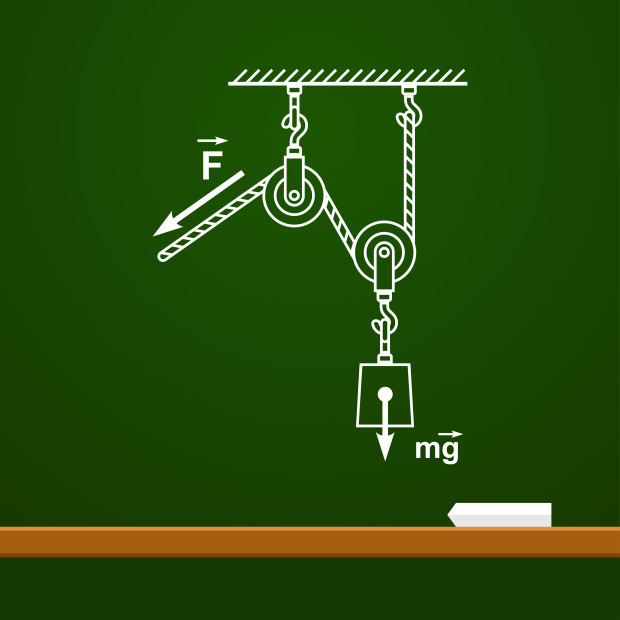 Stability, mesured as a non-linear function of angular speeds, is the indicator used to describe the amount of postural sway at which balance is lost and corrective action is required. A lack of stability can provoke disability to do some movements and injuries. Koach will help you improving your stability by recommending exercises such as yoga poses.
FLUIDITY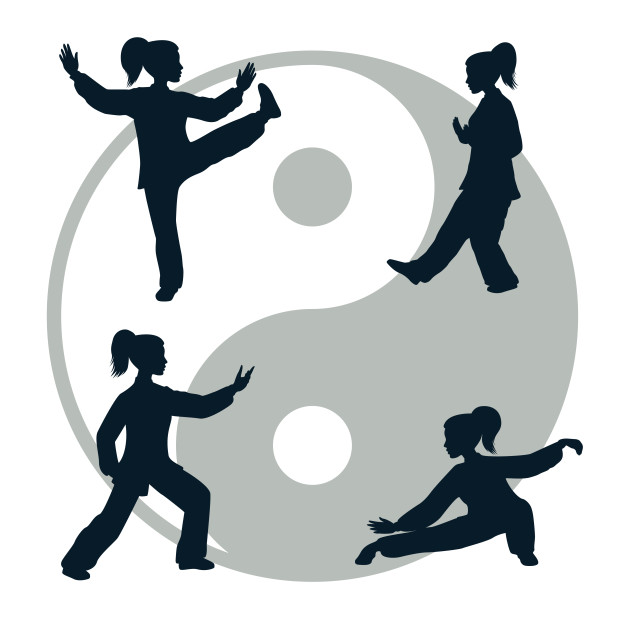 Fluidity, mesured as % of ideal movement, is the indicator used to describe the smoothness or elegance of the movement. A lack of fluidity can add physical restraints on joints. Koach will help you improving your fluidity by recommending exercises such as Tai-Chi movements.
VERTICALITY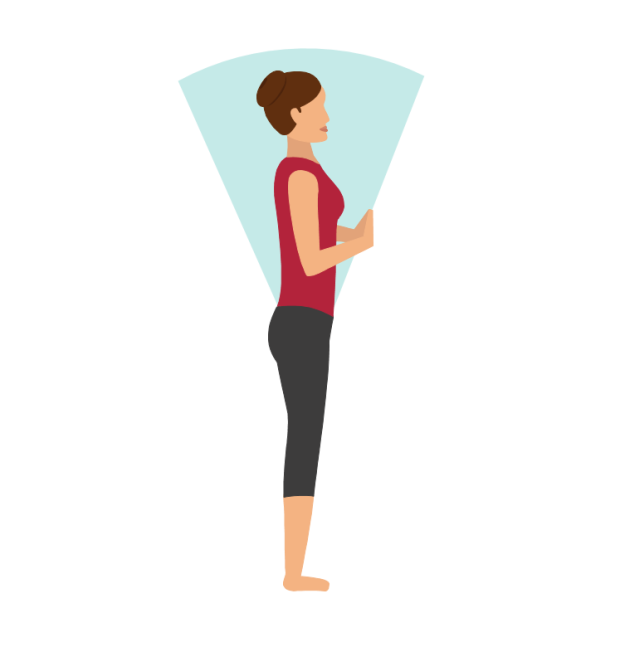 Verticality, mesured as two angles with the horizontal axis, is the indicator used to describe the upright position of the back. A lack of change in verticality is the sign of harmful postures and can provoke pain in the lower back. Koach will help you change your verticality by recommending you preventive stretching exercises.
SHOCKS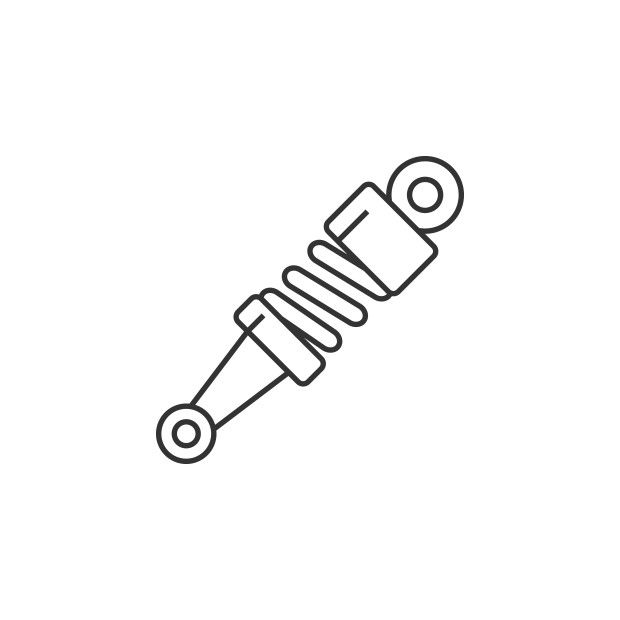 Shocks, mesured as magnitude, is the indicator used to detect unusual changes in your physical behavior. Too many shocks can cause deterioration of your physical capital and cause musculoskeletal disorders. Koach will help you avoid exceeding shocks by recommending to stop an activity if necessary.
The conversational experience
Natural language understanding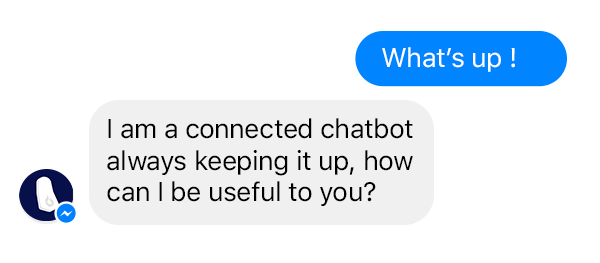 Talk to Koach as your friend.
24/7 service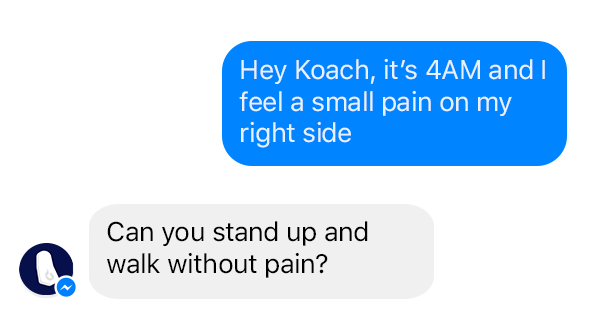 Koach never sleeps. Koach is here, whenever you need.
Exercises Engine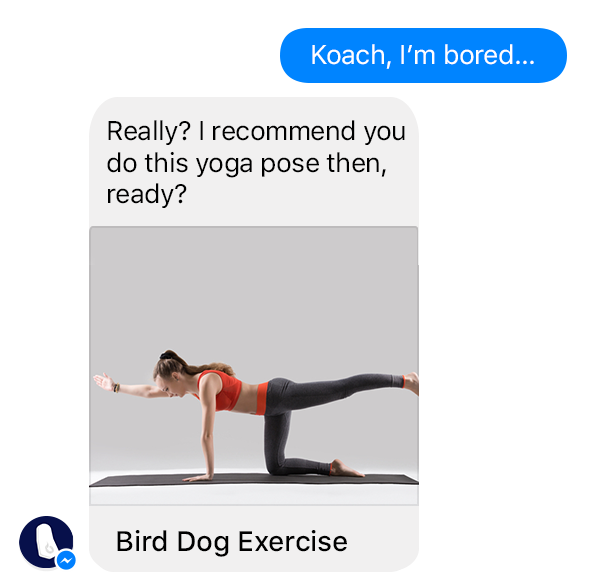 Koach always has a smart exercise ready for you
Q&A Self-assessment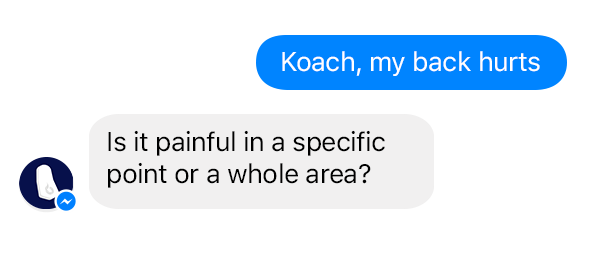 Koach asks you the questions required to identify if your back pain is acute or has a chronic risk.
Activity Report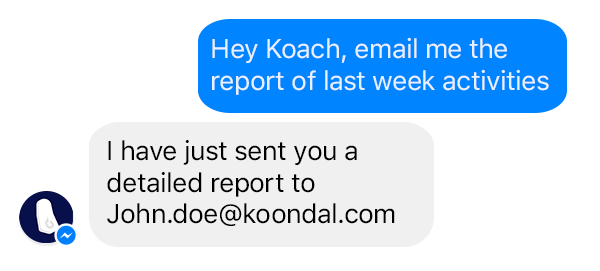 Koach memorizes the exercises you do and the pain episodes you may feel. Koach can even send you detailed reports by email.
Alerts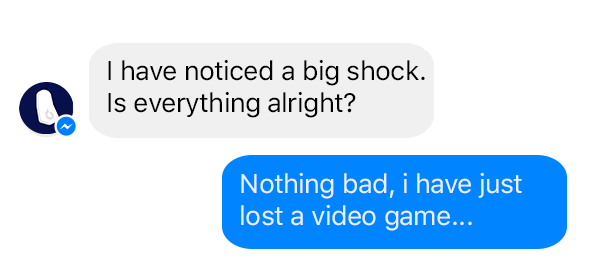 Koach alerts you when the evolution of indicators is unusual.
Advanced Health Analytics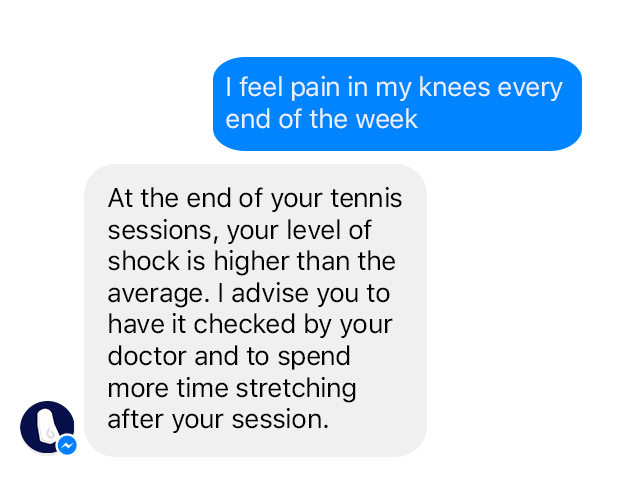 Koach tracks the evolution of your physical disorders risk.
Advanced Performance Analytics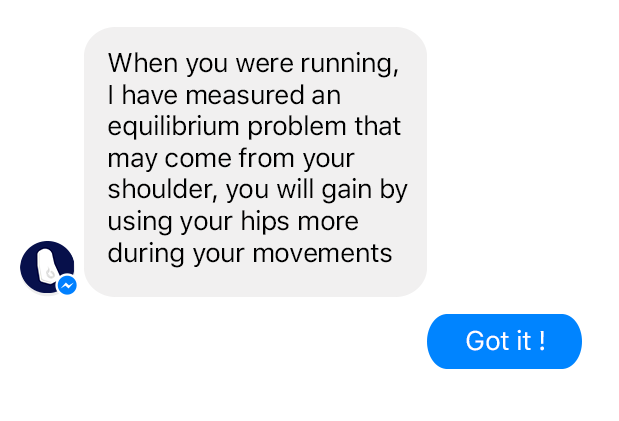 Koach can give advanced insights giving you the opportunity to increase your performance.
Posture Tracker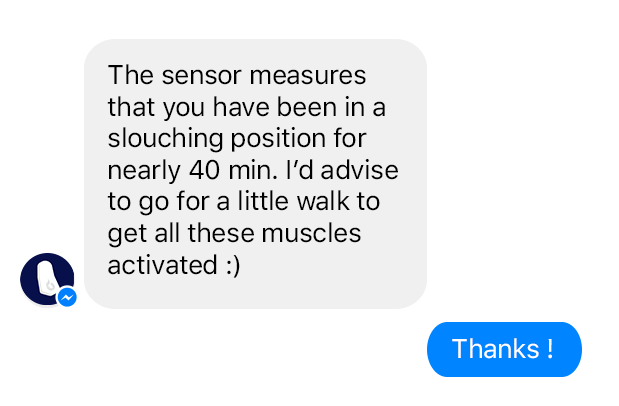 Koach identifies harmful postures and gives the right advice according to the situation.
Objective Tracker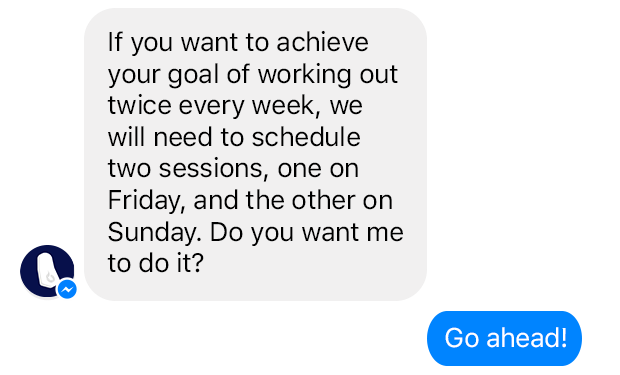 Koach keeps a closed eye to your objectives and try to find the best path to achieve success.
Scheduling Exercises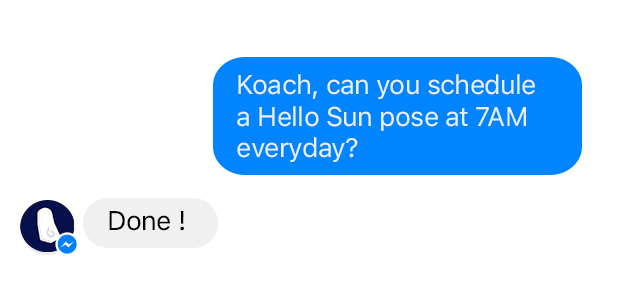 Koach can schedule some exercises at a given hour according to your desires.
The physical program part to identify exercises that fit with your capabilities and your objectives
After reviewing more than 500 exercises from Tai-chi, Yoga, Fitness, we have selected the most efficient for back pain prevention and development of physical capabilities by experimenting practically running tests in hospital on patients and on yoga students.
We have designed some comprehensive sets of exercises to fit with a specific use case of your daily life. You can ask Koach for a random exercise or to join a physical program.
Healthy work life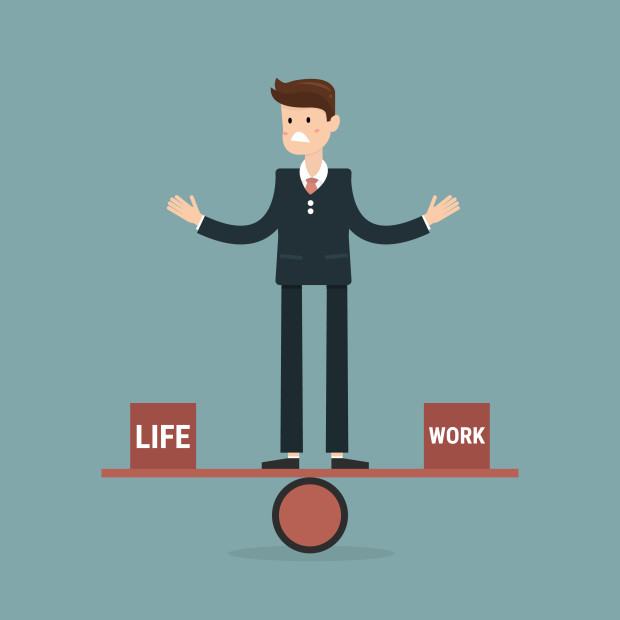 Designed to fit with work environment, the Healthy Work Life will allow you to avoid pain due to harmful postures or lack of physical activity at work. Using it on a daily basis, you will even be more productive.
Yoga lifestyle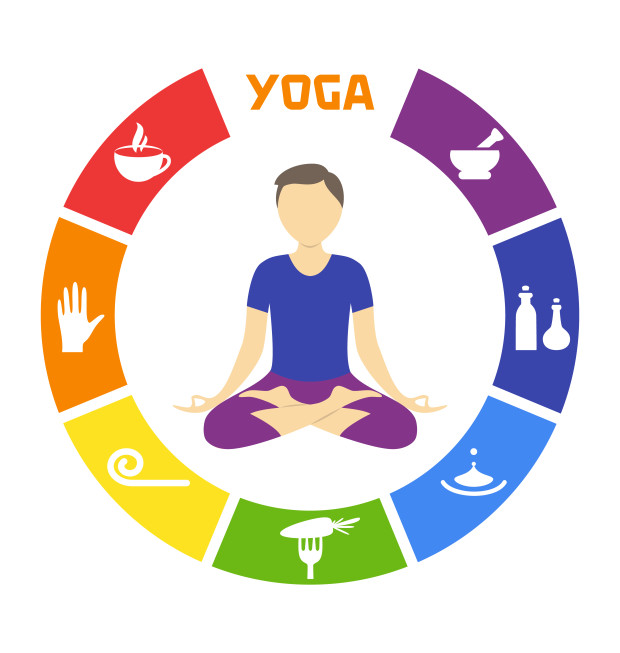 Get the most of your yoga classes by receiving a detailed report after each session and by adopting yoga in your lifestyle. Using it on a daily basis, you will gain a tremendous awareness of your body.
Fitness and workout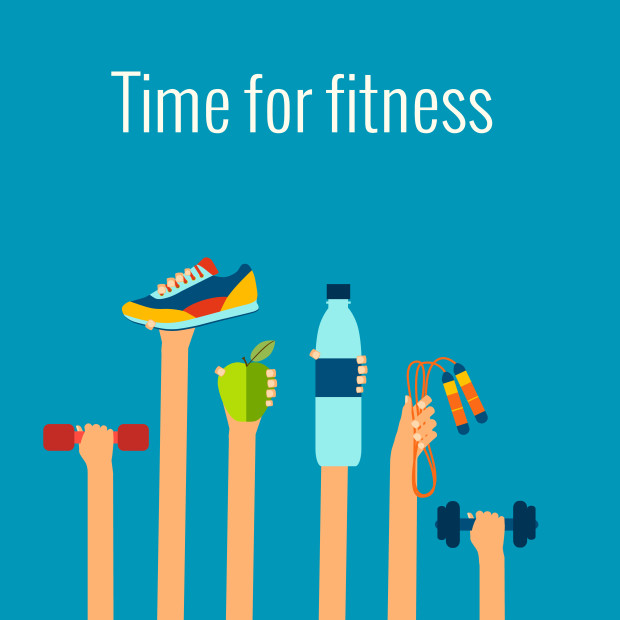 If you are already working out and you want to have a strong focus of the quality of your movements, this program is made for you. Using it regularly, you will avoid stupid injuries and progress faster.
Peaceful warrior pack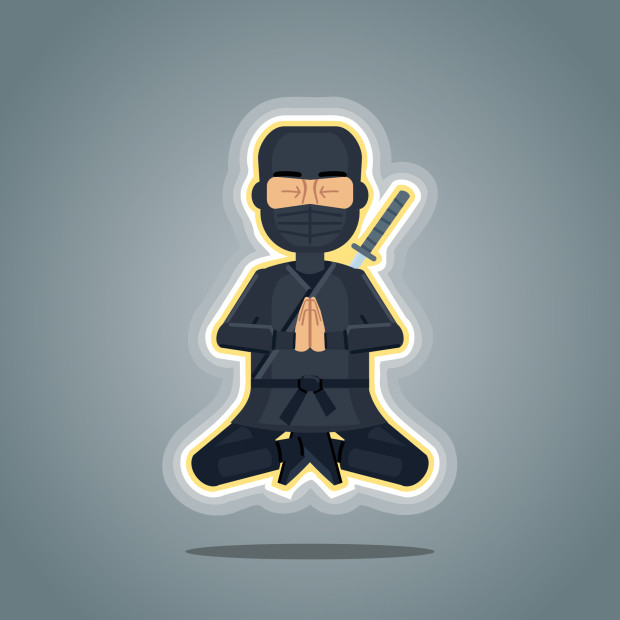 If you are curious about new ways to develop your physical potential, you need to take the Peace Warrior pack. It will gather the best practices from alternative disciplines. Using it regularly, you will be able to do amazing movements with your body.
CHOOSE YOUR PERKS

ABOUT KOONDAL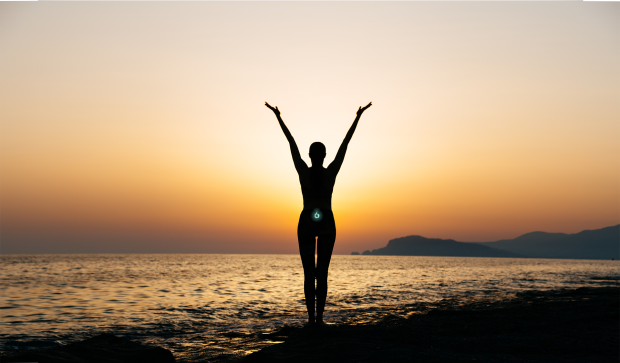 Koondal creates solutions combining hardware, artificial intelligence, physiotherapy expertise to develop physical capabilities. Whether you're an elite athlete, an everyday layabout, or somewhere in between, chances are you will eventually deal with back pain. And while a typical response to experiencing back pain is to take it easy, either by laying down and gulping on antalgics or stopping any strenuous activity, this approach can undermine the healing process.
Studies show that the best prevention and recovery strategy is a combination of body awareness and physical exercises.
Koondal stems from the sanskrit word "kundalini" in the concept of Dharma, refers to a form of primal energy said to be located at the base of the spine.
Koondal has offices in Paris (France) and Belgrade (Serbia).
MEET THE TEAM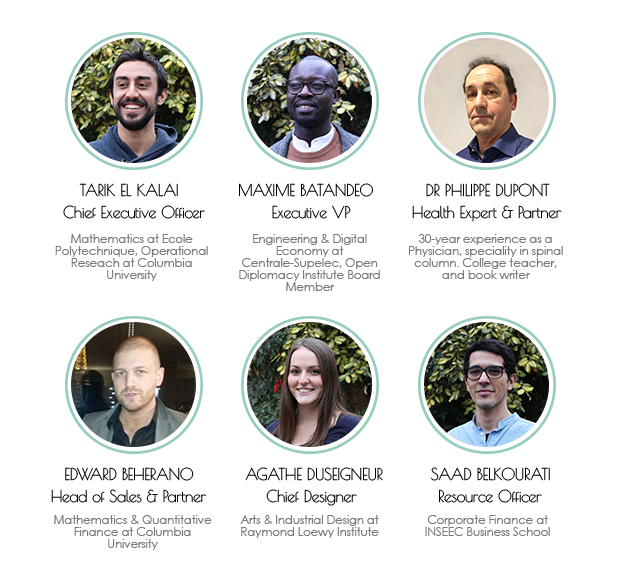 TIMELINE