OVERVIEW
Inkinite Reusable Planner comprises of a planner, organiser and a notebook.Being reusable, Inkinite makes an economical and eco-friendly alternative. The best practices followed in the operations during its manufacturing enables us to have a superior quality products for minimal cost. In order to bring this project to life, we need a minimum quantity to begin our production. Your support enables us to achieve this number and provide eco friendly planner for an affordable price.


About Us
We started Inkinite early this year in order to reduce the harmful impact created by the overuse of paper. We have established ourselves with a good reputation among a prestigious client base. We follow an optimised approach to manufacture our products because of which we are able to achieve superior quality for minimum cost. Today we are here to introduce a new variation of our reusable notebooks which can replace the traditional planners and organizers. We need to start our production with a minimum quantity in order to achieve superior quality for a minimum cost.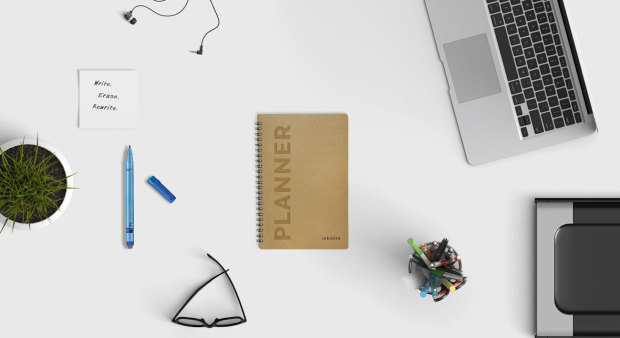 Inkinite Planner comes with a monthly, weekly and daily schedule in a handy reusable notebook. One can effectively plan all the activities and track them based on their preferences. Adding to this, white sheets are provided to make notes and for brainstorming sessions. All the pages are treated with a special UV coating which makes them dry erasable and easy to clean surface. Like a whiteboard, one can reuse the planner any number of times.
Planner Specification
Size : 5.8in x 8.3in A5 Size.
Page Format : Month x 2 , Week set x 4, Days x 2, Expense Tracker x 1,
Isometric x 1, Plain Sheet x 2.
Sheet Type : UV Coated.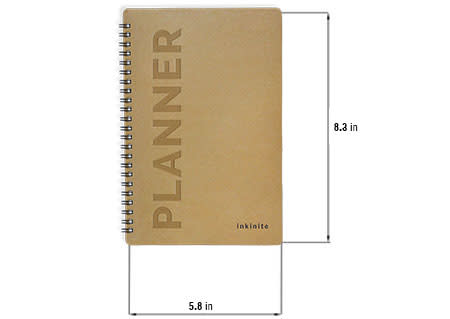 Planner Sheet Format
Landscape monthly format
Weekly Format ( Personal/Work To-Do | Habits Tracker | Hydration tracker | To Read | Shopping List)
Daily Scheduler Layout & Expense Tracker
Isometric grid & Adding to this, white sheets are provided to make notes and for brainstorming sessions.
Why Inkinite Planner?
The reusable planner is packed with templates which covers a wide range of uses. This makes it an alternative to notebooks, planners and organizers.
Being reusable makes it a great investment as it eliminates individual purchases and can be used any number of times.
The materials used in the manufacturing are eco-friendly. So it does not create a mess like plastic.
The reusable nature eliminates the wastage of resources as seen in traditional books. This helps conserve trees and makes the nature happy.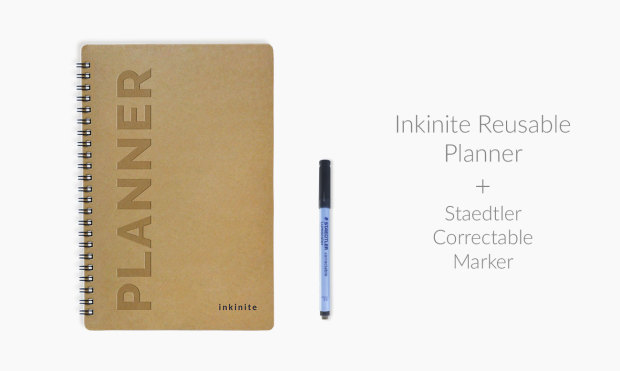 How this campaign benefits all
We need a minimum number to start our production. The minimum number is needed to in order to achieve the minimal cost for a superior quality. By this we can make a great quality product for an attractively affordable price.
With your support, you get to have the reusable planners from the first batch of production. The perks are designed in such a way that you get it for a price less than the intended retail price. Do check out the perks for great deals.
Risks & Challenges
We ship our products to a wide range of client base. Our client base vary from individuals to large companies and they come with all kind of requirements and requests. We have catered all their requirements in a satisfactory and a timely manner. This journey has helped us in eliminating almost all the risks and challenges one can face in manufacturing and delivering our products. We are also good to scale up our production to any number. So the estimates and the timelines provided by us are up to the mark to the best of our knowledge and experience. Other than these, we are susceptible to the usual risks and challenges faced by any other business in the industry. There may be a minimal chance of delay in the delivery of the products, in case of any unforeseen and emergency situations.
Other Ways You Can Help
Please spread the uses of reusable notebooks among your community. Educate the people about reducing the wastage of paper. Help the trees flourish in the nature. Also don't forget to spread the news of our campaign among your friends and family.
Note
In most of the countries, there are no import duties imposed for notebooks. In some cases, there may be a small amount of taxes imposed by your home country. Please check with the rules of your country for the same.

We ship our products only to the following countries due to restrictions. Please check the list before you place your order.
List of countries to which we ship the planner
United States | Australia | Canada | Germany | United Kingdom | Afghanistan | Austria | Bahrain | Bangladesh | Barbados | Belarus | Bermuda | Bhutan | Botswana | Brunei Darussalam | Bulgaria | Cambodia | Cayman Islands | China | Colombia | Congo, the Democratic Republic of the | Cyprus | Egypt | Eritrea | Estonia | Ethiopia | Fiji | France | Georgia | Ghana | Greece | Hong Kong | Hungary | Iceland | India | Ireland | Israel | Italy | Japan | Jordan | Kenya | Korea, Republic of | Latvia | Macao | Malawi | Malaysia | Mauritius | Mongolia | Morocco | Namibia | Nauru | Nepal | Netherlands | New Zealand | Norway | Oman | Pakistan | Philippines | Poland | Portugal | Qatar | Romania | Russian Federation | Senegal | Singapore | South Africa | Spain | Switzerland | Taiwan | Tanzania, United Republic of | Thailand | Turkey | Uganda | Ukraine | United Arab Emirates | Vietnam