What is
Flip
Mate
We all love our cats, and have even learned to love the mischief they get into. But one thing we can all agree on, is that we HATE cleaning the cat litter box. It is the one task that almost everyone tries to pass on to someone else in the house. That is why we created FlipMate! We want to make your life easier (including our self-we have many cats too) and take the hassle out of cleaning your beloved cat's litter box.
No more procrastinating until your cat becomes rebellious because FlipMate has made this dreaded chore the easiest task in the house.
How FlipMate works

It really is that simple! No more digging for clumps. No more wasted cat litter. No more mess or smells.
FlipMate saves you time and money so you can get back to laughing at your cat's amusing antics even faster!
Flip

Mate

is versatile

We know that not all cats are the same. Some like to kick the litter out while digging and some cats likes to spray up high. For those cats you can attach the litter guard to keep the mess off the floor.
You can also lay the lid flat and trap litter flat at the opening of the litter guard to catch all of the litter when your cat exits the box.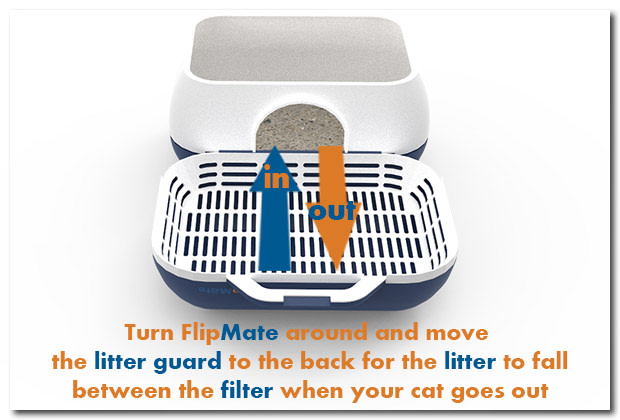 The lid is also completely removable when space is an issue, so you can keep the lid off the box until it is time to flip and change the litter.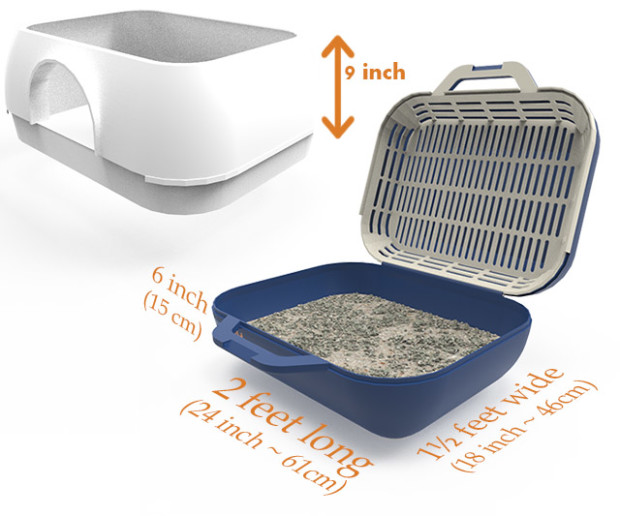 The
Flip

Mate

Advantage

Fast cleaning ● No more digging for cat waste ● Covered to control litter dust and waste odor while cleaning ● No heavy sifting filters ● Solid bottom base to prevent leakage ● Separate sifter keeps your cats safe, because unlike the buried sifter type litter box, your cat's paws can't get caught in the sifting slots ● Litter guard (doubles as a spray guard too) prevents cats from kicking litter outside of the box ● Prevents mess from cats that urinate in a standing or semi-standing position ● No mess or spills ● No hard corners to trap litter
Flip

Mate

is available in
Flip

Mate

is big, it's huge, really!

We've designed it to be the only cat litter box you'll ever need. With 30 beta testers owning various cat breeds, we have perfected the design to be perfect for any cat size from kittens up to huge 25 lb cats.

From the small cute adorable kittens to the biggest domestic cats out there, FlipMate will accommodate all sizes and breeds of cats
Flip

Mate

design secret
From our hearts to cat lovers everywhere
We have owned more litter boxes than we have had cats in our lifetime, and we interact with them everyday. When we first came up with the idea for FlipMate, we not only wanted something aesthetically pleasing to look at, but a box that also merged the functions of other traditional litter boxes, making FlipMate the best marriage of design and function.
We hope you like what we have done and support us by becoming a backer today. None of this would be possible without you.


Thank

You

and don't forget to share

Thank you for reading. Please share our campaign with your friends and family using the share tools shown below: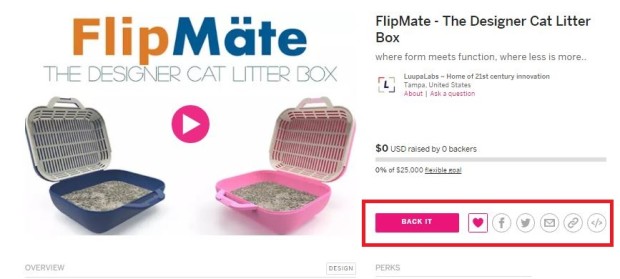 Got a question?
Need to ask something? Sure, chat with us on our Facebook page here or email us
Would you like your own combo?
3 pink and 2 blue plus 5 litter guards? The combinations are endless. Sure, just tell us what you want and we'll put everything in a giant big box so you can save on shipping.
Your shipping address is not listed in the perk?
No worries. We can deliver worldwide. Shipping prices may vary significantly from country to country as many carriers have got size limits. Just drop us an email and we'll get the lowest shipping cost to you.