Ergofip: a fully customizable hightech RGB ergonomic keyboard
This project has already launched.
French version of the Ergofip website

A 100% customizable split international keyboard with mechanical keys and RGB lighting.
Olivier Pons has been eating, sleeping and drinking IT since the age of 8, where he discovered a passion which knows no bounds. One day, he discovered a great keyboard by the name of Ergodox: open source, ergonomic, configurable and mechanical. Everything he was looking for. Well... almost!
He then began dreaming up the perfect keyboard and the result is finally here!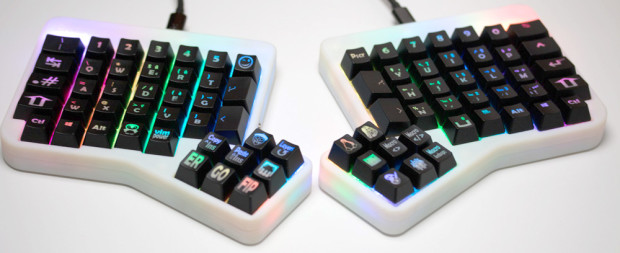 Click on the pictures to see the models: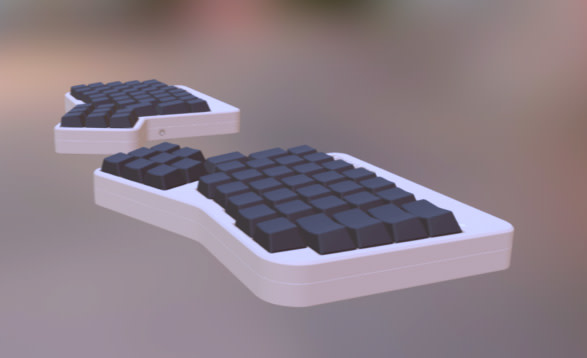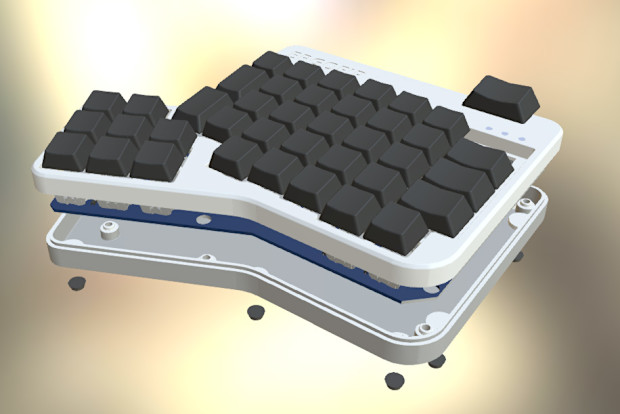 What makes the Ergofip unique and amazing
The online configurator:

Avalaible online
Fully international
More than easy to configure (never seen before)

RGB Lighting

Each key has its own light: for pure fun but also in order to identify the keyboard configuration (working, gaming etc.)
Thanks to the configurator, you can define the colors individually for each key.
Choose for the colors to light up whether the keys are held down...

...or not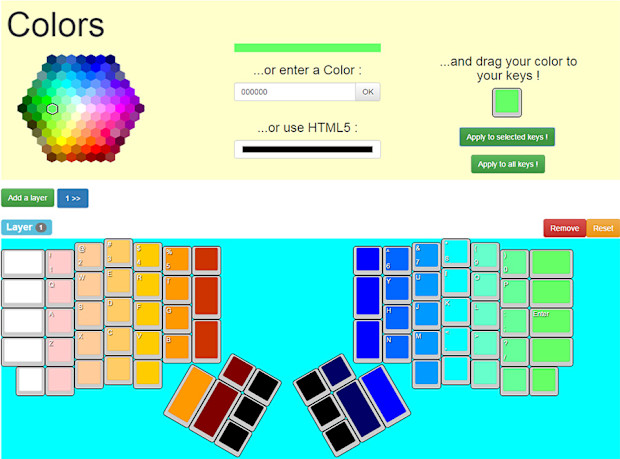 Special lighting effects: we've already included some nice effects: rainbow, raindrops, and so on.
​​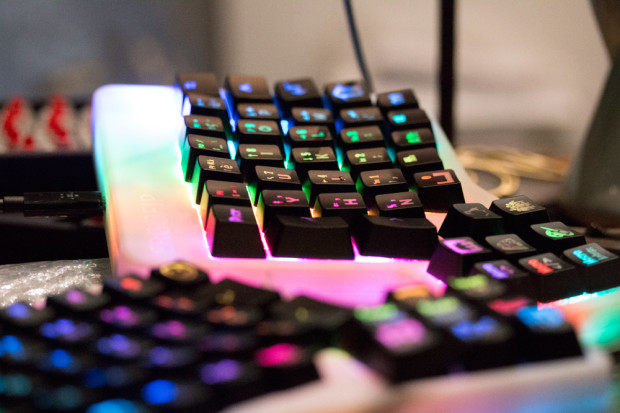 A jack socket has been added so you can keep the lead from your headphones in the middle at all times: no more discomfort! No more leads coming out, loose connections or tangled leads.

Ergonomic

On traditional keyboards, thumbs are only used for the space bar. Here you have a lot more!
Eight keys are dedicated to each thumb = a total of 16 keys for the two thumbs!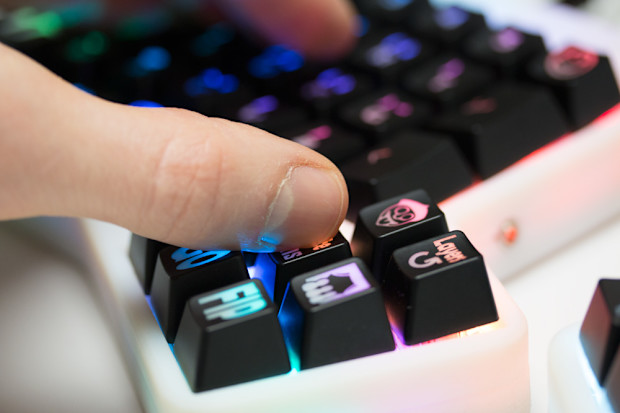 Custom print

Choose what you want to print on the keys: the light will shine through
Your customized keyboard will be truly unique
Here are just a few examples of what you can do...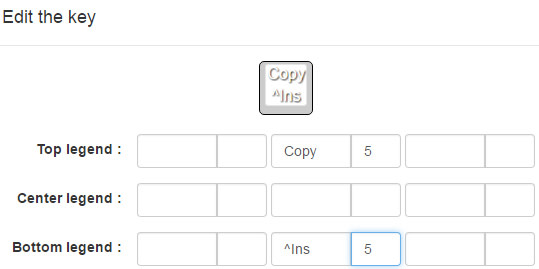 ...and you'll get: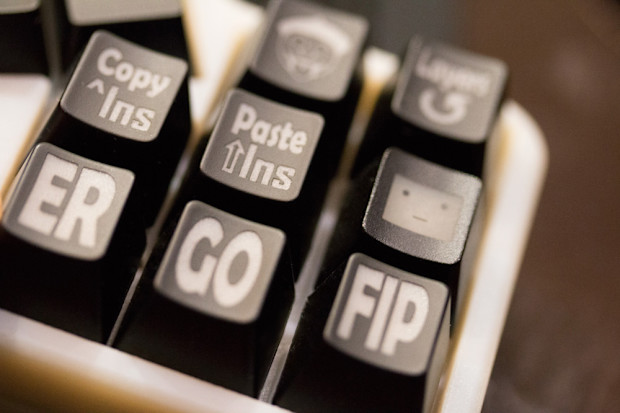 Macros! What is a macro? You associate a sequence of characters to a key - thanks to the configurator this is a child's play. Then you will be able to send this sequence with a single keystroke!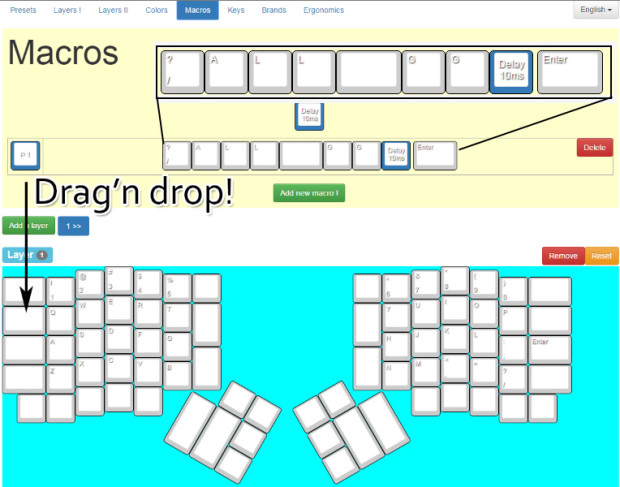 French. Yes. The French touch is there for all to see: Damien, an electronics engineer specializing in the industrialization process, has already been involved in the mass-production of many products, and with Damien, top quality is guaranteed: as many experts will tell you, try it and you'll love it
Full two-years manufacturer's warranty
Good news! This unique keyboard will also help certain disabled people with their daily tasks. Thanks to the simplified configurator, they will be able to forget their difficulties, and using the computer will become a second nature.
Changes to your daily life
Ergofip was made with and for you: gamers, developers, geeks, writers, typewriters and so on: basically anybody wanting to keep up with state-of-the-art technology.
Such a keyboard will meet all of your expectations:
You will be able to play faster: you'll win every game from now on!
You will be able to develop even faster and your customers will be the first to be rewarded
Your fully personalized keyboard will make you unique and the envy of your community
Your publications and other articles will be ready in no time
You used to be fast: well this keyboard will bring you to the next level!
Choose your mechanical switches
What does mechanical keyboard mean? The best explanation can be found here.
What is relevant though is the color of the mechanical key switches which is a synonym of "what typing experience you want to have". They will always be nice to touch and press; a feeling you'll never have with the squishy rubber membrane you find on most keyboards.
Depending on the color of the switches, you'll experience differents sensations: sometimes they'll click (you feel a slight "bump" when you push the key) and sometimes they won't; sometimes you'll have press them softly sometimes hardly (this is called "actuation force" and its measure is in gf).
There's also the "travel" your finger undergo when you push a key, before the information is sent. This is called "pre-travel" and it's measured in millimeters.
For most gamers, for example, you'll want something linear that is very easy to push so you'll get a very short response time. Those are red switches.
For peole who like to type "hard", you may want the black (yellow are the same, just not the same manufacturer) switches: like red but you have to push a bit harder.
For people who like the "bump" when they push the key, you'll want the blue switches. They give you a really nice "bump" sensation, but be careful: they'll click! If you a sensitive to noise this may be a problem.
...For those sensitive to noise who still want the "bump" sensation, you have the brown switches: they are a compromise between red and black (linear = no bump but silent) and blue (bump but clicks).
The switches are a matter of taste. Because we love games, we've made our two prototypes with red switches.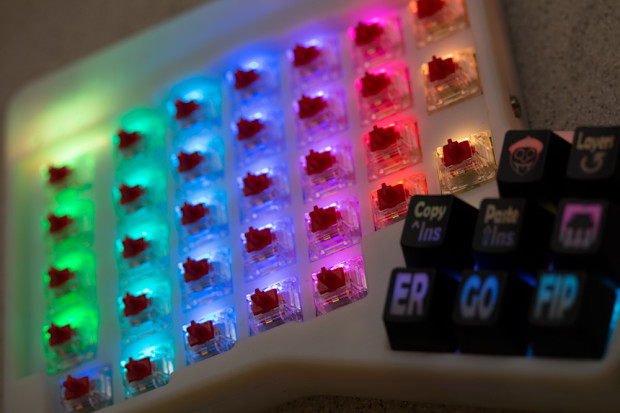 You have the choice! Here's a recap:
Switch
Force

(±15gf)

Pre-Travel

(±0.6mm)

Feeling
Blue
60g
2.3mm
Tactile key, nice sensation. Makes clicking noise.
Brown
55g
2.0mm
Small bump, tactile, and quiet enough for office use.
Red
45g
2.0mm
Most gamer's choice. Fast response time, no bump.
Yellow/Black
50g
2.0mm
Like Red, but if you like to type hard!
You can ask us for Purple Zealio Switches (they are tactile, 65g actuation), which are brand new switches: if we get enough orders you'll be one of the first in the work with those switches!
During the mass-production, the switches will be supplied by Gateron, Outemu, Khail or Cherry. They all produce incredible, quality switches.
Special kickstart edition!
For those happy to show that they've been the first to get such an amazing keyboard, we've made this gold-effect, engraved "Kickstart edition" text!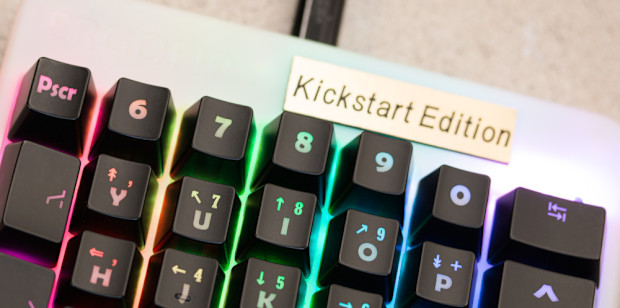 If you prefer to have it engraved on the back, just email us: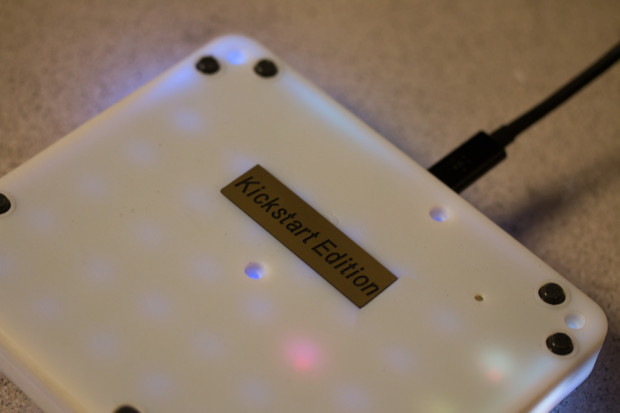 Ergofip key chain
If you believe in our project, and are willing to participate, invest in something that will be with you every day: this 3D keychain, Ergofip's brand, will be yours!
Click on the picture to see the 3D model: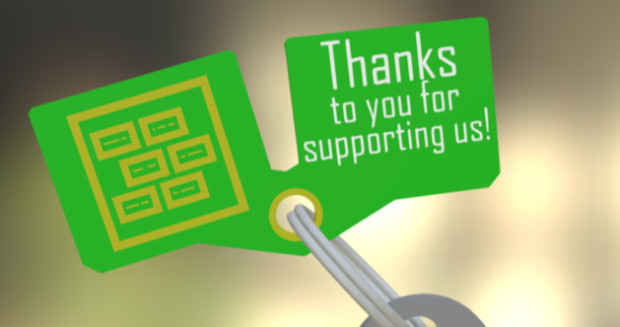 Project schedule and timeline
Second quarter, 2016
Olivier Pons designs the whole Ergofip configurator. Done.
Third quarter, 2016
Spicetronic makes the first working prototype of the Ergofip. Done.
Fourth quarter, 2016
Spicetronic makes two working prototypes of the Ergofip. The second has more keys for the thumbs (you only have pictures of the second one, because it's awesome!). Done.
First quarter, 2017
The making of the molds takes around two months. There is a very short turnaround for this thanks to Damien who has already done this many times.
Adding traditional, international layouts - online configurator. Even though there's already a QWERTY and an AZERTY layout, we plan to add traditional keyboard layouts for more than 20 countries.
Implementation of a new feature: password (lock your keyboard!) (keyboard firmware + online configurator).
Second quarter, 2017
Carry out more testing of the end product and apply finishing touches. Obtain CE and FCC certification for the Ergofip.
June-August, 2017
Mass production: thanks to Spicetronic, who have already produced many electronic components successfully, this milestone will be reached on time.
November, 2017
We welcome and will listen to all of your suggestions, and the Ergofip of the future will be inspired by your feedback. The first suggestion to be applied will be the addition of new customized colors for the Ergofip case.
FAQ
Who created your awesome video?
We're glad you asked! The video was shot by Jean-Romain from Bonjour Studios.