Detecting the presence of ammunition in firearms and bombs is a complex problem, yet the need for early detection of concealed firearms is becoming increasingly important in our world today. In bolstering America's security efforts for airports, and other areas where weapon threats have occurred heavily in the past, authorities have realized the vital need for detecting smokeless gunpowder, the main ingredient in loaded guns and ammunition. Traditional technology is expensive and, therefore, only used in places that have the budget for these detectors (airports, government agencies, etc.).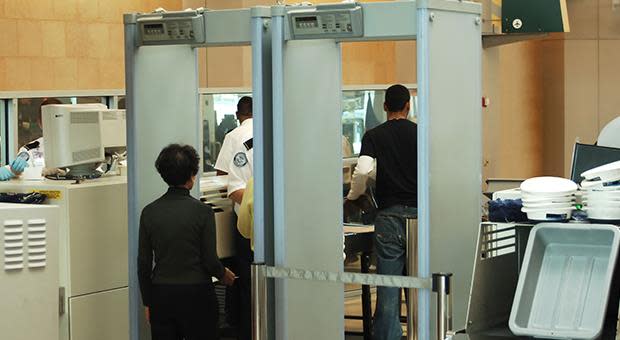 Conventional methods for detecting the presence of firearms are limited to metal detectors and screening systems commonly used in airports and secured buildings. These large pieces of equipment require individual, up-close-and-personal scanning methods that many people find intrusive and uncomfortable, not to mention causing long lines. They also are extremely expensive, putting them far out of reach for many smaller businesses and public areas. But what about schools, public venues, event centers and other places where the need for this kind of security has been rising in recent years?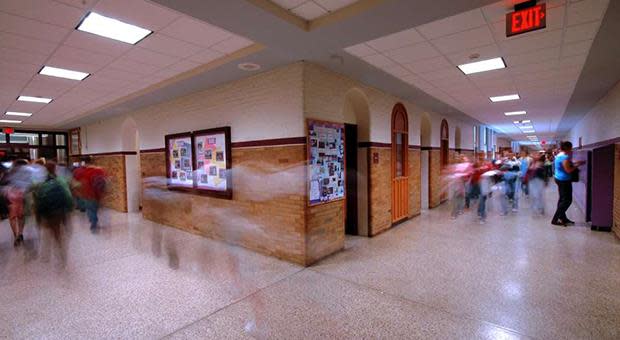 Early Detection to Improve Security
At Solution Sensors, Inc. (SSI), we have created the first ever portable device to detect gunpowder across distances and barriers. Our patented technology accurately detects the gunpowder that is found in the ammunition of modern handguns, shotguns, and rifles. In its current form, the device is able to identify the presence of a loaded .38 caliber pistol in a closed car trunk from about 9 feet away.
How Do We Detect Gunpowder at a Distance?
The sensor is able to detect gunpowder by sensing the unique electric field that naturally occurs in smokeless gunpowder. This electric field occurs at very low frequencies and passes through clothing and other barriers used to conceal weapons. This crucial aspect of our sensor is what enables us to identify loaded firearms and smokeless gunpowder bombs among a crowd of people, behind walls and doors, or inside a car during a traffic stop.
Unlike the bulky, traditional full-body scanners and metal detectors that places like airports use, our portable design can be used in any environment. Our sensor is designed to be passive, and uses no harmful radiation or intrusive body scanning. What this means is that police and other security agents can catch the bad guy completely off guard. This is a vital advantage of our design. With our technology, places like schools and public venues, which don't have the room or money for large scanning devices, can use our sensor to discretely check visitors and students coming in and out of the building for concealed firearms. A side benefit is that this screening is done without slowing the normal flow of traffic.
From a user's perspective, here's how it works: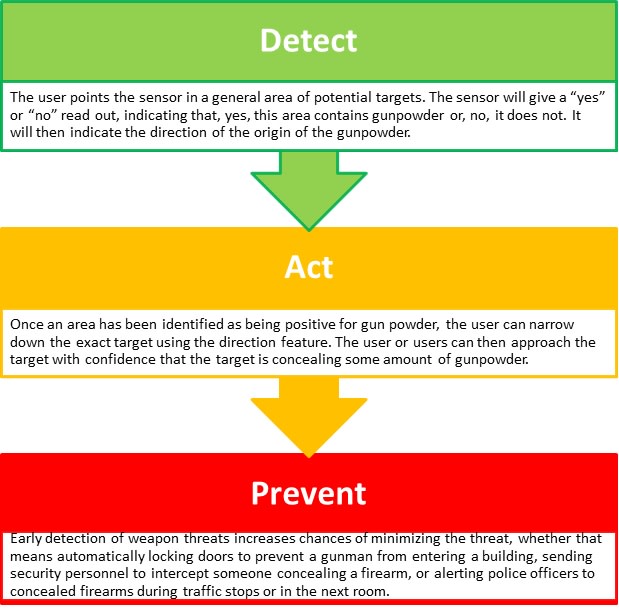 With SSI's technology, security from loaded guns can be made available anywhere we go, and will no longer be reserved for places that can afford the current equipment.
A Portable Solution for Detection of Loaded Guns
We are working to convert our technology into a digitized version that will be easy to use, and can be integrated into wearable devices, into entry-ways, and into other forms. Once we have done this, we will have a unique technology that, we think, will help enhance public safety.
After completing an initial version of the device that demonstrates the effectiveness of the technology, we conducted numerous interviews with members of law enforcement, of government agencies, and of security companies, and received very positive feedback from everyone we spoke with. This feedback has re-assured us that having a technology capable of detecting concealed firearms would provide greater peace of mind for law enforcement, for parents, for business owners, and really anyone who interacts with the general public.
These conversations also inspired us to meet certain goals in our development plan:

We're moving towards a device that meets all of these goals and more. You can help us get there faster with a contribution, or even by letting other people know what we're trying to do.
Our Goal is to Have a User-Friendly Sensor in 6 Months
After we finish our campaign, we will have the resources to start work on digitizing our sensor. Starting from our evaluation board, we can complete the digitization process in approximately 6 months after we reach our funding goal.

With the sensor converted to a user-friendly version, we will be able to release a portable prototype that will be able to alert the user to the presence of gunpowder with minimal error. At this point, we would also look to you, our backers, for product ideas.
If you plan to use this device, how would you want to carry it?
Clipped on your belt?
Worn on a vest or jacket?
Hidden in a doorway or hallway?
Some other form we haven't thought of yet?
How Will Your Contributions Help?
Over the past few years we have been refining the technology and now the timing is right for us to make greater strides towards developing a personal detection device. We have proven the technology works, we have demonstrated its capabilities with law enforcement and received their input, and we have finalized the development plan that will get us to our next major milestone. Your contributions will enable us to accelerate the execution of our development plan. We will do this by expanding our technical team and working with our development partners to digitize and test the sensor. The more contributions we receive, the closer we will be to getting this technology into people's hands.
Besides the monetary contributions, we look forward to forming a community of backers who believe in the importance of this technology, and to whom we can turn to for input.
Other Ways You Can Help
If you believe in the importance of what we're trying to do, but don't have the funds to contribute, you can still help us by sharing our campaign with your friends and on social media.
Meet the Team
Howard Sidman, President
Before SSI, Howard held a variety of senior posts in the U.S. Navy. These positions led him to obtaining senior executive positions in the Departments of State and Defense during the Reagan, Bush and Clinton administrations. Howard retired from the Navy in 1995 and founded H. B. Sidman & Associates, a firm providing strategic planning and market analysis for developing companies. Now, as president of SSI, Howard oversees all matters of the company relating to R&D, product development, government relations, and marketing & sales.
William Hutson, PhD, Chief Scientist
Dr. Hutson's background involves the analysis of complex signal environments, including sonar (active/passive), electronic (active/passive), microwave (active/passive), ultrasound and electromagnetic field effects that have led to advances that include the detection, identification, analysis and tracking of new, unrecognized features at very low signal-to-noise ratios. His expertise and scientific history is key for our business. He is responsible for the timely patent protection, understanding and testing of our products.
Robert Van Dine, Technology Officer
For more than three decades, Robert has been involved in the management of technology, strategic planning, operations and engineering in the manufacturing industry. His experience in these sectors includes Bethlehem Steel, Industrial Modernization Center of PA and Securetec, Inc. As our Technology Officer, he heads engineering and product development.
Ted Wong, PhD, Chief Strategy Officer
Dr. Wong has more than 40 years of U.S. and international business experience in the operational functions of research & development, sales & marketing, finance, and general business. He also has extensive experience in sensor development, video compression and consumer electronics. As Chief Strategy Officer, Dr. Wong is responsible for strategic planning and business development, including licensing and managing relationships with development partners.
Raymond Tam, Chief Financial Officer
Raymond has had diverse experience in capital markets, leverage finance and strategic advisory. Most recently, he co-founded and served as the CEO of a strategic advisory firm focusing on mergers and acquisitions. As the CFO, he is responsible for financial control, capital formation and investor relations.