Cold Brew on Tap - Unique Cold Brew Coffee Maker
This project has already launched.

Dreamt up by a husband and wife team in Boston, the patent-pending Cold Brew on Tap was born out of our personal need for an easy-to-use cold brew maker that was big enough to get us through the week!
Zero expertise and less than two minutes of simple prep is required to brew a batch of cold brew. The 12 inch tall Cold Brew on Tap fits perfectly on most fridge shelves and can make between 1 quart and 1 gallon (16 helpings) of cold brew - ready to serve up right from your fridge!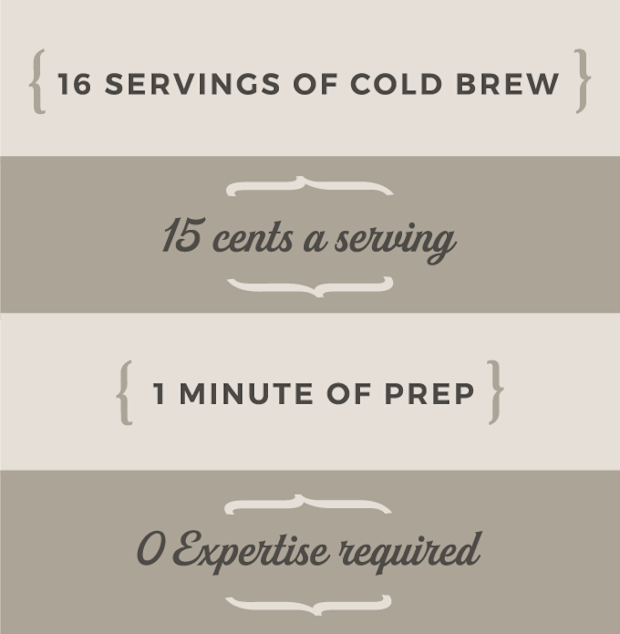 The Cold Brew on Tap is the first and ONLY cold brew maker that currently exists on the market that makes more than 6 cups of ready to drink cold brew at a time. It's perfect for making a week's supply of cold brew for a household of one or two people (depending on how caffeine addicted you are!).
The Cold Brew on Tap takes advantage of the high-quality glass construction of an extra large mason jar and has a ton of awesome features!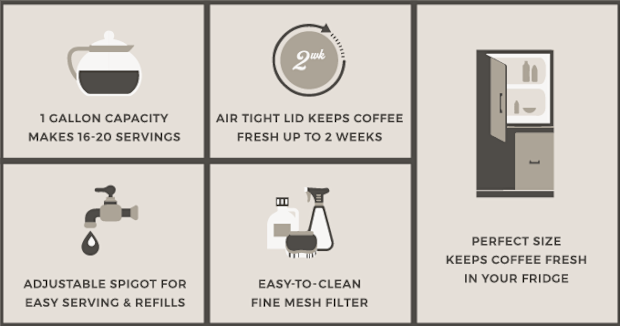 Now you can skip your daily morning stop at Starbucks and starting saving time and money with the Cold Brew on Tap.
Imagine spending just 15 cents for a cup of cold brew versus the $3-$4 it costs you at a coffee shop and having complete control over the taste and strength of your cold brew!

So, how did we dream up the Cold Brew on Tap?
As a married couple living in Boston we're surrounded by amazing but expensive coffee shops that were doing a number on our wallet. That's us below!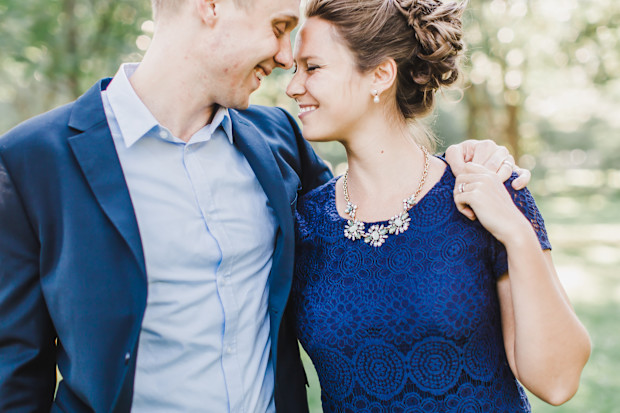 When we realized that our daily coffee shop visits for cold brew were costing us more money and time than we wanted to admit we started looking for alternate solutions.
Unfortunately, there wasn't one!
Yet.
What we couldn't figure out was why every Cold Brew Coffee maker we tried for in-home had issues!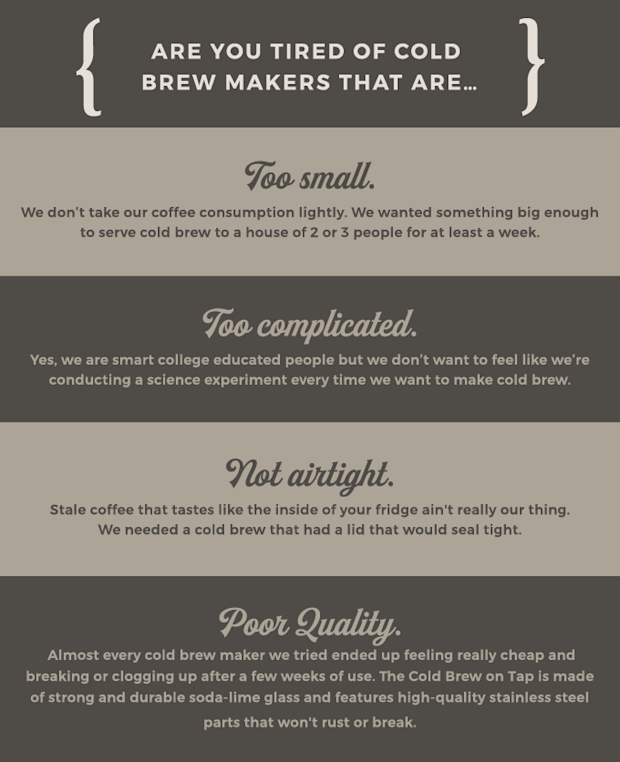 We tested a lot of different methods and contraptions on the market and finally settled on a design and functionality that was stylish, on trend, easy to use and convenient to store and serve from.
The Cold Brew on Tap is such great quality that we even have a lifetime guarantee!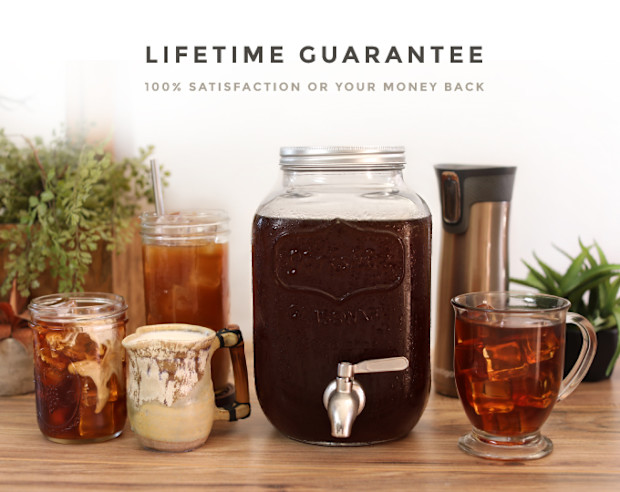 Now we start our weeks by spending less than two minutes prepping our Cold Brew on Tap on Sunday morning. It's ready to go on Monday morning and one batch makes enough coffee to get both of us through the week.
Every morning before work, we just open the fridge, turn the spigot on the Cold Brew on Tap, fill up our thermoses and get going!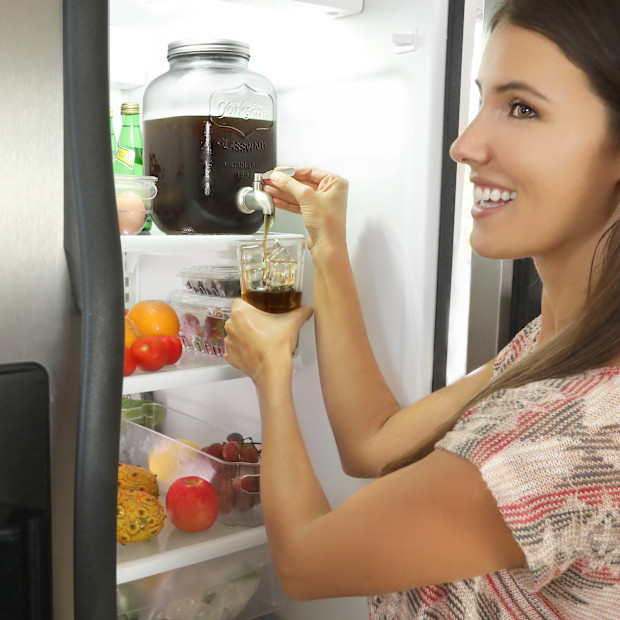 Why Choose Cold Brew on Tap?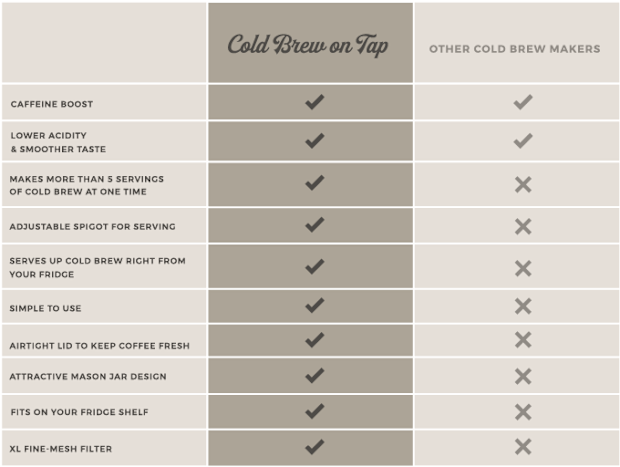 Get Complete Freedom and Control Over Your Coffee
With the Cold Brew on Tap you're in total control of the brewing process - from how much cold brew you want to make to the flavor of the coffee to the strength.
Customize your cold brew according to the taste by using your favorite beans or coffee grounds. Use more coffee grounds and more water if you want to make a big batch and increase your brew time if you prefer stronger coffee. No matter how you brew it the process is quick and easy. It takes less than a minute to prep a whole batch of cold brew that will get you through the week!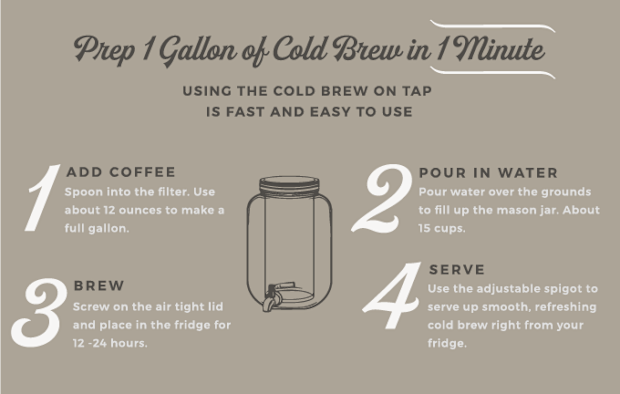 Using the Cold Brew on Tap gives you complete freedom and control over your daily cup of cold brew and you should experiment with what suits your taste best!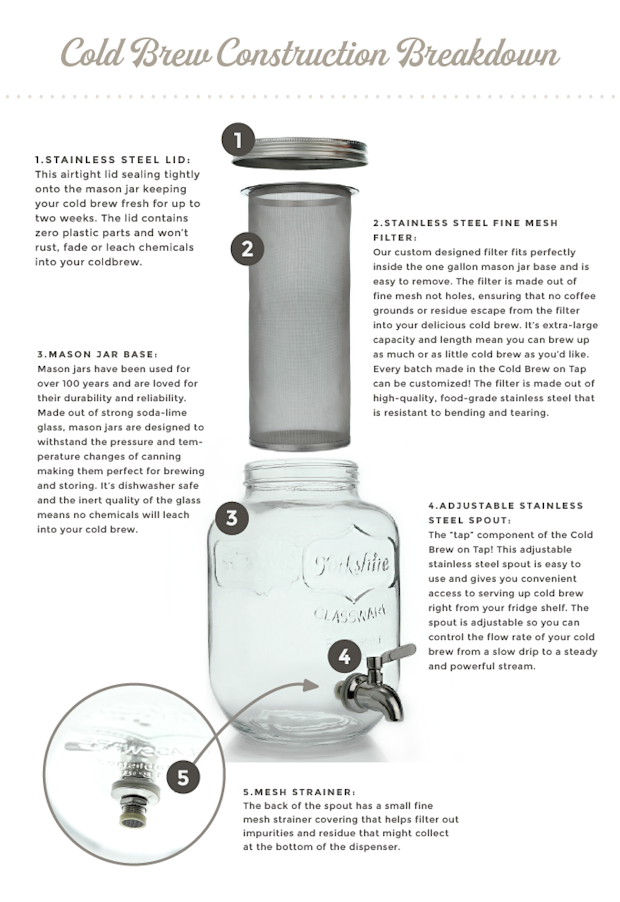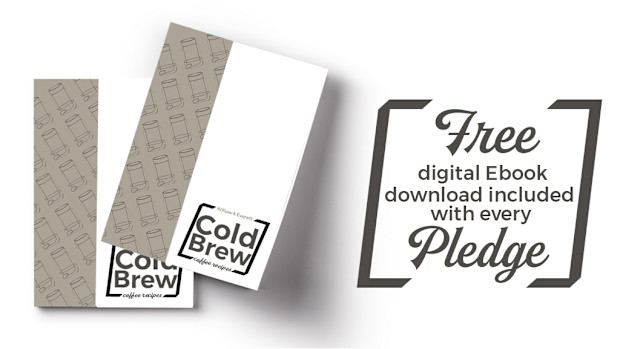 Upgrade Your Pledge Level and Get: A set of 2 Glass Mason Jar Coffee Mugs
Upgrade your pledge level and get our set of two high-quality glass mason jar coffee mugs complete with 1 seal tight travel lid, 1 straw lid and 1 stainless steel straw. This set is perfect for taking your cold brew on the go (with the sealing lid) or for sipping cold brew from your desk or on the couch. The handle makes it easy to carry and transport and the stainless steel straw keeps your cold brew feeling cool and refreshing.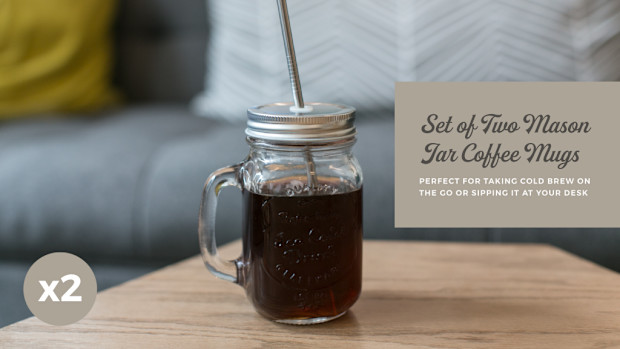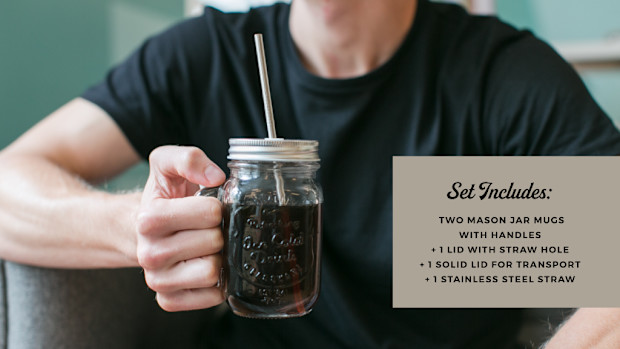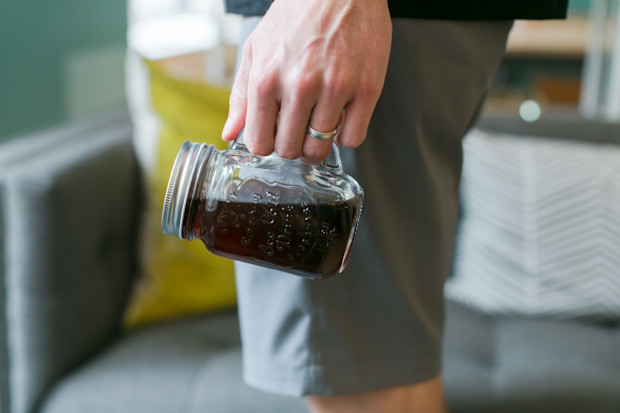 Risks and challenges
A fully functioning prototype of the Cold Brew on Tap has already been completed and we've been using this prototype for the past few months working out any kinks and improving functionality.
If fully backed we expect to have mass production of Cold Brew on Tap completed by November.