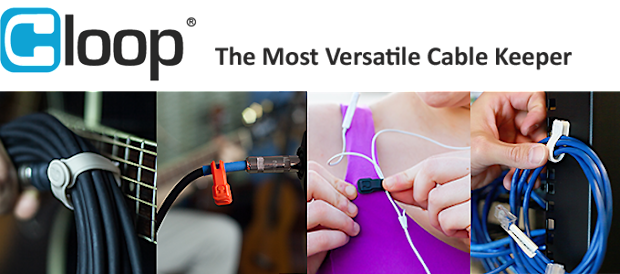 Cloop® is an elegant magnetic cable keeper, which serves as a cable management solution for people on-the-go. We are back with the new Cloop XL! which is specifically designed to help you keep your medium to large sized cables neat and tangle free. Patent Pending. USPTO application 14/611,254, and PCT International application PCT/US16/12538. US priority date of February 10, 2014.
Cloop® keeps your cables quickly organized and ready to go!
Keep your cables tidy to easily access them
Always have your cables ready to use
Simply snap to keep your cables untangled and organized
No more untangling knots
No more messy cables
No more cables going to that dark place behind your desk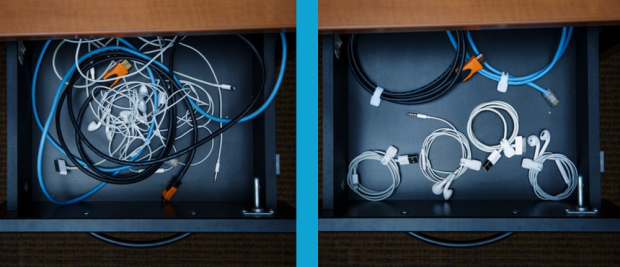 Cloop XL lets you stay organized so you can quickly retrieve the cable you need. We all have busy lives so don't waste it untangling.
We have listened to our previous backers and have created Cloop XL with new and improved features designed especially for larger cables.
So what's new about Cloop XL?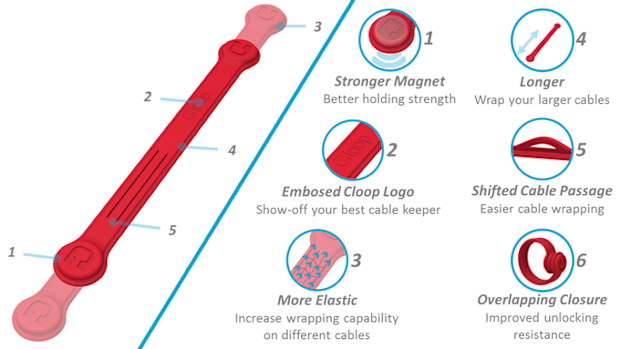 Cloop® is easy, convenient and fast! Save time, get organized and stay on-the-go!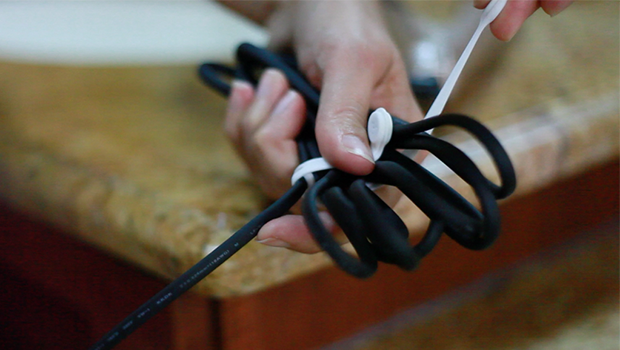 CLOOP XL - New elegant design for those larger cables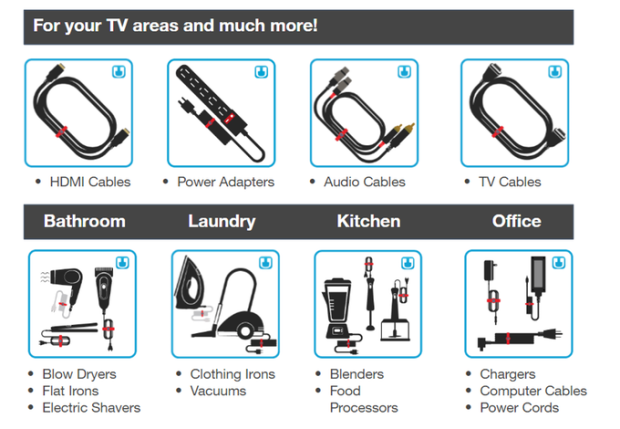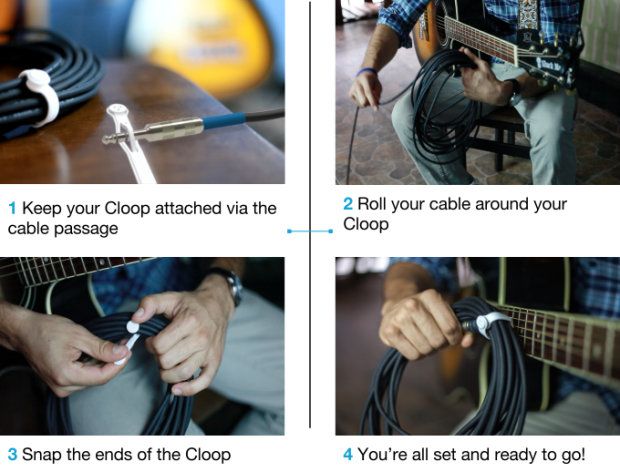 Hate having to wrap Velcro around too many times? With Cloop you only have to tie it around once and hear that snap!
CLOOP XL - Quick and easy magnetic closure


We have carefully designed Cloop XL to offer you more capabilities to tackle your larger cables. We have given Cloop XL an elegant and more powerful closure mechanism with stronger Neodymium magnets. This, together with a high-quality silicone that is more elastic, will allow Cloop XL to fit many cable profiles. The silicone material makes Cloop safe, durable and very resistant to frequent use. Also, the silicone will not stain your cables.
The magnets are embedded to avoid scratching your other accessories and to prevent them from coming out. Nonetheless, this doesn't prevent you from attachingCloop to your bag, clothes or anchoring it to a metallic surface.
The cable passage keeps your Cloop attached at all times so you don't have to worry about losing it. It also facilitates easier cable wrapping. Patent Pending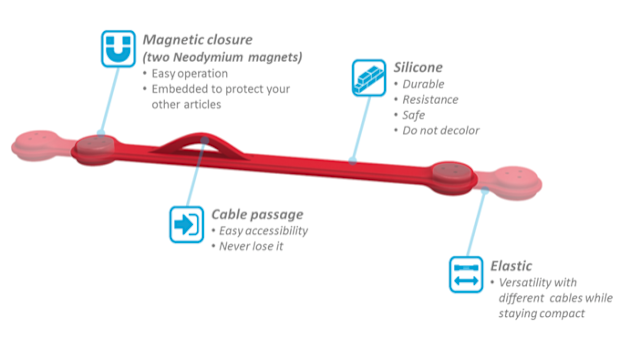 We have done numerous prototypes and testing using our own 3D printed molds to optimize the new Cloop XL design.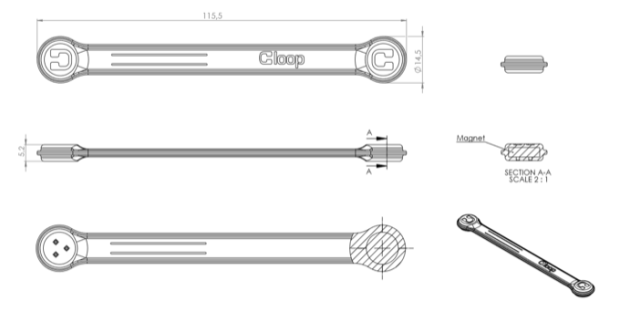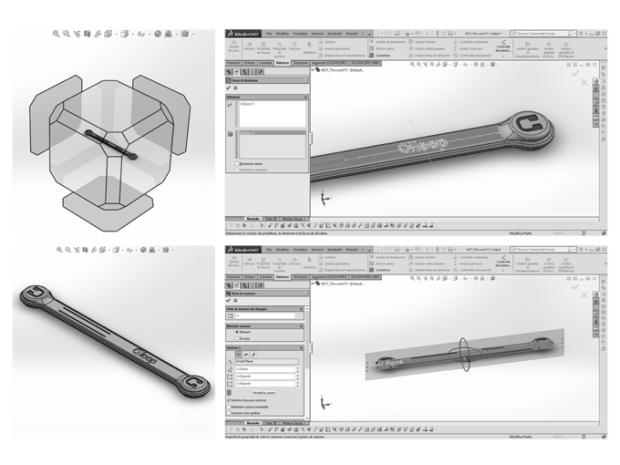 Cloop XL's new design is not only elegant but also includes detailed features optimal for its purpose.
Our earliest priority date for our U.S. nonprovisional patent application (14/611,254) is February 10th, 2014. And our invention was conceived of even before that priority date. We also have a PCT international patent application (PCT/US16/12538).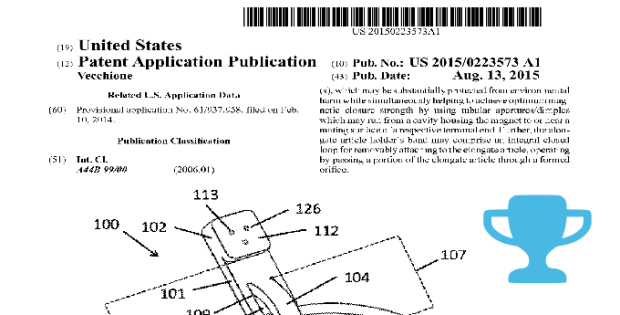 Cloop XL is the perfect organization companion for your bathroom accessories!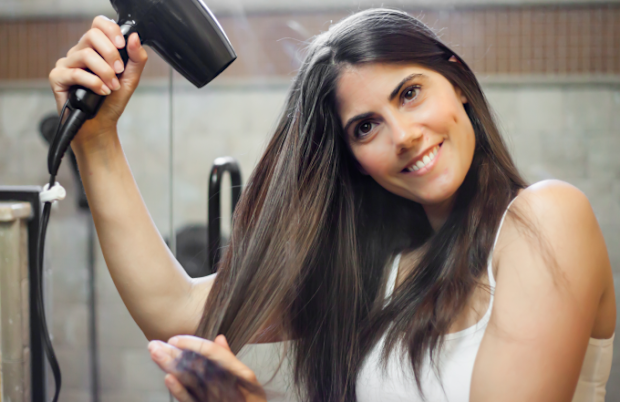 CLOOP XL for your hair dryer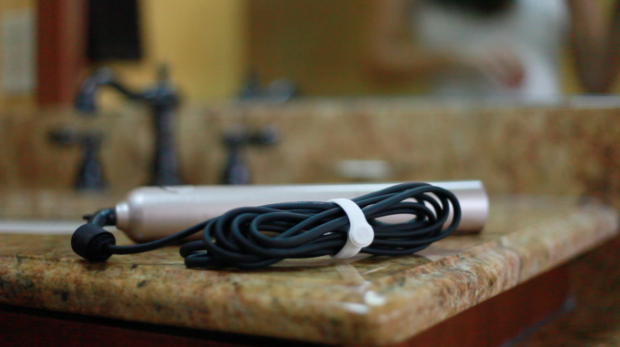 CLOOP XL for your hair iron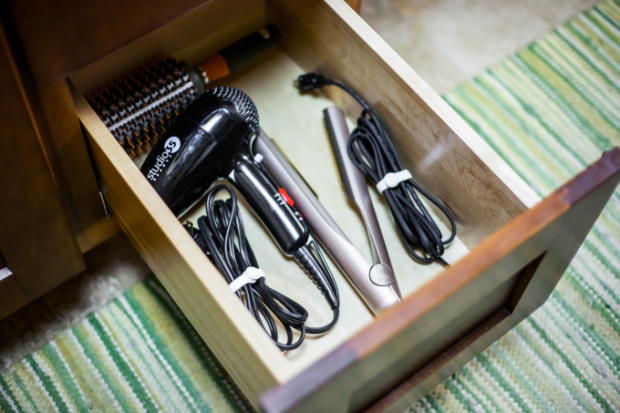 CLOOP XL & bathroom drawer
Cloop XL Tackles Those Power Cords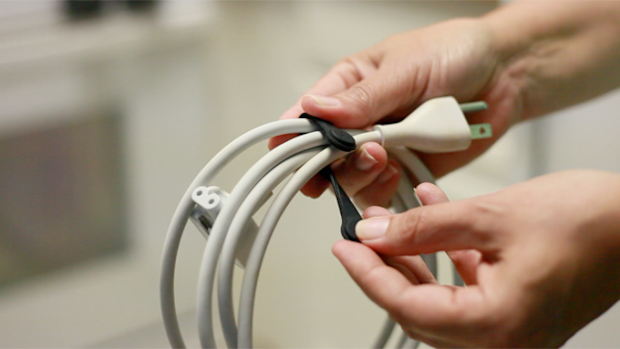 Cloop XL for Mac's power cords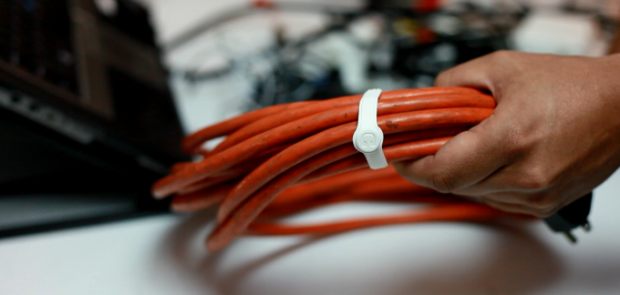 CLOOP XL for your extension cord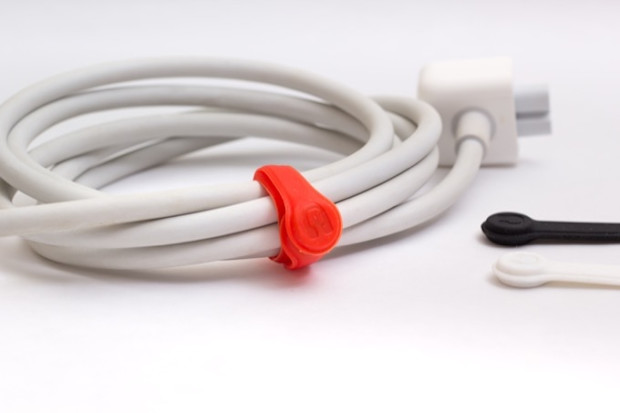 CLOOP XL - Elastic so you can wrap around twice when needed


We didn't forget about Cloop XL's younger siblings. Now Cloop Small and Large 2.0 come with a more elastic silicone and we have also updated the Cloop Large profile for more enclosure capability.
Now, with the complete Cloop® family you have three different sizes and a numerous range of applications. Your imagination is the limit!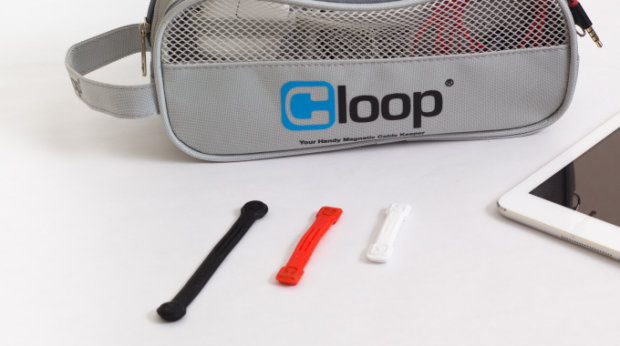 Now, with the complete Cloop® family you have three different sizes and a numerous range of applications. Your imagination is the limit!
Cloop Family Size Comparison
With its 115 mm of length Cloop XL is 155% larger than Cloop Large and 213% than its youngest sibling Cloop Small.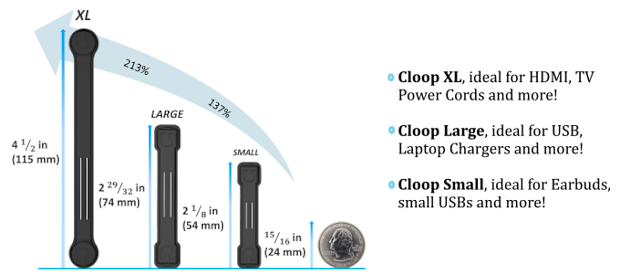 Cloop is compact, but it elongates to wrap differents cables profiles!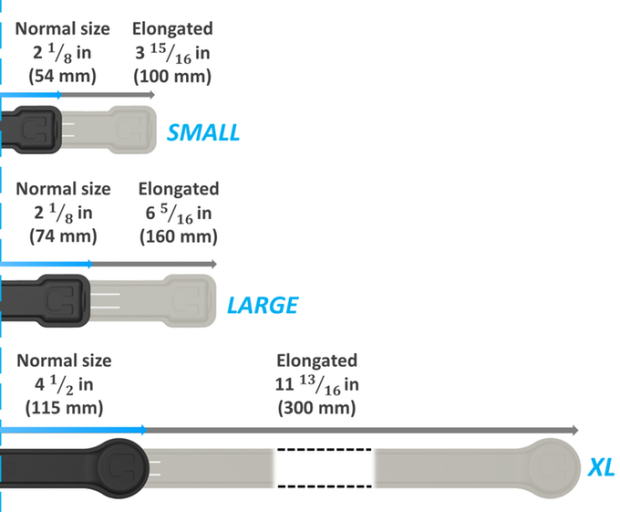 Cloop Large for Work or the Office

CLOOP LARGE & ethernet cable anchored to a metallic object
Thanks to the magnets you can anchor your cable to a metallic object.
Cloop Small for Travel and Commute

CLOOP SMALL for your earbuds to make travel easier
CLOOP SMALL Quickly put away your earbuds
Cloop Small at your Desk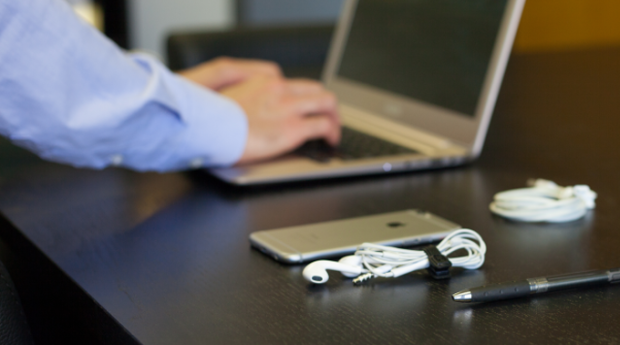 CLOOP SMALL & iPhone's earbuds & USB cables
Cloop Small to Attach your Earbuds to your Shirt while on-the-go!

CLOOP SMALL - keeping your earbuds in check while on a call or working out
CLOOP SMALL - quick snap closure

Do you ever find yourself looking for your cell phone cables behind your desk or nightstand? With the Cloop Base you can easily attach your Cloop and cables to the side of your desk/table so you always have them within reach!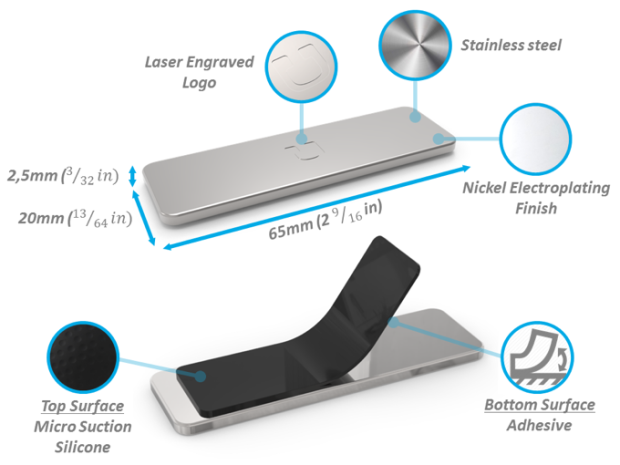 The base 100% stainless steel, comes with a new stronger and removable micro suction silicone so you can attach it to any flat/smooth surface. It can be reused and attached to another place over and over. The micro suction does not use glue so it won't damage your furniture.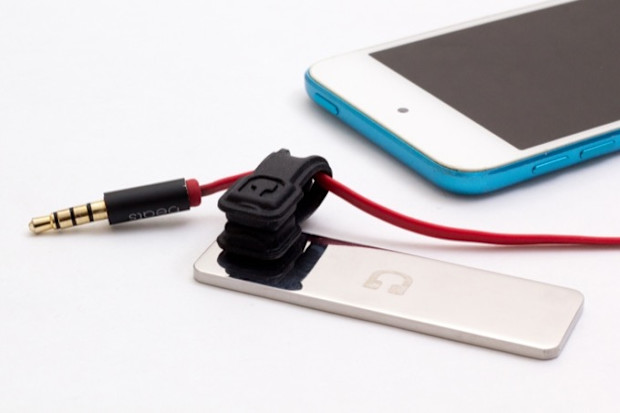 Cloop Base for your night table or desk
Cloop Small and Large with the Base. Always have your cables within reach and avoid having them fall on the floor!

CLOOP SMALL with base for your nightstand or desk

Wouldn't it be great to have all of your cables kitted and organized together in one bag during your commute and travels? We have the perfect solution for you!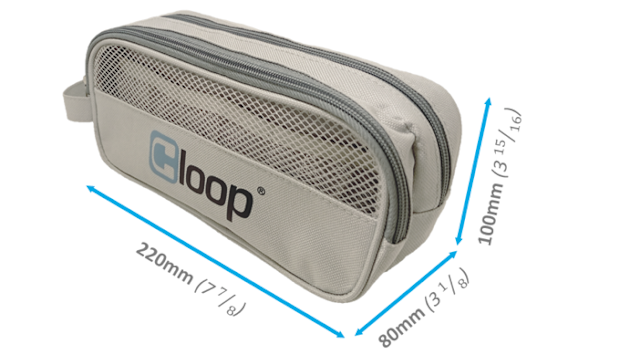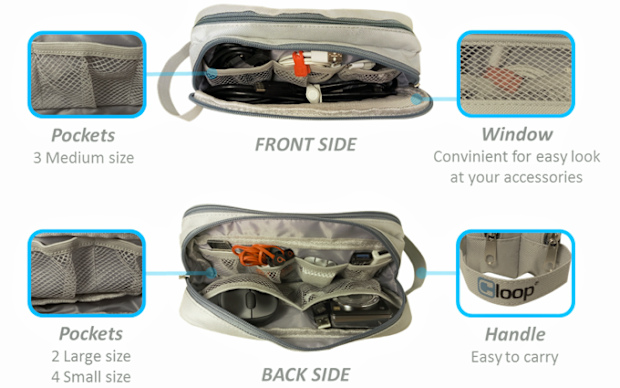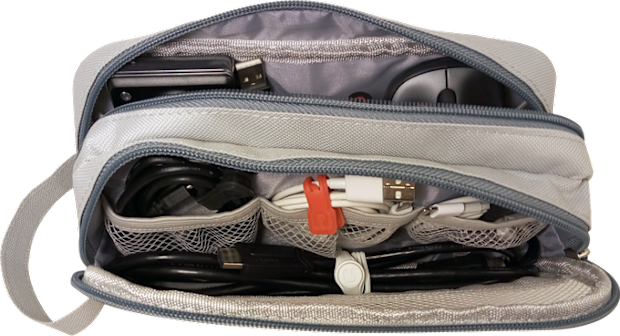 CLOOP BAG - fully loaded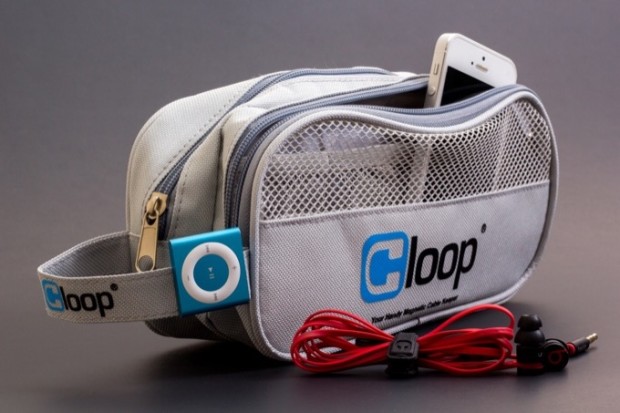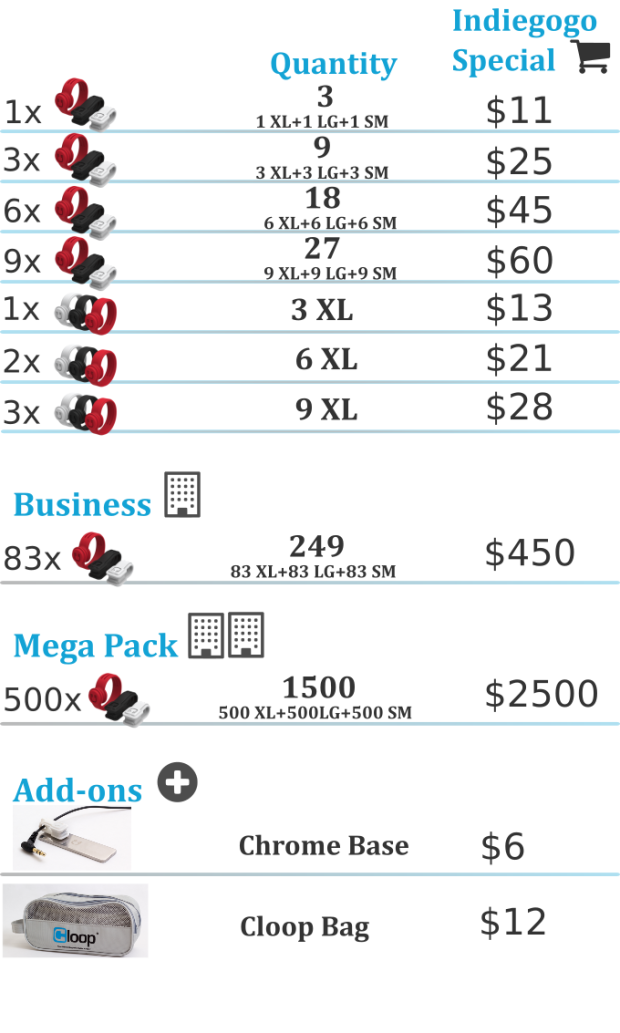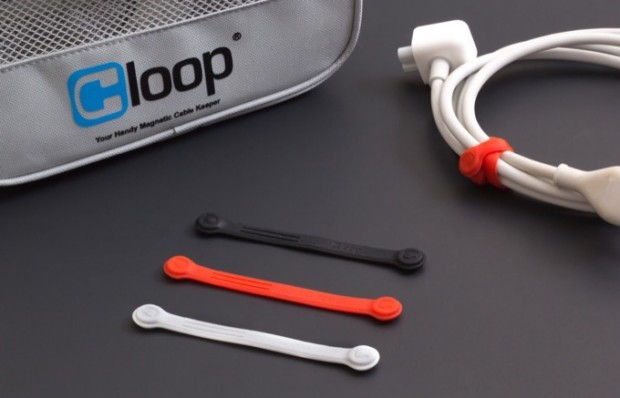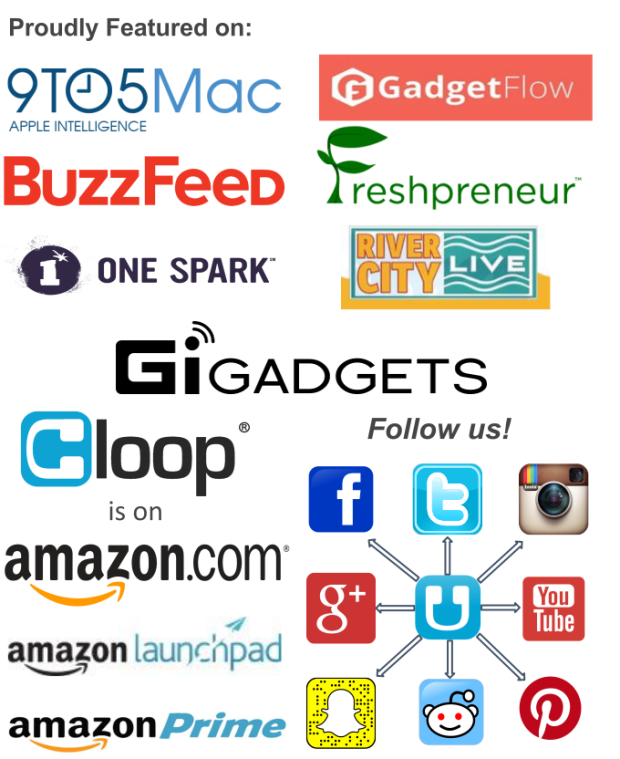 We started Cloop as an idea in 2013 to remedy a common daily problem we encountered while traveling for business - messy cables that we had to sit and untangle before the plane even touched up off the ground, etc. We realized we had a similar problem at home with cables and cords that took up far too much drawer space, chargers that we had to sidestep and constantly pick up off the floor. We launched a successful crowdfunding campaign in April 2015. We surpassed our goal by 180%, which helped us open our online store to reach the online market.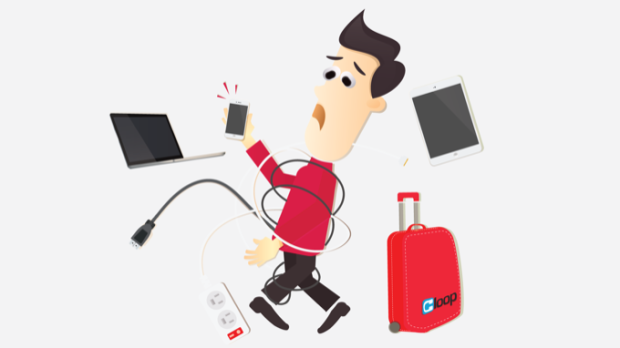 It has been an amazing journey and we're committed to the evolution of this product! We received amazing feedback from our backers last year for our small and large Cloops. But we've heard your requests to develop an even larger Cloop for those even larger cables you have around the house.
Cloop is Patent Pending and International PCT registered.


Risks and challenges
Rewards & Shipping:
All shipping in the US is included (First-Class-Mail, USPS) and
international shipping is $11 (First-Class-Mail, USPS). Please be sure to check the shipping cost when you select your reward. If it doesn't match correctly, send a message for an adjustment.
International Shipping Risk:
Please make sure that your country is on the USPS international shipping list.
Note that we'll use First-Class Mail® International Large Envelope, which gets handed over to your local post office organization, the transit is non-guaranteed delivery. For most countries, this is not an issue. However, if you feel your local post office is not reliable, takes too long in transit, or if you don't see your country on the list please message us to try a different delivery method.
I'm available if you want to review this over email cloopteam@cloopband.com.
Thank you!