Featured In


ChargeWrite...Now!
From the creators of bKey comes ChargeWrite: the world's coolest pen with a built-in external 16gb flash memory drive and a powerbank charger with our brand new state-of-the art universal smartphone tip which allows you to plug ChargeWrite into any iPhone lightning port or any Micro USB device including Android phones. But it does so much more... and it's ready to ship. That's right! Our designs are done and we have produced the first 1000 units which are ready to ship out now. All early bird backers, double trouble backers and family pack backers who order the first 500 pieces of ChargeWrite and 500 pieces the ChargeWrite PLUS will have their orders shipped out immediately after the campaign ends!
Product Features and Benefits
The Pen Is Mightier Than The Phone
All ChargeWrite products are equipped with a ballpoint pen. When the ink runs out replacements are available for free (plus shipping) for all our Indiegogo backers.
To use the pen just turn the metal pen tip until the pen comes out.
The Memory
ChargeWrite+ has 16 gigabytes of flash memory built in. Perfect for accessing your favorite movies, TV shows, important file or pictures on the go!
The Stylin Stylus
ChargeWrite has a built-in stylus perfect for all your touchscreen devices
The Screen Cleaner
ChargeWrite has a built-in screen cleaner great for removing dirt and smudges from all your screened devices.
The Smartphone Tip
ChargeWrite has our brand new state-of-the art universal smartphone tip which allows you to plug ChargeWrite into any iPhone lightning port or any Micro USB device including Android phones. One charging tip for all your devices, no adaptors needed!
A Tale Of Two Versions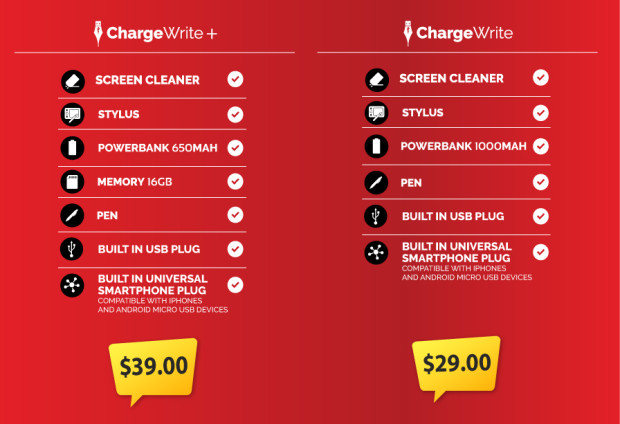 Need A Boost?
ChargeWrite: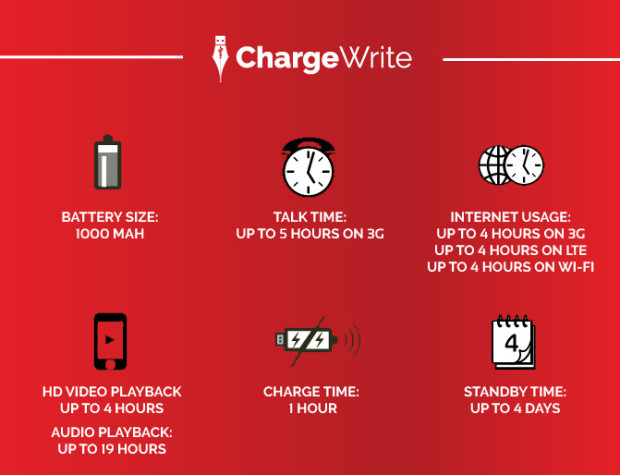 ChargeWrite+: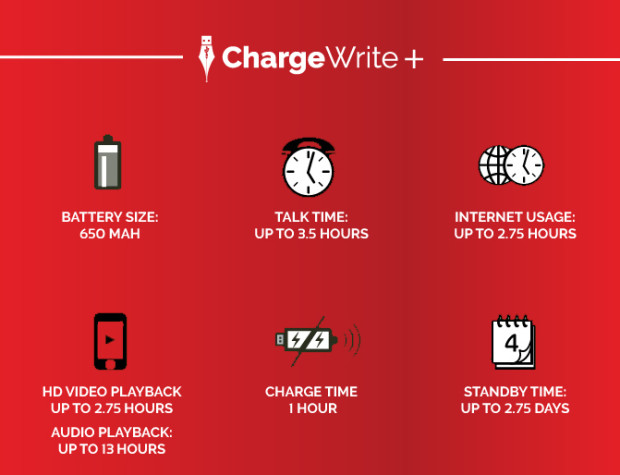 How It Works
Charge It
ChargeWrite charges through USB, you can use your computer or an AC wall adaptor. Just pull off the top metal cap to reveal the USB plug, plug in the male-USB end into any USB port and a flashing blue light will indicate it's charging. Once fully charged it'll change to solid blue.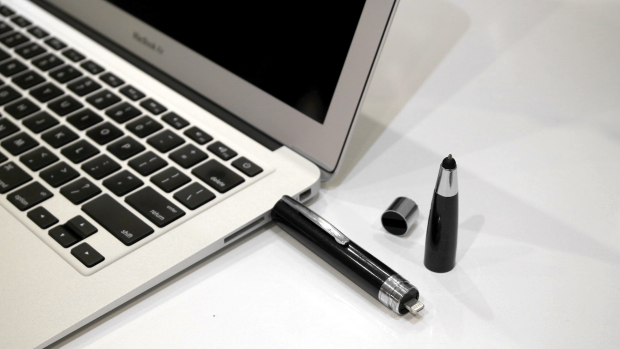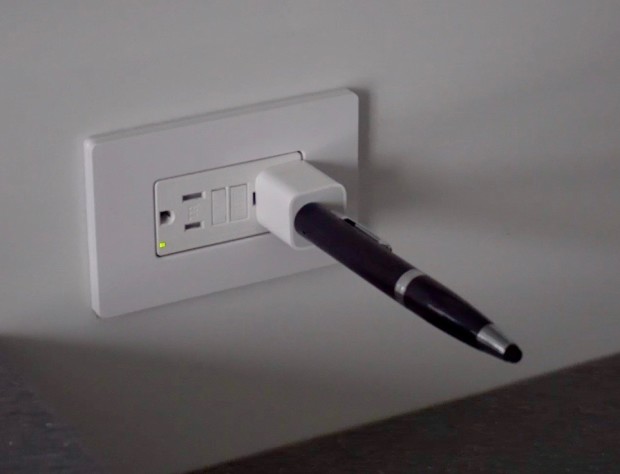 Use It
To charge your phone, unscrew the pen tip to reveal the smartphone plug.
Plug the smartphone tip into your device, pen clip-side down for iphone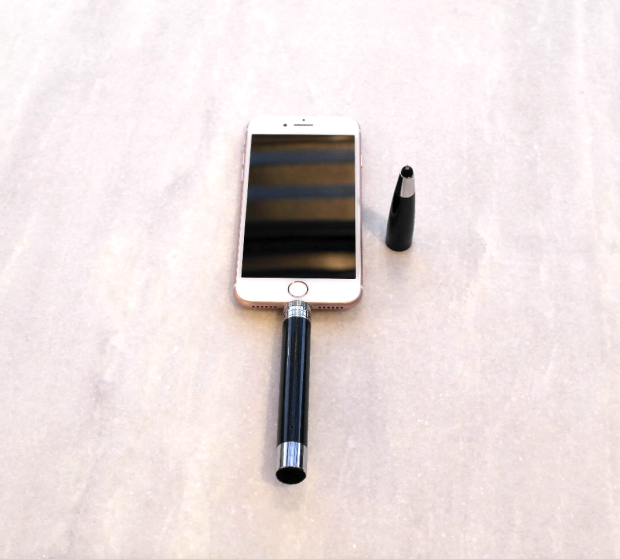 or pen clip-side up for android phones and you're done.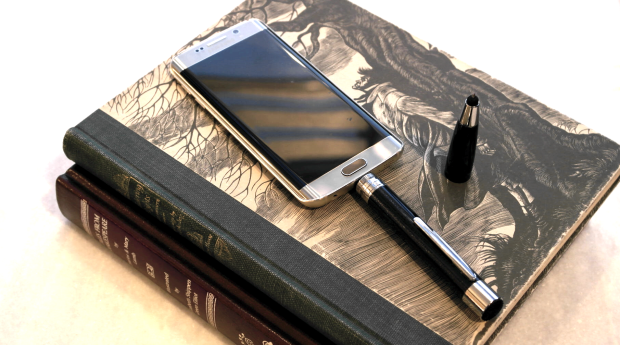 Ready Set Ship!
ChargeWrite Being Produced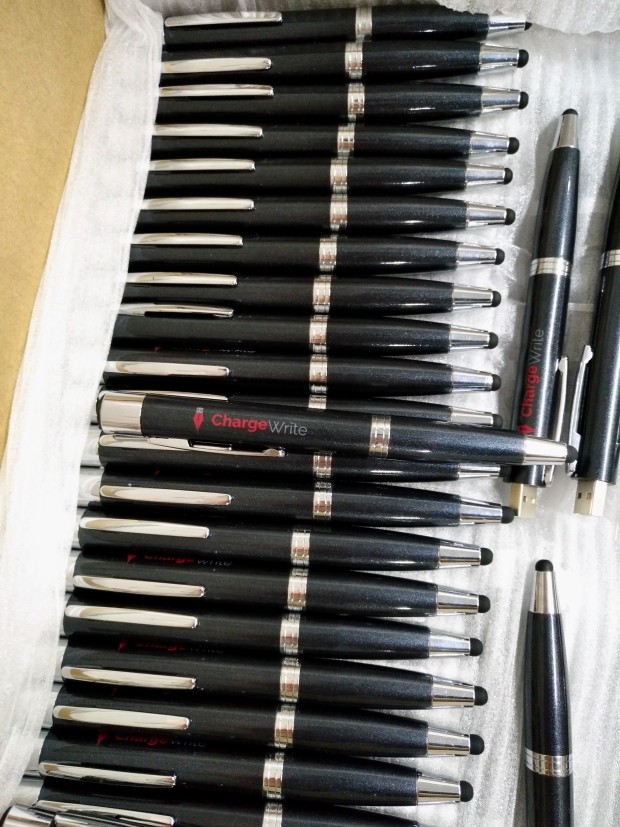 ChargeWrite Bring Packaged To Ship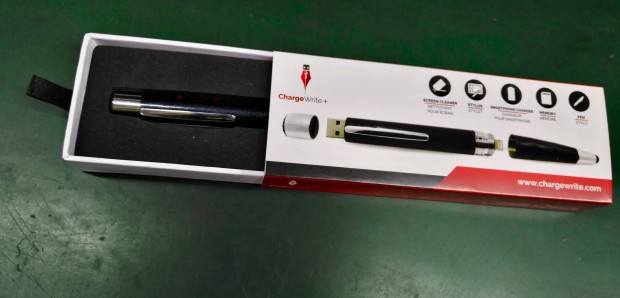 Meet The Team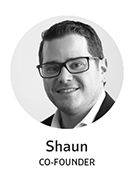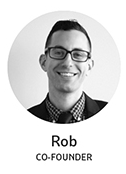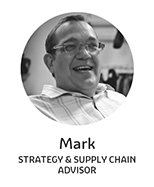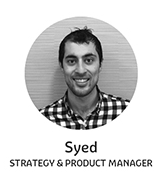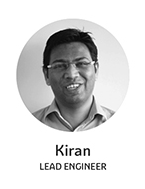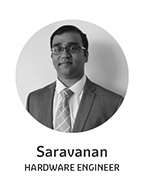 Add Ons
If you want additional products besides what is included in your reward, all you need to do is adjust your pledge accordingly.
Here's how it works:
1) Pledge for a ChargeWrite reward tier.
2) Increase your pledge in the "pledge amount box" by the total number of add-ons you'd like to add. For example, add $29 to your initial reward level for an additional ChargeWrite. Add $39 to your initial reward level for an additional ChargeWrite +.
After You Have Pledged
Don't worry about anything else until this project ends. After the project ends we will send you a survey asking you for shipping address. We will also ask you which items (if any) you are ordering from the add-ons section. Until then, you do not need to specify any details to us.
Warranty
We have taken all the necessary steps to make sure ChargeWrite will perform to the high standard we set for it. We have tested ChargeWrite numerous times and we have quality control personnel on hand to test ChargeWrite to make sure that they ALL work up to specifications. On the off chance that you should receive a ChargeWrite that doesn't perform up to specifications, we will gladly replace it within 60 days of delivery.
Production And Fulfillment Plan
Stage 1 - Projected Early-Mid April 2017
After the successful completion of our Indiegogo campaign, our first step will be to package and mail out the first 500 ChargeWrite and 500 ChargeWrite+ units to our early bird backers.
Stage 2 - Projected Early-Mid Aril 2017
Our second step will be to place our purchase orders with our parts suppliers to ensure we have the materials necessary for our next production run. The parts will be delivered to our main factory to assemble and package ChargeWrite.
Stage 3 - Projected Late April 2017
Main production run begins to manufacture the ChargeWrite ordered through our Indiegogo campaign.
Stage 4 - Projected Early-Mid May 2017
Post-testing begins. Each ChargeWrite will be tested as well from an independent quality control consultant hired by us to ensure that we have a perfectly functional product working to our specs before getting packaged.
Stage 5 - Projected Mid May 2017
ChargeWrite is ready to be packaged and shipped to you!
Other Ways You Can Help
We understand that some people just can't contribute, but that doesn't mean you can't help. For those that can't contribute or for those that have, we need you to help us get the word out and make some noise about our campaign. So you can like us and share us on social media as many times as you can. To make it easier you can use the Indiegogo share tools! We would appreciate this bigly. Thank you for your time and for your support!
Risks And Challenges
As with any new product manufactured by a start-up, the main challenge we face is securing ample financing to pay our suppliers to produce our next run of product. By pre-paying for the first production run coupled with this Indiegogo campaign it allows us to have the financial flexibility we need to be able to ship out ChargeWrite no matter how little or how many we sell. Another challenge we face, as with all consumer electronics is quality control. We truly believe this is paramount to the success and reputation of ChargeWrite and so we will be post-testing each and every unit before it leaves our warehouse. As a secondary quality control measure, we have hired an independent company to do random post-testing to ensure that each ChargeWrite works perfectly to specifications.
As the saying goes, "you only have one chance to make a first impression" and so we wanted to make it a great one. We hope you love your ChargeWrite as much as we do and we thank you again for your support.