BUTLER LIVE Cryptocurrency CARD for BTC ETH LTC and other Cryptocurrencies with e-ink
This project has already launched.
BUTLER: Elegant, Rugged, Bank card sized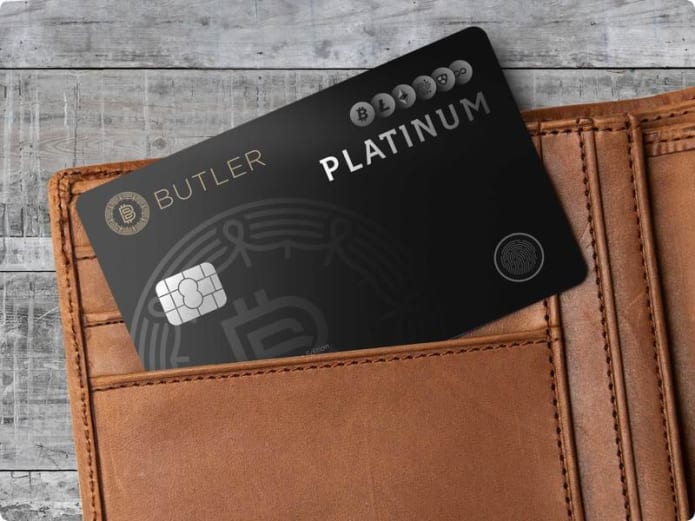 Displays the current, updated value of your cryptocurrency vs. major currencies.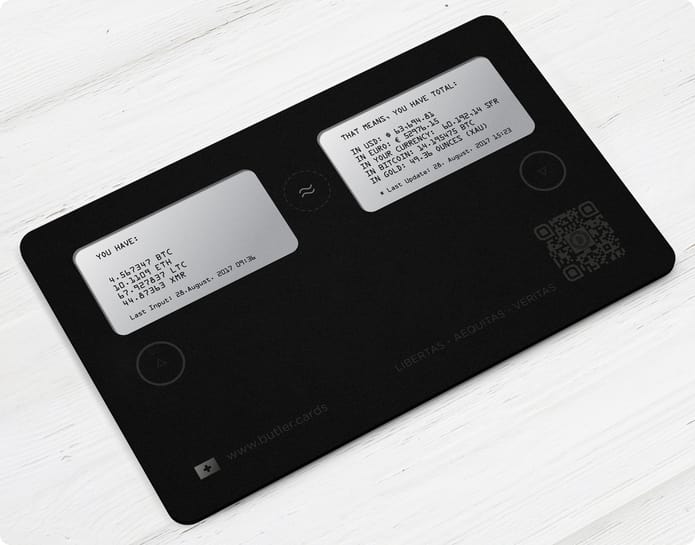 Cryptocurrency is a super fast-moving market, and BUTLER obviates the need for users to log on to web sites to check their holdings.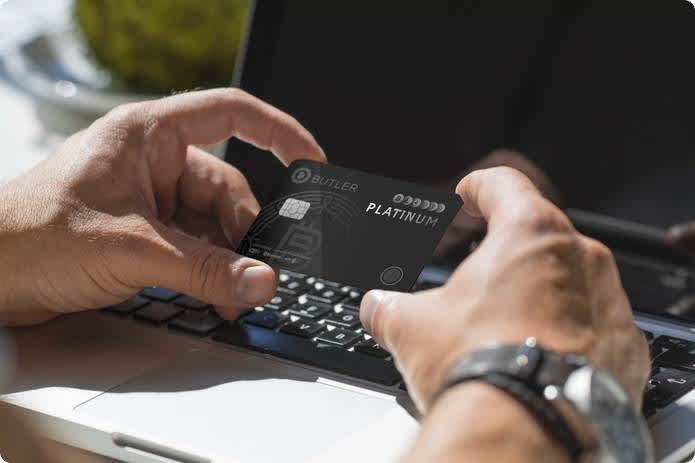 With BUTLER, you just glance at your card to know exactly what your cryptocurrency is worth against major world currencies and gold.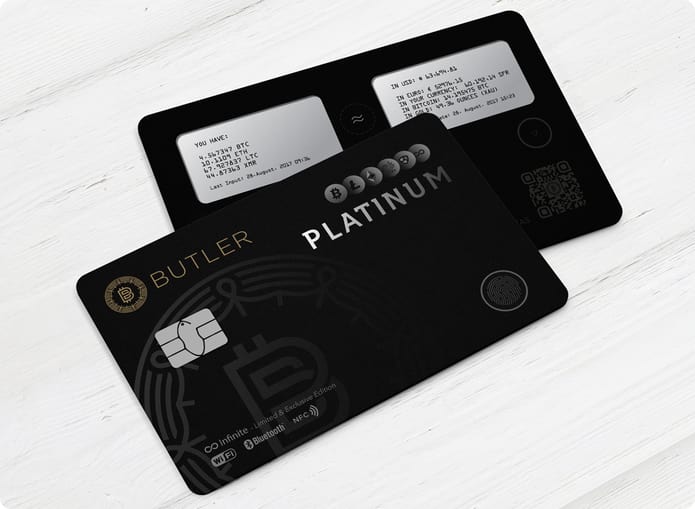 The BUTLER mobile app automatically checks values around the world, translates average values into real-world currency equivalents and displays them on the card's two e-ink screens.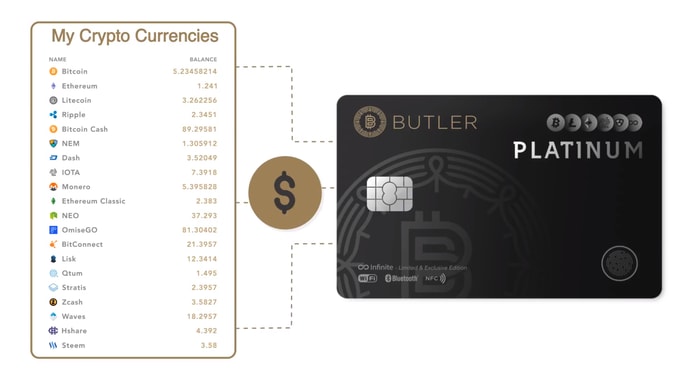 Users just pull out their cards to get a live snapshot of the value of their various cryptcurrencies against real world currency or gold!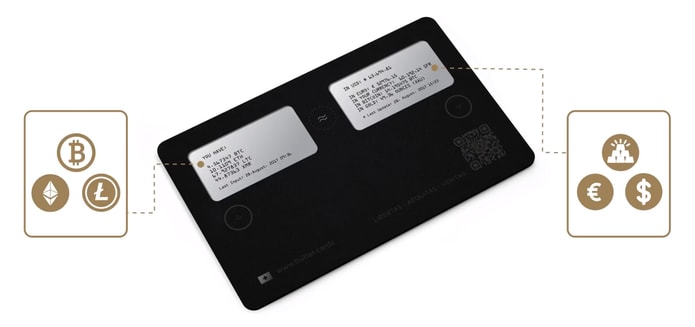 Left screen: your current holdings. Right screen: their value against major currencies of your choice, even gold!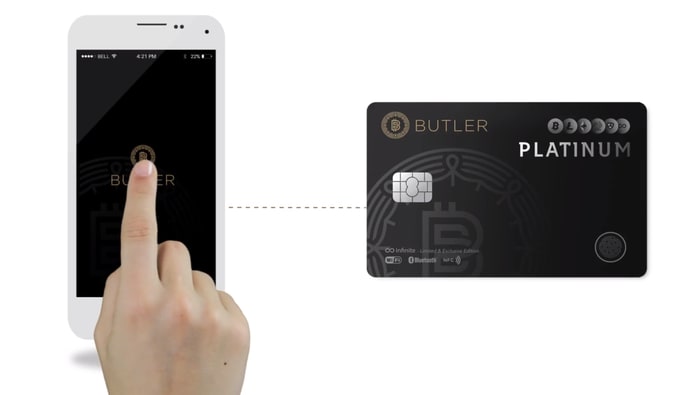 Enter your cryptocurrency holdings on the BUTLER mobile app & it streams constantly updated value information to the BUTLER card's 2 e-ink screens.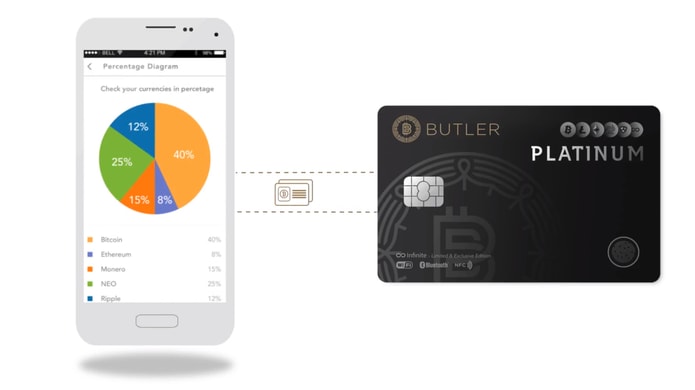 BUTLER does NOT gather or need any personal / private data, requires NO FEES and does NOT store any personal information.

NOW FOR A VERY LIMITED TIME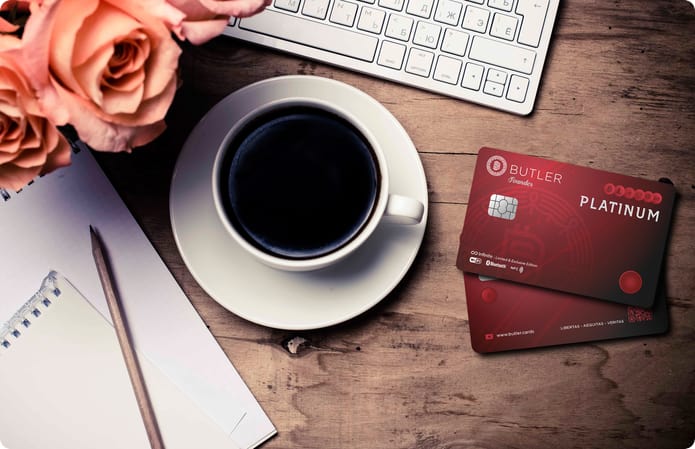 FOUNDERS EDITION IS AVAILABLE EXCLUSIVELY ON INDIEGOGO, FOR THE DURATION OF THE CAMPAIGN

GET IT WHILE IT ' S AVAILABLE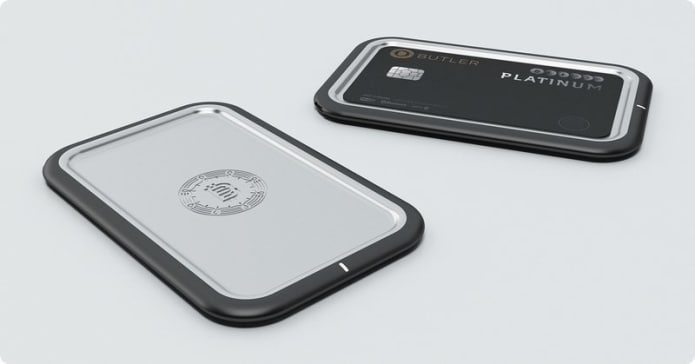 WIRELESS CHARGING PAD is FREE
with any perk from LAUNCH DAY + BLACK FRIDAY to CYBER MONDAY (NOVEMBER 23-27)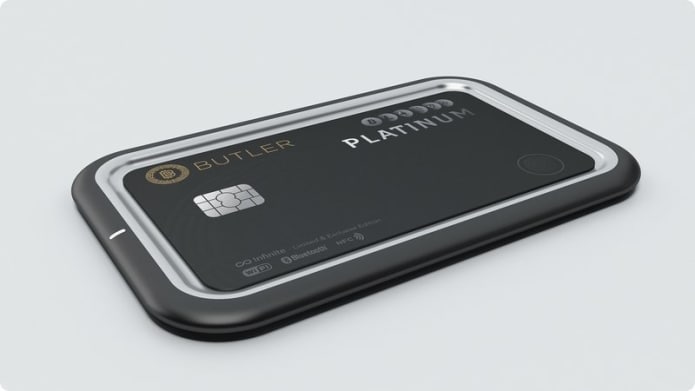 IN THE MEDIA
If you make a news article about us on your website, please let us know, so that we can feature you here and add a link on the campaign page.
You can download our press kit by clicking here.
Stretch Goals
We want to ask you about what you would like to see as Stretch Goals: w ewant to do polls, hear about new ideas, provide new options. We follow up with every comment and believe that in time , as we get more support, we will shape the new ideas together.
Timeline

Team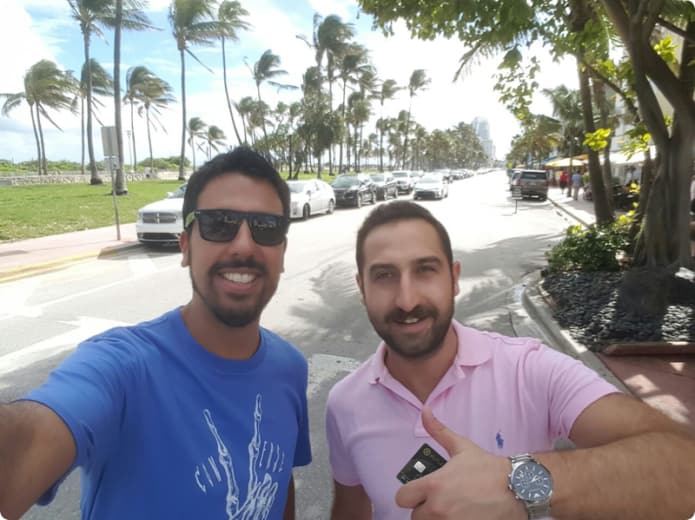 Technically - Where we 're at:
Concept stage is already done

However, we are open to any new ideas

to implement and make BUTLER better (without getting side-tracked with too many features and without affecting the whole manufacturing

plan.
We are aware: Hardware / electronics manufacturing is already very, VERY hard and always needs more resources, both time and budget-wise , and always needs more efforts, so we plan everything very carefully)

Budget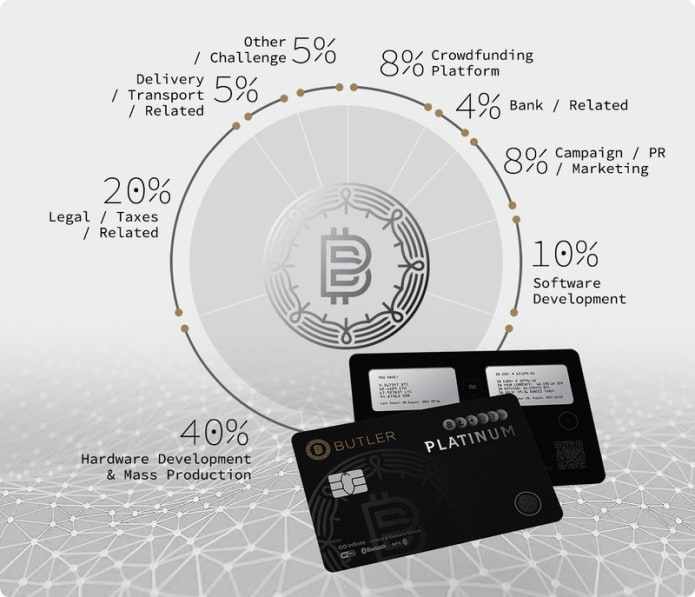 We are developing the app

"natively" for iOS (Version 8 and up, for iPhones and also for iPad) and also for Android (Versions 5 and up - for Andoid phones and tablets) simultaneously.

Some steps we have taken already are:
The NFC circuit is working (this is used for communication - we have it on a development board, it worked on and put in our final circuit)
The epaper is working, we were able to send new pictures using bluetooth and it shows that it is working and the program is working. It would be easy to replace it with the NFC.
e-Paper connected to NFC.
We have factories getting ready and agreements ready to be signed but for sure we will be waiting for the end of the crowdfunding campaign for any change in software and also hardware features and anything may or might affect / change the plans, features, parts we will use and also new partners may join during this time and many new ideas can be implemented (we hope).
"The future is about electric ..
It's about Blockchain ,
self-driven cars , smartcontracts , cryptocurrencies , AI ,
and maybe a bit of "Internet of Things " but may not about an internet connected wine bottle, exactly.
There is more information about these and beyond them there is more, and it's all coming very fast.
Personally, I'm very excited to see every single day which brings us closer to that amazing future where so many of these exciting tools and news we all care about are available at our fingertips​.
For the developer team behind the BUTLER cards, the field is open.

We chose crowdfunding to bring the BUTLER Cards to fruition because we believe that we will be able to shape the future with people who want the same things as we do, for people who have ideas & want the future NOW and who want to contribute to our project and work together with us to make this tool all our own. The BUTLER is a little bit of the future available for backing today for delivery very soon.
* Examples:
- Can we use a LED Display Module and also enhance the features? for instance;
or could we / owner of the card use the card also as a "Wallet" or just like a payment card ? would those features be necessary or good ideas to implement / or have?
We hope to see and get many new questions and answers like these. Please
comment , ASK QUESTIONS , contribute with your ideas, opinions and share our
campaign, if you would like to support us and our idea.We hope to see get many answers and ask new questions like these, here. Please comment; ASK QUESTIONS; contribute with your ideas, opinions and share our campaign, if you would like to support our idea, us.
* Don`t forget to share our video from Youtube;

https://youtu.be/6Ldf9A4NtBk

F.A.Q
Why are some cards in Black and others are in RED Color??
The black card is regular BUTLER Card, the Red one is a special, exclusive FOUNDER EDITION, only for the first backers, first supporters of us: it`s limited and will be marketed only through Indiegogo, here and only for a limited time (only during the live campaign time):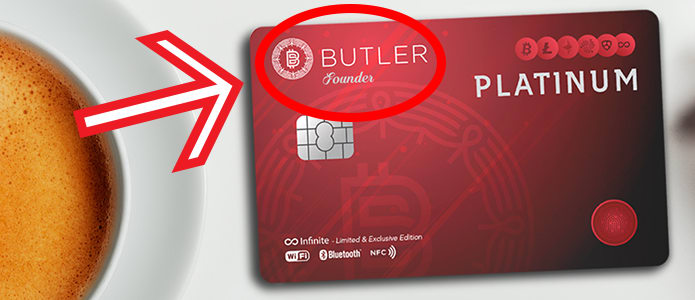 The black card is casual card, without "FOUNDER" tag on it and in black color.
What is the initial investment amount I need to order a Butler Card?
Nothing, BUTLER is not a bank card, nor a credit card (nothing like a VISA card nor a Mastercard). BUTLER is not a payment card. BUTLER needs no investment "in" it (or on it) to have it or use it, except the card`s price for sure.
What qualifies your Team to make this device? What partnerships?
We are preparing a "Team" section here (above) and will be published more information in a few days.
What about the Battery Life of this card??
Both BUTLER Cards have the same specifics and the battery life is in average use, lasts like 1 month for the user but a more specific information will be provided in a few days as we finish the first phase tests and decide on the battery options.
What about security?
The current BUTLER card design keeps no personal data on card and uses NFC to read from the phone and you cannot read what is on the card in this version.
What happens when my address changes? (How do I update my Shipping Address?)
Indiegogo allows backers to change their shipping addresses within the same country they entered at the time of their transaction. About the changes, especially for shipping, address or any detail, please check this nice article here: https://support.indiegogo.com/hc/en-us/articles/212528078-How-do-I-update-my-shipping-address-
Can I get a refund?
Indiegogo does process refunds during the campaign. If you would like a refund, we're sorry to see you go. Please see here for How To Request a Refund.
How do I upgrade my perk to a better one?
If you'd like to upgrade your perk to a higher-priced perk, you can now do so on the contributions tab of your Indiegogo profile. For example, if you originally claimed a Black Card perk but now you want to upgrade to a Red Card, you can click "Upgrade to Higher Priced Perk" next to your regular card perk. This will direct you back to the contribution flow. You can then select the new higher-priced perk you'd like to claim. When you complete the transaction, your original contribution will be automatically refunded. Read about how to upgrade your perk.
I backed BUTLER but I didn't get a confirmation email. How can I check the status?
Please see article on How to Know if Your Contribution is Successful. If there is still an issue, then you may need to contact support@indiegogo.com.
There was an error with my contribution. What happened?
Please refer to this article on common contribution errors and steps to resolve: Common Contribution Errors.
If I have other questions, who should I contact?
We are receiving a lot of inquiries, and are responding as fast as possible. Please contact: contact@butler.cards with any other questions you may have. You can also visit our social media accounts, too, for sure.
If you have any more questions: contact@butler.cards

+1 (305) 307-5176 Key West Can B.U.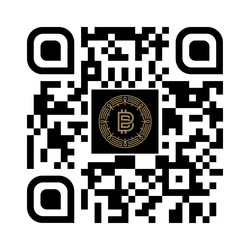 Share our campaign on social media by using the share buttons if you think this is a cool card and a nice, innovative idea..
Thank you.