Blade: World 1st OTG Card Reader for All Devices
This project has already launched.
Meet Blade4000
Blade4000 Is the World 1st Universal OTG Card Reader for All Devices, Including Apple, Android, Type-C device, Gopro, Camera, GPS, TV, Projector, PC, Laptop, Mac OS...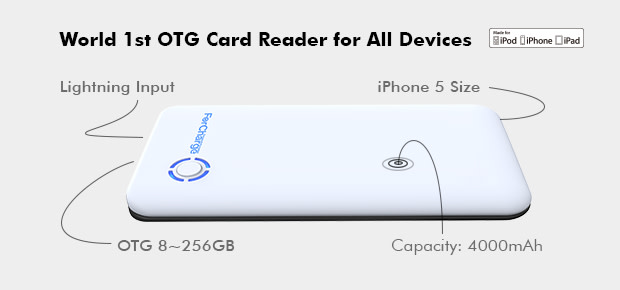 All Devices, One Blade!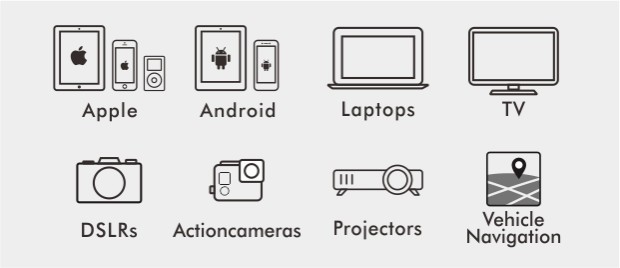 Particularly, there are three things Apple users hate:

Blade4000 resolve all of them in simple & portable design. The smartphones & tablet PCs can read and write to the TF card directly, no matter it is Apple and Andorid OS system.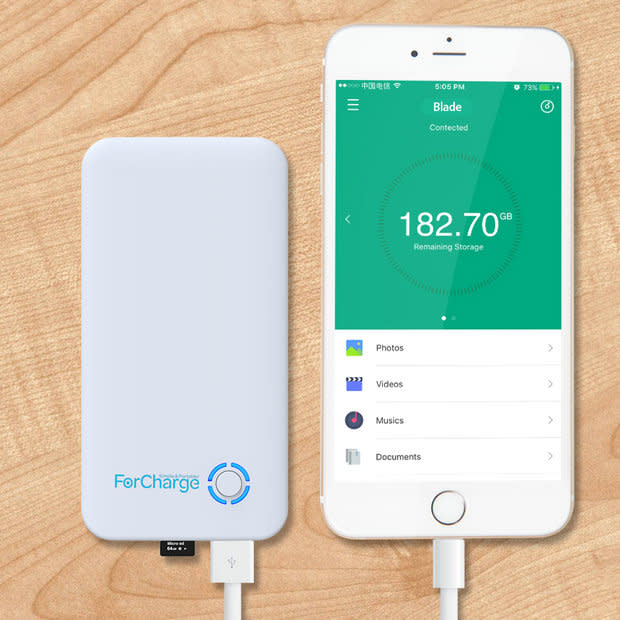 Blade is the first MFi certified portable charger using Apple's officinal Lightning port.

Besides, Blade4000 is simple to use via your data cable no matter it is: Lightning, Micro USB or Type C connector.
Why You Need Blade4000?
Your smartphone is your baby, your right hand! But inevitably you know after only 8 hours your precious phone will die on you forcing you to scramble to find an outlet. And with 16GB storage after a weekend trip your forced to "make room" and delete apps, pictures or music. You need more from your smartphone!
And there are more awkward situations:
Want to share a file with your family or friend with different system?
Want to transfer files from your Gopro to your smart phone?
Want to draw the pictures from your Digital Single Lens Reflex to your social media?
Want to deal with your business files in different Format in your mobile device during your travelling?
……
What we should do? We need to take our Laptop or PC and find a chair, take out your card reader or USB flash drive, copy to your computer from your digital device and then connect to your smartphone copy again.
Keep it "Simple and Portable"---that is what "Forcharge" is trying to provide.
Forgot your PC, you do not need to take it everywhere. The only stuff you need to keep is the Blade4000.
Blade4000 is designed to extend not just the battery and not just the memory for Apple devices, but both! Blade4000 is a combination of an OTG TF card reader and 4000mAh charger, using Apple authorized Lightning input.
You see, "Forcharge" feels your feeling.

Why We Need You?
When supporting Blade4000, we want to say thank you by providing you with an exclusive discount of 25%-50%s. By joining us, and contributing to our campaign you are helping us to improve the App and accelerate production - getting you more charge, and more memory, faster!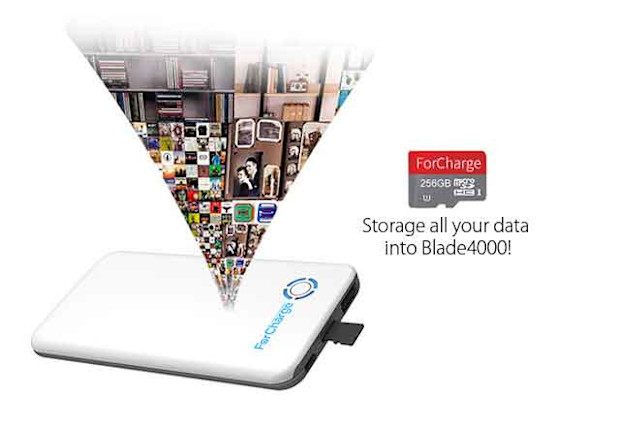 Portable chargers are becoming a must for daily life. Blade wants you to enjoy more battery, more fun and more space to share these memories.. All this can be possible and portable with our simple charger which is easy to keep in any pocket.


What You Get?
We heard everything you've been missing and combined them into the Blade4000 including: :
Universal OTG TF Card Reader for All Devices
Super-slim 4000mAh Portable Charge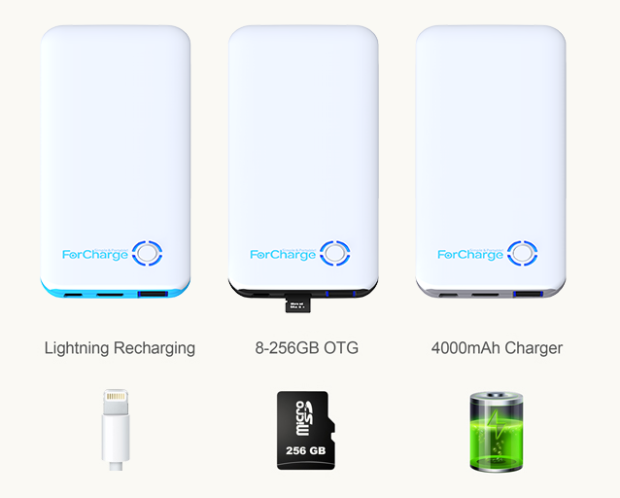 There are 3 opitional colors as you can see:
Black, Blue and Grey.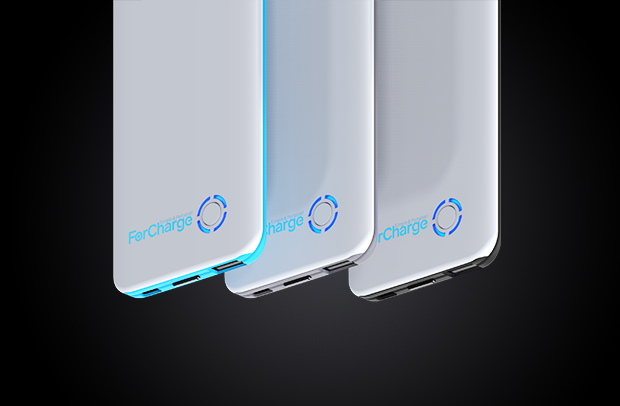 Blade4000 Are More Powerful:
Multiple Devices, One Blade: Fit for all devices: The current iOS flash drive only works with Apple devices. In contrast, Blade4000 works with Apple devices, Type C devices, and Android devices, GPS, Drones, Gopro, Cameras, TVs, Speakers, Projectors…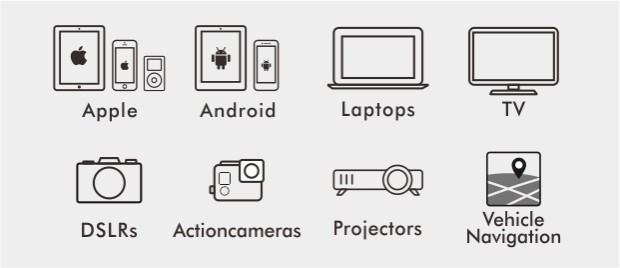 Fit any case: Keep your favorite phone case! Unlike other portable chargers and OTG flash drive we fit with any case all the time.
More Possibilities for Less Money: We are proud to provide you with more memory, more battery and more possibilities at a at much cheaper cost.
Smarter & Powerful App: Our App. functions with showing the user the details of battery (The Blade's & Smart device's) including cell temperature, voltage, standby time, the real capacity…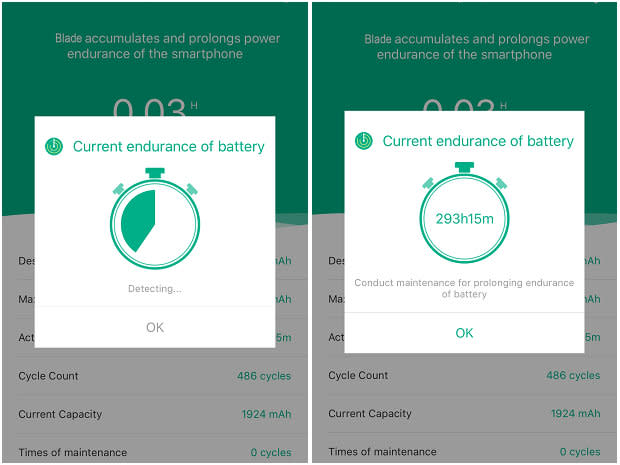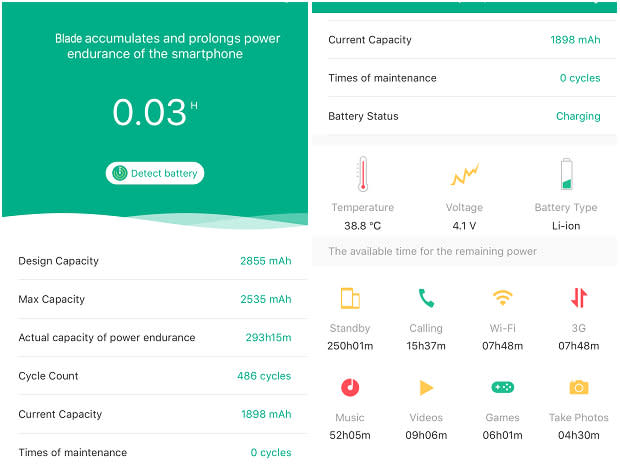 The App can analyse the smart device details too, including the system, storage information...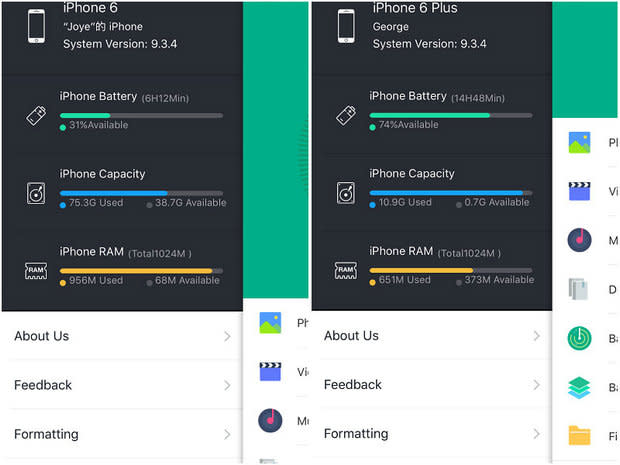 Contacts Backup: Want to transfer your contacts between Apple and Android? You are able to save or transfer your contacts in easy way.


The Main Features of Blade4000
Memory Capacity: 8/ 16/ 32/ 64/ 128/ 200/ 256GB
Data Cable Type: USB to Lightning/ Type-C/ Micro USB
OS Compatibility: iOS 6.1 or above/ Android/ Mac OSX/ Windows XP/ 7/ 8/10
Compatible Devices: Apple device, Android device, Camera, GPS, Drone, Gopro
Optional Color: Black/ Blue/ Gray
Power Capacity: 4000mAh
Input/Output: 5V/ 2.4A
Warranty: 12 months

Join Us!
When you support Blade4000 you will receive :
18-months warranty on you Blade.
For the super early backers, you will receive one slim power bank at only $10!
For $59 you can easily expand your device to 64GB.
At $99 you can expand your device's memory to 128GB and double your iPhone's battery life.
If 128GB isn't enough, maybe you would be interested in expanding your device to 200GB for $199 or even 256GB for only $279, including a Blade charger.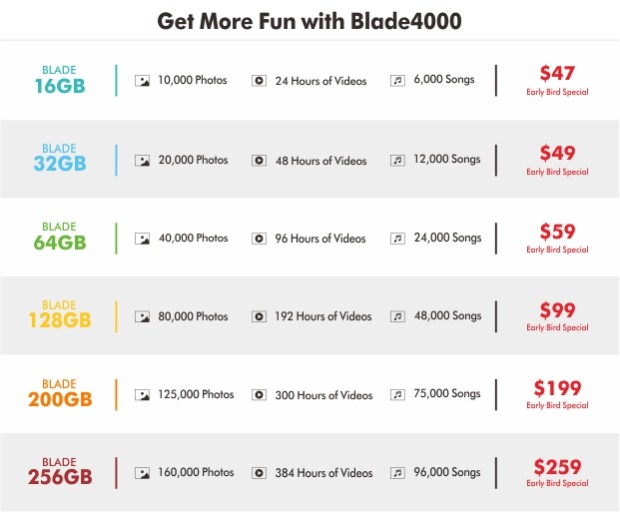 About our team
After finishing my MBA in Dublin, Ireland, I found there was huge demand for smart phone accessories that were both aesthetically pleasing and useful. That's when Diven, Joy and myself found each other, and created one company to design and manufacture gadgets.
Forcharge is trying to provide the best gadgets and keep them Simple & Portable. We focus on charging stuff like: Portable Charger, Data Cable, Battery Case, Wireless Charging...
Where We Started?
We started to develop the Blade4000 in 2013 since we launched the 3-in-1 keychain charger in Berlin. The keychain charger was a data-cable, flash drive and charger all in one. . With the success from 3-in-1, we kept hearing the same question: What about my iPhone?
In 2014 Apple opened the window for external memory storage (OTG). However they still prohibited any external flash memory. But we heard you the consumers and your need for more space.
Where the fund will go?
We already have 10K C37 in stock (female Lightning connector) and corresponding chips from Apple's authorized supplier. The tooling will start with no payment necessary as soon as we pass our goal thanks to our experienced supply chain relationship and control. Now, we are investing in MFi testing, PCBAs, and Battery cells.

Risks & Challenges
We have been at work on Blade4000 and have developed several versions of App and found what works perfect samples for the latest iOS system. The next step for us is to devote securing the MFi certificate which is always tough.
Although we have enough experience on simple portable charger and iOS flash drive, we are pioneering the combination of both power and OTG flash memory.. Samples are working perfectly. MFi approval is our biggest issue due to Apple's fussy rules.
Other Ways You Can Help
Some people just can't contribute, but that doesn't mean you can't help:
Make some noise!You the consumer constantly have your ear to the tech pavement. Share with people the Blade4000 mission!
FAQ
What device Blade support?
Yes we do love Apple but Blade4000 not only supports iPhone, iPad, iPod but also Android device with Type C & Android device with normal Micro USB input.
Besides, Blade4000 works with all TF card devices including Drone, Camera, SLR, GPS. And also TV, Projector, all Computers...
What is MFi?
MFi means "Made for iPod, iPhone, and iPad".
MFi certificate means Blade got Apple's authorization.
What type of Micro SD/TF card does Blade support?
It supports any brand of HSDC TF card, including 8/16/32/64/128/256GB (512GB should work when it is available in the future).
Please note Only high speed card (Class 10 or over) is suggested to get fluent connection.
Does Blade work with my own cable?
Yes. Blade will work with your existing data cable to Recharging, Discharging, Reading & Writing.
The output is the standard female USB port.
How many times Blade can charge?
It depends on your device's original battery. Blade4000 has 4000mAh power.
What color of Blade are available
There are 3 basic colors:
Black (Black front shell and black back shell),
Grey (White front shell and grey back shell),
Blue (White front shell and blue back shell),
You have a great idea about color? We are happy to hear from you.
Please send email to: George@forcharge.com
Where can I get the App.?
The App. Is available on Apple Store and Google Play in free. But the Blade4000 will automatically lead to download the App. as soon as it is connected to your device.
What is the life cycle for the rechargeable battery?
The battery cell will last for at least 500 full cycle.
What are the specs and functions for 'Blade power bank without TF card Reader?
Then Blade4000 will be a simple slim portable charger with 4000mAh battery.
What feature about the 10inch Lightning cable?
It is made of silicone cable and finished in UNIBODY. It is perfect for power bank and on-the-go. Super Bendy and durable!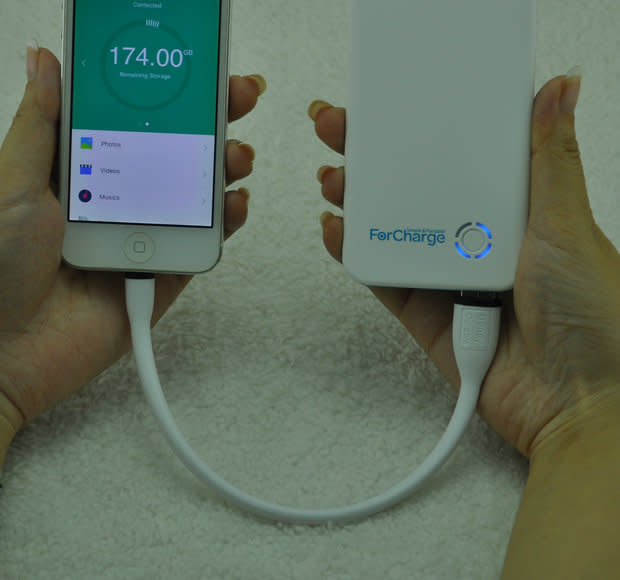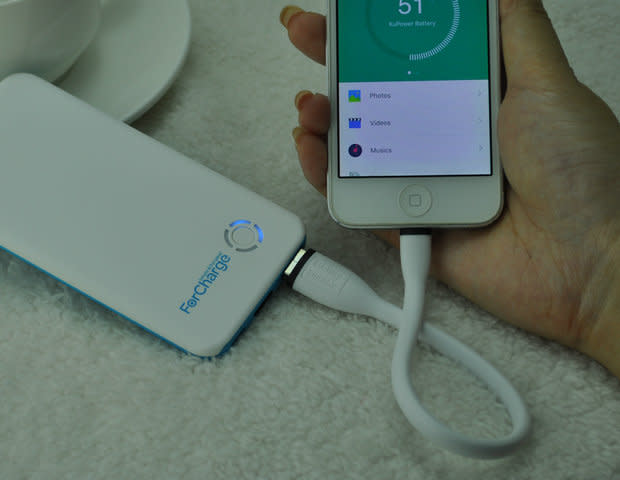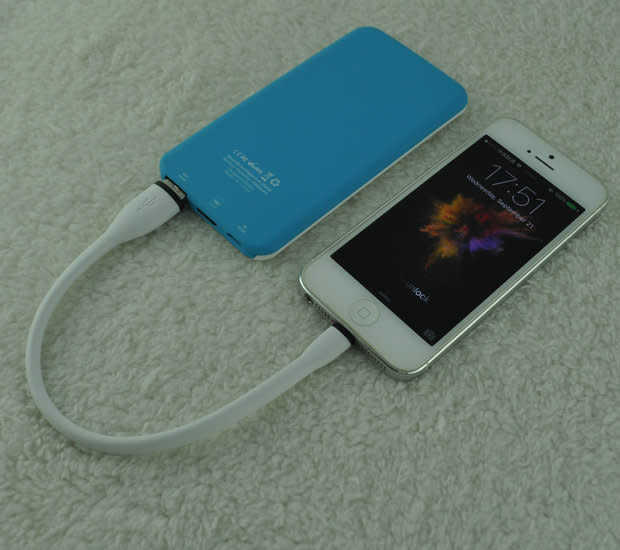 Other Questions?
Please send the question to george@forcharge.com.
Appreciate your participation for any question.