BikeBuddy is your own bicycle sidecar, a people carrier and a multi-functional attachment.
The idea of a sidecar has been known to everyone and people carrier has been with mankind for so many centuries now, it has appeared on many forms and in all parts of the world.
Many cultures all over the world have their own versions of this idea, it called many names like pedicab, rickshaw, tuktuk, pousse-pousse and many more....
We are re-inventing the idea and making it more practical and adaptable on this modern age, having all the cool features without sacrificing it's character.
We now introduce to you BikeBuddy!
The most versatile bicycle utility for everyone.
Here are the benefits:
Pickup your kids from school without using your car.
This is one of the basic and yet one of the best perks of using this product, stay green and be healthy, pickup your kids from school wihout worrying about parking, petrol and also have an exercise. You will definitely enjoy having a ride with your kids from and to school.
Go Shopping and take your groceries with you: Going to your shopping and have your exercise as well. No need for a drivers license, just ride and take your groceries with you.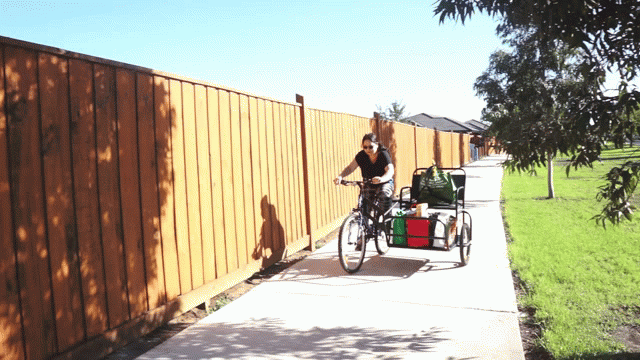 Carry 2 kids at the same time: Enjoy a real family bike ride where you can carry 2 kids or a mother and a small child. This one of the precious perks of having BikeBuddy in your family. You don't have to worry about balancing because it is already balanced, your kids are safe and you can even hold hands together while riding.
Give a ride to an elderly, a person with disability or simply just anyone who wanted to ride with you
We are inspired by the idea giving a ride to those people who does not experience a bike ride anymore because of their physical condition, this attachment gives you that flexibility and can easily carry a full size adult.
Move some cargo without using your car: Easily move cargo, deliver and get stuff without having a drivers license, this is really important specially to those areas that are not accessible by cars.
BikeBuddy is detachable: You can easily fit BikeBuddy to a flatpack and store it away whenever you don't use it. We have made really practical to everyone, storage will not be an issue for this attachment, storage space is really important specially at this modern age.
Bike-Buddy is Universal: It can be attached to a BMX or a Mountain Bike, it can also be used for both left and right hand roads.
This is a patented design and has been tested running on the standard BMX bikes (wheel size 20") and standard Mountain bikes (wheel size 26")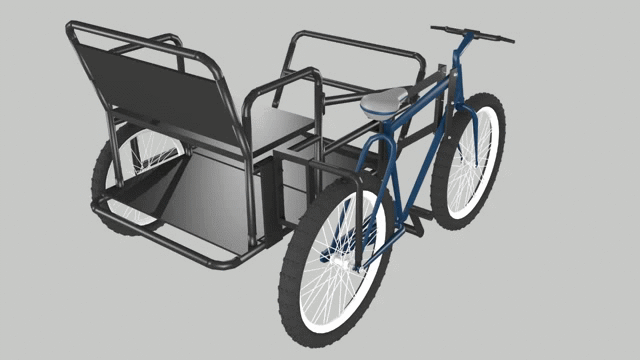 Make your own accessories: No need to buy any additional accessories or bling, just make your own. We have designed Bikebuddy to be strong and sturdy that it can easily accomodate your own creativity. It is an Open Platform and we encourage everyone to use their own imagination to beautify this classic ride.
Make your own float: Bikebuddy is design to accomodate and carry unique designs for a float, the frame itself is also made of bars that can be decorated and be used to hang your materials to make a float. This is really ideal for long walking parades so that all your delegates will not have to endure the pain of walking on costumes specially for small kids as a delegate.