- Meet AirLink -
The World's First Hi-Fi Sound Bluetooth Adapter with Remote Control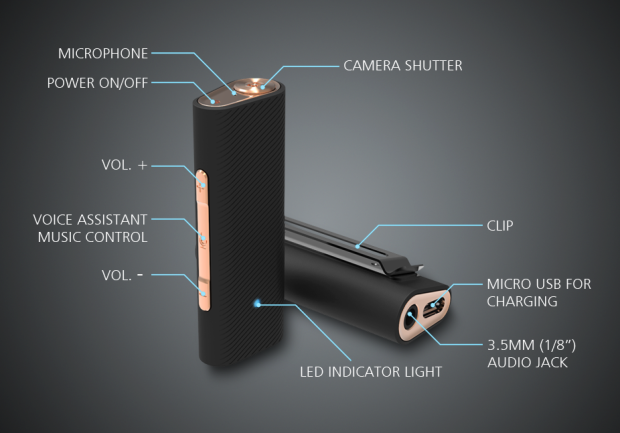 Meet AirLink, the world's first Hi-Fi sound Bluetooth adapter with remote control, that can evolve your wired earphones/headphones into wireless and promise you 24bit Hi-Fi sound in your favorite headphones. It adds new features to upgrade your wired headphones.
— At a Glance —

— In the Press —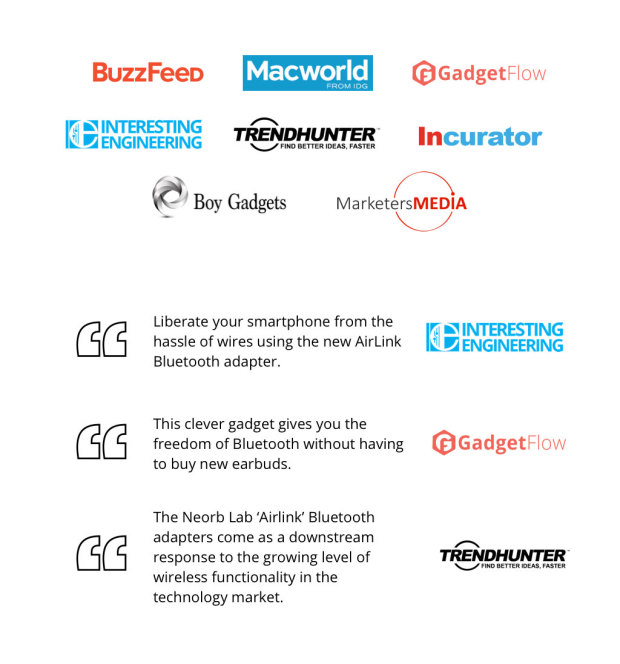 Keep Your Old Headphones Alive on Your New Smartphone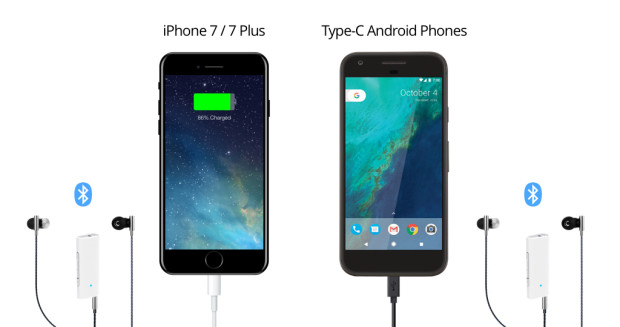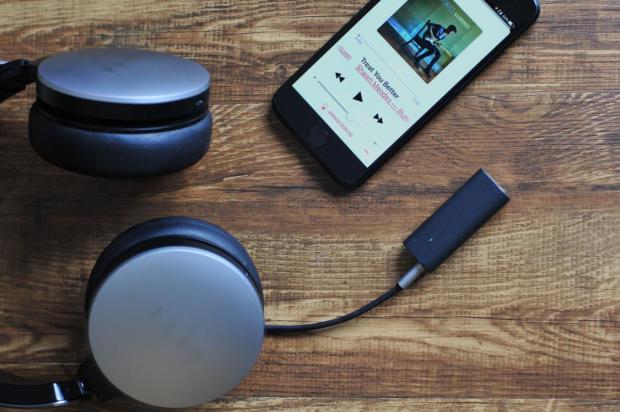 Your old wired headphone might be your prized possession but requires a 3.5mm jack to use on the new smartphone. AirLink lifts you out from this dilemma and makes your wired headphones into wireless. Clipped AirLink on your shirt, AirLink lets you walk around without tangled cords, even charge your phone while listening to the music.
Get a Bluetooth-able Car and More Devices
AirLink adds Bluetooth connectivity to your car stereo, home stereo, TV, and powered speakers, letting you stream music wirelessly with any audio device.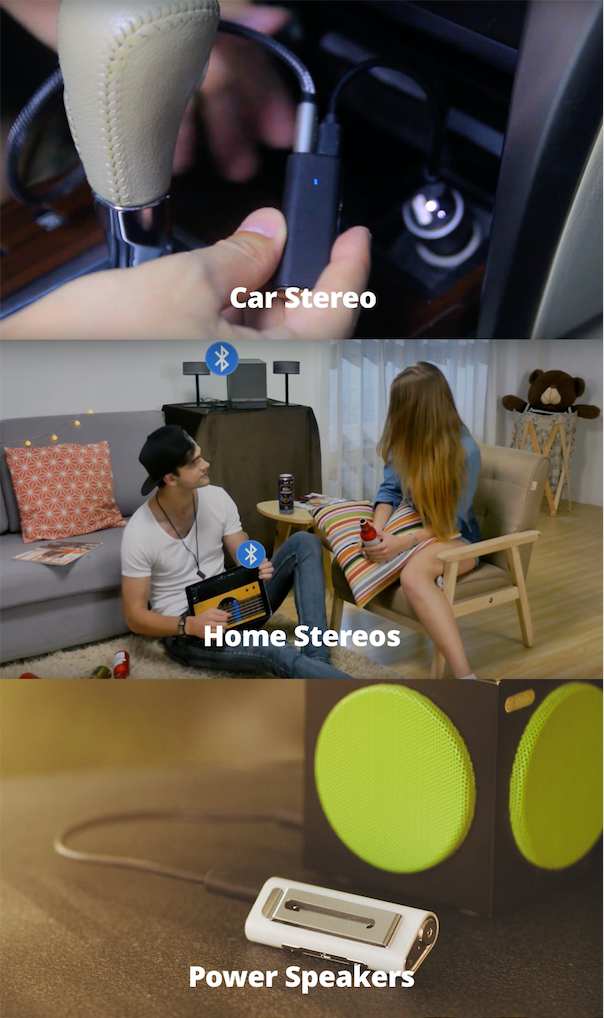 Enjoy Wired Headphone Tangle-free
Running? Hiking? Any other outdoor activities? As the very best companion for working out, AirLink provides the most convenient solution with its short cords. No more tangling with the jungle of cords.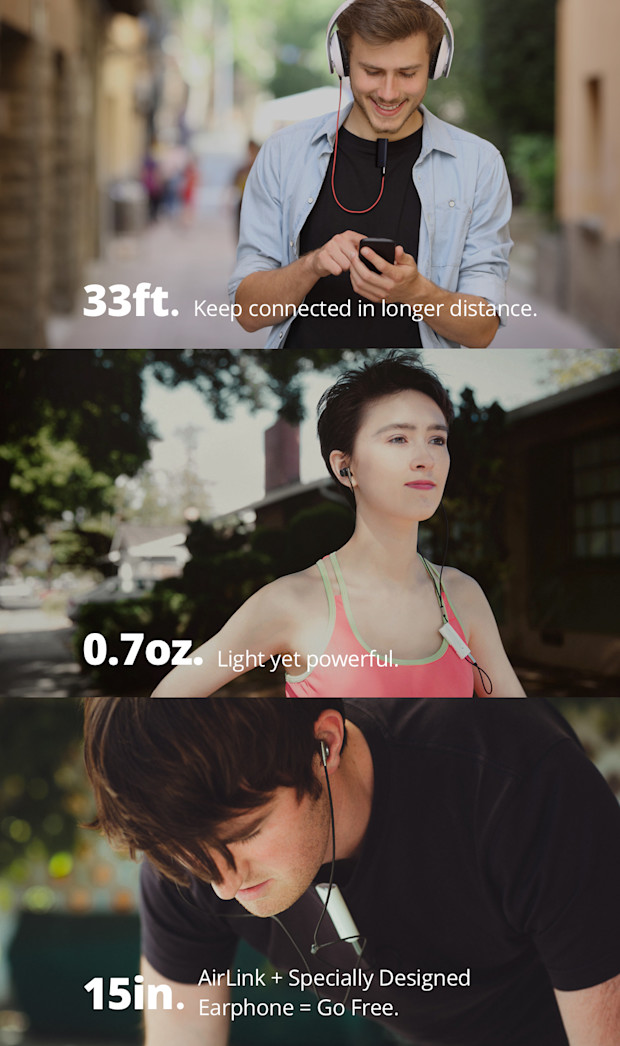 Make Calls without Taking Out Your Phone
Control your phone remotely. Airlink features 2-button in-line remote that lets you shift a track, accept/end calls, and wake up a virtual assistant.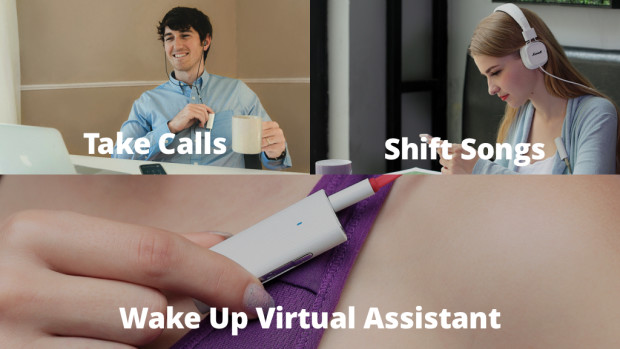 Sync Your AirLinks and Enjoy Music Together
The best moment of living in the music is not only when you are surrounded by the music but also when you share the moment with your loved ones. You can even sync two AirLinks together and enjoy the same music in 24bit with separate earphones.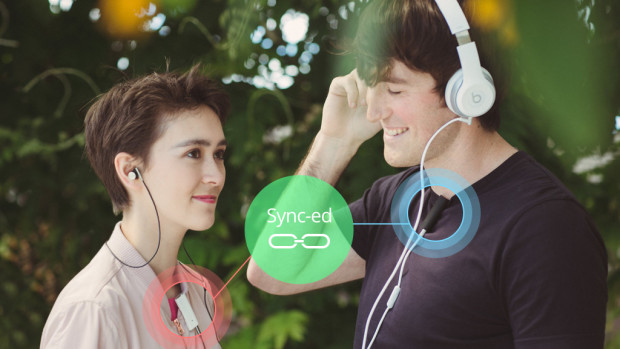 Easier Selfie Taking without a Stick
Airlink is more than a Bluetooth adapter - you can also use this as a camera remote. Unlock more Selfie and Group postures with it.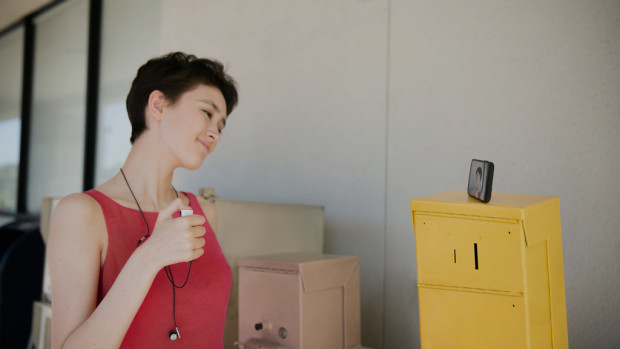 Yes, it's Hi-Fi + Bluetooth.

Who says that "Hi-Fi + Bluetooth, no thanks." AirLink is here to challenge the status quo. Airlink takes sound seriously by making it vivid (professional and independent DSP supporting 14-band PEQ), natural (24bit high resolution), clear (with echo cancellation and noise reduction) and stable (BT 4.2, 2.5x faster transmission).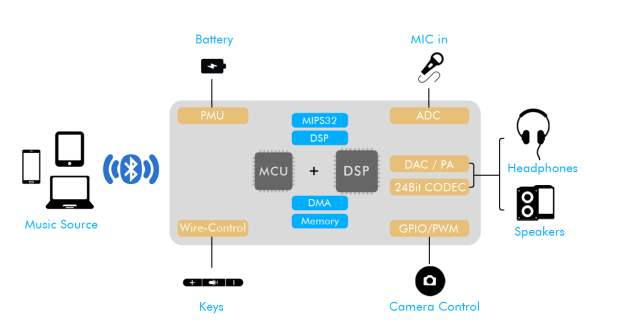 You will never sacrifice the audio quality for the convenience of being wireless ever again. The dual audio processor cores, MCU and DSP, support 14-band PEQ, making you experience the music like in a real world - the sound is coming at you from every direction. Better yet, AirLink promises no sound export delays with hundreds of times faster transmission. With the passion for peak performance, AirLink pushes boundaries in sound quality in Bluetooth adapter to make the high-resolution sound possible and affordable.
— How It Works —

— Minimalist Design —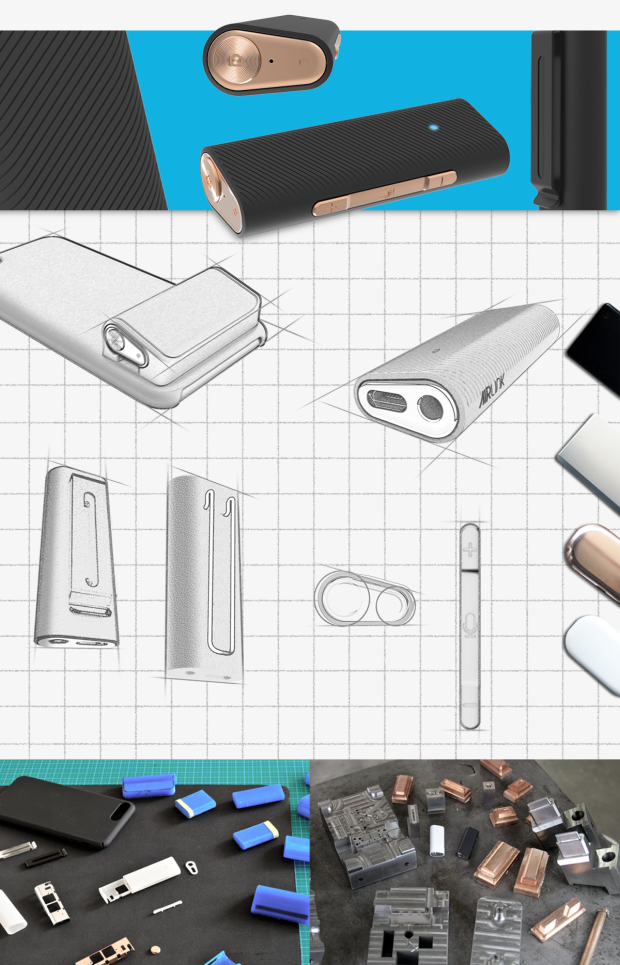 — Tech Specs —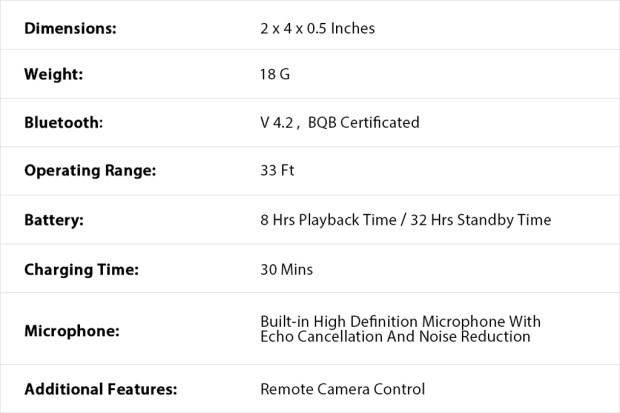 — What's In the Box —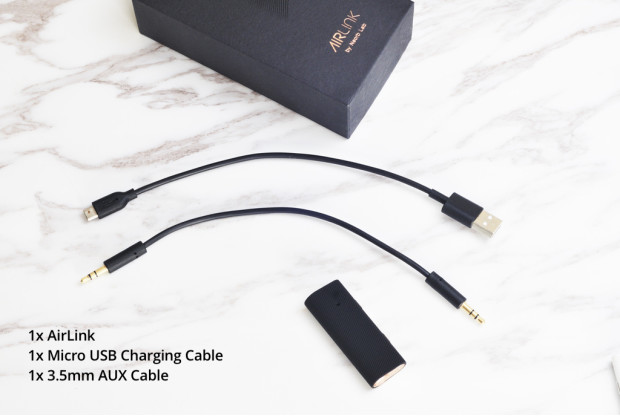 — Accessories —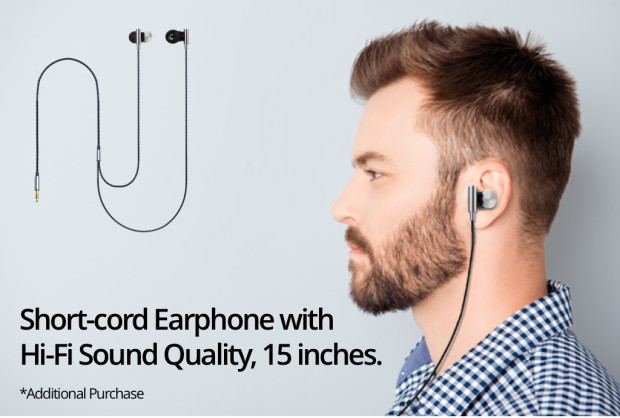 The premium earphone with short cords works in an unconventional pairing with AirLink. With an advanced exceptional noise cancellation, the high-definition sound process chip carves out every aural nuance in finest detail and delivers crystal clear sound. It not only leaves the notorious tangled and long wires in dust but also lets you enjoy the optimal music sound.
— About Neorb Lab —
Neorb Lab consists of international engineers with decades of experiences in industrial design, manufacturing and supply chain industries. We dedicate ourselves to simplicity and making peoples' lives easier with simple yet cost-effective solutions. AirLink Bluetooth Adapter is the first gadget representing the minimalism that we are pursuing.