Air Button: Smartest NFC Button for Android Device
Air Button: The Most Powerful Smart Button for Android
Miss the date you can operate your mobile phone without having to deal with or look at the device when it was with keypad?
With the introduction of amazing Touchscreen and smartphone technology, even for a simple action like selfie, it can become a bit of a hassle.
What you need to do:
Exit your current running app -> Dig into apps icons to search for the app you want to use -> Launch it -> And finally, perform your desired Action.
This "simple" process requires 4-6 different actions and takes more than 5 seconds! Additionally, you must keep your eye on your screen throughout the entire process.

Using a smart phone should be, well, smart! Instead we have to dig through our phones to find your favorite apps? With Air Button you can easily control your phone the way it should be, with a smart, simple and tactile button.
Saving you time and effort
Air Button lets you perform any Action on your smartphone by using the most intuitive input – clicking a button.
Air Button is a physical button attached to your gadget that can be customized for actions to control your phone.
Connecting the Air Button with the free Air Button app lets you easily customize and use your favorite and frequently-used actions.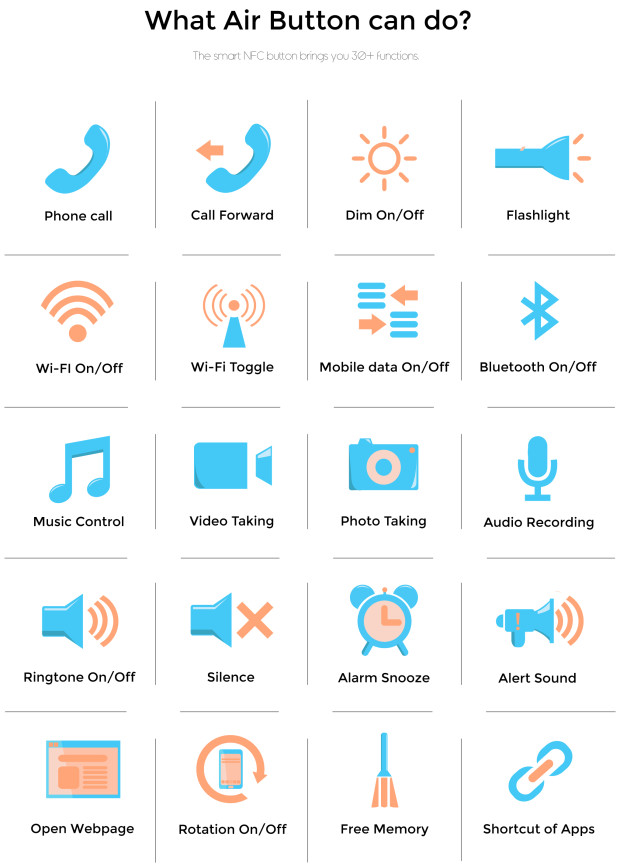 - Launch your favorite apps
- Call forward
- WiFi ON/OFF
- Wifi Hotspot ON/OFF
- Bluetooth ON/OFF
- Screen Rotation ON/OFF
- Mobile Data ON/OFF
- Flashlight ON/OFF
- Free the memory (10)
- Open your favorite URL
- Control your music (Play/pause, Next, Previous)
- Take instant photo without launch a camera app
- Selfie Taking
- Voice recording
- Dim screen
- Sound On/Mute/ Silent
- Alarm snooze
- Play a Loudly Alert Sound
- Go to Phone Setting Page (20)
- Launch Wifi Setting Page
- Launch Bluetooth Setting Page
- Launch Apps Setting Page
- Launch Data Setting Page
- Launch Developer Setting Page
- Launch Account Setting Page
- Launch Battery Setting Page
- You can tailor your own button by combining any functions above!
Air Button comes with pre-set Actions, but once you get the hang of things you can customize clicking behavior and trigger dozens of different actions. The Air Button app allows you to select your favorite Actions and set different Click-combinations for each Action.

Feel frustrated to change the setting of your mobile when arriving office? It can take a few minutes to change all of them. With Air Button, you can change them instantly with a click. (Music OFF, Mute, Vibration ON and WiFi ON, instantly with a click!)
But not everyone utilizing smartphone, for some it can actually be terrifying. Air Button simplifies the complexity of using a smartphone. No need to search for the number, you can now call your loved ones by simply clicking the button.
Cannot press the shutter key during selfie? Let Air Button help. You can place the Air Button wherever you like in the rear of your smartphone. Easily touchable location makes selfie more convenient than before.
With just a click, Air Button can start playing an alert, no matter your phone is muted or silenced, to warn anyone threating or following you on your way home.
We have been developing more and more interesting functions than mentioned above. As you may imagine, Air Button can control lots of different services of your phone but can also be used to control your devices and web apps, like Facebook, Twitter, Instagram, etc.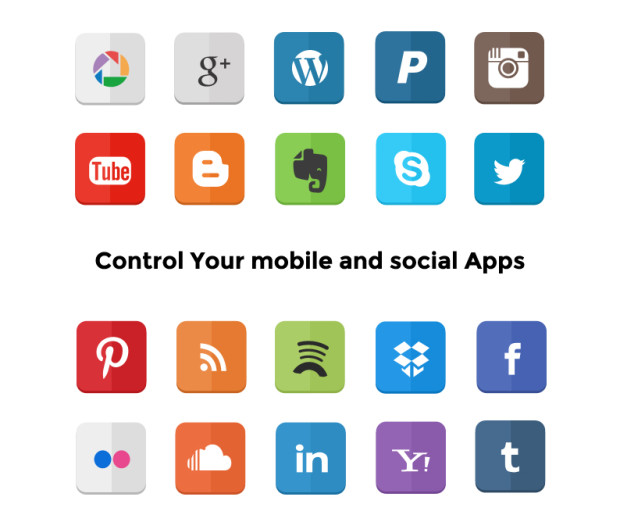 Air Button is a patent pending technology using NFC to communicate with most Android devices. Air Button is battery-less, the lifespan of it depends on the physical limits of the material. Tests concluded that each button can withstand more than 100,000 clicks! Should be more than enough for most of you. And it can be reassigned the functionality of around 100,000 times before the button memory wears out.
No worry, it will not drain your phone's battery
The application is activated only when the Air Button is clicked.
Air Button will come with a re-stickable adhesive that allows you to stick it to any surface and easily peel it off and restick it again to another phone.

With a wave shape, you can easily identify the Air button.
Not only the functionality you can customize, you can also place your Air Button according to your own ergonomics. Air Button is built to fit your needs.
If we tell you to program your own Air Button, one may be scared immediately by the word "program". No worry, we know how scary it can be. This is why we designed Air Button to be quick to set up and use right out of the box. The user interface of the app is easy to understand, even though it packs a lot of advanced features.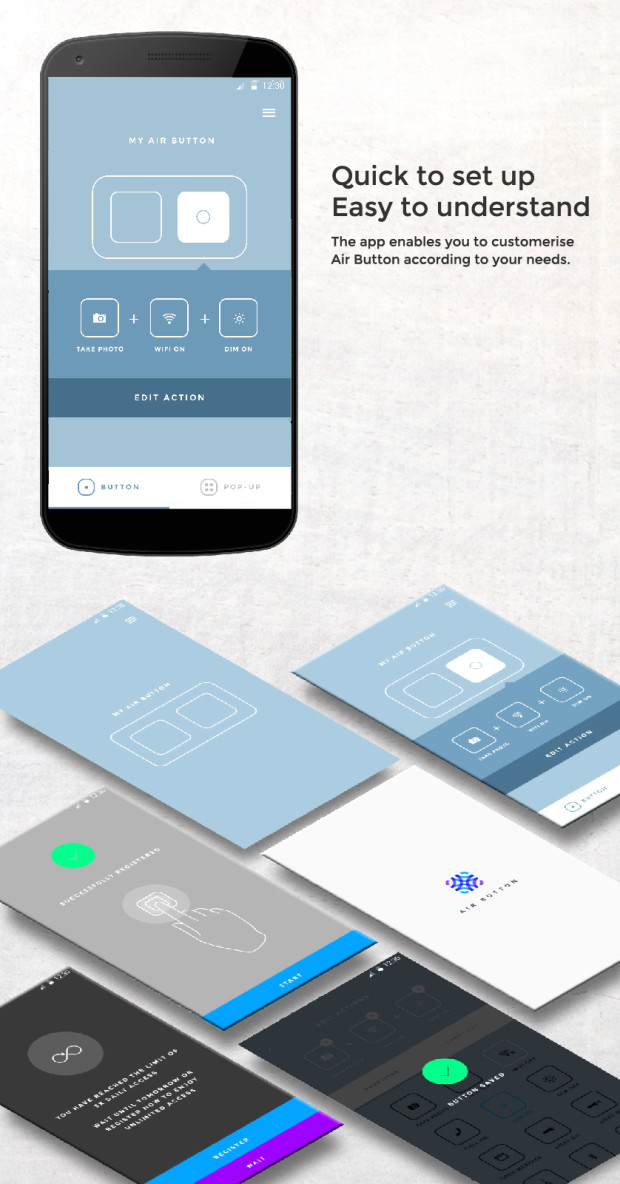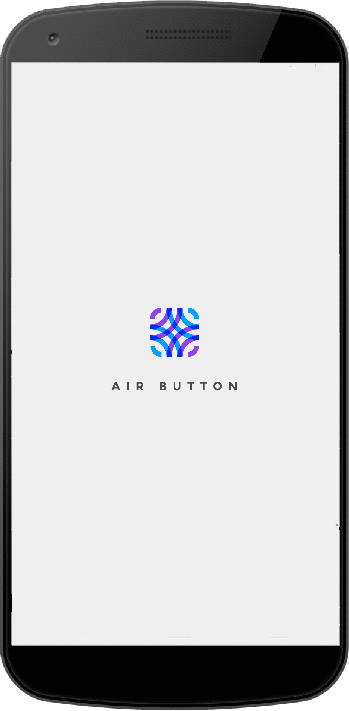 Different people share different ideas about the applications of Air Button. The first version which suits every need of various user, is already online. We are now working closely with numerous partners to bring third party plugins and integration into some of the world's coolest apps.
Getting started to Air Button cannot be easier.
You can try and feel the best location to apply the Air Button. Attach the Air Button to the rear of your device, download the free app, and you're perfecct to go. Click the Air Button to turn flashlight on. Click it again and it turns off, as simple as that.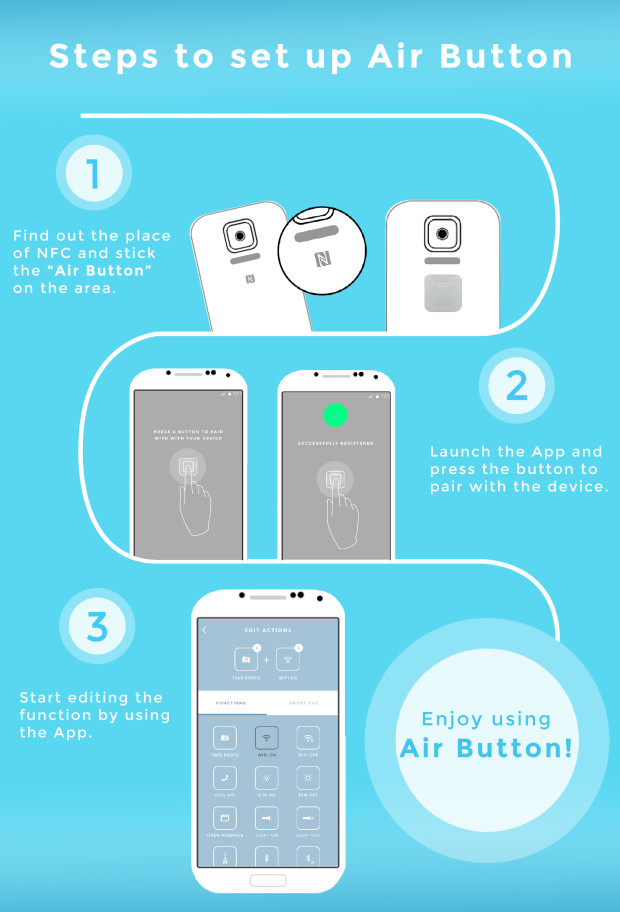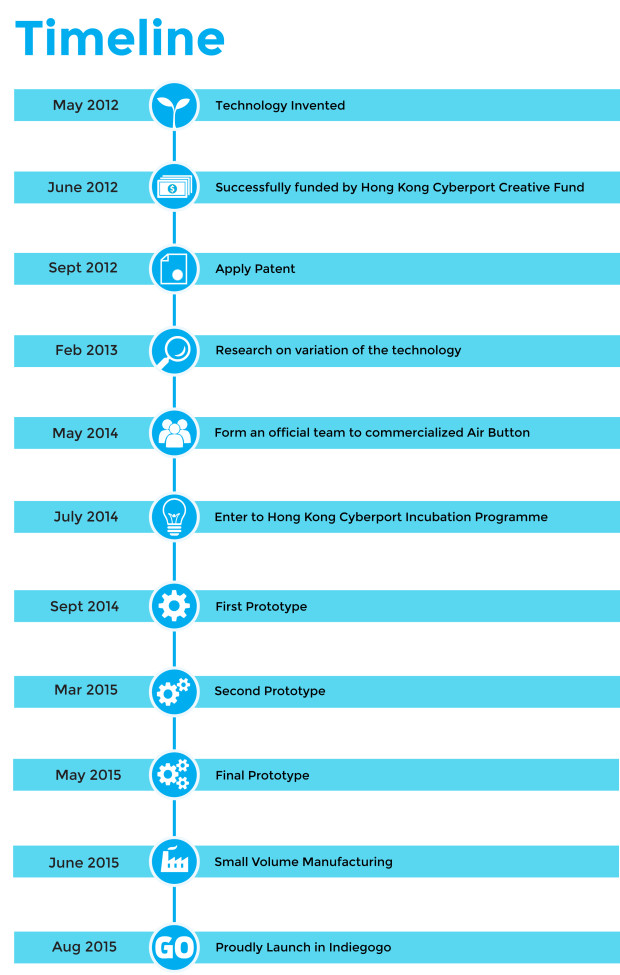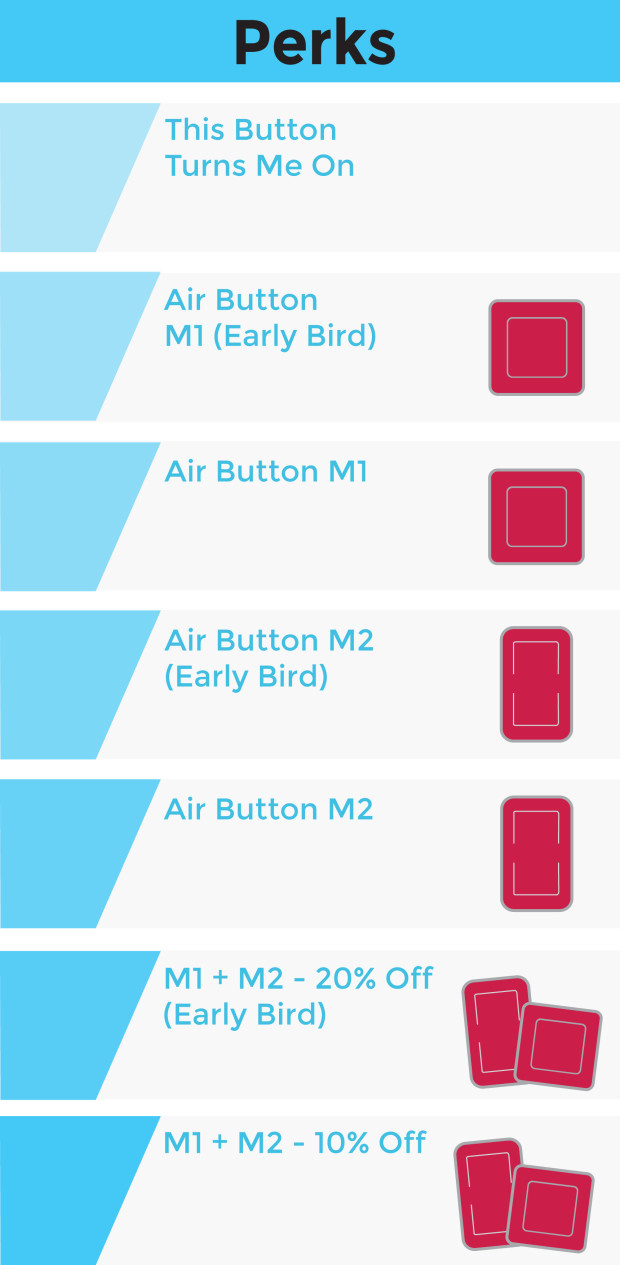 Why do we need your help
With Air Button we want to make smartphones matching your own needs and make life easier. The next step after Air Button is even more exciting but first we need your help to bring Air Button to the market.
Your support will allow us to buy components in bulk, as well as initiate tooling and mass production so we can bring Air Button to you and millions of people who believe that buttons rock.


There's always risks that can delay the process before Air Button gets into your hands. Luckily, in addition to our core team, we've assembled an incredible group of engineers, designers, and industry experts who are collaborating with us to create the best product. We have some people that speak legalese in our circles as well. Manufacturing deals with our partners have already been struck, and most of the logistics obstacles have been worked out.


Which devices can Air Button work with?
We have tested Air Button with most qualified devices and all works perfectly, as long as it runs Android 4.0 or above, and contains NFC antenna with it. However, it doesn't work with HTC One M series, as the location of NFC Antenna is surround the camera and you will need to cover your camera by Air Button.
Can I use Air Button with phone case?
You can attach Air Button on your phone cases and it works well, unless the case is made of metal.
Where can I stick Air Button on?
For most smartphones and tablets, sticking Air Button on the rear side works well.
How many times can I reposition my Air Button?
You can reposition it to optimize your user experience and comfortability. According to test under laboratory condition, Air Button retains its adhesion for over 10 times of reposition, depending on the factors like: using condition, surfaces you stick it with, dustiness of your surfaces, etc. It will eventually deplete and detach from the surface of your devices. Now, we keep searching on materials and design to make it re-attachable for more times.
How many Air Button can I have for one device?
As many as you can. You can cover the rear side of your devices by Air Button(s), and create a keyboard for a touch-screen smartphones as you wish.
How durable is Air Button?
Air Button is battery-less so you don't need to worry about battery life. Besides, as a tactile button, what you worry most is probably the durability to clicks. Our assessment proved that each button can withstand about 100,000 clicks and times for reassigning the function. For its adhesion, Air Button will adhere on your devices until you purchase a new one if you follow the instruction above.
Is Air Button water-proof and weather-proof?
The materials we applied for the exterior of Air Button are Water-proof for daily life usage. It withstands under sweat, wet hands and even under rain, just please don't sink it into water! We are planning to apply for Ingress Protection Marking (IP) which offer you standard knowledge about its self-protection.
How much battery does the NFC connection consume?
Turning NFC on for a day will only drain not more than 0.5% power consumption which is not noticed any difference in battery life in daily use! It is worth every penny to own Air Button, isn't it?
Does Air Button work during off-screen?
Currently, due to security concerns, this functionality is disabled in Android. For the time being, to work with Air Button during off-screen, you have to root your device and then install a NFC Mod. But we are not subjected to any responsibility of damage of your devices after rooting.
Will Air Button be triggered accidentally?
You should worry about the lock button and the volume button of your devices first. The feature of NFC button is that it has to be triggered by at least 0.5 sec of pressing the button which prevent it for unintentional control.
Are there more colors and designs to choose?
For now we provide 5 colors for you. But 3 designer collections are ready if certain goals are stretched during this campaign. Stay tuned and support us if you prefer designs rather than mono color. We are also welcome to explore designs based on popular demand by backers.
When and where is the app of Air Button launched?
Our Android App is well-constructed for Android 4.0 or above. It will be launched on Google Play Store for free while this campaign start so you can play around with our app first.
How about other platforms, like Blackberry, Windows Mobile?
Stay tuned for latest updates about our advancement and development. We will investigate on other platforms, integration with apps and also smart-devices, depending on the feedbacks and requests by backers. Your support is going to make this happen!
How about IOS?
We will develop this technology for IOS as long as AppleInc. open their API for app development.

How can get the latest updates about Air Button?
Please subscribe us on the following channels:
Facebook: www.facebook.com/airbutton
Twitter: www.twitter.com/air_button
Website: www.air-button.com
Email: info@air-button.com
Also write down your email for monthly newsletter!
How do I change my order or my personal information?
Please send an email to info@air-button.com and we will reply shortly.
Where does the free shipping cover?
We offer free shipping to ALL territories.
Since the moment you pledge, we will keep you updated regularly. You will be provided with information of your products for reference so please be patient for the shipping. Please write us an email or write a comment here with the above information if there is any issue about shipping.
What if I found it difficult to use the Air Button?
Check our website: www.air-button.com for user manual. If you still struggle, simply drop us an email to ask, or write a comment if you believe the same problem will also happen for other users. We won't let you down with our technological support!
What about warranty service?
We will check and quality-control every single product to-be-sent, to ensure its function and operation. Nonetheless, if there is any issue, please reach our inbox to discuss and we promise to keep you satisfied.
Are you confident to pull this off?
Our founder has invented Air Button in 2012 and has been awarded by Hong Kong Cyberport. We are supported by various start-up funding and we are well-recognized in Hong Kong IT industry. Following the path of 3 years investigation and preparation, we are confident to promote the bug-free and indeed the BEST shortcut button EVER to Indiegogo community. We operate sustainably with our supply chain partners and has successfully manufactured 500 Air Buttons ready for our first bunch of backers. We will also be up for manufacturing immediately after we receive pledges and feedbacks from backers.
Any further enquiries?
Leave us a comment on this campaign page, or email: info@air-button.com
Contact Us
For press inquiries please contact info@air-button.com
Want to implement our API into your existing App? Contact us info@air-button.com
Find This Campaign on
Facebook / Website
Back to make it happens
for Air Button – The Most Powerful Smart Android Button!