AGROVER: A MULTIPURPOSE VEHICLE BUILT FOR AFRICA
This project has already launched.

MAPS (Mobile Agricultural Power Solutions) exists to empower farmers in the developing world to be more efficient in producing and transporting their goods. Our main product, the AgRover, helps do just that!
The Problem
Many farmers in the developing world lack access to technologies that can help drive success to their farm. Countless hours of time and energy are spent each day on endless tasks. They endure a large workload from fetching water at a nearby well to delivering goods to market by hand or head load. This results in multiple inefficiencies that lead to lower crop yields and ultimately less income for the farmer.
Our Solution, the AgRover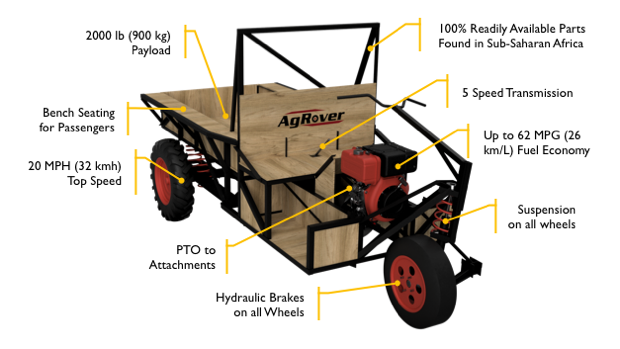 Multipurpose Platform
We have optimized the design to be affordable and entirely manufacturable from parts and tools available across Africa. Feedback from our end users has shown us the importance of offering power to attachments like water pumps, generators, maize grinders, and field implements. The AgRover can provide users with instant access to water for irrigation of crops, electrical power to generators, and food processing equipment like grinding maize.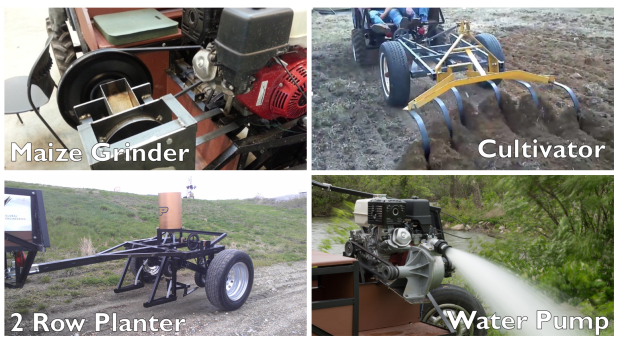 Employment Opportunities
AgRovers are produced entirely in Africa, by Africans, for Africans. Our goal is to not only produce a vehicle for farmers but to also impact the local communities across Africa by creating manufacturing jobs to build the AgRover.

Our technology has proven success across 4 countries in Sub-Saharan Africa, but our ability to scale production requires your help! With your help, we can expand to farmers across Africa at a cheaper price and also into other entrepreneurial areas. There is expressed interest in rural ambulances, fire trucks, trash collectors, taxiing, and much more! Our vehicle could double as an ambulance for sick residents and pregnant women in rural areas that need access to distant hospitals as well as a fire truck that can adequately carry 165 gallons (625 L) of water in its bed to put out fires!
Choose Your Perk
Guarantee your receival of a physical item by backing our campaign at a donation level. The levels have been chosen to uniquely show you what your individual contributions will afford for our business. This is detailed in the perk list on the right. Below is a description of what you will receive as a donator to our campaign at corresponding levels!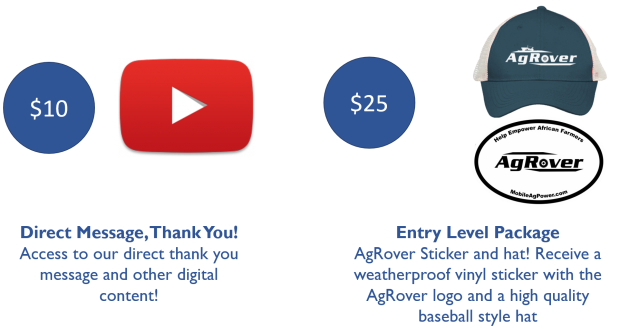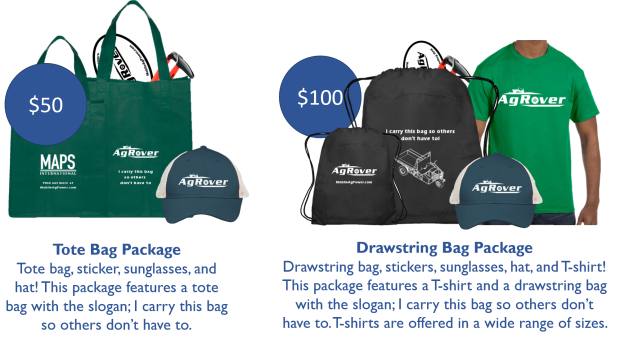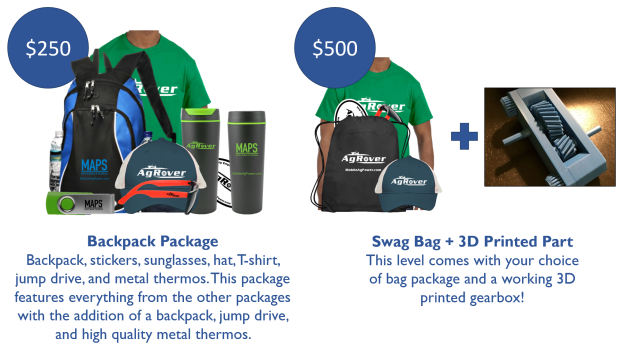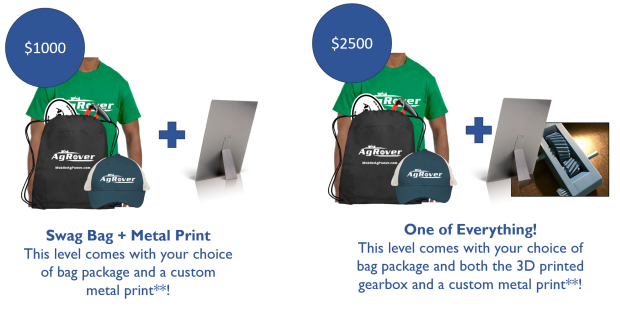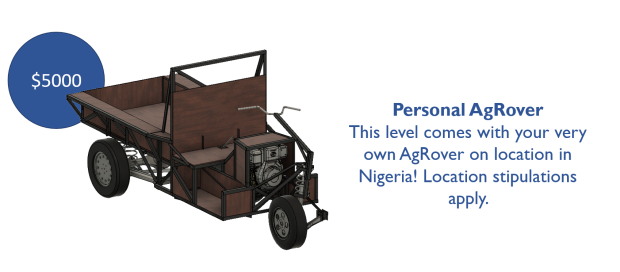 ** To chose your own custom metal print, choose a photo taken by David here! After checkout for these perks, email info@mobileagpower.com with the photo of your choice and a copy of your order confirmation to ensure your order is correct.
Share, Share, Share!!!
Even if you can't make a monetary donation, your help in sharing this campaign within your social network helps make an impact! Our goal is to reach as many people with our story as possible and you can help with just that by sharing! Stay up to date by following us across our social media platforms.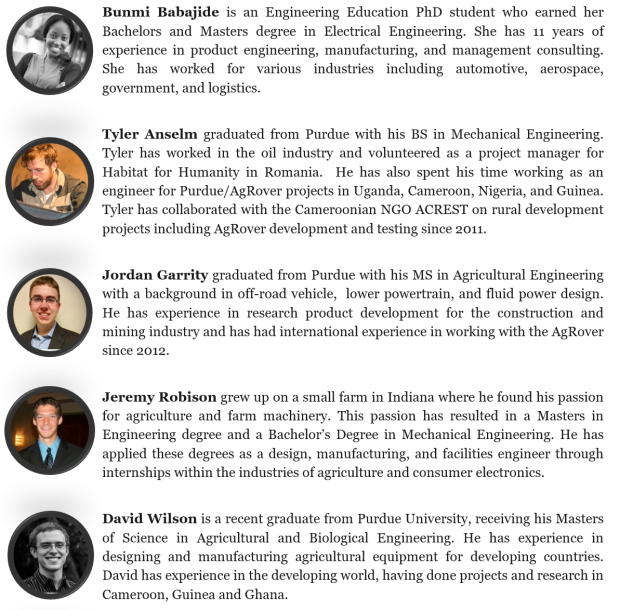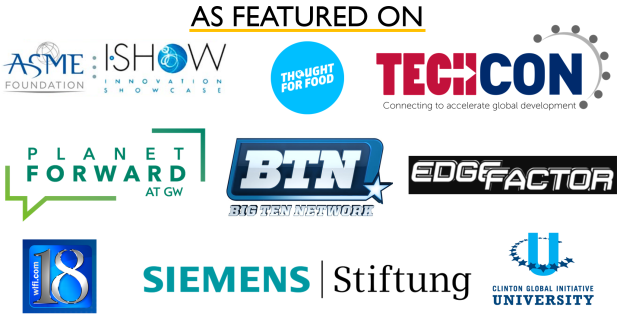 Have you made any AgRovers and are they adequately tested for production?
In just the past year, six AgRovers have been built in four countries across Sub-Saharan Africa. They have been built through grants and/or NGO support. To reach a larger impact and scale our business, your contributions will individually help our growths in areas like Nigeria and Kenya. Prototypes have been built each year since 2009 and we have landed on a rugged design that works across Africa at a cheap cost. The prototypes across the years have been tested rigorously by our end users and their feedback has helped drive the final design.
It's a 3 wheeler. Why?
Great question. There are several reasons for choosing a 3 wheeled vehicle, from affordability to engineering strength. Removing the need for a 4th tire and suspension kit as well as a steering linkage helps lower the selling point of our vehicles. In addition to this, our vehicle experiences less loading when compared to a 4 wheel vehicle due to the fact that a 3 wheeled vehicle offers equal ground pressure on all of its tires regardless of operating conditions. A 4 wheel vehicle sees a lot of torsion when 1 of its tires enters a rut while a 3 wheel vehicle distributes the loads accordingly. This is easily explained when compared to a tripod that supports a camera versus a 4 legged support for a camera.
It's a 3 wheeler. Is it safe for those who use it?
Another great question. We hold safety at a top priority at MAPS and we can assure our end users that our design for safety has been accounted for. A deep investigation into the vehicle's center of gravity, tipping point under various loading conditions, vehicle wheelbase and vehicle track width allows for an adequately safe design. The design of the AgRover has taken all of these issues into account and offers a very low CG with a high roll stiffness.
Where does my money go?
Your donations will go 100% to the funding of the micro-factories producing AgRovers within Sub-Saharan Africa. The donations will help fund local jobs in the region as well as cover the material costs for each AgRover.
Who are the end users of the AgRover and how many are there?
A typical end-user for the AgRover would be a farmer or a transportation service business. The direct buyer for the AgRover would be a farming co-op, large farm, business, or local government. They have enough capital to purchase an AgRover to use it for transporting seed, fertilizer, water, crops, etc. Farmers can use the AgRover on a regular basis to irrigate, thresh, and process the crops or even to cultivate or plant fields. Farmers (or dedicated rental businesses) can also rent out the vehicle's services to other farmers to earn more money while boosting the productivity of other farms. A smallholder farmer with no way to irrigate his crops could rent an AgRover and pump water to boost his/her field's yield. Additionally, smallholders could rent the AgRover to transport their harvest. In Nigeria alone, we are targeting an estimated 2.8 million medium to large farms.
Who are/What is MAPS?
MAPS, (http://MobileAgPower.com), is an LLC that owns the rights to AgRover on top of other technologies that help empower farmers across Sub-Saharan Africa. We partner with NGOs and technical centers across Africa to share our technical experience in the production of AgRovers. We bring the micro-factory setup and installation to our partners while they receive the AgRover manufacturing drawings, specs, etc to fully build the vehicle to their own specification. Helping this campaign goes 100% to our partners in Africa who are entirely focused on producing AgRovers.
Any links to view where you're featured?
Does the AgRover have any competitors?
No other competitor can achieve the services and delivery that the AgRover can achieve at the same cost point. Passenger cars and trucks incur importation taxes driving their costs high. Trikes and motorbikes cannot deliver comparable carrying capacity nor the ability to tow implements and power attachments. It should also be noted that the safety of these vehicles, especially the two-wheel tractor should be taken into consideration. Motorbikes and two-wheel tractors are prone to tipping over in the off-road terrain across Africa.