Liven up your wall or living room, with ARUBA ILLUMINA . A simple design yet versatile in its application. Hang-it on the wall or simply just place it on the desk, plug-and-play, download the APP and off you go. Not only can you change the color or the sequence of the color changing effect, you can simply savor your favorite music with the built-in Bluetooth speaker.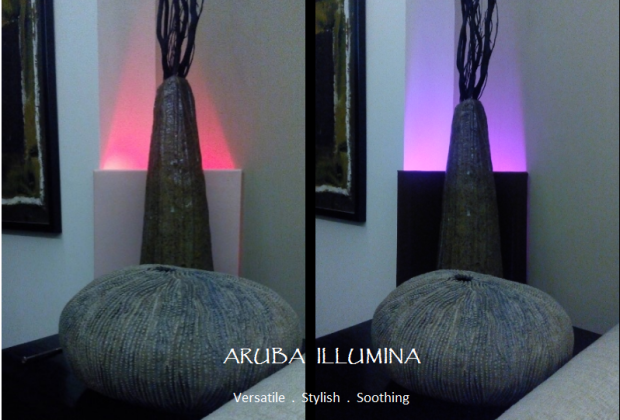 Its more than an all-in-one wall display. It brings out what is usually a boring flat wall into a colorful and music-filled display.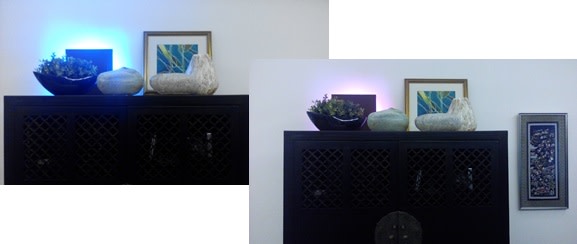 HOW IT STARTED
Bored with staring at a plain wall, we came up with an idea of something interactive but not too cumbersome (a television would be great but with tons of cables running around, it wasn't an option). Hanging a painting of a picture is great but again, it's just too common.
Fascinated by how lights changes one's mood, we came up with an idea of incorporating lights into a wall feature. Again, it's just another fad.
Then the spark came. Incorporating colour changing effects with music, with an app that allows convenient connection.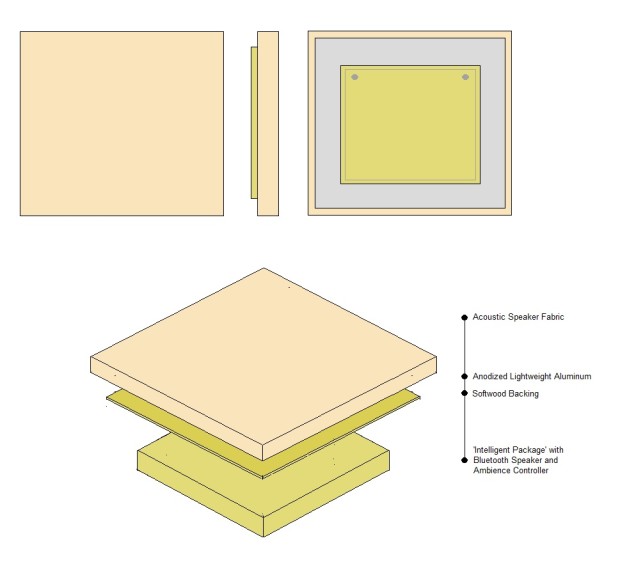 Our first set-up was purely cardboard, tapes and more tapes (It's unfortunate we did not capture those 'Flintstones' moments).
Frankly, we mooted the idea, tried some samples and prototypes, threw lots of crazy ideas and lots of trees were wasted (No, we did not cut the trees or burn them but we used lots of cardboard, paper and pieces of weed, I mean wood)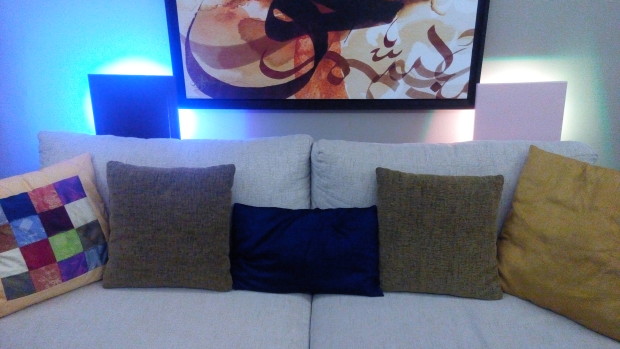 We aim to launch ARUBA ILLUMINA into the market. Frankly, we do not have the wealth of Bill Gates or Mark Zuckerberg but we are confident, excited and eager to let you hang on of our works in your home, office or simply, just anywhere you want. We seek your support. We did not burn loads of cash to create fanciful pictorials or state-of-the-art YouTube video. BUT, we are sincere, creative in our own way and definitely genuine and truthful in showing what we have and what we are.
We have, in drawing and prototypes of new versions, which includes many other gadgets, functions, sizes and yes, more colours…. functions, sizes and yes, more colours….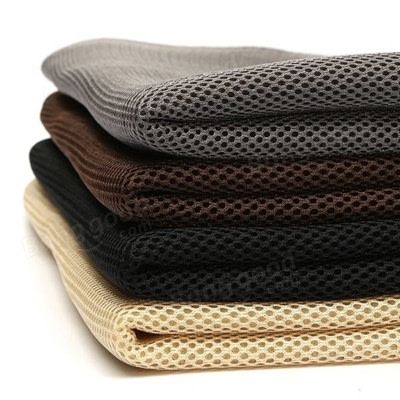 Quote:
Every really new idea looks crazy at first. – Alfred North Whitehead
Don't be afraid of new ideas. Be afraid of old ideas. They keep you where you are and stop you from growing and moving forward. Concentrate on where you want to go, not on what you fear.
– Anthony Robbins
An idea that is developed and put into action is more important than an idea that exists only as an idea. – Buddha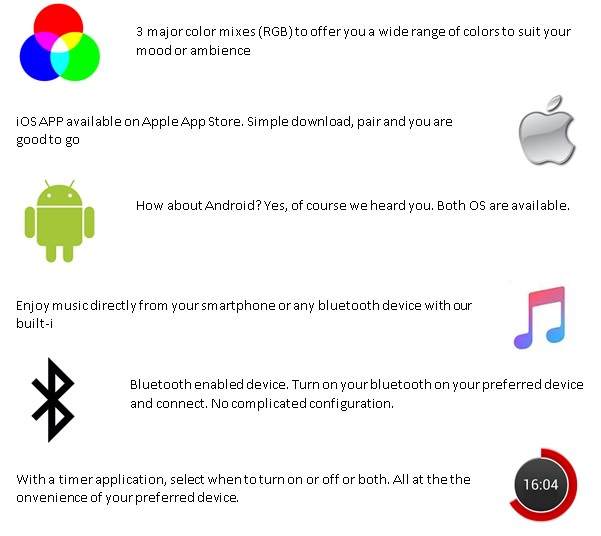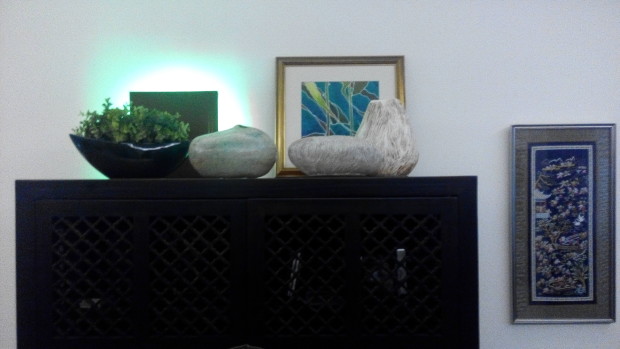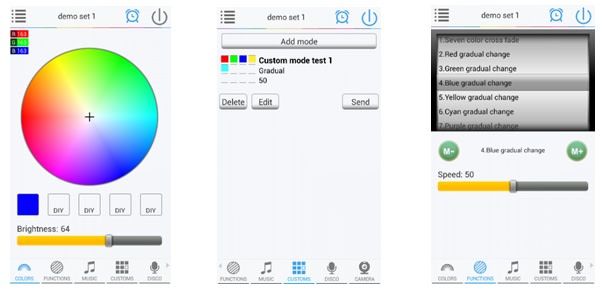 ARUBA ILLUMINA app allows various options. From manual selection of colors, static control or color change and customized colors to an automatic version. Simply select the color sequence you prefer, set the speed and voila! Sit back, relax and chill.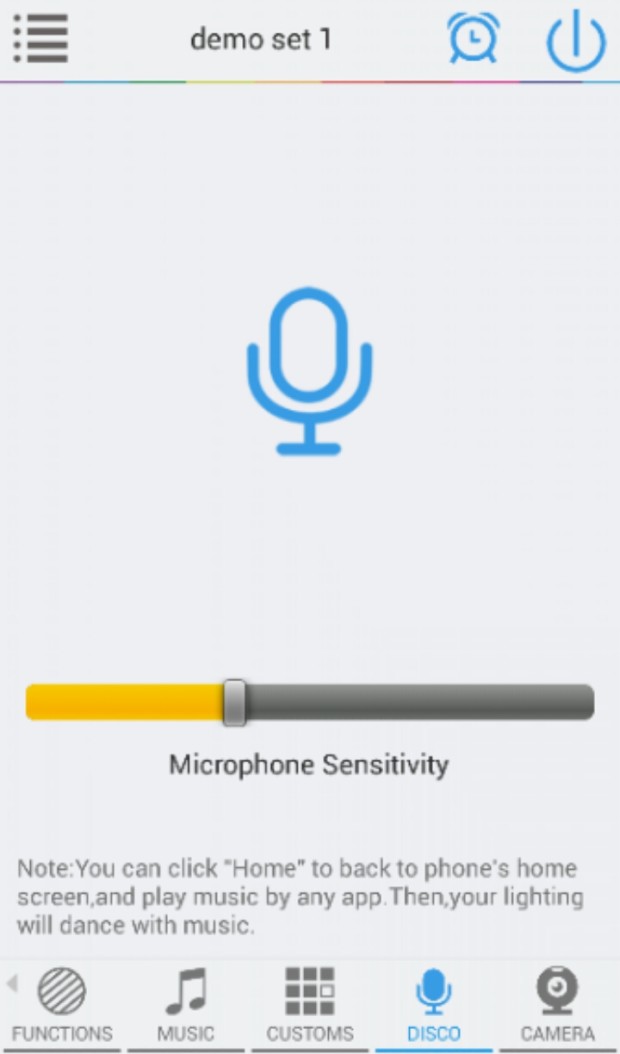 We have added a microphone function. To Sing? Well, yes and no. The sensitivity of the microphone can be set and it picks up any sound and this in turn, activates the color change function according to the picked-up sound. Sounds cool eh?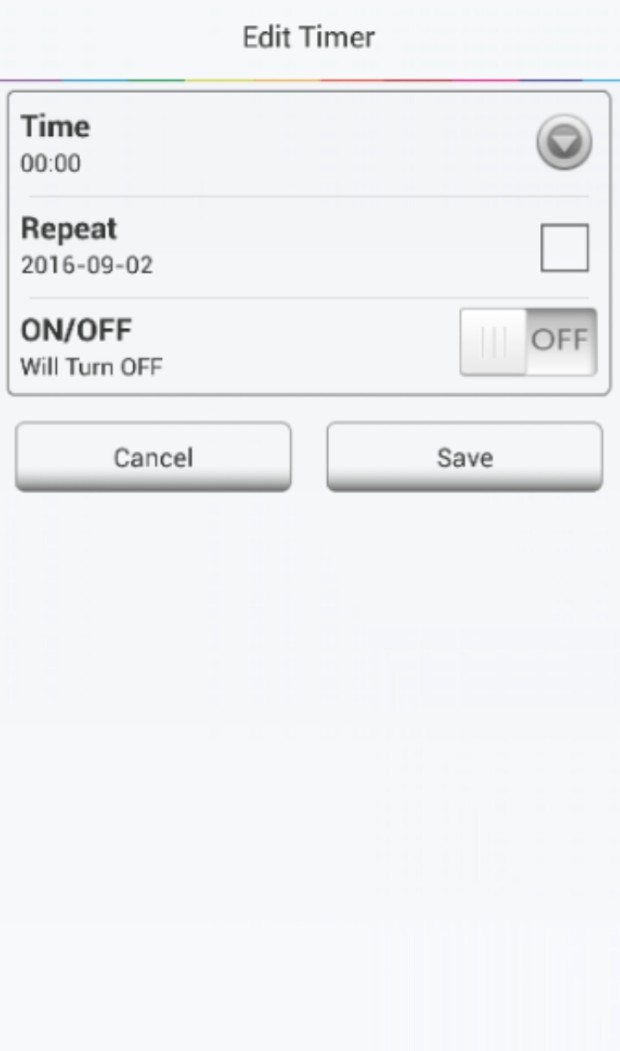 How about a timer? Yes, you can set the lights to be activated at a specific time. How about that for an ingenious panel?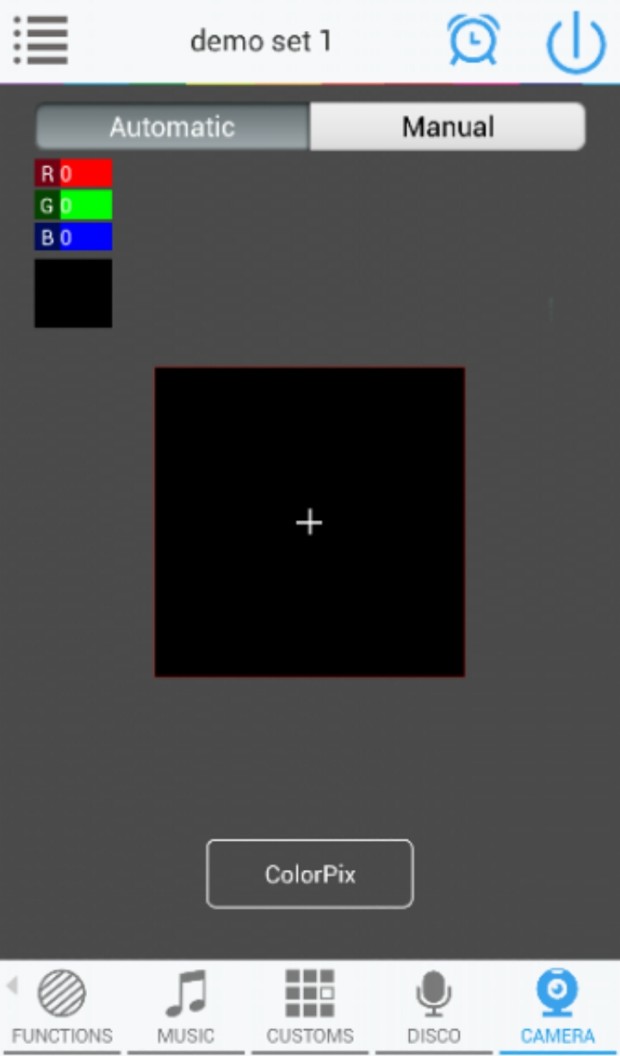 This is one function to which we are extremely excited.
Simply point the spot to any specific colored surface and it sends the color code to the device and color changes accordingly! Isn't that cool?!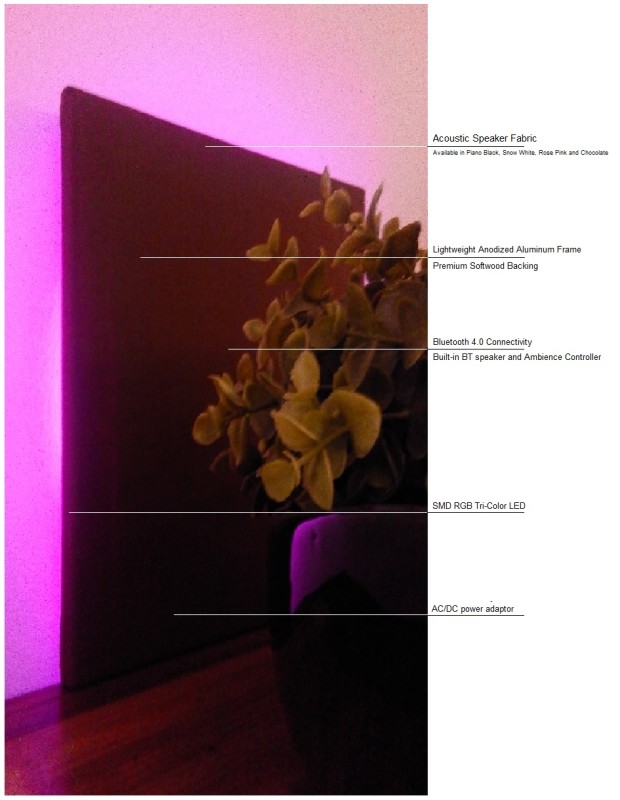 PRODUCT DIMENSIONS AND SPECIFICATIONS
450mm by 450mm by 38mm (Aruba Illumina 1.0)
600mm by 600mm by 38mm (Aruba Illumina 2.0)
600g (Aruba Illumina 1.0)
850g (Aruba Illumina 2.0)
BLUETOOTH 4.0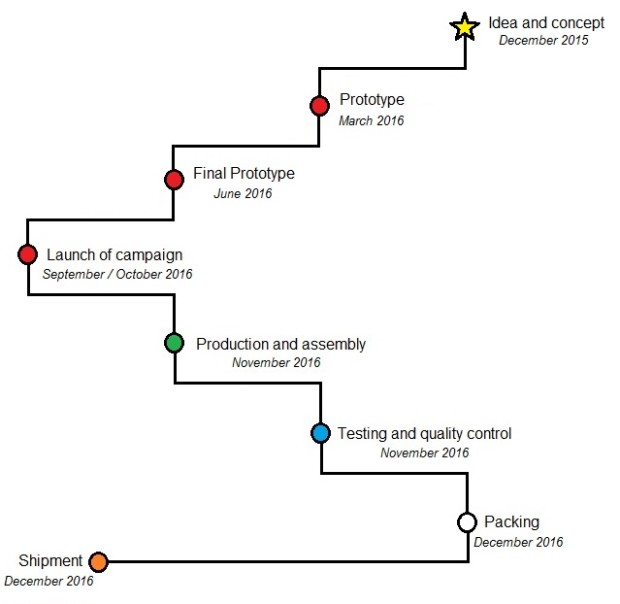 FAQ
Before we answer any common questions, we would like to highlight that ARUBA ILLUMINA is NOT an off-the-shelve product. We made the prototypes with our time, effort, bare hands and lots of pizza. We have spent many months surveying, testing, seeking opinion etc before we agreed to launch this product onto Indiegogo.
We seek your support to fulfil our dream of launching ARUBA ILLUMINA into the market and we promise, this will be the start of something wonderful. Why? Because we have more crazy ideas, yes, really crazy ideas coming up.
What is ARUBA ILLUMINA?
ARUBA ILLUMINA is a display panel with integrated RGB LED and an audio speaker with full Bluetooth connectivity via an APP that allows both automatic and manual control for both audio and visual effects. All controllers are built-in.
How much does it cost?
ARUBA ILLUMINA are available on Indiegogo starting at the super early bird price of $98. Retail price will be US$158 and above.
Where can I buy it?
We are supportive of Indiegogo so yup, it can only be purchased from here. We will launch ARUBA ILLUMINA into the market via other forms of sales channel in the near future
What colors are available?
ARUBA ILLUMINA are available in Piano Black, Snow White, Rose Pink and Chocolate and no, you can't eat this.
How long does the LED last?
Technical specifications claims LED last for 60,000 hours (that's a whopping 2,500 days, approximately 7 years). Well, we do not buy in 100% to these claims and we reckon 40,000 hours will be reasonable.
Are the parts replaceable?
Of course! We design ARUB ILLUMINA as a modular product. Why? Ever heard of this term called 'Upgrade'?
We won't just stop here. We will launch a series of upgrades (We are sorry; we can't reveal what the upgrades are but definitely something worth waiting for)
What is in the future for ARUBA ILLUMINA?
This is the best question where we'd love to answer. Upon the completion of a successful campaign, ARUBA ILLUMINA will continue to churn out new products, starting with this basic platform.
The creations are limitless, which includes enhanced technological modules and gadgets.
Where is ARUBA ILLUMINA manufactured?
ARUBA ILLUMINA is manufactured in Singapore. Components will be sourced from Japan, Korea, Taiwan and Malaysia.
When will ARUBA ILLUMINA begin shipping?
December 2016 BUT, we are targeting Late November 2016 for the real super early birds.
When can we expect ARUBA ILLUMINA to arrive?
We are aiming, no, insisting all ARUBA ILLUMINA will reach you before Christmas. This is our promise (Because we would love to be on holiday by then)
Where else can we see ARUBA ILLUMINA?
Check out our Facebook page www.facebook.com/allaboutgadgetsonline/
Where does it ship? How much is shipping?
ARUBA ILLUMINA ships worldwide. Shipping is US$15 to US$20 USD per unit
Who can I contact if I'm interested in wholesale or distribution?
Please email us at casey.ong@email.com if you're interested in wholesale or distribution.
What are the risks and challenges of backing this project
ARUBA ILLUMINA faces a risk of not being launched if we do not reach our goal. We selected fixed funding due to the fact we require mass manufacturing to bring the cost down. Challenges? Well, over-demand. We are not concerned about our challenges because we are ready to take on any huge demand. All tooling and other required parts are ready for manufacture.