1st Auto Smart Hands-Free Garment Steamer (Iron clothes in 20 secs)
The CherryStone Steamer is the first ever, hands-free, lightweight, portable steamer that will take the wrinkles, stains, and odors out of your clothes in just 20 seconds.
In short, ironing the wrinkles out of your clothes is a hassle and has been a hassle for more than a century since the first electric iron was invented in 1882 and so far, no one has done anything about it.
Until Now!
I am proud to introduce the CherryStone Steamer, the first hands-free, fully automatic steamer that deodorizes, sanitizes, and de-wrinkles your clothes and it does all this in just 20 seconds per garment. Because I have had to fix, work around, and endure all the problems irons and handheld steamer cause, I am very excited about our product, which will completely revolutionize the industry. By contributing to our campaign, you aren't just getting access to the first CherryStone steamers to ever be released, but you will be able to say you were an invaluable part of bringing to life a cornerstone appliance, like the toaster or the microwave…or the iron. Please join us and thank you so much for all your support.
-Yeron Hamudot, CEO
We are also on Indiegogo at https://www.indiegogo.com/campaigns/cherrystone-smart-automatic-clothing-steamer/edit#/story
CHERRYSTONE DESIGN AND TECHNOLOGY IS UNDER PROVISIONAL PATENT, PENDING OUR SUBMISSION OF THE FINAL PRODUCT.
The Process:
From idea we formed a formation for the perfect Prototype.
CherryStone Steamer Is Made Out Of: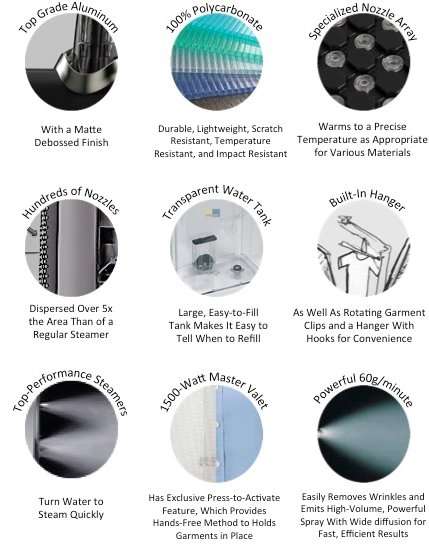 Additional Features Include: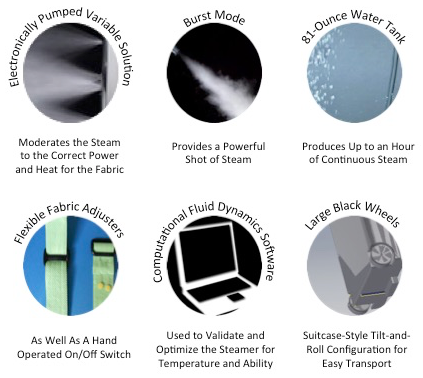 Where the Passion Comes From
I have worked in the clothing industry for close to 20 years and in that time I have seen all types of problems involving clothes and irons. Irons and handheld steamers, as many of you are aware, are both aggravating and time consuming and that's when everything works properly. I've seen people burn themselves and their clothes while ironing and half the time the iron or steamer doesn't work for one reason or another.
The Story Behind the Name
Growing up in New England, seafood and particularly shellfish were a big part of life. Between going fishing, catching clams in the summer, crabbing from the docks, and eating seafood all year round, I was more than familiar with bait, tackle, traps, and lures of all shapes and sizes. When I heard the pitch for the steamer, my first thought was of the steamed clams I ate growing up, which are referred to as steamers. So, when we were looking for a good name for the first hands-free, automatic steamer, my thoughts repeatedly returned to all the clams I'd found as a kid, my pants rolled up to my knees, digging around in the mud at low tide. Most people don't know this, but clams are classified into different sizes: small, medium, and large or littlenecks, topnecks, and cherrystones if you really know what you're talking about. We chose the name CherryStone Steamer both because we liked the sound of it and it has a double meaning, not to mention a personal meaning for me. So, now when you search for images of CherryStone Steamer, you get pictures of clams and us! We hope our CherryStone Steamer lives up to the reputation of cherrystone steamers everywhere!
-Elizabeth Morgan, Project Coordinator
What We're Asking For
We need $40,000 to get from where we are now to where we're going. The CherryStone Steamer has been fully designed, so the next step is to make and test a prototype, fully patent the device, manufacture, and ship. To that end, we have been in contact with a manufacturing company that is interested in working with us to make and test a prototype so that we can move onto the next step. The money we raise in this campaign will go towards producing this prototype, applying for safety licenses to get the product approved to sell, and patenting the device. We currently have a provisional patent in place, but once the device is finalized, the permanent one needs to be obtained.
If you can't donate, we still greatly appreciate all of your support and even the fact that you took time out of your busy schedule just to read about our product. If you think our product is going to go far and you can't donate, please help us get the word out by sharing us on social media and sending the link to our campaign to your friends. Maybe you know someone who would really benefit from a hands-free clothing steamer. Give them a shout and let 'em know what's up!
Today's Situation & Available Options & Marketplace
What are the existing solutions at this time? After carefully researching the industry, we found that there are a couple of competing products that accomplish the same task, although none can do what the CherryStone can.
1-Ironing your clothes, iron and ironing board, hand steamers, garment steamers: Have to hold with your hands and apply steam to garment.
2-Pressing Machines: More for industrial use. Not for home use.
3-Dry-Cleaning Services: Have to take garment to the dry cleaners.
THE CHERRYSTONE STEAMER IS FASTER, EASIER, CHEAPER, AND MORE CONVENIENT THAN ALL OF THESE OPTIONS!